October, 25, 2012
10/25/12
11:00
PM CT
By
Richard Durrett
| ESPNDallas.com
Editor's Note: We'll spend the next two weeks taking a look at 10 questions that face the Texas Rangers this offseason as they prepare for the 2013 campaign. We call it our "Texas Ten."
Today's question:
How aggressive will the club get in attempting to bring back
Josh Hamilton
?
We saved the biggest question of the offseason for last. How the Rangers approach free agent Josh Hamilton sets up how they deal with the offseason as a whole. Will they get together, come up with certain parameters, and stick to them? If that's not good enough to bring Hamilton back, then they'll move on to other options.
So what might those parameters look like? We speculated about this a few weeks ago in our series on Hamilton, but my guess is no more than three years guaranteed with perhaps some vesting options for future years based on games played. We've discussed at length all the issues surrounding Hamilton -- on and off the field. But to me, it still comes down to health. Hamilton had his ups and downs this year, but if you look at his career as a whole so far, he's been an impactful player when he's not dealing with injuries. That's the biggest thing (in my opinion) to guard against when looking at Hamilton.
[+] Enlarge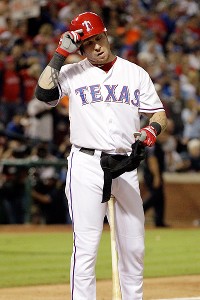 AP Photo/Tony GutierrezIt remains to be seen how Josh Hamilton's disappointing end to the season will impact his overall value.
It will be interesting to see how the end of his season impacts his overall value. He dropped the routine fly ball on the final day of the regular season, giving the A's a lead they wouldn't relinquish in winning the AL West. And he was 0-for-4 in the AL wild-card game. He also didn't play in five games during a critical road trip near the end of the season with vision issues that he said had to do with consuming too much caffeine. It's the injuries here and there -- not to mention the big ones that have popped up during his career -- that teams have to consider before signing him.
Hamilton did manage to avoid a big injury in 2012, playing in 148 games. It was the second time in his five full seasons that he played at least 145 games. The other was 2008, when he played a career-high 156. But he's also 31 years old and has a history of injuries, from cracked ribs to torn adductors.
One clarifying point on the Hamilton saga: General manager Jon Daniels said the club wouldn't make a multiyear offer to Hamilton before he hits the free-agent market. Clubs have some time to do that with their own players, but both sides want to see what the market looks like. That is different from a qualifying offer. Texas will make a one-year qualifying offer to Hamilton. He's certainly not likely to take it, but they'll make the offer and get a draft pick if he leaves.
So what happens if another team offers Hamilton more than the Rangers are willing to pay and he leaves the club? Replacing Hamilton isn't really possible. He can impact a game in so many ways; it isn't feasible to try to find someone who can hit 43 homers and 128 RBIs despite a two-month slump.
The Rangers could venture into the free-agent pool for someone like
B.J. Upton
, though I think the price would be too high, and if they want to spend that kind of money, they might prefer to do it on pitching (
Zack Greinke
, anyone?). Or explore trade possibilities to perhaps send a combination of major- and minor-league players to acquire a big bat, whether in the outfield or somewhere else.
But the likely scenario is putting
Leonys Martin
or
Craig Gentry
-- or both, if you want to play the matchup game -- in center field. Don't forget that the club has invested a lot of money in Martin. Is now the time to see if he's worth it? Clearly, that duo won't fill Hamilton's numbers, but it's a deep lineup that could get deeper this offseason. So the attempt to get some of that production back may not happen in the outfield. And as we've seen before, this front office can get creative. Adrian Beltre was signed just as much to help the pitching staff when Cliff Lee didn't re-sign as it was to boost the offense. We'll see how the Rangers at least try to replace some of Hamilton's production.
How would you replace Hamilton's production? Should the club re-sign him? How much are you willing to pay?
October, 24, 2012
10/24/12
11:00
PM CT
By
Richard Durrett
| ESPNDallas.com
Editor's Note: We'll spend the next two weeks taking a look at 10 questions that face the Texas Rangers this offseason as they prepare for the 2013 campaign. We call it our "Texas Ten."
Today's question:
Which player should hit at the top of the order?
Obviously, this question is better answered once we know all of the personnel for the 2013 season. But there are parts of the lineup that would be worth looking at to determine if changes need to be made.
It starts with the leadoff spot.
I wrote a few weeks ago
that it was time for the club to consider moving
Ian Kinsler
out of the leadoff spot. While he's versatile and provides some power at that spot, something that can get into the head of an opposing pitcher, he was too inconsistent in 2012 and wasn't on base enough. His road and home splits were total opposites (he hit .220 on the road with a .290 on-base percentage and batted .293 with a .361 OBP at home) and while he still managed to score 105 runs (the top job of a leadoff hitter is to score runs, let's remember), Kinsler wasn't at his best in 2012.
[+] Enlarge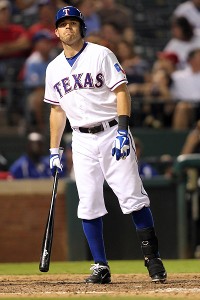 Tim Heitman/US PresswireIan Kinsler was inconsistent in 2012, hitting .293 at home but just .220 on the road.
After mashing 32 homers and stealing 30 bases in 2011, Kinsler couldn't duplicate that in 2012. He had 19 homers and 21 stolen bases, though in fairness the entire Rangers team watched its stolen base total drop as teams paid a lot more attention to them on the bases. Kinsler's .326 OBP just wasn't good enough. Among AL players who led off at least 98 games, only one (
Desmond Jennings
) had a lower percentage. Kinsler had 60 walks, 29 fewer than last year. His 21 stolen bases was fifth-most among leadoff hiters, but he was picked off six times, a club record and the most in the American League.
I just wonder if a change in the order might help him. He could bat lower -- perhaps sixth or so -- and have a chance to drive in runs and set the table for the bottom of the order, too.
But to do that, someone has to step into that role. We've talked in our Texas Ten series about whether the team looks at trading
Elvis Andrus
to get some pitching or perhaps some outfield help should
Josh Hamilton
not return. But for the purposes of this assignment, let's assume Andrus is here. Could he lead off? He's got the tools. His OBP was 23 points higher than Kinsler's, he has speed once he gets on base and he showed more gap power this season. But manager Ron Washington also likes that Andrus can bunt runners over and do all the things needed of a guy in the two-hole as well.
Is batting leadoff too much to ask of
Jurickson Profar
so soon? Probably. But why couldn't he bat second? Or maybe ninth and act as another "leadoff" guy at the bottom of the order. If
Leonys Martin
makes a big push this spring, could he get a look?
Are there others to consider? Well, what if Josh Hamilton isn't in Texas and the club makes a deal for
B.J. Upton
on the free-agent market? He was primarily a two-hole hitter, so that could alter things. Acquring Upton is mere speculation, but whatever happens with Hamilton could have ripple effects both up and down the order.
How the rest of the lineup takes shape depends also on
Michael Young
. It's difficult to imagine he gets the same number of at-bats in 2012 that he had in 2013. Most fans think of Young as the No. 5 hitter, but it's worth noting that while he had most of his at-bats in that spot (287), he also had 190 at-bats in the sixth hole. But if Kinsler is moved down, perhaps Young bats seventh behind him?
There's lots in the order for Washington and the front office to consider and much of it depends on what happens this offseason. But no matter what goes on, would you change the leadoff hitter? If you change, is Andrus the right guy?
October, 23, 2012
10/23/12
11:00
PM CT
By
Richard Durrett
| ESPNDallas.com
Editor's Note: We'll spend the next two weeks taking a look at 10 questions that face the Texas Rangers this offseason as they prepare for the 2013 campaign. We call it our "Texas Ten."
Today's question:
What does the club do about first base?
Ever since
Mark Teixeira
's departure in the critical July 2007 trade deadline deal that brought back
Elvis Andrus
,
Matt Harrison
and
Neftali Feliz
(among others), the Rangers haven't had a consistent, power bat at first base. They've certainly tried.
Chris Davis
showed some potential but didn't stick (he had a great 2012 in Baltimore).
Justin Smoak
was shipped to Seattle as the centerpiece in the
Cliff Lee
deal. And others have tried to nail down the spot but haven't done so with much success.
Right now the position belongs to
Mitch Moreland
. Is he a long-term solution? Well, perhaps we still don't know. In many ways, Moreland took a step forward this season. He continued to improve defensively at first, a position that he gets more and more comfortable playing at this level. He has a solid glove and earned the trust of manager Ron Washington, who would insert him late in games that he wasn't starting for defensive purposes.
[+] Enlarge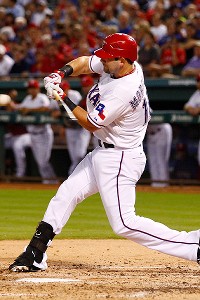 Jim Cowsert/US PresswireMitch Moreland made some strides in 2012, but is he the long-term answer for the Rangers at first base?
Moreland hit .275 in 114 games in 2012. He had one injury -- a left hamstring strain -- that kept him out for a month in late June through July. Once back, he had his best moth of the season in August, hitting .329 with five homers and 20 RBIs. But he tailed off with a disappointing September (.205 average). Despite the DL stint, Moreland had 15 homers and 50 RBIs, nearly matching his totals in those categories from 2011, when he played in 20 more games.
Moreland has shown flashes of potential but hasn't put together an entire season yet. It's worth noting that he's only had two full seasons. The left-handed hitter has not fared well against left-handed pitching, either. He hit .239 against southpaws in 2012 as opposed to .281 versus right-handers.
The club's lack of a true regular at first base has caused some platooning. Washington has used
Michael Young
and
Mike Napoli
at first base against certain lefties, putting Moreland on the bench.
Mike Olt
, one of the club's top prospects, is learning first base. With his natural position at third and
Adrian Beltre
firmly entrenched in that position as one of the best in the game, Olt's playing time needs to come elsewhere. He played some at first in 2012 but could certainly get some more time there in 2013.
Texas could try to split up time again, though the Rangers could also add some free agents into the mix.
Nick Swisher
's name was talked about at the trade deadline as someone who could take at-bats at that spot. He's a switch-hitter and could play first base against lefties and even get some time in the outfield. A few of you have tweeted me asking if
Ian Kinsler
could play first, meaning
Jurickson Profar
could play second. You never know. There are a few free agents out there, but some of the top ones are left-handed hitters.
Lance Berkman
is interesting, if he doesn't retire. But there just aren't the big names out there that we've seen in the past (like
Prince Fielder
and
Albert Pujols
).
Perhaps this is another area where the club could look at trades. But they would only do it with the idea that they could significantly updgrade that spot. No matter what happens, this is a big year for Moreland. He didn't stay healthy all of 2012 or have any kind of breakout year, but he did show some progress. Can he take another step forward in 2013?
October, 22, 2012
10/22/12
11:00
PM CT
By
Richard Durrett
| ESPNDallas.com
Editor's Note: We'll spend the next two weeks taking a look at 10 questions that face the Texas Rangers this offseason as they prepare for the 2013 campaign. We call it our "Texas Ten."
Today's question:
What does the club do about catcher in 2013?
The catching position was not one of strength at the plate for the club in 2012.
Mike Napoli
began the season as the starter after his magical second half in 2011, which carried over into a terrific postseason. But Napoli, who talked to the club about a long-term deal in the offseason but never settled on one, couldn't replicate those impressive four months. He dealt with some nagging injuries and ended up on the disabled list, but even when healthy Napoli wasn't consistently comfortable at the plate.
The catcher hit .227 in 108 games. He still managed 24 homers and 56 RBIs, but he also had 125 strikeouts in 352 at-bats (he had 85 strikeouts in 369 at-bats in 2011). After putting up an OBP of .414 in 2011, Napoli dropped to .343 in 2012. He was on the DL with a left quadriceps strain for a little more than a month.
[+] Enlarge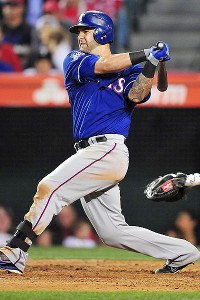 Gary A. Vasquez/US PresswireMike Napoli couldn't duplicate his fantastic finish to 2011 and now will test the free agent market.
With Napoli struggling, manager Ron Washington gave
Yorvit Torrealba
a chance to earn more playing time. But Torrealba didn't hit much better, meaning the position wasn't offering much at the plate. In an effort to create a spark there, the Rangers traded RHP Jake Brigham to the
Chicago Cubs
for
Geovany Soto
at the trade deadline. The hope was that Soto's bat, which was quiet in Chicago, might get going with a new team and a new atmosphere. He had his moments, but Soto hit just .196 with five homers and 25 RBIs while in Texas.
Of course, hitting is only part of a catcher's job. He must work with the pitching staff and call a productive game. And Washington has made it clear that's the No. 1 priority of the position. Soto established a rapport with
Yu Darvish
and became the pitcher's personal catcher. He also caught most of
Ryan Dempster
's games since he was familiar with Dempster, another trade deadline pickup, from Chicago.
But catcher is one position the front office must deal with this offseason. Napoli is a free agent and will test the market. He'd like to return, but at what price? The club could offer Napoli a one-year deal with the idea that, under the new CBA, if he signs elsewhere they'd get a sandwich pick between the first and second rounds. But that offer might end up being $11 million or so, so it's a tough call. Still, it might make sense for Napoli to do a short-term deal in a place where he's comfortable (Texas) with the hopes of increasing his value after 2013 for a longer deal. Soto is arbitration eligible in 2013, so the club could elect to offer him arbitration and then find a starting catcher to pair with him. Or they could non-tender him and let him go.
The club could then look at free agents or trades.
Kelly Shoppach
, a local product, has always intrigued me. But is he a starter? What about
J.P. Arencibia
from the Blue Jays, who could afford to deal a catcher (they've also got Travis d'Arnaud, though that price is likely to be high as he's a top prospect)? The fact that the Blue Jays claimed Bobby Wilson off waivers could certainly signal a willingness to trade one of their catchers, so the Rangers make a logical trade partner. Does
A.J. Pierzynski
interest anyone? If the Braves don't pick up
Brian McCann
's option (he's having surgery and might miss the start of the season), what about signing him up as a guy who could play some DH and not catch every day?
Texas needs more offense from the catching position and you can bet that the front office will be looking to do that via trade or free agency.
What would you do at catcher? Do you bring back Napoli or Soto? Do you go in a completely different direction?
October, 21, 2012
10/21/12
8:00
PM CT
By
Richard Durrett
| ESPNDallas.com
Editor's Note: We'll spend the next two weeks taking a look at 10 questions that face the Texas Rangers this offseason as they prepare for the 2013 campaign. We call it our "Texas Ten."
Today's question:
Should
Jurickson Profar
play every day?
He's the No. 1 prospect in the system -- and the No. 1 prospect in the country, according to several publications -- and the Rangers must decide if he's ready to shed that label and become a young major leaguer.
Profar came up in September to get a taste of the big leagues and the 19-year-old made an immediate impression. He homered in his first at-bat on Sept. 2, becoming just the third teenager to hit his first career home run in his first career big league at-bat since 1876 and the youngest to do it in the AL. He was the first player born in 1993 to play in the majors and the first teenager to play for the Rangers since
Ivan Rodriguez
in 1991.
[+] Enlarge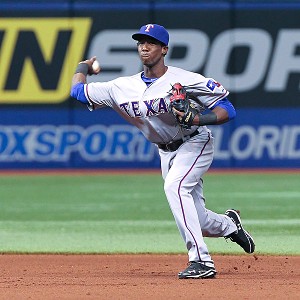 Kim Klement/US PresswireMoving Jurickson Profar into the starting lineup is a possibility, but other changes would have to occur for that to take place.
Profar also doubled in that first game, becoming the first teenager with two extra-base hits in his first MLB game since 1958. So his debut was quite the feat.
With the Rangers trying to hang onto a division lead (you know how that ended), manager Ron Washington went with his regulars a bunch, so Profar ended up in just nine games. He got 17 at-bats and had just three hits -- so only one after his debut. But that's a small sample size and the playing time was sporadic.
Profar hit .281 with 26 doubles, seven triples, 14 home runs, 62 RBIs, 76 runs scored and 16 stolen bases in 126 games with the Double-A Frisco RoughRiders in 2012. He showed talent defensively and an ability to drive the ball to the gaps. He's got speed and isn't afraid to use it.
The club has had to make this kind of decision before. Texas decided to make
Elvis Andrus
the starting shortstop in 2009 despite the fact that he'd never played above Double-A. Andrus hit better in Frisco -- .285 -- and had 10 fewer homers and three more RBIs. Of course, Andrus had way more stolen bases, too. But the Rangers felt Andrus had the potential to start for them for a long time and wanted him to get the experience in 2009 as the club was growing and beginning to show signs of being a competitive team.
The difference for Profar is that the club is competitive now. Making him a starter in 2013 also complicates how the rest of the infield -- and outfield, for that matter -- shakes out. The team could try to trade Andrus, something we discussed last week, or possibly move
Ian Kinsler
to the outfield and put Profar at second base.
The other option is to start Profar in the minors again and see how it goes. But as high as scouts are on Profar, I think it's going to be tempting to see what Profar can do given a chance to play every day. He could be a spark at the top or very bottom of the order, depending on how Washington wants to use him, and he could give the club some flexibility in the future with Andrus' contract expiring in two years.
I want to see what the guy can do and I think Kinsler could play the outfield if Andrus is still here. But perhaps that's more my curiosity than anything else. Still, I'm not sure what more Profar can do in the minors. Let's see what he's got in the big leagues, even though that requires some ripple effects.
What do you think? Should Profar be given an everyday role in 2013? Or should he start in the minors and then come up at some point?
October, 18, 2012
10/18/12
11:00
PM CT
By
Richard Durrett
| ESPNDallas.com
Editor's Note: We'll spend the next two weeks taking a look at 10 questions that face the Texas Rangers this offseason as they prepare for the 2013 campaign. We call it our "Texas Ten."
Today's question:
Should the Rangers look at trading
Elvis Andrus
?
One thing we know about the Rangers' front office: They'll look at any and every opportunity to improve the club. Some teams might shut the door before it opens when discussing certain players. Not Texas. Jon Daniels and his staff will text, email and chat with just about any staff in baseball if it could lead to something.
So when it comes to tossing around ideas, isn't the notion that there might be a market for Andrus at least broached internally? On the surface, there are plenty of reasons to dismiss this and I'm not advocating making a trade. But like anything on this front, it depends on the deal.
[+] Enlarge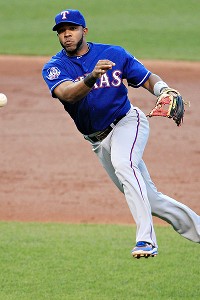 AP Photo/Tony DejakElvis Andrus is a solid fielder, making the left side of the infield a real strength for the Rangers with Adrian Beltre at third.
Let's start with the contract. Andrus signed a three-year deal prior to the 2012 season that tied him up for his arbitration years. He'll make $4.8 million in 2013 and $6.475 million in 2014 before he can become a free agent. He has Scott Boras as his agent and I only bring that up because usually that means players will at least test the market. The reality is the Rangers have a good relationship with Boras and the last major client that signed here, at least two years into the deal, looks like a great one in
Adrian Beltre
.
But when making business decisions, you can't assume that you'll be paying whatever the market bears for Andrus. So exploring what he could net as a return could make some sense. What if you can get a starting pitcher for the rotation? What about an outfielder if
Josh Hamilton
doesn't return? To get something good on the trade market and avoid digging too deep into farm system, you have to give up something of value.
The other side to the equation is that you have to have a replacement. The Rangers do in
Jurickson Profar
, who is certainly no Andrus right now, but he's got a high ceiling and looks ready to do what Andrus did in 2009 -- play every day at a young age.
Even if the club decides Profar is ready to play now, it doesn't mean that Andrus has to be traded. When
Ian Kinsler
signed his contract extension before the 2012 season, he said he'd be willing to move positions at some point. What if he played in the outfield and Profar played second with Andrus still here?
Still, if Andrus could help net a frontline starter, I'm willing to listen. But like I said, the deal has to be a great one. Andrus hit .286 this season as the No. 2 hitter and had 62 RBIs. He was able to get bunts down to move over runners, is a dangerous baserunner (though he had just 21 stolen bases this year as opposed to 37 last year) and remains a solid fielder, making the left side of the infield a real strength. Texas is a contender and trading someone of Andrus' ability can't happen lightly. But exploring the options could open some doors.
What about
Nelson Cruz
? I bring him up because 2013 is the final year of his contract. Perhaps if Andrus isn't traded, that makes a Cruz deal more likely. If Kinsler moves to the outfield and the club finds a CF (whether that's Hamilton or a replacement), could Cruz net something on the trade front. He's not as valuable a chip as Andrus, but he's making $11 million in 2013 before he becomes a free agent.
Cruz has put up some monster numbers in his career. But he's dealt with injuries and inconsistencies. He had 24 homers and 90 RBIs in 2012 and played a career-high 159 games. But he hit .260, tied for his lowest average in a full season in his career, and he didn't have the red-hot streaks we've seen. Yet he was still a run producer. I think the up-and-down 2012 season means the Rangers keep him because I don't think they'd get good value for him. But he's another one of those names with an expiring contract that will come due before 2014.
While we're at it, how about Kinsler? He's got a long-term contract, but if considering trading Andrus is on the table, why not Kinsler? I think this one isn't as likely because of the contract and the fact that Andrus is up in two years, which would leave some holes. But the name that most fans keep bringing up in Andrus.
So do you consider trading Andrus? What would it take in return for it to be worth it?
October, 17, 2012
10/17/12
11:00
PM CT
By
Richard Durrett
| ESPNDallas.com
Editor's Note: We'll spend the next two weeks taking a look at 10 questions that face the Texas Rangers this offseason as they prepare for the 2013 campaign. We call it our "Texas Ten."
Today's question:
Should
Alexi Ogando
start?
We talk a lot about how one move can cause others. And we saw that last year in regards to the club's starting rotation when
Joe Nathan
was signed to a two-year deal as closer. As soon as that move was made,
Neftali Feliz
was told to stretch out as a starter. Because the Rangers had a veteran closer, they wanted to see if Feliz could help them more in the rotation.
They face another decision in regards to one of their current bullpen pieces. Alexi Ogando, though, is a different case. At this point, there are some holes to fill in the bullpen and how those holes are filled may contribute to whether Ogando is a part of the bullpen or the rotation in 2013.
You can make a compelling argument for either in Ogando's case. Let's start with the reasons to consider starting him.
[+] Enlarge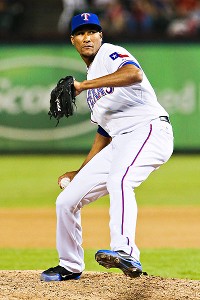 Kevin Jairaj/US PresswireAlexi Ogando was 7-0 with a 2.10 ERA in his first 12 starts of the 2011 season.
Ogando, 29, pitched out of the bullpen this season and was 2-0 with a 3.27 ERA in 58 appearances. He did make one start and strained his right groin trying to beat out a bunt (he was perfect through three innings in that start in San Francisco). He went on the disabled list for a little more than a month, finishing with 66 innings pitched on the season with 66 strikeouts and 17 walks.
Overall, Ogando wasn't as effective as he was in parts of 2011. That was a breakout season for the converted outfielder. He was 13-8 with a 3.51 ERA and occupied a starting role at first and then became a critical weapon out of the bullpen (just like he was in the 2010 postseason). Ogando was an All-Star in 2011, thanks to his remarkable first half. He was 7-0 with a 2.10 ERA in his first 12 starts of the season and was 9-3 at the break, earning him the All-Star spot. Ogando wasn't even supposed to be in the rotation, if you'll remember. He was forced into that role when
Tommy Hunter
strained his groin a few days before spring training ended.
Ogando, though, appeared to hit a wall, thanks in large part to the number of innings he accrued. So he was moved to the bullpen down the stretch and into the postseason and was excellent. Knowing he wasn't likely pitching any more than two innings an outing, he let his fastball go and utilized his slider. Hitters weren't able to catch up and he gave up no runs in 2 2/3 innings in the ALDS win over Tampa Bay and one run in 7 2/3 innings in the ALCS victory over Detroit. But Ogando hit another wall in the World Series as the Cardinals got to him late in a few games.
Ogando was in the bullpen this year because that's where the club needed him the most. The Rangers made the decision to move Feliz to the rotation in November, when they signed Nathan. But with injury concerns and uncertainty with some of the bullpen spots, Ogando became an important, versatile piece in the bullpen.
The key to Ogando is his secondary stuff. When that slider is working, he's really tough to hit. And he threw his changeup more near the end of the 2012 season with some success. The ability to change speeds and give hitters different looks is particularly important if Ogando wants to start.
One big reason to move Ogando is that the rotation, outside of
Yu Darvish
,
Matt Harrison
and
Derek Holland
, is up in the air. The club will look at some free-agent options (I'm intrigued with
Zack Greinke
if he's interested and there's a deal that makes sense), but internal options will get consideration, too. Ogando has started before and had success in that role. I think he's got the stuff to do it and it's clear he wants to.
But if you move Ogando to the rotation, you must also take into account what it does to the bullpen. That area has holes, too. Four of the club's eight free agents are in the bullpen, including
Mike Adams
and
Koji Uehara
, two pitchers that had important roles late in games. How the club fills those spots could also determine what happens to Ogando.
I'd still like to see him in the rotation and perhaps, when Neftali Feliz and
Colby Lewis
return, the team could then look at options and shift Ogando back to the bullpen if needed.
What would you do with Ogando? Do you keep him in the bullpen or move him to the rotation?
October, 16, 2012
10/16/12
11:00
PM CT
By
Richard Durrett
| ESPNDallas.com
Editor's Note: We'll spend the next two weeks taking a look at 10 questions that face the Texas Rangers this offseason as they prepare for the 2013 campaign. We call it our "Texas Ten."
Today's question:
Which bullpen pieces return and how does it shape up for 2013?
Overall, the Rangers have eight free agents. Four of them are in the bullpen. In recent years, we've seen the Rangers front office fill holes in the bullpen. They feel like that's an area where they can find some good value and put folks in their correct roles. That's not to say they won't spend money. They went out and, rather than wait to see how the market shaped up for relievers, jumped in and signed
Joe Nathan
to a two-year deal to be the closer. The club's scouts liked how Nathan finished the 2011 season, and by getting a deal done early the Rangers could tell
Neftali Feliz
to focus on stretching out as a starter.
[+] Enlarge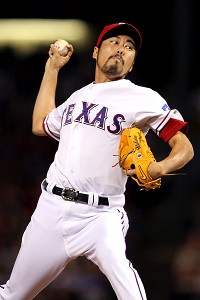 Tim Heitman/US PresswireKoji Uehara finished the season strong and should be high on the Rangers' list of priorities this offseason.
But this year, some key pieces can test the free agent market.
Koji Uehara
, who returned to Texas in 2012 thanks to a vesting option, is now a free agent. It was a big up-and-down year for Uehara. The Rangers tried to trade him in the offseason and he vetoed the deal. He came to spring training focused, but the splitter wasn't moving well in the desert. He started the season well, but then ran into some trouble in early June. He went on the DL with a right lat muscle strain and then had a setback that kept him on the DL until Aug. 26.
When Uehara returned, he pitched like the guy that the Rangers sent
Chris Davis
and
Tommy Hunter
to Baltimore for at the trade deadline in 2011. That splitter was very effective for Uehara, who kept right-handed and left-handed hitters down. He retired 25 straight batters at one point, the longest string of consecutive batters retired by a Rangers pitcher since
Jeff Zimmerman
retired 25 in a row in May 1999. Uehara went nine straight appearances without allowing a baserunner. That was 7 2/3 innings and he had 15 strikeouts in that span. So Uehara has to be near the top of the club's wish list. He's a guy that can pitch late and get key left-handed hitters out.
Mike Adams
wasn't available the final 10 days of the season after having tightness in his trapezius and symptoms of Thoracic Outlet Syndrome. Adams will undergo surgery and should be ready to go by spring training. But he's also made it clear that he wants to test the market. He enjoyed his team in Texas but said this may be the only chance he has to try to get a solid, multi-year deal and he wants to do the best he can for his family. I don't ever blame players for that sentiment, so we'll see what Adams can get. Coming off the surgery and a slow finish to the year, it will be interesting to see what the market is for Adams.
Roy Oswalt
and
Scott Feldman
, both starters at one point in 2012, finished the season in the bullpen. The club won't be spending money on an option for Feldman that is worth $9.25 million (he has a $600,000 buyout), but that doesn't mean they can't re-sign him. Oswalt came to Texas with the hopes of being a stalwart in the rotation once injuries caught up to the club. But he wasn't successful enough to last in that role. Still, he pushed through some soreness and gave the club some innings down the stretch. The team did not end up getting the full return on its investment.
Look for the Rangers front office to canvas the free agent market and see what's available on trades to bolster the pen. They've got a closer. Left-hander
Robbie Ross
slowed at the end of the year but overall had a solid rookie season. If
Alexi Ogando
doesn't start, he's back in the pen and can be a late-inning option.
Michael Kirkman
got a chance to pitch some down the stretch and could be a factor in spring training, as could Tanner Scheppers.
To me, keeping Uehara is the first priority. He really showed what he could do (and it helped that he got the time down to figure some things out). He's comfortable in Texas and became a huge part of the team after going through spring training and starting as a Ranger from the beginning. As for the rest of the bullpen, Jon Daniels and company will get together and figure out how to fill those holes.
October, 15, 2012
10/15/12
11:00
PM CT
By
Richard Durrett
| ESPNDallas.com
Editor's Note: We'll spend the next two weeks taking a look at 10 questions that face the Texas Rangers this offseason as they prepare for the 2013 campaign. We call it our "Texas Ten."
PODCAST
Ron Washington joins Ben and Skin to talk about all the questions surrounding the Rangers heading into the offseason.

Listen

Today's question: How does the starting rotation look?
First, let's start with what we know.
Yu Darvish
, under contract for five more years, is the unquestioned No. 1 starter in this rotation. And the Rangers certainly hope he stays healthy and productive and fronts this rotation for a long time. Darvish was consistent and impressive in his final eight starts, including a great performance under playoff pressure.
Matt Harrison
had the most consistent season of any starter, making the All-Star team and taking a huge step forward mentally. He attacked hitters and didn't allow bad innings or bad games impact him negatively. He learned from his mistakes and gained some confidence.
Derek Holland
did not have the season the Rangers -- or Holland -- expected. I've listed him as the club's No. 3 pitcher, but where he falls in the rotation may depend on what kind of offseason work the club does on the rotation. Holland dealt with a stomach virus in June and then went on the DL with left shoulder fatigue. He ended up going 12-7 with a 4.67 ERA in 29 games (27 starts) with 145 strikeouts and 52 walks. He did finish the season a bit better, going 5-0 with a 3.88 ERA in his final 10 starts. But Holland is the first to admit that he took a step in the wrong direction this year and needs to bounce back. He's under contract for the long-term, so I expect the club to be patient with him.
But after Holland, how do things shape up?
Ryan Dempster
finished the year in the rotation, but is now a free agent. He'd like to return to Texas and I could see that, but only under the right kind of deal. Dempster has quality stuff, but his splits in 2012 with Texas were telling. He pitched well against non-contending teams (Minnesota, Cleveland (twice), Kansas City, Boston and Seattle), going 6-0 with a 1.88 ERA in six starts. But against teams in the hunt for the postseason (
Los Angeles Angels
,
New York Yankees
, Baltimore, Oakland), he was 1-3 with a 9.09 ERA in six starts. He's a funny guy who keeps the clubhouse light and he could provide some nice depth. But his value had to be hurt by those splits.
[+] Enlarge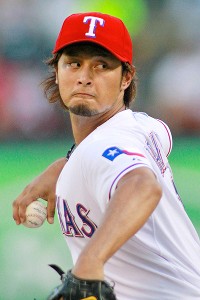 Paul Moseley/Fort Worth Star-Telegram/Getty ImagesAfter a standout rookie campaign, Yu Darvish enters 2013 as the unquestioned No. 1 starter.
The fifth starter was a problem for this club. It seemed liked they just couldn't find anyone to handle that role.
Scott Feldman
was up and down, sliding at the wrong time. He has a club option for 2013, but that won't be exercised (not at $9.25 million; he does have a $600,000 buy out). That doesn't mean the club won't consider Feldman for depth.
Roy Oswalt
, signed to be a veteran that could eat innings, wasn't as productive as expected and ended up in the bullpen.
There are internal candidates.
Alexi Ogando
could be one and that's a question we'll get into later.
Martin Perez
came up and made some starts down the stretch. He hasn't lived up to the potential, but is still young and could get a shot in spring training.
Justin Grimm
had a memorable debut, but also struggled at times coming straight up from Double-A.
Robbie Ross
could still be a starter long-term, but that may not happen in 2013. We'll see.
Colby Lewis
and
Neftali Feliz
could prove to be nice additions at the midpoint of the season, but they can't be factored into the rotation as spring training begins.
So this is an area that must be addressed this offseason. The Rangers could look at potential free agents. They could, perhaps, try to go after another big name (
Zack Greinke
, anyone?). But with Darvish showing his stuff in the final two months of the season, they don't have to do that. The key is depth. They have to find some more arms so that they've got the ability to compete for some of those final rotation spots.
October, 14, 2012
10/14/12
10:00
PM CT
By
Richard Durrett
| ESPNDallas.com
Editor's Note: We'll spend the next two weeks taking a look at 10 questions that face the Texas Rangers this offseason as they prepare for the 2013 campaign. We call it our "Texas Ten."
Today's question: What is Michael Young's role in 2013?
PODCAST
Ben tells the blindly loyal Michael Young fan club why they're doing it wrong and why they're also underestimating Young's professionalism and character.

Listen

Michael Young turns 36 on Oct. 19 and has one year remaining on his contract with the Rangers. He'll make $16 million in 2013, coming off the worst statistical year of his career.
Young hit .277 with eight homers and 67 RBIs. The batting average was his lowest in any full season in the majors (he did hit .249 as a rookie in 2001, when he played 106 games). The eight home runs were the fewest he hit in his career. The 67 RBIs are the fewest he's had since 2002, his first full year in the big leagues. Young had 38 extra-base hits, again his fewest for any full season of his career. To put that in perspective, Young had 41
doubles
in 2011.
Interestingly, as the club's offense diminished the final month of the season, Young had one of his best months. He hit .301 with three homers and 13 RBIs. It was his first month of batting .265 or better since April.
Young was the team's primary designated hitter in 2012, but he also played the field a bunch, logging 16 games at second, 25 games at third and 41 games at first. Manager Ron Washington wanted to keep Young engaged in the field and made a point to do that. Then, when the club needed Young to fill in for various injuries, he was able to do that.
Young's versatility is certainly an asset, but as a backup. Young was the utility infielder as Washington trusted one of his clubhouse leaders and continued to play him even when
Jurickson Profar
was called up.
Some of you have wondered about trading Young. First, he has 10-5 rights, which means he must approve any trade. But I'm not sure what trading him accomplishes in 2013. The Rangers would still have to pay the majority of Young's salary because at $16 million, he's overpaid. Why not just pay that, have Young on your team and in the clubhouse and then make a decision after 2013?
[+] Enlarge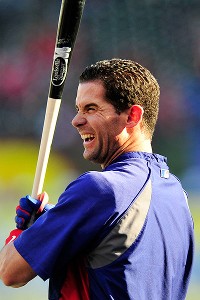 Steve Mitchell/US PresswireMichael Young's versatility and leadership is valuable to the Rangers, but at what price?
But if Young is here, what is the proper role for him? He had 611 at-bats in 2012 and has had at least 541 in every season since 2002. The numbers from last season point toward a more limited role. It doesn't make sense for him to play that much again in 2013. Young had a .312 OBP. Among players with at least 600 at-bats, only four players had a lower OBP than Young. He had a .370 slugging percentage. Only one player with more than 600 at-bats (
Dustin Ackley
) had a lower slugging percentage. Young's WAR number, a stat that you can see now on ESPN.com's regular stat page for each player, was -2.4. That's by far the worst of his career. He was 2.1 in 2011.
Young could certainly continue in his role as utility infielder and part-time DH, but do it with fewer at-bats. That's a tough thing to do to a veteran who has given the club so much. But as they look to integrate some younger players into the lineup, that's a logical choice. Of course, exactly what Young does will depend on what this club does in the offseason and what spots they fill.
Washington believes in Young and for good reason -- the veteran's track record is one of consistency. But he did not show the gap power that he's had in previous seasons and didn't hit overall at the level he's used to.
Is now the time for Young to be a guy that comes off the bench to give infielders a break once or twice a week and then fills in at DH based on the pitching matchups? Is that fair or do you think Young will bounce back in 2013 and should be given a chance to be an everyday player again?