Texas Rangers:

Thad Bosley
September, 26, 2011
9/26/11
1:00
PM CT
By
Bryan Dolgin
| ESPNDallas.com
The most recent edition of Rangers Magazine featured the replayed sounds of a celebratory clubhouse at Rangers Ballpark in Arlington from an American League West Division clincher the night before, and the introspective thoughts of GM Jon Daniels.
PODCAST
Rangers general manager Jon Daniels reflects on the ups and downs of the team's second consecutive division-clinching season.

Listen

JD stopped by the home radio booth 90 minutes before first pitch of Saturday's game against the
Seattle Mariners
. In the accompanying 20 minute podcast, JD covered numerous topics that were the primary storylines of this division winning season.
"I spent most of the [A's-Angels] game with [Ron Washington] in his office at the end there," Daniels said. "He and I kind of joked about few of the moments over the years. The high points get written about. We were talking about some of the low points and some of the decisions that had been made. I'm thrilled for everybody -- our scouts, our development folks, our fans -- but probably most of all for him.
"He kind of took it on the chin for a year or two and took some time for people to know what he was about -- both in the clubhouse and throughout the community. I kind of had a gut feel for him. Believed in him, believed in the person, and I'm just thrilled to see the success he's having with this club. I really believe that team takes on the personality of the manager, and I don't think you can see that more clearly anywhere around the league than you do here."
The players succeeded under Wash in 2010 for an American League championship. This year's Rangers are the first since the 2004
New York Yankees
to lose the World Series one year and win the division the next year. Part of the reason is JD recognizing what was needed.
"It wasn't any particular game, series or moment, but just sitting back and realizing how good you have to be to get to that point," Daniels said. "You have to be so good, such a complete team and we felt there were areas we could upgrade. We added two big-time right-hand bats. We improved our defense. I think we're a little more balanced throughout the rotation, a little more balanced in the bullpen."
JD also talked more about Wash, what's needed for repeated success, the impact of
Tommy Hunter
's injury during spring training,
Michael Young
's offseason situation along with his versatility in-season, why there was a deep belief in
Mike Napoli
's skill set, the insight and realization on the in-season change at hitting coach from Thad Bosley to Scott Coolbaugh, the playoff roster possibilities,
Matt Harrison
's rise,
Alexi Ogando
as a starter or a reliever in the playoffs, scouting of playoff teams, and perhaps the most amazing fact of this season.
Listen to the podcast. Rangers Magazine can be heard Saturday on 103.3 FM ESPN.
June, 9, 2011
6/09/11
11:28
AM CT
Rangers hitting coach Thad Bosley said Thursday that he didn't want to comment on what some of the players said Wednesday
about the communication issues
. The coach said he understands the club decided to move on.
"At the end of the day, they made a decision they felt was best for the team to try to go forward and win a World Series and I respect that," Bosley said. "I don't have to agree with it, but I respect it."
Bosley said he has the "utmost respect" for the Rangers' front office, and cited CEO Nolan Ryan, GM Jon Daniels, assistant GM Thad Levine, senior special assistant to the GM Don Welke and manager Ron Washington by name.
Bosley knew when he was hired that it was going to take some time to understand the Rangers' hitters and for the players to be comfortable with him. That didn't happen quick enough for the club to continue with Bosley as the hitting coach, leading to Wednesday's decision. Daniels said on Wednesday that "the fit wasn't right."
"You're not going to walk in the room of the Texas Rangers and be the third hitting coach in three years and everything you bring in is going to be, 'Hey, that's great. We got it. Let's go,'" Bosley said. "It takes times. You have to build that relationship."
Bosley isn't sure what he'll end up doing, but would like to stay in baseball.
The bottom line, as we've talked about on the blog and in the chats, is that Bosley's personality just didn't mesh with the club. There's a certain vibe to the clubhouse and it takes a coach that can get through to players either by using that same vibe or very tactfully and subtly altering that vibe so everyone is on board. Clint Hurdle and his dynamic personality did that. Bosley wasn't able to follow him with this particular club.
June, 8, 2011
6/08/11
6:10
PM CT
ARLINGTON, Texas -- It's not every day that a major league team that is second in the American League in batting average, fourth in runs scored and first in its division changes its hitting coach. But the Rangers replaced Thad Bosley with Scott Coolbaugh today in large part because the coach didn't communicate well enough with his team.
Perhaps outfielder
Josh Hamilton
said it best.
"He just didn't fit with us," Hamilton said, noting that Bosley was a "good guy with a good heart."
"He's a professional in the way he approaches the game and teaches the game, but it just didn't mesh with our clubhouse. It was communication -- not a lot there.
"You'd like to have somebody that knows when to back off, knows when to approach, gets what they want to get across to you, but find out your personality and find out how to get it across to you. Those things just didn't happen the way they needed to."
Several players said they didn't feel like they were listened to and that the coach wasn't able to do enough to help them.
Elvis Andrus
said he wanted a coach that was more into the mental side of hitting and he felt Bosley was mainly mechanical.
"I think for me I need a hitting coach that can teach me and make me better mentally more than physically," Andrus said. "I wish him the best, but he was more physical and technique. I don't get into much mechanic stuff. I'm more like a mental guy. For me a great hitting coach, that's what I like. Rudy [Jaramillo] and Clint [Hurdle], they were more into the mental part of the game. I know Coolbaugh will be our new hitting coach. I worked with him in Double-A and I think he's a great hitting coach."
That's where a different style appears to have hurt Bosley's chances of success. Jaramillo, the club's longtime hitting coach before his departure after the 2009 season, and Hurdle, who was the hitting coach last year before taking the manager's job with the Pirates this season, were big proponents of the mental game. Hurdle used to text players and coaches with various quotes designed to get them motivated, and he constantly preached situational hitting and how to approach things without getting too much into swings.
"Hitting is mental and mechanical," Hamilton said. "Basically at this level, you need eyes to watch you because you know your swing. You get in funks where you feel like you know what's wrong, you go back and look at video to confirm it, have a hitting coach that's there to confirm it with you and take steps forward to correct it. The communication was just lacking a lot."
Sources confirmed that Bosley had a few run-ins with players, much of it stemming from miscommunications. But the bottom line was he wasn't on the same page as the rest of the team, and the club decided it needed someone who could blend in better.
"We felt like at this point that the fit wasn't right," Rangers general manager Jon Daniels said. "Nothing about Thad's credentials or work ethic or what he did. Sometimes, time and place aren't right and we felt like that was the case and we felt like a different fit might be better for the club moving forward."
Coolbaugh's familiarity with the hitters and the way the Rangers operate should help. He's dealt with most of them either in the minors, during rehab stints or in spring training.
June, 8, 2011
6/08/11
4:29
PM CT
ARLINGTON, Texas – The Rangers have relieved hitting coach Thad Bosley of his duties on Wednesday, according to a source. The club is expected to announce the decision soon. Scott Coolbaugh will handle the hitting coach duties for now.

Bosley was hired before the 2011 season after Clint Hurdle left to become manager of the Pittsburgh Pirates. Bosley, who was a finalist for the job when Hurdle was hired prior to the 2010 season to replace Rudy Jaramillo, leaves after just a little more than two months into the regular season.

More to come later.
February, 16, 2011
2/16/11
8:00
AM CT
Today's position: Hitting coach
After interviewing several candidates following Clint Hurdle's departure after the season, the Rangers settled on Thad Bosley. The club's new hitting coach interviewed for the position before the 2010 season when Hurdle was hired to replace Rudy Jaramillo. Manager Ron Washington was familiar with Bosley from their days in Oakland. Bosley was the A's hitting coach for two seasons while Washington was the third base coach.
[+] Enlarge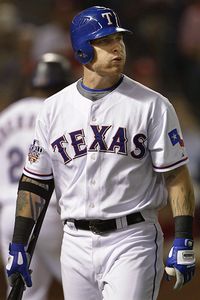 AP Photo/David J. PhillipJosh Hamilton won't be the first MVP new hitting coach Thad Bosley has worked with.
Bosley brings with him a resume that includes working with MVPs Jason Giambi and Miguel Tejada, an experience that should help him in his work with Josh Hamilton.
Bosley's challenge is to keep building on what Hurdle implemented. When Hurdle arrived before the 2010 season, the focus was on making the offense more versatile. Washington wanted a team that could not only hit the long ball, but move runners over, utilize its speed on the bases and come up with clutch hits. The 2010 Rangers did that, proving in the postseason (Tampa Bay can tell you all about it) that they could score runs in a variety of ways.
Part of Bosley's job is to make sure his hitters are in the right place mechanically. But the role of an instructor for a baseball team that is together every day for eight months or more is to be good at building relationships and keeping guys in engaged and motivated. Bosley has talked this offseason about both parts of the job. He's been working with some players in the batting cages at Rangers Ballpark in Arlington and heads to spring training with an idea of each player's swing. He'll learn even more about their personalities during the six weeks in Arizona.
"I think I bring an understanding of what it means to compete at the major league level and what it means to come in a ballgame late,"
Bosley said last month in an interview with ESPNDallas.com
. "You can't take an at-bat for granted. I think the similarity between me and Clint is that we have a general understanding of hitting and we're both mental and mechanical. You have to keep it as simple as possible. We get into some sophisticated stuff, but it's about winning games. You've got to get guys to understand the importance of an at-bat and how one pitch in an at-bat can change a baseball game."
How Bosley communicates and gets his hitters ready for the season will be one of many things we'll keep an eye on this spring.
January, 18, 2011
1/18/11
7:00
AM CT
Rangers hitting coach Thad Bosley has spent the last few weeks with a handful of Rangers in the batting cages in Arlington. He's seen
Josh Hamilton
(before the AL MVP was treated for pneumonia),
Ian Kinsler
,
Michael Young
,
Craig Gentry
and
Chris Davis
. And he's supposed to work with
David Murphy
this week.
Bosley talked to ESPNDallas.com and shared some of his first impressions and how he's going to go about his job. Some of his thoughts:
Q: How has your initial experience with the club been so far?
TB:
I think it's been great overall. As a hitting coach at the major league level, the thing you have to establish is a relationship and a level of trust. Having done it before, it's a little different. Being able to spend some quality time with Josh, Ian and Mike, guys I consinder the nucleus of the club, and working with them in their envoriment and talking about ideas has been great.
Q: What has been the reaction from players?
TB:
Here's a ballclub that's having success with young players and another guy is coming into the room in three years. From their part, having played, you want to know what this guy thinks. What are his ideas? What are his philosophies? It's been good in terms of us talking. I watched 30 or 40 games. I've come out to the ballpark when they were in California against Oakland. I came into the stadium and Clint was good about introducing me to some of the guys, so I did see them a little bit.
Q: What are your ideas and philosophies?
TB:
Having played 17 years as a professional baseball player, I think I have a clear understanding of what it takes to hit in this league. I believe in the traditional fundamentals of hitting. I think I had some of the best hitting coaches and played with some of the best players, like Paul Molitor, Robin Yount, Cecil Cooper, Bobby Bonds, Don Baylor, Ryne Sandberg, George Brett. That helps.
I think I bring an understanding of what it means to compete at the major league level and what it means to come in a ballgame late. You can't take an at-bat for granted. I think the similarity between me and Clint is that we have a general understanding of hitting and we're both mental and mechanical. You have to keep it as simple as possible. We get into some sophisticated stuff, but it's about winning games. You've got to get guys to understand the importance of an at-bat and how one pitch in an at-bat can change a baseball game.
We'll have more from Bosley as spring training nears, but he's clearly a student of the swing and loves to dissect it. I'll be curious to see the similarities and differences between Bosley and Hurdle as the spring and season progresses. Hurdle did a nice job of getting this team to become a better situational hitting club. Bosley's job will be to continue that.
January, 4, 2011
1/04/11
11:30
AM CT
ARLINGTON, Texas -- New hitting coach Thad Bosley said he has talked to all of the Rangers' hitters that are in the United States during the offseason.

That includes AL MVP Josh Hamilton, who actually worked with Bosley in the cages on Monday.

"He's one of the best hitters in the game of baseball," Bosley said. "He has tremendous bat speed and athletic ability. He's going to be a joy to work with and watch."

Bosley said he's working on learning each player's tendencies and will try to offer adjustments when they are needed without fundamentally changing what got each player to the majors. Bosley watched the World Series and noted how the San Francisco Giants pitchers approached the Rangers' lineup.

"We're going to adjust some things," Bosley said. "We have to stay down in the zone and find the big part of the ballpark. There are little things I can offer and I'll do that when it's necessary. I'm looking forward to this."

Bosley said he may work with Ian Kinsler as early as Tuesday and will get chances over the next few weeks to see more hitters in person before spring training arrives.

For what it's worth, I like Bosley's approach. Why try to come in and make a bunch of changes to a team that went to the World Series and became a much more versatile offense? At the same time, they hit under .200 as a team in the World Series and want to be more consistent in 2011. The best way to do that is to continue what Clint Hurdle was preaching, and it sounds like Bosley will do that in his own way.
November, 23, 2010
11/23/10
3:27
PM CT
The Texas Rangers hired Thad Bosley as the team's new hitting coach Tuesday, replacing Clint Hurdle.
Hurdle was named the new manager of the Pittsburgh Pirates earlier this offseason.
The 54-year-old Bosley, who played for the Rangers during the 1989-90 seasons, becomes the team's first former player to be the Rangers' hitting coach.
To read more about the Bosley hiring,
click here.