June, 24, 2010
6/24/10
3:06
PM CT
The Rangers released catcher Toby Hall, who has been rehabbing an injured shoulder in Arizona. The club signed Hall to a minor league contract with an invitation to spring training this past offseason with the hopes that he could recover from right shoulder surgery last year to become a veteran backup if needed.

That never really happened. The Rangers ended up picking up Matt Treanor, who worked his way into the lineup when Jarrod Saltalamacchia was sent to the minors, and they had no need for Hall.
March, 24, 2010
3/24/10
11:00
AM CT
SURPRISE, Ariz. -- Second baseman
Ian Kinsler
(right high ankle sprain) hit off a tee on Monday and is continuing to progress. He still has not put any pressure on his ankle in terms of running, but is still targeting for a Monday return to game action.
"I'm trying to keep a bat in my hands as much as possible," Kinsler said. "It's just a matter of getting the timing down. The key is seeing as many off-speed pitches as I can. So that's what I'm hoping to do."
Other injury notes:
* Catcher
Jarrod Saltalamacchia
(spasms in muscle that goes from neck to the back on his left side) said he felt "a lot better" when he woke up Wednesday and wants to DH in a game on Thursday. The club hasn't decided if that's the plan, but Saltalamacchia said he'd like to swing the bat Thursday and then catch on Friday.
* OF
Josh Hamilton
(infected root canal) did not have a fun last few days. After the "B" game on Monday, Hamilton headed to the airport in severe pain. He called his dentist and was told not to fly back to Arlington, but instead to go see an oral surgeon in Arizona. That surgeon irrigated the infection and Hamilton rested on Tuesday (the off day for the team).
"I feel much better today," Hamilton said. "Don't I look better?"
He certainly did, with very little swelling in his mouth. He's in the lineup today.
* RHP
Darren O'Day
(bone bruise) thinks he might have slightly hyperextended his elbow, which could have caused the soreness. But he says there's no structural damage and he feels better. He's supposed to throw off flat ground and if all goes well, could get back on a mound in the next few days. Right now, he's tentatively scheduled to pitch in a minor league game on Thursday.
* RHP
Tommy Hunter
(strained oblique muscle) is a little frustrated. He thought his soreness would have dissipated by now, but it hasn't. The club says he's still two to three weeks away. He is riding the treadmill and reading a book ("The Shack"). He hasn't picked up a baseball since last Thursday.
* C
Toby Hall
(shoulder) is throwing to bases, but the club still thinks May 1 is the target date for him to be fully ready to play in games.
* OF
Endy Chavez
(knee) is running straight ahead at 50 percent and making progress.
* RHP
Eric Hurley
(wrist) is scheduled to see a hand specialist on Monday. If all goes well, he should be cleared to throw.
March, 17, 2010
3/17/10
1:00
PM CT
SURPRISE, Ariz. -- I didn't get a chance to see Tuesday's B game between the Rangers and Royals, but I did receive a box score (thanks to Court at the Rangers' PR office). A few notes from that:
*
Toby Hall
was the DH and was 2-for-3 with a run scored. He told me that he's been pleased with his swing, which he says is improving every day. He's supposed to throw to second base this week. Once he feels comfortable with that, he should be ready to catch in games (and build up his endurance).
*
Max Ramirez
was the catcher and was 1-for-3 with a run scored. Manager Ron Washington mentioned on Monday that Ramirez's defense is improving and he likes what he sees behind the plate. If Ramirez can hit and get acclimated with first base, he's still a possibility to make this club.
* LF
Brandon Boggs
was 2-for-3 with five RBIs that included a home run. Boggs (knee) is not limited any more. We should see him in an "A" game soon.
* RHP
Luis Mendoza
gave up one run on five hits with two walks and a strikeout in 1 2/3 innings pitched.
Willie Eyre
pitched a scoreless inning with a strikeout.
Pedro Strop
gave up two runs on two hits (including a homer) in his lone inning. And
Guillermo Moscoso
got the save in the Rangers' win, pitched 1 2/3 scoreless innings (he had two strikeouts and a walk).
The Rangers will face the Brewers in a B game at 2:30 p.m. on Thursday. Texas has a night game in Surprise at 6:05 p.m. on Thursday and one in Peoria tonight at 7:05.
February, 19, 2010
2/19/10
10:22
AM CT
SURPRISE, Ariz. -- A few quick notes from Friday morning in the Rangers' clubhouse, where players were busy with their physicals. The workouts don't begin until 10:30 a.m. out here in Arizona.
*
Josh Hamilton
arrived today. He was smiling and ready to get going on the season. Hamilton said he learned from last year and is ready to put all of that behind him and have a strong 2010 season. We'll have more on that later. BTW, he predicted 96 wins for the Rangers this season. (He predicted 90 last year...and wasn't too far off).
* The
injury situation is unchanged
from yesterday. I did talk with
Toby Hall
, who said he's throwing to bases, but doing so before any team activities because he can't quite let it go all the way yet. He said he's been swinging a bat fine and is catching fine, so he's getting close. "If I get three weeks of games to get as many at-bats as I can, I'll be fine," Hall said.
*
Jarrod Saltalamacchia
said he didn't get a chance to throw to bases on Thursday as planned. He hopes to get that done in the next few days.
* Some of the pitchers in camp will throw to live hitters today. We'll let you know how they look.
That's all for now. Check back in periodically all day for updates. Also, you
can follow me on Twitter here
.
February, 19, 2010
2/19/10
8:00
AM CT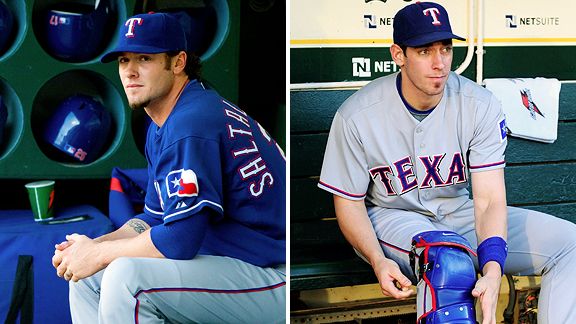 US PresswireJarrod Saltalamacchia and Taylor Teagarden will be battling throughout spring training to become the Rangers' starting catcher.
SURPRISE, Ariz. -- Fittingly, as pitchers and catchers get going here at spring training, we turn our attention to them in our positional outlooks. We'll look at catcher today and then shift to the five starting rotation spots next week just to give you a glimpse of each position and player.
One of the
biggest questions of the spring
is whether
Jarrod Saltalamacchia
can show he's healthy. If he is, he's expected to be behind the plate on opening day. But that doesn't mean it's simply Saltalamacchia's job to lose. Taylor Teagarden
will get his opportunity as well
.
So far, Saltalamacchia has progressed nicely since returning to baseball conditioning in January. He had a setback in winter ball, feeling some discomfort in his arm in his first few games. He was shut down for a month, but it was determined that he didn't suffer any additional damage to his shoulder or arm.
Saltalamacchia, 24, started the 2009 season as the No. 1 catcher, but played in just 84 games because of complications from Thoracic Outlet Syndrome. Saltalamacchia had right shoulder soreness and was having trouble throwing the ball back to the mound at times. He batted .233 with nine homers and 34 RBIs and had 97 strikeouts (and 22 walks) in 283 at-bats.
[+] Enlarge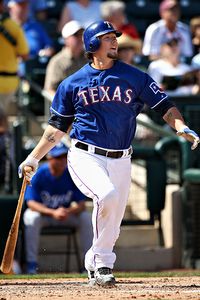 Christian Petersen/Getty ImagesJarrod Saltalamacchia played just 84 games last season because of shoulder injuries. He batted .233 with home runs and 34 RBIs in 283 at-bats.
Saltalamacchia has talked this offseason about focusing on staying healthy and getting more consistent at the plate. The reality is the Rangers didn't get much offensively from the catching position all season. Rangers' catchers hit .234 with 17 homers and 71 RBIs. They had 188 strikeouts in 568 at-bats. Only the first base position had more strikeouts for the club last season. The catching batting average was 23rd in the majors and the strikeouts were No.1. But it wasn't all bad news from an offensive standpoint. The Rangers' catchers had 74 runs, eighth in the majors.
But there's no doubt, getting more from the catching position on offense is something the Rangers need this season.
Taylor Teagarden
could have a say in that as well. He was Saltalamacchia's backup last season and struggled at the plate himself. He hit .217 with six homers and 24 RBIs (with 76 strikeouts and 14 walks in 198 at-bats). The Rangers, needing some help at catcher, traded for Pudge Rodriguez in August when Saltalamacchia went down. But he's not back this season.
They did bring in veteran catcher
Toby Hall
as insurance should Saltalamacchia experience some setbacks.
But the Rangers want the two young catchers to grab the job. Manager Ron Washington talked last season about making sure both of them got to know the pitching staff and could call a good game. Both improved steadily in that area in 2009. And they'll start right now getting used to the new faces on the Rangers' staff. Saltamacchia's catching ERA was 4.10 with Teagarden at 4.60. They had a combined 13 errors in 2009.
The club considers both quality defenders and it's a part of the game they continue to work hard at. The key will be finding that balance of handling pitchers well, playing solid defense and contributing a little more at the bottom of the order with the bat.
"There's nothing wrong with some healthy competition," Washington said Thursday. "It's what I've always preached I've wanted to see from my catchers: handling the pitching staff, getting them through innings, helping through bad times. It gets back to leadership too."
Catching will be fun to watch this spring.
February, 18, 2010
2/18/10
3:29
PM CT
SURPRISE, Ariz. -- The Rangers begin the 2010 season amid high expectations. Fresh off an 87 win season that saw the team improve in key areas last season as the entire front office staff and team believing they can contend for a playoff spot this season.
"We expected ourselves to win last year," manager Ron Washington said. "There were many people surprised. I don't think anybody in our clubhoues was surprised. We left out of spring training expecting to do exactly what we did. We wanted to win more games and get to the playoffs, but we certainly expected to win. We just want to get to that consistent point. After going through what we did last year, guys are ready for that."
Daniels was quick to point out that the club isn't approaching the season as if winning 87 games is automatic.
"Our guys and the staff worked very hard to get to those 87 wins last year," Daniels said. "But we're not owed or guaranteed anything. That's not a jumping off point for this year. We start with zero. It's not as if anybody is obligated to give us those 87 and we have to go get the extra whatever it is to make the postseason. We have to earn every one of them. It's a clean slate for all the negative things, but also the positive things. We have to build on them."
Washington doesn't think the team will feel any of that added pressure.
"Pressure is what you put on yourself," Washington said. "As the manager and my coaching staff, it's our job to get these guys to believe that they need to go play baseball and play to the sitaution and let your talent take over. The overall scheme of things had to be we do the very best we can to keep them relaxed and keep them believing. Belief is a powerful thing."
A few notes from the quick media session with Daniels and Washington:
* The Rangers consider the catching spot an open competition. Daniels and Washington believe that
Jarrod Saltalamacchia
and
Taylor Teagarden
can handle being the everyday catcher if needed. But the club is also still looking at veteran catcher possibilities as insurance. Saltalamacchia might have the inside track if he stays healthy, but he'll likely get some stiff competition from Teagarden. More on that later.
*
Max Ramirez
is coming in as a catcher, but should also get some time at first base. Daniels said they are looking at him in some roles, but he's coming off the wrist injury and has to prove himself.
*
Frank Francisco
is the closer. Washington made that clear. So
C.J. Wilson
either grabs a starting job or is a critical late-inning pitcher for the club.
* Those players of note out of options:
Scott Feldman
,
Dustin Nippert
,
Luis Mendoza
,
Joaquin Arias
, and Ben Snyder (not out of options, but club can't option him because he's a Rule 5 guy). (I was incorrect earlier on Doug Mathis, he does have options).
February, 18, 2010
2/18/10
10:28
AM CT
SURPRISE, Ariz. -- Nothing like starting off spring training with an injury report, right? But we'll give you a heads up on what's happened with the Ranger players who are injured as often as we can. Here's today's update:

* RHP Omar Beltre, who just arrived from the Dominican Republic a few days ago, experienced some discomfort in his shoulder a few months ago and the Rangers told him to be conservative. Dr. Keith Meister checked it out and there's no structural damage.

* OF Brandon Boggs, who had offseason surgery on his left shoulder (Bankhart Procedure), hasn't tested it sliding headfirst or diving in the outfield. But his throwing is fine and he's very close to being 100 percent.

* RHP Eric Hurley is also recovering from surgery (rotator cuff) and is up to two bullpen sessions a week. He's expected to throw on Friday.

* C Toby Hall, who had surgery on this throwing shoulder in May (Bankhart Procedure) is long tossing and probably 10 to 14 days behind schedule, according to assistant GM Thad Levine. But Hall is expected to be close to 100 percent by the time games start in March.
January, 22, 2010
1/22/10
3:01
PM CT
The Rangers
signed catcher Toby Hall to a minor-league contract
with an invitation to spring training on Friday.
This does give the club some insurance. Hall has played in nearly 700 games and certainly knows what it takes to manage a pitching staff behind the plate. He's had health issues recently, including missing all of 2009 with surgery for a torn labrum. So he's willing to take a minor-league deal with the hopes that he can prove he's healthy during spring training.
This is a backup plan should Jarrod Saltalamacchia have issues. Saltalamacchia, so far, is progressing fine as he recovers from shoulder surgery.
The Rangers, with a few weeks left until spring training, have taken care of all of their immediate needs.
Do you think Saltalamacchia will start in 2010? Will Taylor Teagarden be his backup?