Texas Rangers:

trade deadline
July, 30, 2014
Jul 30
9:05
PM CT
ARLINGTON, Texas --
Texas Rangers
starting right fielder
Alex Rios
left Wednesday's game against the
New York Yankees
after getting hit on the left quad in the third inning.
Rios glared at Yankees starter
Hiroki Kuroda
after he got hit but calmly went to first base.
Rios was later replaced in right field by
Daniel Robertson
.
Rios is the subject of trade rumors and could be dealt by Thursday's non-waiver trade deadline. The Rangers have a team option on him for 2015 and are open to bringing him back. But if there's an opportunity to acquire quality prospects, the club wouldn't hesitate dealing him.
"I would like to stay here," Rios said before Wednesday's game. "At the same time you have to understand what the situation is and a few other things. It's a business and you have to look at it as that. We do enjoy what we do as players."
July, 25, 2013
7/25/13
11:39
AM CT
By
Richard Durrett
| ESPNDallas.com
We continue our
"Trade Target" series
, which also includes circling back to a few folks we've talked about over the last month. With
Alex Rios
back in the news
with the Rangers interested
(and they should be), let's look at him again.
Today's target:
Alex Rios
PODCAST
Rangers GM Jon Daniels joins Fitzimmons and Durrett to discuss the Matt Garza trade and if the Rangers are done shopping before the deadline.

Listen

Jon Daniels has talked about the lack of impact bats on the market (he discussed it again on Fitzsimmons and Durrett on Tuesday on ESPN Dallas 103.3 FM). And he's not the only one that's noted that. But Rios is one of the few. He's got a track record, is under club control for the next few years and would give the club a right-handed bat in the outfield who is putting up solid numbers.
The beauty of Rios for the Rangers would be they'd get a 32-year-old player who can patrol the outfield for the next two years. Rios isn't cheap. He's making another $6 million or so this season, $12.5 million next season and has a $13.5 million club option for 2015. He also had six teams on his no-trade list, but reports over the past few weeks indicate the Rangers weren't on that list.
This wouldn't be merely a short-term option.
Nelson Cruz
could be staring at a 50-game suspension at some point, though it's unclear when that might be. Either way, he's a free agent after this season.
David Murphy
's contract expires too. So the Rangers are going to have to deal with adding to the outfield soon. They know they should consider doing that now, if they can.
Rios is batting .278 with 12 homers and 48 RBIs. He's hitting .308 against left-handed pitchers and can play the corner outfield spots (and even center field if needed, though he's played every game this season in right field).
To get a player under club control for that long, the Rangers would have to give up prospects. But the price tag of Rios' contract should allow them to avoid giving up many of the top ones. Could guys like
Wilmer Font
or Luis Sardinas be in the conversation? Probably. And some others. We'll see what kind of package it would take, but it might not be as costly as you think because of Rios' salary.
Rios would make this lineup better, which is why the Rangers are talking about it. He's not a huge name, but he would help this team now and in the future.
What are you giving up to get him?
July, 15, 2013
7/15/13
8:56
AM CT
By
Richard Durrett
| ESPNDallas.com
With less than two weeks until MLB's trade deadline, we'll take a look on the blog in the coming days and weeks at some names that could be available between now and the deadline and debate whether those names make sense for the
Texas Rangers
.
PODCAST
Eric Nadel joins Galloway and Company for his weekly visit to discuss the latest Rangers news.

Listen

Today's trade target:
Matt Garza
There's little question as to whether or not the Rangers need a starter. They do. Sure, you can hope that everybody currently on the disabled list returns on schedule, but how likely is that? And does it really matter? I could argue the Rangers need a starter even if everybody returns fully healthy and productive. The club's disabled list rotation is impressive when you consider
Yu Darvish
,
Colby Lewis
,
Matt Harrison
,
Alexi Ogando
and
Nick Tepesch
are on that list.
Justin Grimm
isn't on the DL, but he left Friday's start with right forearm tightness.
The bottom line: The Rangers need some more depth at that spot, especially when you start trying to put together a playoff rotation. Another top-half-of-the-rotation starter would be huge for this club.
Garza fits that bill. He's 6-1 with a 3.17 ERA with 62 strikeouts and 20 walks in 11 starts. In Garza's past six starts, he's got a 1.24 ERA. His last start a few days ago (probably his last in a Cubs uniform) was 6⅔ innings against St. Louis, in which he gave up two runs. He's pitched well against the A's in Oakland and the White Sox, giving up a total of four runs in 21 1/2 innings in those last three starts. He's shown that he's healthy and productive. He's got the numbers to slide in as the No. 2 starter in this rotation behind Darvish and help give this club a boost, but at what cost?
Garza, 29, is a free agent at the end of the 2013 season. That means any team that trades for him will not get a compensatory draft pick if he signs somewhere else (that's part of the new CBA). So we are talking about a pure rental here, assuming Garza doesn't sign long term with Texas. He'll be owed a little less than $5 million for the rest of the season. The Baltimore Sun reported that, last offseason, with one year left on his deal, Garza drew interest from the Orioles. The Cubs asked for two of Baltimore's top five prospects (as ranked by Baseball America, and both players were also in ESPN.com's Keith Law's
top-100 list
this offseason).
July, 30, 2012
7/30/12
7:57
PM CT
BOSTON -- The
Texas Rangers
have not closed the door on a possible deal for
Boston Red Sox
pitcher
Josh Beckett
, according to a major league source, although the Red Sox have maintained they're not looking to move him and a rival general manager estimated there was a "2 percent chance" of a deal getting done.
"Too much money involved, and Beckett isn't pitching that well," the GM said.
Beckett, who is scheduled to pitch at Fenway Park on Tuesday night against the Tigers, declined to address his situation before the game.
Read the full story
here
.
July, 26, 2012
7/26/12
10:30
AM CT
By
Richard Durrett
| ESPNDallas.com
In our continuing series on the trade deadline, we'll take a look at some players that could be on the market and are likely to interest the Rangers:
JAMES SHIELDS
We don't know whether the
Tampa Bay Rays
will actually consider moving
James Shields
, who has a favorably contract and is under club control (in terms of options) through 2014. But if the Rays want to shed a little salary, they could do it by trading Shields and still have plenty of pitching in their system.
Shields is making $7 million this season and has club options for 2013 at $9 million ($1.5 million buyout) and 2014 at $12 million ($1 million buyout). That would certainly be appealing for the Rangers to have a pitcher like that in the rotation for a few more years. While Shields may not be as much of an impact pitcher this season as
Zack Greinke
, for instance, he's a solid hurler who has pitched in big games down the stretch.
The 30-year-old has pitched more than 200 innings the last five seasons and has 20 starts and 131 innings under his belt this season. He's got a 4.00 career ERA, which includes a 16-12 mark and a 2.82 ERA in 2011. This season, Shields is 8-6 with a 4.39 ERA with 124 strikeouts and 39 walks.
Shields would increase the club's rotation depth and give them another pitcher with experience in games that matter down the stretch and in the postseason. He may not have the "wow" factor of Greinke and others we've discussed, but he's a solid pitcher with an affordable contract and someone that would not be a rental.
How do you feel about Shields? What are you willing to give up to get him?
July, 19, 2012
7/19/12
11:00
PM CT
By
Richard Durrett
| ESPNDallas.com
We're less than two weeks away from the July 31 trade deadline and the
Texas Rangers
are in position to make some moves if they choose. But with any deadline, the club must prioritize, get prepared and decide what kind of value it places on the prospective pieces on the market. With an additional playoff team in the mix, things may go even more down to the wire than normal as certain clubs could decide very late that they are sellers or buyers. And with the changes in compensatory picks, it could alter the value of rental players.
So let's pretend that I'm general manager Jon Daniels (he's way smarter than I am, but I'm taller and better looking) and I'm trying to figure out which deals I should do and which ones I shouldn't. Here are five things to consider at the deadline:
[+] Enlarge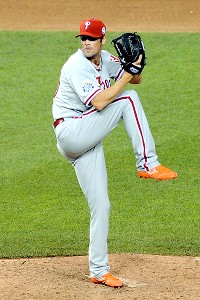 Denny Medley/US PresswireIf the Rangers decide to trade for a starter, it needs to be someone like Cole Hamels who will slot in at the top of the rotation in the postseason.
1. If the Rangers trade for a starting pitcher, make it an impact one.
You'll hear the names of
Ryan Dempster
and
Matt Garza
this time of year. Maybe even
Wandy Rodriguez
. But it doesn't make sense for the Rangers to deal decent prospects for pitchers who aren't going to make the rotation appreciably better.
Should Texas decide to get a starter, it needs to be someone who slots in at the top come the postseason. The two biggest names that could be out there are
Zack Greinke
and
Cole Hamels
. Personally, I like Hamels more than Greinke. And we'll see if he even becomes available now that
the Phillies and Hamels' agents are intensifying talks
. But this is where things get interesting. It's going to take a big package of premium prospects (and maybe even some major league players) to get it done. That would likely mean Mike Olt. I'm normally a guy who advocates dealing prospects for sure things. After all, they are called prospects for a reason. They might pan out, they might not. But with no draft picks coming back to Texas if Hamels (or Greinke) leaves, I think Olt (notice I'm not even mentioning Jurickson Profar, someone I can't imagine the Rangers even considering trading for a rental) is too high a price to pay to be included in the deal. If I'm Texas, I want Hamels. And I'm willing to fork over some solid prospects (
Martin Perez
, Cody Buckel or
Justin Grimm
, maybe even a combination) and even some big league pieces (yes, I'd consider dealing
Neftali Feliz
). But you don't trade the entire farm for someone who is here for a few months.
This is different from the
Cliff Lee
trade of 2010. With Lee, the Rangers not only knew they would get compensation picks if he left, but they knew they had to have someone at the top of that rotation to help them get over the hump of never winning a playoff series. Texas does not beat the
Tampa Bay Rays
without Lee, so the trade was a success (no matter what
Justin Smoak
does in the future). But the Rangers got something in return, too. Hamels is not the Lee of 2010, either. But he's the closest facsimile, if he's available. I'll pay a high price, just not as high as Olt. If that's not good enough to get Hamels, I'm not "settling" for Garza or someone else who doesn't have a big impact. It's just not worth it. So get a pitcher that can win Game 1 in the playoffs or don't get one at all and go with this current rotation, which I still believe is good enough, especially with the Rangers' bullpen, to win a title.
2. Get a right-hander for the bench.
The AL's loss in the All-Star Game only reinforces this need. It means that if the Rangers return to the World Series, they open on the road without a DH and could play the deciding game -- should it go the distance -- in the NL park. St. Louis' bench was a big difference in last year's World Series and manager Ron Washington didn't have enough weapons at his disposal. There are some names that are intriguing, but contract situations may make it unlikely.
Josh Willingham
seems like a good fit, but the contract calls for him to make $7 million next year and the year after. But there are other, cheaper options that could help the bench.
Carlos Quentin
's asking price is likely to be too much. What about
Shane Victorino
? It's the final year of his deal at $12.5 million this season and he's hitting .254 overall. But the 31-year-old switch-hitter is batting .322 against lefties.
There are some bats out there and the Rangers need to try to see if they can find one to help that bench down the stretch and into the postseason.
[+] Enlarge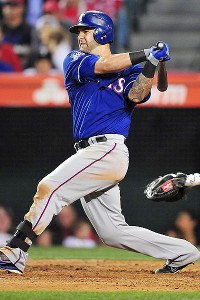 Gary A. Vasquez/US PresswireCatcher Mike Napoli is doing a nice job with the pitching staff but hasn't been producing at the plate.
3. Keep an eye on the catching market.
Honestly, I'm not sure there are reasonable upgrades to the club's catchers on the market, but the club has to at least do some digging.
Mike Napoli
and
Yorvit Torrealba
have done a nice job with the pitching staff and that's the first priority. However, the position is giving the club nothing at the plate.
The Rangers are one of the best teams in the league at checking on everything and leaving no stone unturned. That means at least seeing if there's anything worth pursuing on that front that can increase the offensive production at that spot.
4. See if there's a left-handed specialist for the bullpen.
It might seem odd to do anything with one of the best bullpens in baseball, but let's not forget what
Mike Gonzalez
did for this club in the postseason last year. He got two very big outs -- one in the ALDS and the other in the ALCS -- that helped the Rangers win games in those series. He struck out
Johnny Damon
with two runners on in the eighth inning of Game 3 of the ALDS, a pivotal game in that series. The Rangers won that game by one run. He also came in late in Game 1 of the ALCS with the bases loaded and the Rangers up by a run and got
Alex Avila
to end the threat. Those two outs alone made the trade worth it. Texas has a strong left-handed pitcher in
Robbie Ross
, but he's someone they utilize for a full inning or two and is actually better against righties than lefties (though neither can hit the rookie these days). Still, the idea of having a veteran left-handed pitcher who can get a key out is appealing. It's worth noting that the Rangers picked up Gonzalez at the August trade deadline, so it's not something they have to do right now.
5. Keep an open mind for a trade no one expects.
One thing this team does so well is that it stays prepared for anything and everything. That needs to be the case this year, too. Sure, it's unlikely that the Phillies would make Lee available or that the
Seattle Mariners
would put
Felix Hernandez
on the block (or want to deal him to Texas), but you never know. Maybe there's another impact player out there that Texas could get that no one expects right now. While we talked about not giving up Profar or Olt for a rental player, if there's a big-name pitcher with some years left on his contract, that's when those names might be discussed (still can't see Profar going unless it was something really big). Be ready to pull the trigger if that special opportunity (that Cliff Lee 2010-like chance) comes up.
What am I missing? What other deals would you try to make? What deals should the Rangers make?
July, 17, 2012
7/17/12
4:09
PM CT
By
Richard Durrett
| ESPNDallas.com
FRISCO, Texas -- Frisco RoughRiders shortstop Jurickson Profar and first baseman Mike Olt know their names are being mentioned on blogs and in stories as top prospects that other teams covet as the trade deadline nears. And they say they're just ignoring it.

"I don't pay attention to that," Profar said. "I don't even know about it. I'm just concentrating on baseball. All I care about are things I can control."

Profar stressed that he'll continue to try to improve his overall game with the hope that he gets a chance to play at the big league level with the Rangers.

"I want to do my best over here," Profar said. "You never know what can happen. I have to be there some time. I have to be patient right now and do my thing here."

Olt echoed his teammate's thoughts. You hear Olt's name even more in terms of rumors based on the fact that some of the teams with pieces to move want a third baseman who is close to big league ready. That's Olt. But he's also working toward becoming more versatile by playing first base and right field. He expects to get more chances at those two positions in the second half of the season.

"I remember people saying stuff (last year)," Olt said. "The Rangers are going to do whatever they need to do to win. So I don't worry aboug that.

"It's all rumors. I've dealt with the rumors before. It makes no sense for me to look at. Texas has a plan and I'm sure they're not going to share their plan."

No question about that, Mike.

As for the Futures Game, both players said they enjoyed participating in the event. It was Profar's second time and the first for Olt. George Brett got a chance to watch some of the players and even offered a few tips to Olt about using his hands. Olt, of course, was too young to see Brett play.

"But I've heard what kind of player he was and I'd like to be like that," Olt said.

For now, Olt and Profar will keep working and try to ignore any trade rumors that come up. But expect the talk to heat up as the deadline gets closer.
July, 29, 2010
7/29/10
8:00
AM CT
By
Richard Durrett
| ESPNDallas.com
ARLINGTON, Texas -- It seemed in last night's in-game chat that many of you feel that the Rangers should make a large move -- maybe not on the level of getting
Cliff Lee
, but close -- to get a big bat in the lineup.
Prince Fielder
's name has been mentioned as possible trade bait. From the folks I've talked to, this seems like a long shot. But as we've discussed, Jon Daniels and his staff are very good about checking into every possibility no matter how remote. Money is an issue when talking about the rest of Fielder's salary for this year and the money he'll command next year, when he is arbitration eligible and expected to be in line for a raise to the $15 million range.
But let's ignore that for a moment (or pretend that MLB gave the Rangers some more money). The larger question, in my mind, is this: How willing are you to part with prime prospects to get a more impactful bat than just a right-handed hitting first baseman that would platoon with
Chris Davis
?
My answer: Not very willing. It's not that I don't think someone like a Fielder could provide a huge boost to this lineup. I think he could. But the Rangers already gave up an additional prospect (Michael Main) to the Giants so they would pay
Bengie Molina
's salary. They unloaded
Justin Smoak
and some mid-tier pitching prospects to bring Lee in here, a move that I think we can all agree was critical to this team's playoff chances. Making those moves, and possibly one more to bring in a right-handed bat that can play first, is why the Rangers built this farm system.
I don't like the idea of trading even more top prospects (like Derek Holland, Tanner Scheppers or Martin Perez, just to name a few) to get that really big bat that could end up on the market. I do, however, think this team needs a right-handed hitting corner infielder. But I would only do that deal if it costs me a mid-tier prospect or a package that doesn't include some of my top ones. It just isn't worth it.
It's easy to look at what this offense has done the last week and hit the panic button. And if, for some reason, the money was there and the Brewers weren't asking for the moon, I could be talked in to someone like Fielder. But I'm hearing they are going to want a lot to put Fielder on the market, and I'm just not interested in going all-in for that.
That's just my opinion. And for those that don't want Davis in the lineup at all, let me remind you that he made two great defensive plays Wednesday that very few first baseman make. So while he may not be producing as consistently on offense as the club would like, he's doing the job on defense. Bring in a right-handed bat to spell him against lefties and see where this team goes. This last week on offense not withstanding, they have the look of a champion (going 4-2 despite not scoring much is proof of that). I wouldn't mortgage too much of the future on a really big bat. I'd get the platoon first baseman for the right price and take my chances.
That's just me. What are your thoughts?
July, 25, 2010
7/25/10
10:42
PM CT
By
Derek Czenczelewski
and
Gil Bransford, ESPN Stats and Info
Hindsight is always 20/20 as they say, and that certainly holds true when wheeling and dealing. Trades excite fans from coast to coast, yet many times teams end up sacrificing their future for a shot at a proven commodity in hopes of a title run. While the Rangers recently acquired
Cliff Lee
, it is still too early to measure the impact of that deal. This piece sets out to shine the spotlight on some of the most notable
Texas Rangers
trades since 2005 utilizing statistical analysis and the sabermetric WAR.
WAR stands for Wins Above Replacement and is a relatively complicated formula that in the end answers the question, "How much value would the team lose if a replacement player took his spot?" The calculation turns out an approximate win total the player holds. Now on to the trades:
[+] Enlarge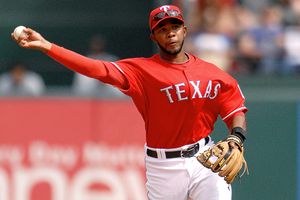 John Rivera/Icon SMElvis Andrus was part of the haul for the Rangers when they sent Mark Teixeira to the Braves.
In short, the Rangers managed to pick up their starting shortstop, closer, a capable starting pitcher and a capable albeit vulnerable catcher in Jarrod Saltalamacchia. This has to be one of the most successful trades in the past five years and perhaps longer.
Teixeira had the best season of his career in a Rangers uniform, tallying 43 home runs and 144 runs batted in. He's also been a cornerstone defensively as well, adding back-to-back Gold Glove awards. Replacing Teixeira (17 WAR with Texas, 17.6 WAR since departure) is short of impossible, but what Texas got in return has allowed them to become better defensively.
Elvis Andrus (3.5 WAR) tallied a league-high 261 putouts at shortstop last season. He also received the highest range rating among shortstops (4.61), enabling the Rangers to move
Michael Young
over to third. Neftali Feliz (1.8 WAR) has solidified the back end of the bullpen and is second in the AL in saves this season (23) and has a 1.06 WHIP.
In some instances, WAR doesn't paint the true value returned, and this is one of those instances. In five years, this deal will seem a lot better from a WAR standpoint.
Honorable Mention: July 28, 2006: Texas trades Julian Cordero, Francisco Cordero, Kevin Mench and Laynce Nix to the Milwaukee Brewers for Nelson Cruz and Carlos Lee. (Rangers Net WAR Loss: -1.5, but WAR value of trade is rising steadily)
While they lost Francisco Cordero (7.4 WAR since departure), the franchise's single-season leader for saves (49), the Rangers acquired premier talent. Everyone is familiar with Carlos Lee, but Nelson Cruz (6.1 WAR with Rangers) turned out to be a true diamond in the rough.
Cruz was one of only three players in 2009 with 30 home runs, 20 steals, and 20 doubles (
Curtis Granderson
and
Ryan Braun
were the others). He also thrived defensively, finishing second in the AL with 11 outfield assists, behind only
Nick Markakis
of the
Baltimore Orioles
.
The Lee experiment didn't work out so well, though. Lee accumulated a 16.7 WAR in his career before coming to Texas, where he produced a mere 0.8 WAR. After averaging a home run every 15.5 plate appearances before the trade in 102 games with Brewers, his feverish pace dipped to a homer every 28.8 plate appearances in 59 games with the Rangers.
[+] Enlarge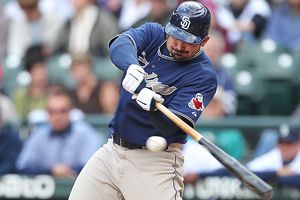 Otto Greule Jr/Getty ImagesThe Rangers probably want a do-over on the trade that sent Adrian Gonzalez to the Padres.
This doesn't need much explanation, as the Rangers gave away Adrian Gonzalez (21 WAR with San Diego), who is now one of the best first basemen in the league, both offensively and defensively. Gonzalez has made three consecutive All-Star appearances while missing only three games total from 2007 to 2009. A multiple Gold Glove winner, Gonzalez also led the majors with 119 walks in 2009.
Chris Young (6.9 WAR with San Diego) has managed to earn himself a solid, albeit injury-plagued career. Young is 47-34 with a 3.84 ERA and has held opponents to a .221 batting average in his career. Meanwhile, the Rangers acquired Adam Eaton and Akinori Otsuka, both of whom are out of Major League Baseball and totaled a combined WAR of 4.3 with the team.
This deal wouldn't have been that bad had Texas held onto Armando Galarraga (3.1 WAR since trade), who has had bouts of success with the Tigers. The Rangers' starting pitching has been horrendous for the better part of the last decade, and since 2005 they have managed to trade Armando Galarraga,
John Danks
(15.1 WAR), Francisco Cordero (7.4 WAR), Chris Young (6.9 WAR) and
Edinson Volquez
(5.1 WAR).
Alfonso Soriano went on to a very solid career with Washington and then on with the
Chicago Cubs
, where he combined for a 12.5 WAR. This trade didn't cripple the franchise, but they really didn't get much long-term value in any of the three players they acquired.
Best Trade for Both Teams: December 21, 2007: Texas traded Danny Herrera and Edinson Volquez to the Cincinnati Reds for Josh Hamilton. (Rangers Net WAR Gain: 4.9 and rising, slowly)
Both teams fared well in this deal, with the Rangers picking up one of the most potent bats in the league while Cincinnati received one of the best young arms in the league. Volquez didn't do much in a Rangers uniform, winning only three times in 17 starts over three seasons. In his first season with the Reds, he won 17 games while finishing second in strikeouts (207). Since joining the Reds, Volquez has a 5.1 WAR.
Josh Hamilton was once considered a five-tool player, and while the running aspect hasn't been a major part of his game so far with only 27 career stolen bases, his ability to drive in runs has far surpassed expectations. In 2008, Hamilton led the AL with 130 RBIs, and since joining the Rangers he has accumulated a 10.1 WAR.