Texas Rangers:

Trade Talk
December, 19, 2011
12/19/11
12:01
AM CT
By
Richard Durrett
| ESPNDallas.com
We continue looking at free agents and trade possibilities for the
Texas Rangers
this offseason and today we circle back to a player we discussed just after Thanksgiving:
Matt Garza
. Since many of you have emailed and tweeted about Garza, let's talk about him again.
Garza, 28, was 10-10 with a 3.32 ERA in 198 innings (31 starts) for the Cubs in 2011. Six times, Garza left with a lead late in the game only to watch the bullpen give it away. He had 197 strikeouts and 63 walks as the Cubs finished 20 games under .500. He came to Chicago after an offseason trade with the Rays (the Cubs sent five minor leaguers to Tampa Bay for Garza) and was 15-10 with a 3.91 ERA in 2010, his final season in Tampa Bay.
[+] Enlarge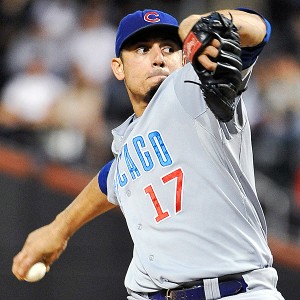 AP Photo/Kathy KmonicekMatt Garza had 197 strikeouts and 63 walks in 198 innings for the Cubs in 2011.
ESPNChicago.com reported that the Rangers and Cubs had discussions about Garza
during the Winter Meetings. The Cubs apparently want "top-tier" prospects and also discussed
Scott Feldman
, according to the report.
Like many of the starting pitchers on the trade block, interest should pick up once the Yu Darvish sweepstakes is resolved (likely Tuesday afternoon). That would help crystallize the market for Garza (and
Gio Gonzalez
,
John Danks
and others).
Garza is under team control through the 2013 season before becoming a free agent in 2014. He's arbitration eligible for two more seasons and made nearly $6 million in 2011. He's expected to cost between $8 and $9 million in 2012. So on the one hand, you're giving up some top-tier prospects for someone who would be in the rotation for more than one season.
Why he could make sense:
Garza has more of a track record than many of the young starters in the rotation -- Garza has four straight seasons of at least 30 starts (more than 200 innings in two of those as well) and an ERA between 3.32 and 3.95 in that stretch. In other words: You know what you're getting. And his experience would certainly help the current young Rangers crop. The club has been interested in him before and he has postseason experience, which never hurts when you are talking about the two-time defending AL champions.
Why he might not make sense:
The Rangers must choose when to use their key prospect pieces to make trades. Is Garza that guy? The Cubs want a lot for him, but perhaps the Rangers could get him for less than what the A's are likely to ask on Gonzalez (who is under team control for longer). Or is there someone better on the market that makes more sense (or will someone else pop up closer to the trade deadline that might be worth saving some of these prospects for to make a deal)?
Frankly, it all comes down to cost -- in terms of prospects -- doesn't it? What do you think of Garza? How does he compare, in your mind, to Gonzalez, Danks and some of the other starting pitcher trade possibilities we've discussed? What are you willing to give up in terms of prospects to get him?
December, 16, 2011
12/16/11
12:20
AM CT
By
Richard Durrett
| ESPNDallas.com
One of the rumors swirling at the Winter Meetings involved the Rangers showing some interest in
Wade Davis
. There are plenty of solid
Tampa Bay Rays
starters and I would imagine the Rangers would inquire on them if they are made available.
Many of you have asked about Davis, so let's discuss him. Who is he?
[+] Enlarge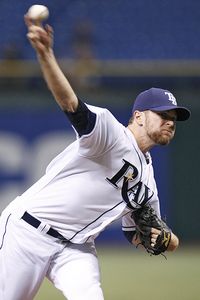 AP Photo/Chris O'MearaWade Davis was 11-10 with a 4.45 ERA in 29 starts for the Rays last season.
Davis, 26, was drafted in the third round of the 2004 draft by the Rays and made his major league debut in September 2009. Davis, a 6-foot-5 right-hander, was 11-10 with a 4.45 ERA in 29 starts (184 innings) in 2011. The Rays were careful to not push Davis in 2011.
He did not start in the ALDS against Texas in October, instead pitching 2 1/3 innings of relief and allowing no runs and one hit. He did start vs. Texas in the 2010 ALDS, allowing two runs on seven hits in five innings in a win at Rangers Ballpark in Arlington.
In 2010, Davis was 12-10 with a 4.07 ERA with 113 strikeouts and 62 walks.
The Rays believe Davis can be a 200-inning type pitcher, but he has yet to have the breakout season. He's known as a hard worker with a good head.
His contract is certainly an interesting one. He's signed through the 2017 season with a deal that includes three season's worth of team options (signed prior to Opening Day 2010). The breakdown:
2012: $1.5 million
2013: $2.8 million
2014: $4.8 million
2015: $7 million club option
2016: $8 million club option
2017: $10 million club option with $2.5 million buyout
(I'm told there is a buyout on the 2015 year, but I'm not sure what that total is.)
Davis is a young pitcher with upside and someone who could be under team control for a while. But he hasn't put up amazing numbers, either. Does that mean the Rays would part with him without demanding a gaggle of top prospects? You would think. One question the Rangers will likely ask themselves when dealing with any pitching trade option: Is he a better option than the young pitchers in the rotation now? At this point, not really.
Derek Holland
and
Matt Harrison
put up better numbers in 2011. The Rangers have veteran
Colby Lewis
and they want to build up
Alexi Ogando
's strength and see what
Neftali Feliz
has as a starter.
Lewis makes $3.25 million in 2012 and is a free agent after that, so the club is always looking for young arms with upside. Davis fits that mold. But right now, he's a No. 3 or No. 4 guy and the Rangers have a fair number of those. The contract seems reasonable, considering you've got the three club options years you can opt out of if you choose.
What do you think of Davis' contract? Is he worth looking into?
December, 15, 2011
12/15/11
12:20
AM CT
By
Richard Durrett
| ESPNDallas.com
[+] Enlarge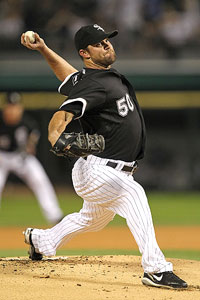 Jonathan Daniel/Getty ImagesJohn Danks has a track record of success against the AL West.
We continue our offseason look at possible trade targets or free agents still on the market that might interest the Rangers. One player they have some interest in is pitcher
John Danks
. So let's take a quick look at him.
Danks, 26 (and an Austin native), was hampered a bit in 2011 by a strained right oblique muscle. He was 8-12 with a 4.33 ERA last season with 135 strikeouts and 46 walks in 170 1/3 innings. That included two complete games.
In the three previous seasons, Danks steadily increased his win total with 12 in 2008, 13 in 2009 and 15 in 2010 with ERAs all under 3.80. He had a .237 opponent batting average in 2010, which was 11th best in the AL.
Why he makes sense:
The club knows him, having drafted him ninth overall in 2003. He's a left-handed pitcher and is 15-13 with a 2.97 ERA against the AL West in his career. It drops to 2.75 when you take out the Rangers. He has three solid seasons under his belt (even before last year) and pitched at least 195 innings from 2008 to 2010.
Why he might not make sense:
The question the Rangers have to ask is whether a pitcher they are acquiring is significantly better than what they have now. Does Danks fall into that category? He's got more of a track record than the four youngters on the staff, but several of them are in the same spot that Danks was a few years ago. Texas might prefer to see how the young staff does rather than replace one of them with Danks. Also, Danks is arbitration-eligible this season and then becomes a free agent, so he's not someone that is under club control for a while.
December, 13, 2011
12/13/11
11:00
PM CT
By
Richard Durrett
| ESPNDallas.com
We continue our look at possible free agents or trades for the Rangers. One name that has been tossed about is
Gio Gonzalez
.
The A's are willing to deal him and the Rangers inquired at the Winter Meetings. But the A's want top prospects in return and the Rangers aren't willing to pay that price. If the asking price drops, maybe a deal can be made. It's worth noting that possibly a dozen teams (that's the number the San Francisco Chronicle put on it) have contacted the A's about Gonzalez.
[+] Enlarge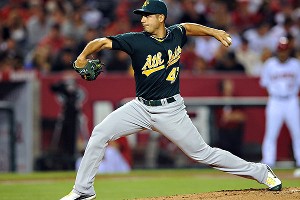 Kelvin Kuo/US PresswireGio Gonzalez, who went 16-12 last season with the Athletics, had a 3.12 ERA in 32 starts and was selected to his first All-Star Game.
Why? First, the left-hander has just entered arbitration and is under team control through the 2015 season. So this wouldn't be some sort of rental-player deal. Second, he's put up solid numbers for a team with very little offense.
Gonzalez, 26, was 16-12 with a 3.12 ERA with 197 strikeouts and 91 walks in 202 innings (32 starts) in 2011. But that wasn't Gonzalez's only solid season. He was 15-9 with a 3.23 ERA with 171 strikeouts and 92 walks in 200 2/3 innings in 2010.
Why it makes sense:
Gonzalez is a lefty, which doesn't hurt at Rangers Ballpark in Arlington, and he's still developing. It would be interesting to see what pitching coaches Mike Maddux and Andy Hawkins could do with him. He certainly isn't the ground ball pitcher that his teammate,
Trevor Cahill
, is, but Gonzalez had a 1.43 ground ball-to-fly ball ratio, which was only slightly behind
Matt Harrison
(1.44), who was second on the team to
C.J. Wilson
in that category.
Gonzalez also would be a pitcher that could slide into the rotation for a number of years, not just as a one- or two-year player. He would be in the upper half of the club's rotation and give them some depth.
Why it might not make sense:
He's going to be costly -- in prospects and maybe including major-league players, etc. -- and the price might be even higher for Texas for dealing within the division. Is Gonzalez that much better than what the Rangers currently have on staff? Is he worth dealing away some top hands on the farm to get him? Plus, he has not fared well in Arlington in his career, sporting a 4.29 ERA in 21 career innings. But let's be fair: He was facing a dangerous lineup the last two seasons and with the Rangers' offense behind him, those numbers would get better.
What do you think of Gonzalez? What are you willing to trade? Someone in the current rotation and a top pitching prospect or more? Is he worth a hefty price?
December, 12, 2011
12/12/11
11:00
PM CT
By
Richard Durrett
| ESPNDallas.com
We continue our look at the
Texas Rangers
free agent and trade possibilities this offseason.
Today's free agent:
Yu Darvish
MLB teams have until Wednesday at 4 p.m. Central time to put a bid in to negotiate with Darvish. He's started the posting process and teams submit sealed bids to the MLB office, and the club with the highest bid earns the right to negotiate with Darvish. They have 30 days to do so and if no deal is reached, the posting bid is returned to the team. If a deal is done, the Hokkaido Nippon Ham Fighters, Darvish's Japanese team, will get the money.
[+] Enlarge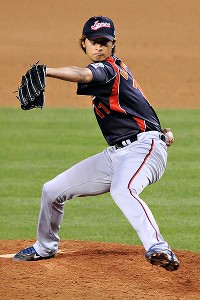 Kirby Lee/US PresswireYu Darvish was 18-6 with a 1.44 ERA and 276 strikeouts in the Pacific League.
Darvish, 25, was 18-6 with a 1.44 ERA and 276 strikeouts. Both the ERA and strikeouts led the Pacific League. One scout told me at the Winter Meetings that Darvish has excellent command and throws "just about anything you can think of." Various reports say the 6-foot-5 right-hander throws seven pitches, including a two-seamer that he added to his repertoire in 2010. He pitched for Japan in the 2009 World Baseball Classic and at the 2008 Olympics in Beijing.
It's tough to know exactly what it will take to win the bidding with Darvish. But during the Winter Meetings, the common thought was at least $30 million. Some think he might get as much as
Daisuke Matsuzaka
, who went to Boston after the Red Sox paid a $51 million bid and then gave him $50 million over five years.
Would the Rangers spend more than $100 million on Darvish? I doubt it. They weren't comfortable going a fifth year on
C.J. Wilson
, who got $77.5 million from the Angels. Is Darvish better than Wilson? Maybe. But it's tough to know. He's about six years younger and clearly has tremendous stuff. But he's never pitched in the majors. Is it worth the risk?
The Rangers have to decide what they feel is the correct value for Darvish. I do think they'll bid (simply my opinion), but they might decide to only bid a certain amount -- maybe that's between $20 to $30 million (or not even that high...that's just a total guess by what folks are saying he could be worth) -- and you see if that's enough to get him or someone goes a lot higher than that to get him. If that bid gets the rights to negotiate with him, maybe the entire package looks more like what Wilson got from the Angels or less and you see what Darvish does.
The other option is to break the bank and decide Darvish has such upside that you wanted him in the rotation more than Wilson. So you put in a high bid, you spend some money now and you hope that you can keep your core together in future years. Judging by how the Rangers approached things at the Winter Meetings, they are hesitant to do that. And I don't blame them. Signing the core has to be the priority and the club says that is their priority as players start to become free agents after 2012.
But we'll see. And the way the system works, the Rangers won't have any idea what other clubs are doing and vice versa. They simply put in a bid and see if it's the winning one. They put one in on Matsuzaka and didn't win. Will they win this one?
How should the Rangers handle the Darvish bidding? Should they make it their mission to get him or put a bid in they feel is competitive, but fair, and see what happens?
December, 12, 2011
12/12/11
8:21
AM CT
By
Richard Durrett
| ESPNDallas.com
Just because the Winter Meetings are over doesn't mean we can't continue to discuss free agents still on the market or trade possibilities.
Today's free agent:
Prince Fielder
The Rangers have said they are comfortable going into the season with
Mitch Moreland
as the starting first baseman (with some help from
Michael Young
and
Mike Napoli
). Moreland had the wrist surgery this offseason and the timetable for his return was eight to 12 weeks. The 12-week portion of that range would put him back on the field just as Cactus League games begin in Surprise, Arizona in early March.
Fielder doesn't appear to fit into the budget, but we also know this about the Rangers' front office: They discuss every option open to them to get better. They talked with Scott Boras at the Winter Meetings and Fielder's name, naturally, came up.
There is no doubt signing Fielder makes the Rangers better on the field. First base has not been a hugely productive position since
Mark Teixeira
was traded at the deadline in 2007.
Here's a quick list of first baseman who have played at least 20 games for the Rangers since the second half of that 2007 season:
Brad Wilkerson
,
Jarrod Saltalamacchia
,
Chris Shelton
,
Hank Blalock
,
Chris Davis
,
Frank Catalanotto
,
Ben Broussard
,
Justin Smoak
,
Jorge Cantu
, Mike Napoli, Michael Young and, of course, Moreland.
Since the beginning of the 2008 season, the Rangers have hit .242 at the first base position with 88 homers and 301 RBIs. That's four full seasons at what is supposed to be one of the major power centers on the field. Of course, the club has also been one of the top run-producing offenses in that span, so it doesn't matter where the runs come from on the diamond. But it's worth noting that it has been a weak spot in the lineup.
Last year, things picked up a bit in terms of average thanks to Napoli's red-hot second half and Young's steady, solid season. Yet the club still didn't put up the homers and RBIs you'd expect from the position (18 homers at 71 RBIs from the first base spot).
Prince Fielder? He had 38 homers and 120 RBIs as the Brewers' first baseman in 2011 (started 159 games at first). He has hit at least 28 home runs in each of his six full seasons, including 50 homers in 2007 and 46 in 2009. He's driven in more than 100 runs four times. Can you imagine that kind of power in the already deep Rangers lineup?
But what would it cost? The club is hesitant (as they should be) to sign anyone to a particularly super-long contract (wouldn't Fielder get eight or 10 years)? But what if some of that was backloaded to coincide with the TV contract money kicking in for the 2015 season? What if the club paid Fielder a very-high price per year on a shorter-deal, if he'd take it? Is it worth it if it means waving goodbye to a current player from the core group (a reminder that
Josh Hamilton
is going to be looking for a long-term deal after this season and that Mike Napoli can become a free agent after 2012 too)?
These are not easy questions. But you can bet they've been tossed around the halls at Rangers Ballpark in Arlington. So I ask you: Do you want Fielder? Would he be worth it if it meant the Rangers wouldn't have Hamilton or Cruz or a key member of their core? Should they forget about high-priced position players and go after pitching?
My opinion: I like how this front office discusses anything and everything, even when it seems unlikely. They believe strongly in exploring every avenue because you never know where the road might fork and take you somewhere that could make the team better. In this case, I'd rather put money into the core group and keep some available to do other things down the line (like pitching) than a big contract like Fielder will command. But that's just me. And I know many of you disagree. So speak up here.
We'll take a look at some more pitching options (Yu Darvish, other trade options) as the week progresses.
December, 2, 2011
12/02/11
8:11
AM CT
By
Richard Durrett
| ESPNDallas.com
The Winter Meetings are just a few days away and we continue our look at possible free agents or trade pieces the Rangers could look to acquire.
Ken Rosenthal (FoxSports.com) reported this week
that the Rangers are interested
in reliever
Andrew Bailey
of the Oakland A's.
Texas has expressed interest in Bailey before and the club doesn't back away from making deals within the AL West, though it can sometimes be harder than dealing outside the division. General manager Jon Daniels said, even after the club signed
Joe Nathan
, that bullpen remained a high priority. They could still use a left-handed reliever, but with Nathan still not far removed from coming back from elbow surgery, any way to bolster the bullpen makes sense.
Bailey started his 2011 season late because of a strained right forearm. He returned in late May and was 0-4 with a 3.24 ERA in 41 2/3 innings pitched (42 games). He was 24-for-26 on save chances with 41 strikeouts and 12 walks. He had 25 saves and a 1.47 ERA in 2010 and 26 saves and a 1.84 in a career-high 83 1/3 innings in 2009, when he won Rookie of the Year honors in the AL. Opponents hit just .218 off Bailey last year and in 2010 on balls in play, opponents averaged just .237.
Bailey would give the club another strong late-inning arm in a bullpen that was instrumental in getting the Rangers to the World Series. Yes, that bullpen seemed to run out of gas in the Fall Classic. But the Rangers aren't there without a strong relief corps in the ALCS. So Texas understands the importance of investing in the back part of the game.
Bailey is also intriguing because he's under team control for three more seasons as he's arbitration eligible this offseason. That means he'll get a nice raise, but the Rangers wouldn't simply be trading for a player that could help them in 2012. He could help them beyond that. The question, as always, will be what the A's are seeking -- how much major-league ready talent do that want and what kind of prospects would have to be included. But there's no doubt Bailey makes the bullpen stronger and with a rotation that is still young, that's critical to success in 2012.
What are you willing to give up to get Bailey?
November, 30, 2011
11/30/11
11:00
PM CT
By
Richard Durrett
| ESPNDallas.com
We continue our look at possible free-agent and trade options for the Rangers as we inch closer to the Winter Meetings in Dallas next week.
Today's free agent:
Roy Oswalt
[+] Enlarge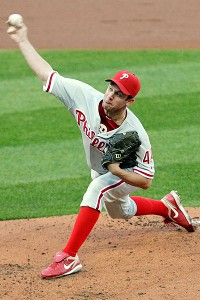 AP Photo/Tom GannamRoy Oswalt struck out 93 with 33 walks in 139 innings for the Phillies in 2011.
The 34-year-old from Mississippi was the No. 4 starter in the Phillies' impressive rotation. But back trouble limited him to 139 innings in 2011. He had a 3.69 ERA (in 23 starts) and a 9-10 record to go along with 93 strikeouts and 33 walks.
Oswalt threw 211 2/3 innings for the Astros and Phillies and won 13 games with a 2.76 ERA in 2010. In the 2010 postseason, Oswalt had a 1.84 ERA in the NLCS and started Games 2 and 6 and got the final two outs of Game 4. Philadelphia lost the NLCS to eventual World Champion San Francisco.
Oswalt has won 20 games twice (2004 and 2005) and won 17 or more four times total in his 11 full seasons. He's a three-time All-Star and was the MVP of the NLCS in 2005 with Houston, going 2-0 with a 1.29 ERA in 14 innings. He's pitched in 13 postseason games (11 starts) and is 5-2 with a 3.73 ERA in 72 1/3 innings.
But the injury last year caused the Phillies to decline his option, paying him a $2 million buyout instead of paying him $16 million for 2012. The next team that signs him does so with some risk involved because of the injury. Texas has a history of trying its luck with guys coming off injuries. Sometimes it works out and sometimes it doesn't. They paid
Brandon Webb
$3 million in 2010 and he never pitched at the major league level. But I'll argue that you have to take some of those chances, especially on players with a proven track record.
Does that mean Oswalt makes sense? I don't know. How serious are his back problems? In the past, the Rangers prefer to deal with one-year contracts on players with injury issues. Maybe there's a way to structure things where if Oswalt pitches a certain number of innings, he can vest another year as part of the deal. Oswalt's agent is Bob Garber, who also represents
C.J. Wilson
, so there is an open line of communication between the club and Garber already.
This is when front offices around the league get tested. How many years is smart for a pitcher coming off injury? Is Oswalt worth the gamble? We'll see.
But the Rangers will check into anything and everything to make the club better. If they feel like Oswalt can stay healthy and there's good value there, don't be surprised if they show interest. But if the price is too high or the medical reports not favorable enough, they'll look elsewhere.
November, 29, 2011
11/29/11
11:15
PM CT
By
Richard Durrett
| ESPNDallas.com
Free agency isn't the only route the Rangers will attempt to take this offseason. They'll look at trades too. So as the Winter Meetings approach, let's take a look at another possibility:
Matt Garza
.
Garza could be on the market for the right deal,
as noted by Bruce Levine of ESPNChicago.com
.
[+] Enlarge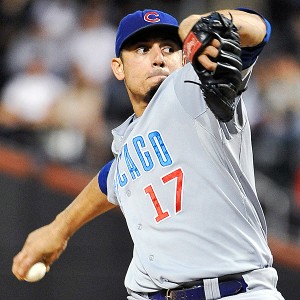 AP Photo/Kathy KmonicekMatt Garza had 197 strikeouts and 63 walks in 198 innings for the Cubs in 2011.
The Rangers had strong interest in Garza last offseason, but lost out to the Cubs, who sent five minor leaguers to the Rays as part of the deal. Levine says the Cubs would want a package of four or five players and lists
Mitch Moreland
as a potential possibility for inclusion. But you can bet the Cubs would want a solid pitching prospect or two as well.
Why? Because Garza is under team control for two more seasons (as arbitration eligible) before becoming a free agent after the 2013 season. He was 10-10 with a 3.32 ERA for a team that finished 20 games below .500. He had 197 strikeouts and 63 walks in 198 innings. Six times Garza left with a late lead only to see the bullpen blow it.
The right-hander from Selma, Calif., has the equivalent of about four full seasons in the AL under his belt. He is 2-3 with a 6.04 ERA in just 28 1/3 career innings at Rangers Ballpark in Arlington (five starts).
Garza has the ability to miss bats and give a club innings. Texas was interested in him a year ago and there's no reason to think they won't be this time. But because of his contract -- he made $5.9 million in 2011 and could get around $8 million or so in 2012 -- and the two-years of team control, he won't come cheap. Still, if the Rangers want to look at pitchers who have the stuff to be a No. 1 or No. 2, Garza fits the bill.
Are you interested in Garza? What would you be willing to give up to get him?