Texas Rangers:

Victor Martinez
May, 18, 2013
5/18/13
11:20
PM CT
By
Todd Wills
| ESPNDallas.com
ARLINGTON, Texas -- Call it
Justin Grimm
's revenge on the
Detroit Tigers
.
With a personal three-game losing streak entering a rematch with Detroit, Grimm joked with
Texas Rangers
pitching coach Mike Maddux before Saturday's game that he was going to get back at the Tigers for what they did to him last June in his second major league start. Riding the high of a brilliant debut against the
Houston Astros
, the Tigers pounded Grimm for six runs in an inning.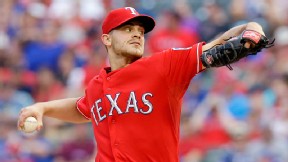 AP Photo/LM OteroJustin Grimm finally got the better of the Tigers in his third meeting against Detroit.
In Round 2 of Grimm versus the Tigers, it was the Rangers who won 7-2 before a sellout crowd. Grimm led the way, giving up two runs in 6⅔ innings as the rookie right-hander was able to battle through innings in which he allowed baserunners.
How sweet revenge is.
"It wasn't necessarily remembering what happened last year," Grimm said. "Outings like that, you're young. Mistakes happen. These hitters are going to capitalize on those mistakes."
Grimm fought himself in the second and third innings. He had a leadoff walk in the second to
Victor Martinez
, which is almost always a recipe for giving up runs. But after a one-out single by
Jhonny Peralta
put two runners on, Grimm was able to get
Omar Infante
to ground into a double play.
The third inning featured a second run-in with the heart of the Tigers' batting order with the Rangers leading 4-0. Another leadoff baserunner, this time after a single by
Avisail Garcia
, led to Detroit's first run on a double by
Torii Hunter
. That forced Grimm to deal with
Miguel Cabrera
and
Prince Fielder
with a runner in scoring position.
October, 15, 2011
10/15/11
1:00
PM CT
By
Jeff Caplan
| ESPNDallas.com
ARLINGTON, Texas -- Here we go. Two chances for the
Texas Rangers
to clinch a second consecutive American League pennant. Do-or-die for the
Detroit Tigers
. The Rangers roll out unpredictable LHP
Derek Holland
, who has four complete-game shutouts and four starts of less than three innings this season. The Tigers put their faith in RHP
Max Scherzer
, a steady postseason performer to this point.
Here's a closer look at the two pitchers:
Scherzer (1-0, 2.70 ERA):
Consistent is a good way to describe Scherzer. He has 13 strikeouts in 13.1 postseason innings and he's walked five. He's allowed four runs on 10 hits, including one home run in Game 2 of the ALDS, a game-tying shot from
Nelson Cruz
. ... He'll throw 90 or more pitches into the sixth inning mixing in a low-to-mid 90 mph fastball, slide and changeup, but if he can give the Tigers six solid innings it will set up the bullpen combo of
Joaquin Benoit
and
Jose Valverde
. ... In Scherzer's Game 2 start, he allowed two doubles and a single for a pair of runs in the first inning and then pitched five consecutive scoreless innings.
Holland (1-0, 4.00 ERA):
Holland has actually done a decent job limiting damage. He left Game 2 of the ALCS after giving up a 3-spot through two outs in the third inning. He escaped potential big innings in the first and second, but his 76 pitches in that short span tells the real story. He was constantly working behind in the count and that just can't happen in Game 6. In Game 2, he allowed the first two batters to reach safely in the first and loaded the bases on three walks in the second. ... Holland turned 25 last Sunday. He became the second-youngest Rangers pitcher to ever start a playoff game when took the mound in Game 2 of the ALDS.
Hitters:
Texas has shown it can get the extra-base hit off Scherzer. Cruz (who has three hits in his nine at-bats plus four strikeouts) has the lone homer, but
Ian Kinsler
(whose .308 career average against Scherzer is tops on the club) tripled and
David Murphy
(3-for-6) and
Michael Young
each doubled.
Adrian Beltre
has three hits in his six at-bats against Scherzer. ... Watch out for Tigers slugger Delmon, who is 6-for-12 off Holland this season with a pair of home runs.
Miguel Cabrera
is 0-for-3 with a pair of strikeouts and
Victor Martinez
is 1-for-3 with a homer.
October, 14, 2011
10/14/11
8:00
AM CT
By
Jeff Caplan
| ESPNDallas.com
DETROIT -- Why shouldn't
Nelson Cruz
expect the spectacular? He's hit mammoth home runs and gunned down the go-ahead run at the plate plate. So when
Victor Martinez
sailed a fly ball that was slicing toward the right-field line, Cruz went for the full-Nelson, so to speak.
This time it didn't work out. The
Texas Rangers
' right-fielder dove and came up empty. The ball bounced around in the corner and by the time Cruz corralled it and got back in, the 210-pound Martinez was standing on third base with an RBI triple that continued a killer sixth inning in the Tigers' 7-5 victory in Game 5.
Cruz said he was shading the switch-hitting Martinez, who was batting from the right side against lefty
C.J. Wilson
, and thought he had a chance to snare it.
"It's part of baseball," Cruz said. "Maybe I make that play and the ground ball that
Miguel Cabrera
hit before that could have been a double play. It wasn't. It was close. I nearly got there, but couldn't quite get it."
It proved costly. One batter before Martinez's triple, Cabrera avoided a double play when his grounder down the third-base line hit the corner of the bag and caromed over third baseman
Adrian Beltre
's head and scooted down the line.
Ryan Raburn
scored all the way from first to snap a 2-2 tie.
On Martinez's fly ball with no outs, Cabrera had to hold at second base to make sure Cruz didn't catch it, but once Cruz dove and missed, Cabrera easily crossed home plate. Even if Cruz tried to play it off a hop and hold Martinez to a single, it's debatable if Cabrera, a big man not the fleetest of foot, could have scored.
"You're not sure. You don't want to be too aggressive," Cabrera said. "When you see a play and you're unsure, you got to wait. We're lucky he didn't catch the ball because all series he's made some plays."
It could all be a moot point because
Delmon Young
followed Martinez with his second home run of the game off Rangers starter C.J. Wilson, a two-run shot that gave the Tigers a 6-2 lead.
Obviously, if Cruz makes the diving stab, Cabrera remains at second with one out. If Cruz pulls up instead of laying out for the highlight-reel catch, perhaps Cabrera isn't able to score and the Tigers have runners at the corners.
If either of those scenarios play out, situations change and who knows if Wilson gives up the homer to Young.
Of course, maybe he does.
October, 12, 2011
10/12/11
11:45
AM CT
By
Jeff Caplan
| ESPNDallas.com
DETROIT -- Tigers manager Jim Leyland said designated hitter
Victor Martinez
and outfielder
Delmon Young
are receiving treatment and their status for this afternoon's Game 4 is uncertain.
"That's on hold," Leyland said.
Martinez injured his oblique on his home run swing in the fourth inning of Game 3 Tuesday night, gingerly jogging around the bases. Once in the duguot he slammed his helmet and immediately headed tot the trainer's room. He stayed in the game, drawing a walk in the fifth and flew out in the seventh.
Martinez hit cleanup in Game 3 with usual three-hole hitter Delmon Young out again with his own oblique injury suffered in Game 5 of the ALDS. Initially left off the ALCS roster, Young was added when
Magglio Ordonez
fractured his ankle and was removed from the roster after Game 2. Young played in Game 2, but was not effective at the plate and was held out of Game 3.
Other Tigers notes:
* Leyland acknowledged that ace
Justin Verlander
is "a little tired," and that's why the manager chose not to use the 24-game winner in Game 4 on short rest. Verlander will pitch Game 5 at Comerica Park on normal rest. Leyland said Verlander wanted to pitch today, and while he respects that, Leyland said the right decision for Verlander and the team is to give him another day.
"I think he's going to pitch great," Leyland said.
Rick Porcello
will start today's game. He pitched to effective innings in relief in Game 1.
* As if the Tigers don't have enough injury woes, workhorse catcher
Alex Avila
has been struggling and Leyland said, "he's pretty well banged up." But, that won't keep Avila out of the lineup it appears for today's critical Game 4.
October, 12, 2011
10/12/11
12:05
AM CT
By
Jeff Caplan
| ESPNDallas.com
DETROIT --
Austin Jackson
was pressing at the plate. Maybe it was playing the first two ALCS games in Arlington, Texas, just a 45-minute drive south from his hometown of Denton. Or maybe it was his leg kick.
Jackson worked with hitting coach Lloyd McClendon before Tuesday's Game 3 on orders from manager Jim Leyland, and the leg kick was at the top of the to-do list.
[+] Enlarge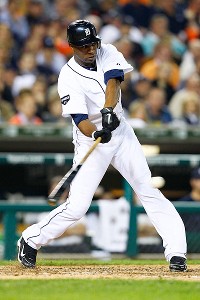 Rick Osentoski/US PresswireThe Tigers' Austin Jackson recently recorded the eighth four-hit game of his career.
"We were working on my leg kick and just trying to get that timing down," Jackson said. "That's the main thing, just trying to get me going, trying to get me going, trying to get my timing down."
Jackson's leg kick and his timing looked just fine as he played a pivotal role in the Tigers taking a 5-2 win to cut the Rangers' series lead in half. The center fielder and lead-off hitter went 3-for-5 Tuesday night, slapping three consecutive singles in the third, fifth and sixth. He came around with the go-ahead run in the fifth for a 2-1 lead and drove in
Andy Dirks
for a 4-1 margin in the sixth.
Entering Game 3, Jackson was 1-for-9 in the ALCS with six strikeouts.
"You try not to let it weight on you," the 24-year-old Jackson said. "Being a leadoff hitter, you try to spark the team a little bit. When it's not going as well as you want it to, you kind of take it to heart a little bit. I'm just trying to do whatever I can do to get on base, get in scoring position and try to let the guys behind me drive me in."
That's exactly what happened as big boppers
Miguel Cabrera
and
Victor Martinez
will get most of the offensive headlines. Cabrera doubled Jackson home and later hit a solo homer in the seventh, and Martinez led off the fourth with a home run.
For Jackson, it all comes back to the leg kick. In one night he shook off an 0-for-6 slump and boosted his postseason average to .286.
"When the timing is off with the leg kick everything is kind of out of whack," Jackson said. "Just trying to find that timing and find the groove is tough."
October, 10, 2011
10/10/11
8:58
PM CT
ARLINGTON, Texas --
Elvis Andrus
' bases-loaded, two-out, ninth-inning, on-the-run, over-the-shoulder catch can't be called a web gem.
[+] Enlarge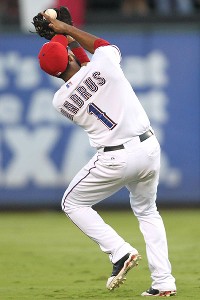 Tim Heitman/US PresswireRangers shortstop Elvis Andrus didn't have much use for his glove on a crucial ninth-inning catch.
That's because the web of his glove wasn't used to make arguably the most important defensive play of the postseason.
"It never hit my glove," Andrus said. "It hit my finger and then I just pulled it into my chest. The ball never got into my glove."
Andrus made a spectacular play on a full sprint to prevent Victor Martinez's blooper from falling in shallow center field for a go-ahead hit. Nevertheless, some teammates greeted the giddy Andrus in the dugout by joking that he would have been demoted to Double-A if he didn't make the play.
Andrus' smile was due to a combination of relief and amazement. He admitted that he didn't have much confidence that he'd be able to make the catch while the ball was in the air.
"It was not an easy fly ball," Andrus said. "I really hate fly balls, especially in that situation with all the fans screaming. But I'm happy I made it."
So were the rest of the Rangers, who would probably have boarded the plane with the series deadlocked Monday night if Andrus can't hang on to the ball.
"Those are extremely tough plays," second baseman
Ian Kinsler
said. "You've got your back to the ball, the ball seems to be jumping around on you because you're running back hard, you're looking back over your shoulder. I'm just hoping maybe Josh [Hamilton] can get there to catch that ball, but Elvis was able to corral it in somehow.
"I don't know how he kept it in his glove."
Glove? Andrus didn't need one to make the game-saving grab.