Texas Rangers:

Wade Davis
May, 31, 2013
5/31/13
1:30
PM CT
By
Todd Wills
| ESPNDallas.com
ARLINGTON, Texas -- The Rangers begin a three-game weekend series against Kansas City with left-hander
Derek Holland
facing Royals right-hander
Wade Davis
at 7:05 p.m. Friday night on Ch. 21, ESPN Dallas 103.3 FM and ESPN Deportes Dallas 1540 AM.
Holland (4-2, 2.97):
Holland has given the Rangers exactly what they needed from their No. 2 starter two months into the season. ... He had 10 strikeouts Saturday night in Seattle in a 5-2 victory. ... Holland pitched into the seventh inning, allowing two unearned runs while matching a career high with 119 pitches. ... The 10 Ks gave him his fourth double-digit strikeout game. ... Holland ranks among American League leaders with his 2.97 ERA (11th), 64 strikeouts (tied for 11th) and .54 home runs allowed per nine innings (fifth). ... Holland's improved command has helped him get his home run total down to four in 66 1/3 innings after allowing 32 last season. ... Holland hasn't allowed a home run to a left-handed hitter in a year. ... He has worked seven-plus innings and allowed two or fewer runs in half of his 10 starts. ... Holland is 1-1 with a 5.53 ERA for his career against Kansas City. ... He has allowed four or more runs in three of his four starts against the Royals.
Davis (3-4, 5.71):
The Royals are trying to get Davis straightened out. ... He was a key piece in a seven-player deal with Tampa Bay in December that brought
James Shields
and
Elliot Johnson
to Kansas City. ... Davis appeared to have a breakthrough start going Sunday against the Angels, taking a shutout into the seventh inning. ... But
Josh Hamilton
had a home run to start the inning and two walks led to two more runs as the Angels rallied for a 5-2 win. ... Davis allowed six hits and had six strikeouts in 6 1/3 innings. ... His last win was May 15 against the Angels in Anaheim, when he allowed four runs in 5 1/3 innings. ... Davis has struggled against the Rangers in the regular season with a 13.50 ERA in 10 innings. ... He allowed eight runs in 3 1/2 innings in a start June 4, 2010 in Arlington. ... He did keep the Rangers scoreless in three relief appearances (four innings) last season.
Hitters:
Billy Butler
(4-for-11, 1 HR, 3 RBIs) and
Alex Gordon
(4-for-8) are just two of several Royals hitters batting over .300 against Holland. ...
Adrian Beltre
(4-for-8, 2 RBIs) and
Elvis Andrus
( 3-for-7, RBI) have had success against Davis.
December, 16, 2011
12/16/11
12:20
AM CT
By
Richard Durrett
| ESPNDallas.com
One of the rumors swirling at the Winter Meetings involved the Rangers showing some interest in
Wade Davis
. There are plenty of solid
Tampa Bay Rays
starters and I would imagine the Rangers would inquire on them if they are made available.
Many of you have asked about Davis, so let's discuss him. Who is he?
[+] Enlarge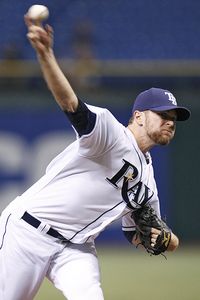 AP Photo/Chris O'MearaWade Davis was 11-10 with a 4.45 ERA in 29 starts for the Rays last season.
Davis, 26, was drafted in the third round of the 2004 draft by the Rays and made his major league debut in September 2009. Davis, a 6-foot-5 right-hander, was 11-10 with a 4.45 ERA in 29 starts (184 innings) in 2011. The Rays were careful to not push Davis in 2011.
He did not start in the ALDS against Texas in October, instead pitching 2 1/3 innings of relief and allowing no runs and one hit. He did start vs. Texas in the 2010 ALDS, allowing two runs on seven hits in five innings in a win at Rangers Ballpark in Arlington.
In 2010, Davis was 12-10 with a 4.07 ERA with 113 strikeouts and 62 walks.
The Rays believe Davis can be a 200-inning type pitcher, but he has yet to have the breakout season. He's known as a hard worker with a good head.
His contract is certainly an interesting one. He's signed through the 2017 season with a deal that includes three season's worth of team options (signed prior to Opening Day 2010). The breakdown:
2012: $1.5 million
2013: $2.8 million
2014: $4.8 million
2015: $7 million club option
2016: $8 million club option
2017: $10 million club option with $2.5 million buyout
(I'm told there is a buyout on the 2015 year, but I'm not sure what that total is.)
Davis is a young pitcher with upside and someone who could be under team control for a while. But he hasn't put up amazing numbers, either. Does that mean the Rays would part with him without demanding a gaggle of top prospects? You would think. One question the Rangers will likely ask themselves when dealing with any pitching trade option: Is he a better option than the young pitchers in the rotation now? At this point, not really.
Derek Holland
and
Matt Harrison
put up better numbers in 2011. The Rangers have veteran
Colby Lewis
and they want to build up
Alexi Ogando
's strength and see what
Neftali Feliz
has as a starter.
Lewis makes $3.25 million in 2012 and is a free agent after that, so the club is always looking for young arms with upside. Davis fits that mold. But right now, he's a No. 3 or No. 4 guy and the Rangers have a fair number of those. The contract seems reasonable, considering you've got the three club options years you can opt out of if you choose.
What do you think of Davis' contract? Is he worth looking into?
September, 29, 2011
9/29/11
4:50
PM CT
By
Jeff Caplan
| ESPNDallas.com
ARLINGTON, Texas -- The
Tampa Bay Rays
clubhouse attendants might have been packing things up for the winter just before being told to prepare for a celebration.
PODCAST
Rangers lefty Derek Holland dishes on the final night of the season, looks ahead to the Rays and more.

Listen

The Rays rallied from a 7-0 hole late in their game against the Yankees on Wednesday and won in 12 innings to clinch the AL wild card. Manager Joe Maddon said his team was a fatigued one that boarded the plane Thursday and arrived at Rangers Ballpark around 4:30 p.m.
"It really draws a lot out of you," Maddon said of the emotional swings of this last month's surge that culminated with the extra-inning clincher.
He means the coaching staff, too. Maddon headed straight from the team bus to a news conference and said he still had yet to name a starting pitcher for Game 1.
"It's difficult to bring everything together from the conclusion of last night to this current moment," Maddon said. "We celebrated. As we should have. We had some benign conversations on how to shape the roster. We're not even there yet."
Maddon said
James Shields
, who beat the Rangers twice recently, is not being considered to start Game 1. Shields would be ready to pitch Game 2 and with two off days he could pitch Game 5, if one is necessary. The Rays' options for Game 1 would appear to start with big right-hander
Jeff Niemann
, right-hander
Wade Davis
or even lefty rookie
Matt Moore
, who has 9.1 innings of major-league service under his belt.
"He's in that conversation at this point," Maddon said of Moore, a highly touted prospect. "Several guys are in that situation."
May, 30, 2011
5/30/11
7:24
PM CT
The Rangers have started their trip to Tampa Bay with a bang.
After four innings, they've already matched their season high with 15 hits, including home runs by
Mike Napoli
,
Endy Chavez
and
Mitch Moreland
. Rays starter
Wade Davis
lasted only 2 2/3 innings.
Elvis Andrus
already has three hits and two runs scored in four at-bats.
Josh Hamilton
is 2-for-2 with two RBIs. Napoli's home run was a three-run shot in the third inning.
Matt Joyce
has the only two hits off Texas starter
Derek Holland
. The Rangers lead, 8-1, entering the fifth inning.
May, 30, 2011
5/30/11
10:32
AM CT
The first game of a three-game series between the
Texas Rangers
and
Tampa Bay Rays
is tonight in St. Pete. We have the pitching matchups as the Rangers come in after winning two of three from Kansas City.
Derek Holland (3-1, 4.68):
The left-hander is making his 11th start of the season. ... Holland has ended up with a no-decision in six consecutive starts, sporting an ERA of 4.91 over that span. ... He was taken out after a nearly three-hour rain delay last week after going four innings. He allowed four runs on four hits with four strikeouts vs. the
Chicago White Sox
. ... Holland has pitched at least six innings in seven of his last 10 starts. ... In three career games against Tampa Bay, Holland is 2-1 with a 7.04 ERA.
Wade Davis (4-4, 3.71):
He's lost two of his last three starts and has allowed 16 earned runs in 30 innings so far this month. His last victory was May 8 at Baltimore. ... Right-handed hitters are only hitting .237 against him but have hit seven home runs. ... The Rays are 5-5 in games when he pitches. ...
Josh Hamilton
is the lone Ranger with a home run against Davis.
Adrian Beltre
has two hits in five at-bats vs. Davis.
October, 10, 2010
10/10/10
5:42
PM CT
By
Jeff Caplan
| ESPNDallas.com
ARLINGTON, Texas – The line between success and failure proved razor-thin Sunday for two young starting pitchers who made their postseason debuts in the teeth of the ALDS.
Tampa Bay right-hander
Wade Davis
had his team's American-League-best 96-win season in his hands.
Tommy Hunter
was picked by Rangers manager Ron Washington over ace
Cliff Lee
on short rest to pitch the Rangers into their first AL Championship Series and avoid a do-or-die trip back to Tampa.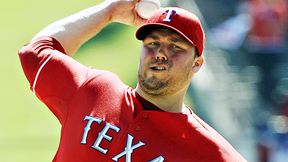 AP Photo/Tony GutierrezTommy Hunter said he had "real good stuff" in Game 4 but couldn't prevent the Rays from delivering timely hits.
Neither pitcher lasted as long as he hoped despite each striking out seven. But, the long-legged, 6-foot-5 Davis made the big pitch more often to earn the win. Hunter, a stocky, 280-pounder who didn't lose at home in the regular season, was undone by a strange fourth inning in which he struck out the side but also surrendered three doubles for two runs that gave the Rays a 3-0 lead.
With the Rangers' big bats mostly and mysteriously in hibernation mode, three runs proved too many. Hunter's day was done after four innings, and the Rays went on to celebrate a 5-2 Game 4 victory to tie the series.
Afterward, Hunter made no apologies for his 73-pitch outing.
"I did what I wanted to with the ball today," Hunter said. "I put it where I wanted it and they just got a couple timely hits. That's it."
The Rays scored first for the first time in the series on an unearned run in the second inning.
Carlos Pena
launched a triple to left-center and
Matt Joyce
followed with a pop into shallow right field. Second baseman
Ian Kinsler
backpedaled as right fielder
Nelson Cruz
charged. Kinsler took control, but the ball drifted on him and it hit his glove and fell to the ground. Hunter recovered from that misfortune to get the next two batters and get out of the inning.
"That kind of stuff doesn't really set people back," Hunter said. "It's one run in the second inning. You're talking about seven more innings of a baseball game."
The inning that made the difference was the last for each pitcher. Through three innings, Hunter already had four strikeouts and had allowed just three hits. To start the fourth,
Evan Longoria
drove Hunter's first pitch for a double and Pena followed by slicing one into left for a double to make it 2-0.
Then Hunter got Joyce and
Dan Johnson
to fan, bringing up
B.J. Upton
. Upton, hitting just .077 coming into this one, came through as he did in Game 3, taking a 3-0 pitch to left for the third double off Hunter in the inning.
"I had pretty good stuff, real good stuff I felt. Breaking ball was good," Hunter said. "They hit my pitch the majority of the time today, I can tell you that. There's a couple of balls I can think of right now, Pena in the second and Longoria swinging at the first pitch. Other than that, they hit my pitch."
And the Rangers' didn't hit Davis when opportunity knocked. No inning was more frustrating for Texas than the fifth with the Rays leading 5-0.
The Rangers loaded the bases -- on a lead-off single by
Bengie Molina
, an infield hit by
Michael Young
and a
Josh Hamilton
walk -- for cleanup hitter
Vladimir Guerrero
with two out.
"He is one of the most dangerous hitters in baseball. If you make a couple of mistakes, it can change the game," Davis said. "At that point in the game for me it was the game. If he gets a hit or hits a homer, it is a different ballgame."
Guerrero struck out, flailing at a slider low and out of the zone.
Each time Davis allowed a base runner he came back to get the next batter. With runners at first and second in the first, he got Guerrero to bang into a 5-4-3 double play. He retired Young on a lazy fly and Hamilton on a weak grounder in the third after a one-out
Elvis Andrus
double. And, after a lead-off single from Guerrero in the fourth, Davis struck out Cruz, got Kinsler to fly out and struck out
David Murphy
.
Finally in the sixth, the Rangers got to Wade, who was charged with two runs in five innings, but the Rays had already put up two more against Texas reliever Derek Holland. The Rays relievers made the 5-2 lead stand.
Hunter was just imperfect enough to get beat.
"He threw the ball really well. We just couldn't get anything going offensively," said Kinsler, who was 1-for-3 with a walk. "We had some chances, just couldn't really get a hit to break it open and they scored more than us."
October, 10, 2010
10/10/10
2:26
PM CT
By
Jeff Caplan
| ESPNDallas.com
ARLINGTON, Texas -- Nelson Cruz smashed a solo home run into the Texas Rangers bullpen to lead off the sixth inning and then Ian Kinsler singled to drive Tampa Bay Rays starter Wade Davis out of the game.

The Rangers' bats have been exceedingly quiet in this Game 4 as they try for a second time to clinch the ALDS and move on to face the New York Yankees.

Randy Choate is the new Rays pitcher.
October, 10, 2010
10/10/10
9:30
AM CT
By
Jeff Caplan
| ESPNDallas.com
ARLINGTON, Texas --
Tommy Hunter
will make the biggest start of his young career in Sunday's Game 4, a rare noon first pitch and a second opportunity for the
Texas Rangers
to win the franchise's first playoff series in 38 years in Arlington.
The 13-game winner will face a
Tampa Bay Rays
team that finally got a kick of confidence at the plate with 11 hits in their 6-3 Game 3 win Saturday. Hunter will become the youngest pitcher in Texas history to make a postseason start. A victory will send the Rangers into their first American League Championship Series. A loss will force a decisive Game 5 back in St. Petersburg on Tuesday.
"I really don't want to put pressure on anybody or have pressure on us or anything like that because it's a baseball game," Hunter said after the Rays stayed alive. "We're going to go out and play like the little kids that we are and just let things fall into place."
The burly right-hander will face Rays rookie
Wade Davis
, a righty who won 12 games this season.
October, 5, 2010
10/05/10
11:27
AM CT
We've got a closer look at the key players for the Texas Rangers and the Tampa Bay Rays with our
old school player cards
. Get a quick look at each player and what to expect in the ALDS.