Texas Rangers:

Wandy Rodriguez
July, 19, 2012
7/19/12
11:00
PM CT
We're less than two weeks away from the July 31 trade deadline and the
Texas Rangers
are in position to make some moves if they choose. But with any deadline, the club must prioritize, get prepared and decide what kind of value it places on the prospective pieces on the market. With an additional playoff team in the mix, things may go even more down to the wire than normal as certain clubs could decide very late that they are sellers or buyers. And with the changes in compensatory picks, it could alter the value of rental players.
So let's pretend that I'm general manager Jon Daniels (he's way smarter than I am, but I'm taller and better looking) and I'm trying to figure out which deals I should do and which ones I shouldn't. Here are five things to consider at the deadline:
[+] Enlarge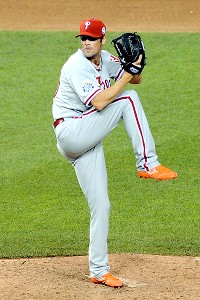 Denny Medley/US PresswireIf the Rangers decide to trade for a starter, it needs to be someone like Cole Hamels who will slot in at the top of the rotation in the postseason.
1. If the Rangers trade for a starting pitcher, make it an impact one.
You'll hear the names of
Ryan Dempster
and
Matt Garza
this time of year. Maybe even
Wandy Rodriguez
. But it doesn't make sense for the Rangers to deal decent prospects for pitchers who aren't going to make the rotation appreciably better.
Should Texas decide to get a starter, it needs to be someone who slots in at the top come the postseason. The two biggest names that could be out there are
Zack Greinke
and
Cole Hamels
. Personally, I like Hamels more than Greinke. And we'll see if he even becomes available now that
the Phillies and Hamels' agents are intensifying talks
. But this is where things get interesting. It's going to take a big package of premium prospects (and maybe even some major league players) to get it done. That would likely mean Mike Olt. I'm normally a guy who advocates dealing prospects for sure things. After all, they are called prospects for a reason. They might pan out, they might not. But with no draft picks coming back to Texas if Hamels (or Greinke) leaves, I think Olt (notice I'm not even mentioning Jurickson Profar, someone I can't imagine the Rangers even considering trading for a rental) is too high a price to pay to be included in the deal. If I'm Texas, I want Hamels. And I'm willing to fork over some solid prospects (
Martin Perez
, Cody Buckel or
Justin Grimm
, maybe even a combination) and even some big league pieces (yes, I'd consider dealing
Neftali Feliz
). But you don't trade the entire farm for someone who is here for a few months.
This is different from the
Cliff Lee
trade of 2010. With Lee, the Rangers not only knew they would get compensation picks if he left, but they knew they had to have someone at the top of that rotation to help them get over the hump of never winning a playoff series. Texas does not beat the
Tampa Bay Rays
without Lee, so the trade was a success (no matter what
Justin Smoak
does in the future). But the Rangers got something in return, too. Hamels is not the Lee of 2010, either. But he's the closest facsimile, if he's available. I'll pay a high price, just not as high as Olt. If that's not good enough to get Hamels, I'm not "settling" for Garza or someone else who doesn't have a big impact. It's just not worth it. So get a pitcher that can win Game 1 in the playoffs or don't get one at all and go with this current rotation, which I still believe is good enough, especially with the Rangers' bullpen, to win a title.
2. Get a right-hander for the bench.
The AL's loss in the All-Star Game only reinforces this need. It means that if the Rangers return to the World Series, they open on the road without a DH and could play the deciding game -- should it go the distance -- in the NL park. St. Louis' bench was a big difference in last year's World Series and manager Ron Washington didn't have enough weapons at his disposal. There are some names that are intriguing, but contract situations may make it unlikely.
Josh Willingham
seems like a good fit, but the contract calls for him to make $7 million next year and the year after. But there are other, cheaper options that could help the bench.
Carlos Quentin
's asking price is likely to be too much. What about
Shane Victorino
? It's the final year of his deal at $12.5 million this season and he's hitting .254 overall. But the 31-year-old switch-hitter is batting .322 against lefties.
There are some bats out there and the Rangers need to try to see if they can find one to help that bench down the stretch and into the postseason.
[+] Enlarge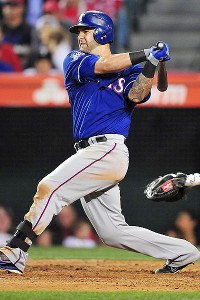 Gary A. Vasquez/US PresswireCatcher Mike Napoli is doing a nice job with the pitching staff but hasn't been producing at the plate.
3. Keep an eye on the catching market.
Honestly, I'm not sure there are reasonable upgrades to the club's catchers on the market, but the club has to at least do some digging.
Mike Napoli
and
Yorvit Torrealba
have done a nice job with the pitching staff and that's the first priority. However, the position is giving the club nothing at the plate.
The Rangers are one of the best teams in the league at checking on everything and leaving no stone unturned. That means at least seeing if there's anything worth pursuing on that front that can increase the offensive production at that spot.
4. See if there's a left-handed specialist for the bullpen.
It might seem odd to do anything with one of the best bullpens in baseball, but let's not forget what
Mike Gonzalez
did for this club in the postseason last year. He got two very big outs -- one in the ALDS and the other in the ALCS -- that helped the Rangers win games in those series. He struck out
Johnny Damon
with two runners on in the eighth inning of Game 3 of the ALDS, a pivotal game in that series. The Rangers won that game by one run. He also came in late in Game 1 of the ALCS with the bases loaded and the Rangers up by a run and got
Alex Avila
to end the threat. Those two outs alone made the trade worth it. Texas has a strong left-handed pitcher in
Robbie Ross
, but he's someone they utilize for a full inning or two and is actually better against righties than lefties (though neither can hit the rookie these days). Still, the idea of having a veteran left-handed pitcher who can get a key out is appealing. It's worth noting that the Rangers picked up Gonzalez at the August trade deadline, so it's not something they have to do right now.
5. Keep an open mind for a trade no one expects.
One thing this team does so well is that it stays prepared for anything and everything. That needs to be the case this year, too. Sure, it's unlikely that the Phillies would make Lee available or that the
Seattle Mariners
would put
Felix Hernandez
on the block (or want to deal him to Texas), but you never know. Maybe there's another impact player out there that Texas could get that no one expects right now. While we talked about not giving up Profar or Olt for a rental player, if there's a big-name pitcher with some years left on his contract, that's when those names might be discussed (still can't see Profar going unless it was something really big). Be ready to pull the trigger if that special opportunity (that Cliff Lee 2010-like chance) comes up.
What am I missing? What other deals would you try to make? What deals should the Rangers make?
May, 19, 2012
5/19/12
4:50
PM CT
HOUSTON -- Rangers manager Ron Washington had a Nino Brown-like conversation with starter
Neftali Feliz
on Friday night.
Feliz gave up just one run but labored the though the outing, throwing 101 pitches and walking five in 4 2/3 innings before getting pulled by Washington one out away from qualifying for the victory.
Feliz had trouble controlling his fastball, and his release point was way off. Washington chewed him out on the mound after walking pitcher
Wandy Rodriguez
with two outs in the fourth. Feliz retired the next hitter,
Jordan Schafer
, via strikeout.
When Feliz got to the dugout, Washington was waiting for him and used the interpreter to make sure his points were getting across. Washington said he told Feliz the team depends on him and to get his act together.
"I had a deep conversation with him with the translator to make sure what I was saying was being heard and being felt," Washington said. "I wanted him to hear how much the guys depend on him and sometimes things don't go right when you're out there on the field, but you got to find it in yourself to straighenten it out the best you can. Not that he wasn't trying, it's just he tried hard but it just couldn't get there, so the decision (to pull him) fell in my lap and I had to make it.
Washington said he wasn't trying to send a message to Feliz by pulling him just one out from a victory, saying it was more situational. But Washington got his message across.
"What I said then should resonate for days to come," Washington said.
Notes:
Closer
Joe Nathan
most likely won't pitch Saturday night. He's gone the last four days and has never pitched in five consecutive games. Nathan said he feels good, but it might not be in the best interest for any pitcher to go five consecutive days.
Yu Darvish
threw a bullpen session Saturday afternoon. He's said in the past that his bullpen sessions weren't very good, but he's certainly been able to pitch well.
"Normally it's not that good when I was in Japan," Darvish said through an interpreter. "Today I was OK. Anyway, it doesn't affect my starts."
We'll have more on this later, but expect
Mike Adams
to need another day of rest. He's battling a respiratory infection that has zapped his energy. The Rangers have gone to reliever
Koji Uehara
in the late innings. Uehara pitched the eighth inning of Friday night's victory and should do so again Saturday if necessary.
Uehara hasn't allowed a run in 10 1/3 innings and has lowered his ERA from 4.50 to 1.26.
"Hopefully, I'll be able to continue to produce," he said through an interpreter.
May, 18, 2012
5/18/12
11:11
PM CT
HOUSTON -- The good news is the
Texas Rangers
won the ballgame, 4-1, over the
Houston Astros
on Friday night. The bad news is starter
Neftali Feliz
struggled with his control in 4 2/3 innings and was pulled one out away from becoming the pitcher of record.
That went to left-handed reliever
Robbie Ross
, who went 2 1/3 innings to improve to 5-0 on the season. Manager Ron Washington pulled Feliz with two outs and two men on in the fifth inning.
"He just had problems struggling with his command tonight," Washington said. "He just was fighting himself and he just couldn't dial in that rhythm. But he only gave up three hits and one run and if he would have ever found it, it would have been one heck of a ballgame."
Feliz has just one victory this month and while the Rangers have seen some positive results from him, Friday night was not good. Feliz allowed just one run on three hits, but he walked five, including the pitcher, and he struck out six. Feliz couldn't control his fastball and struggled with his release point several times while throwing 101 pitches.
"I felt real uncomfortable trying to execute my pitches," Feliz said through an interpreter. "I was frustrated and I couldn't locate the pitches like I wanted to. I felt different. I wasn't executing. Every game is different. I just couldn't do what I wanted to do tonight."
Feliz got a little talking to by Washington in the fourth inning after he walked pitcher
Wandy Rodriguez
with two outs. Washington jogged to the mound and did all the talking. When he was finished, he patted Feliz and strolled back to the dugout.
Feliz struck out
Jordan Schafer
to end the inning.
Washington wouldn't say what was said, but joked the two were talking about going out to dinner and Feliz wanted Italian.
"He just told me to get ahead and keep trying," said Feliz, whose ERA is now 3.16.
May, 18, 2012
5/18/12
10:15
PM CT
HOUSTON --The
Texas Rangers
got a gutty and sloppy pitching effort from
Neftali Feliz
and some timely hitting to beat the
Houston Astros
, 4-1, in Game 1 of the Silver Boot series at Minute Maid Park on Friday night.


How it happened:
It wasn't the best night for Feliz, but the Rangers bats helped him out early.
Adrian Beltre
drove in the first of his two runs with a sacrifice fly to center to bring in
Ian Kinsler
for the first run of the game in the third inning.
Nelson Cruz
added to the lead with an RBI single to center. In the fifth, the Rangers added one more run on an RBI double by
Michael Young
, who seems to have broken out of his slump with two hits and a walk. Beltre closed the deal with a solo shot to left field, that if not for that wall in left center, might have landed in Huntsville.
Long night for Feliz:
Feliz was chastized by the manager, walked the No. 8 and No. 9 hitters and threw 84 pitches through four innings. When the Rangers starter's night was done, he had thrown 101 pitches in 4 2/3 innings and for a no-decision. Feliz battled trouble all night and couldn't control his fastball. he walked five, hit one batter and allowed just one run on three hits. He also struck out six. Feliz drew the ire of manager Ron Washington in the fourth inning when he walked pitcher
Wandy Rodriguez
with two outs. Washington jogged to the mound and after a one-sided conversation, headed back to the dugout. Feliz then struck out
Jordan Schafer
on three pitches. But Washington had seen enough to pull Feliz in the fifth after two more walks sandwiched around two outs. Rookie
Robbie Ross
retired
Brian Bogusevic
on a fielder's choice to end the inning. With Feliz out, Ross became the pitcher of record.
Young gets a hit:
It's been a tough stretch for Young. He finished the Rangers' seven-game homestand with just four hits in 27 at-bats. He was hitless in his last 11 at-bats until a second-inning single to center ended the string. For the night, Young went 2-for-3 with a walk, a double and an RBI. Before the game, Washington said Young will stay in the lineup and he felt his veteran utility man would break out of his slump. He was right and don't expect Young to sit tomorrow against a right-hander,
Lucas Harrell
, for
Mitch Moreland
.
Beltre on a tear:
Third baseman Beltre has reached base in his last nine games. Friday night he went 2-for-3 with his eighth home run of the season, a blast to left center. Beltre is 12-for-46 during the last nine games with two doubles and two home runs. In the last 21 games, Beltre has six home runs, five doubles and 18 RBIs.
Joe Nathan gets the save:
For the first time since 2009, closer Nathan pitched for a fourth consecutive game. Nathan, who picked up his ninth save, had uneventful ninth inning, including a strikeout to end the game. He has two saves in his last four outings and hasn't allowed a run since May 13. Sept. 13-16, Nathan went four consecutive games for the
Minnesota Twins
, registering three saves during that time.
Notes:
Rangers fans were in full force at Minute Maid Park on Friday night. There was a "Let's Go Rangers" chant in the eighth inning. ... Rangers are now 136-131 all-time in interleague play. ... Rangers are 62-72 in NL parks. ... When Feliz pitches, the Rangers normally do well, they're 5-2 in his starts in 2012. ... Friday night was the Rangers' 14th series of the 2012 season which marked the 14th different opponent. When the Rangers begin a three-game set at Seattle on Monday, it will be the first time they've seen an opponent a second time. ...
Yu Darvish
will speak with reporters Saturday afternoon. ... With
Mike Adams
unavailable,
Koji Uehara
took his spot as the setup man in the eighth. He struck out one in a scoreless inning. ... Kinsler was knocked down by a pitch that sailed over his head in the ninth inning by reliever
Rhiner Cruz
. Kinsler flew out to deep left field and when he got back to the dugout, slammed his helmet into a cubbie hole. Cruz then hit the next batter,
Elvis Andrus
, who promptly stole second. ...
Josh Hamilton
, who had a 16-game hitting streak snapped Thursday afternoon, began a new one with a single in the third.
Next:
Rangers-Astros play Game 2 of the Silver Boot series at Minute Maid Park.
Derek Holland
takes on Lucas Harrell at 6:15 p.m.
May, 18, 2012
5/18/12
5:57
PM CT
May, 18, 2012
5/18/12
12:00
PM CT
The Silver Boot series opens with Rangers righty
Neftali Feliz
facing Astros lefty
Wandy Rodriguez
. A look at the matchup:
Feliz (3-1, 3.32):
Feliz is 2-0 with three earned runs allowed in 12 innings in his last two starts, bouncing back after allowing season highs in walks (six) and runs (four) in a May 1 loss in Toronto. Feliz is holding opponents to a .188 batting average, the second lowest among American League starters. He has been especially tough against left-handed hitters, who are 11-for-72 (.153) against him. He is 0-1 with three saves and a 6.00 ERA in six relief appearances against the Astros, but five of those appearances were scoreless.
Rodriguez (3-3, 1.99):
Rodriguez is sixth in the National League in ERA and tied for seventh in WHIP (0.99). Opponents are hitting only .205 against him, although Rodriguez has allowed 13 doubles. He has allowed one or no runs in five of his eight starts and is coming off one of his best starts of the season. Rodriguez struck out a season-high seven while allowing one run on three hits and a walk in eight innings against the Pirates but got a no-decision after the bullpen blew the save. He is 4-2 with a 5.13 in six career starts against the Rangers.
Hitters:
Ian Kinsler
has owned Rodriguez. Kinsler is 9-for-15 with three doubles, two homers and four RBIs against Rodriguez.
David Murphy
is 3-for-7 with a triple and a homer against the lefty.
Yorvit Torrealba
is 0-for-10 with three strikeouts against Rodriguez. … No Houston player has more than three at-bats against Feliz. The current Astros are 3-for-13 with five strikeouts against him, but all of the hits were for extra bases.
Matt Downs
is 1-for-2 with a two-run homer,
Chris Johnson
is 1-for-2 with a double and
Carlos Lee
is 1-for-2 with a double.
Up next:
Sat. at Hou.:
LHP
Derek Holland
(3-2, 3.78) vs. RHP
Lucas Harrell
(2-3, 4.40), 6:15 p.m., ESPN Dallas 103.3 FM/1540/FOX
Sun. at Hou.:
RHP
Colby Lewis
(3-3, 3.63) vs. RHP
Jordan Lyles
(0-0, 3.00), 1:05 p.m., ESPN Dallas 103.3 FM/1540/FSSW
June, 30, 2011
6/30/11
12:10
PM CT
HOUSTON -- With the Rangers taking the Silver Boot home for at least another year, the club will try to complete the sweep of the Astros by sending
Matt Harrison
against
Wandy Rodriguez
. Here's some insight.
Harrison (6-6, 3.00):
He's 1-1 with a 1.63 ERA in his last four road games. ... In his last start, June 24, he ended a two-losing streak with a victory over the
New York Mets
. Harrison allowed three runs on six hits in five innings of work. ... This is Harrison's first start at Minute Maid Park. ... In his only start against Houston, June 17, 2009, Harrison picked up a no-decision. Yet, the Rangers won, 5-4. ... He's got a 2.23 ERA on the road in which opponents are hitting .207 against him.
Rodriguez (5-4, 3.21):
The Astros have won six of his last eight starts, but he sufferd a loss in his last outing, last Friday, when he gave up five runs on six hits in six innings of work. That outing also snapped a 14-inning scoreless streak for him. ... In June, Rodriguez is 2-1 with a 2.50 ERA. ... He's struck out
Yorvit Torrealba
nine times in his career. ...
Ian Kinsler
has had success vs. Rodriguez with nine hits in 13 at bats. ... Spent part of April on the DL with fluid in the left elbow joint.