Texas Rangers:

Winter Meetings Shopping List
November, 29, 2012
11/29/12
11:00
PM CT
By
Richard Durrett
| ESPNDallas.com
Editor's note: We continue our look at some of the needs the Texas Rangers hope to address at the winter meetings next week in Nashville.
Today's position:
Bench
PODCAST
Why does Ben Rogers think Elvis Andrus will be gone before Christmas and why does he want to bring pistol-whipping to Big D? Find out right now.

Listen

OK, so it's not really a huge item on any sort of list, but it could come into clearer view at the winter meetings. Don't dismiss the bench as an afterthought. Rangers fans know how much the bench mattered in 2010 and, especially in 2011, in the World Series. Having the ability to mix and match late was huge for Tony LaRussa in guiding the
St. Louis Cardinals
to some close victories in pulling that Fall Classic out in seven games.
The bench also is a topic this offseason because when ripples come based on signings or trades, it's going to impact that bench. For example, what happens with
Michael Young
? Should the Rangers go out and get a bat or two, they may intend for that bat to get some time at DH. What if the club doesn't trade
Elvis Andrus
or
Jurickson Profar
and that forces
Ian Kinsler
to shift positions? It means a member of the outfield, depending on which moves are made, could get more bench time. If the Rangers sign someone who can play some first base (take
Nick Swisher
as an example), that would also cut into Young's time.
So who is on that bench and in what roles is likely to play itself out in the coming weeks and months. The Rangers want some more left-handed bats, and it wouldn't hurt for Ron Washington to have some experienced hitters he could go with in late-inning situations. Young could turn into one of hitters, assuming his role is reduced in 2013. Texas could choose to go with
Craig Gentry
and
Leonys Martin
in a platoon of sorts in center field.
The Rangers still have to work out what they're going to do about the catching situation. It's possible they could end up with both
Mike Napoli
and
Geovany Soto
back. It's also possible that neither is in Arlington. But that second catcher is obviously a member of the bench, too.
Some of these kinds of "what ifs" could get answered at the winter meetings, giving us a better sense of what that bench will look like in 2013. But if the club is looking at all ways to improve -- starting pitching, bullpen, catcher and outfield -- the bench must also be on the big board and at least in the back of the minds of those in the front office as they talk about a variety of issues in Nashville.
November, 28, 2012
11/28/12
11:00
PM CT
By
Richard Durrett
| ESPNDallas.com
Editor's note: We continue our look at some of the needs the Texas Rangers hope to address at the winter meetings next week in Nashville.
Today's position:
Catcher
Texas Rangers general manager Jon Daniels knows it won't be easy filling holes at catcher this offseason.
"It's probably a better year to be a catcher than a team needing a catcher," Daniels said Monday.
Well, this week the club has catching on its mind. First, the team was scheduled to meet with
Mike Napoli
and his representative, Brian Grieper, on Wednesday to get a better idea of where the market is for Napoli and what it might take to bring him back for 2013 and beyond. Napoli didn't have the 2012 season he hoped, hitting just .227 and battling a left quadriceps strain that sidelined him for a month. He wasn't able to duplicate the .383 second-half average and his memorable postseason in 2011, but he did manage to hit 24 homers and collect 56 RBIs. And he had a .812 OPS.
It was not an easy call for the Rangers to decide not to make Napoli a $13.3 million qualifying offer. The catching market is thin in free agency this year, but the team wasn't ready to shell out that kind of money that early in the offseason. But it's clear they still want Napoli in a Rangers uniform, if the right deal is available. They know he can help them and provide power, not to mention a great personality in the clubhouse and someone who understands the pitching staff.
The Rangers could be in position soon to make a decision about their other catcher.
Geovany Soto
, acquired at the trade deadline, is arbitration eligible. The club has until Friday night to tender him an offer or allow him to be a free agent. But they could also work out a deal with Soto to bring him back. He hit .196 while in Texas (.199 in Chicago), but also did a nice job with the pitching staff using humor to try to keep the hurlers loose.
It's possible that both catchers return. If not,
A.J. Pierzynski
and
Russell Martin
are free agents who could garner interest, though if Martin wants a four-year deal, I'd doubt he'd get that from the Rangers. With the megatrade the
Toronto Blue Jays
pulled off with the
Miami Marlins
earlier this offseason, Toronto now has additional catching. Perhaps they'd part with
John Buck
or
J.P. Arencibia
. Would they consider dealing top prospect
Travis d'Arnaud
? Others are out there too, such as
Kelly Shoppach
, for instance. But overall, it's not exactly a deep group.
Let's see how much clarity the Rangers get on catching this week, which should help them narrow things down a bit heading into the winter meetings.
November, 28, 2012
11/28/12
7:30
AM CT
By
Richard Durrett
| ESPNDallas.com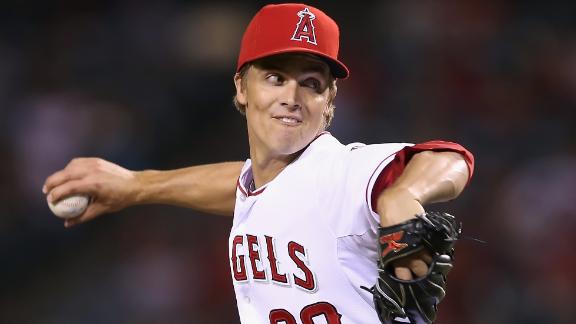 What if the
Texas Rangers
' big-ticket offseason choices came down to
Zack Greinke
or
Josh Hamilton
?

We know the Rangers need another starter, preferably one who can pitch in the top tier of the rotation. But the Rangers also have had the luxury of Hamilton hitting in the 3-hole for five years, bashing homers and producing runs at an impressive rate despite going through ups and downs at the plate.
This is hypothetical at this point, but the Rangers have interest in Greinke and Hamilton. And they won't wait for Hamilton to decide before pursuing offseason needs. Starting pitching is a big offseason need.
There was a bit of Greinke news Tuesday to heat the Hot Stove ovens. Buster Olney tweeted that one person involved in the talks thinks Greinke could get a deal north of
CC Sabathia
's seven-year, $161 million contract. Wow. CBSSports.com reported that the
Los Angeles Angels
won't be involved in Greinke with the price apparently so high.
PODCAST
Richard Durrett joins Ben and Skin for Rangers hot stove chatter and to take a shot at what the team could look like next season.

Listen

There's something familiar about the Angels "backing off" on Greinke. We read those stories last winter,
such as this one in the Los Angeles Times
with the headline: "Angels don't look like big-ticket spenders." Of course, a month later they signed
Albert Pujols
to a 10-year, $254 million deal after quietly making it appear they weren't involved. The Angels need pitching and Greinke is the best available free agent out there. I just can't believe they'd give up completely on him with that rotation in need of top-end help.
But let's say the price is getting high enough that potential bidders are having second thoughts. What if the
Los Angeles Dodgers
, considered by many to be the favorites to land Greinke, decide that they can't go too high for fear that they'd be paying even more for
Clayton Kershaw
in a few years when it's his turn for the big money? That leaves Texas in an interesting position.
We've talked this offseason about the club's need for a starting pitcher to go with the current four-man rotation led by
Yu Darvish
. That staff also includes (at this point):
Matt Harrison
,
Derek Holland
and
Alexi Ogando
. The Rangers could use a starting pitcher who has impact -- someone who can go near the top of the rotation with Darvish, not just someone to fill out the fifth spot.
Greinke fits that bill. He was 6-2 with a 3.53 ERA in 13 starts for the Angels after the trade deadline deal. He was 9-3 with a 3.44 ERA in 21 starts (123 innings) for the
Milwaukee Brewers
before that. If you drill down to his final eight starts of 2012, he heads to the open market on a roll, going 5-0 with a 2.04 ERA with seven quality starts in that string (the only start that wasn't a quality one was against the Rangers on Sept. 30, but the Angels got the come-from-behind win).
The 29-year-old has pitched at least 200 innings in four of his past five seasons, which included a Cy Young season in 2009. He has pitched well at Rangers Ballpark in Arlington in his career, putting up a 2.84 ERA in 79 1/3 innings (14 games, 12 of them starts) and has a 2.91 ERA against the AL West, his best mark against any division. Off the field, he has dealt with social anxiety issues and depression, but it has been six years since that was a problem.
He's got the track record to be a solid starter and he's at an age where you'd consider investing more years than normal. He turned 29 in October and is durable. What is it going to take to sign him? There has been talk about that six-year, $144 million deal that
Cole Hamels
received, but as Olney indicated in his tweet, the price might be even higher.
If the Rangers decide to break the bank for Greinke, it probably means the end of the Hamilton era in Texas, assuming the market goes up for Hamilton (I still think somebody out there is going to give Hamilton five guaranteed years ... after all,
Prince Fielder
got nine years and that deal didn't go down until the end of January last year).
If I had to choose, I'd take Greinke. And that really doesn't have much to do with Hamilton's final few weeks. I know the offense as a whole struggled as the season ended. It was a tired team and they didn't have the kind of production expected of them. It's difficult to take Hamilton's bat out of that equation. But I do think
Dave Magadan
will help this club and it remains a potent lineup, even without Hamilton in it. The Rangers' front office has shown an ability to make key trades to bolster parts of the club. If much of the free-agent money is spent on Greinke, perhaps the Rangers can use prospects as currency and find workable deals to at least help fill part of the offensive void left by Hamilton's departure.
But this club needs another starting pitcher. In crunch time and in the postseason, that's how you win. Imagine how much stronger this team would be as a whole with Greinke and Darvish at the top of the rotation and an emerging pitcher such as Harrison at the No. 3 spot. Plus, the Rangers would be taking a critical rotation piece away from one of the club's chief division and league rivals.
So whom would you choose: Greinke or Hamilton? How many years and how much money are you willing to shell out to Greinke or Hamilton, depending on your choice?
November, 27, 2012
11/27/12
11:15
PM CT
By
Richard Durrett
| ESPNDallas.com
Editor's note: We continue our look at some of the needs the Texas Rangers hope to address at the winter meetings next week in Nashville.
Today's position:
Outfield
Obviously,
Josh Hamilton
is the big name where the outfield is concerned. Don't let the fact Hamilton had a poor final few weeks make you think the club isn't interested in bringing him back. The Rangers are. But this is a front office that believes firmly in making smart deals with the future in mind. So I think they'll want to re-sign Hamilton on their terms. And exactly what those terms will be isn't known at this point. My bet is somewhere around three guaranteed years. The question is whether they step past that or hold firm and if there's some wiggle room in between -- perhaps a vesting option or two based on games played to give the club some protection. They know the pros and cons of having Hamilton and how important his bat was on the No. 3 hole of that lineup the past five seasons.
If Hamilton's market doesn't expand and there isn't a five-year or six-year guaranteed offer, the Rangers could then become favorites to retain him. He likes Texas and knows this area. He's got a support system in place. It just depends on what the market does.
But while Hamilton is at the top of the list, CEO Nolan Ryan made it clear earlier this month that
the club can't afford to simply wait around on Hamilton
, either. They've got holes to fill this offseason and must go about doing that no matter what happens.
Should Hamilton and his 43 homers and 128 RBIs go elsewhere, general manager Jon Daniels and crew must try to figure out how to make up that production.
Justin Upton
clearly has some intrigue, but various reports show the Diamondbacks wanting a shortstop and the Rangers unwilling to part with
Elvis Andrus
and
Jurickson Profar
. Perhaps there's still a creative way to make that happen.
B.J. Upton
is a free-agent option, though most reports have that coming down to a choice between the
Philadelphia Phillies
and
Atlanta Braves
, who expect
Michael Bourn
to go elsewhere (I can't see Bourn in Texas mainly because I think the club would prefer someone with more power who can hit in the middle of the lineup).
But the Rangers don't simply have to go out and get a center fielder. Remember, Hamilton played a fair amount in left field and the club has invested in
Leonys Martin
, hoping he can stand up and seize that job.
Craig Gentry
provided some solid play in 2012, as well, and can handle the position. So they could look to bolster a corner spot (like with Justin Upton) rather than simply grab someone in the middle.
Nick Swisher
is one option and he could play some first base (and he's a switch-hitter).
The preference would be a left-handed bat with such a right-handed-heavy lineup. But the entire position starts with Hamilton. If he's back, the Rangers are settled in that area, though they could still look at moving
Ian Kinsler
to a corner spot to make room for Profar if they don't trade Andrus. If Hamilton goes, they'll look at all options. And right now, with the market for Hamilton still forming, they'll work under the assumption that he's not coming back so that they can be ready once he makes a decision.
November, 26, 2012
11/26/12
11:15
PM CT
By
Richard Durrett
| ESPNDallas.com
Editor's note: We continue our look at some of the needs the Texas Rangers hope to address at the winter meetings next week in Nashville.
Today's position:
Relievers
It seems like an annual rite of winter for the Rangers: Go out and reassemble a bullpen. But that's by design. This front office has shown the past few years that they can find bargains, promote young pitchers (see
Robbie Ross
) or make key acquisitions at the deadline.
They'll be on the lookout for how to put together that relief corps again this offseason, and some of that could come into focus in Nashville. The good news for the Rangers: They've got their closer. By pouncing on the closer market early last offseason (even before the winter meetings), the Rangers signed
Joe Nathan
to a two-year deal and he showed he's healthy and productive after his surgery.
But questions remain about who bridges the gap between the starters and Nathan.
Mike Adams
is a free agent and is hoping for a multi-year offer on the open market. So he could get too expensive to retain.
Alexi Ogando
has moved to the rotation and
Mark Lowe
,
Scott Feldman
and
Koji Uehara
are also free agents. Ross is poised to return and currently is the only lefty in the pen.
UPDATE (10 a.m.):
Feldman has signed a
one-year deal with the Chicago Cubs
.
The Rangers have already started to look at that part of the club. They acquired
Tommy Hottovy
from the
Kansas City Royals
and put him on the 40-man roster with the thought of seeing what he's got at spring training. They'll have other candidates, too, that could work their way into that mix (like
Neal Cotts
).
Uehara is likely to be a priority. He really showed what he can do near the end of the season. He was great against left-handed batters with that splitter and performed well after missing part of the season with a lat muscle strain. He'll have some suitors, but expect the Rangers to attempt to bring him back. Perhaps Texas looks at the Japanese market again and Kyuji Fujikawa. The club has scouted the 32-year-old righty. What about
Jason Grilli
? I'm intrigued after his solid 2012, but he may be too expensive.
The club could choose to look at someone with closing experience to use in a setup role (names like
Jonathan Broxton
or even
Jose Valverde
are out there). But this could be a type of hole the club fills last, after figuring out some other pieces. In the past, they've found a way to take care of their bullpen needs without breaking the bank. Since they don't have to pay a closer, that's an option again this offseason. So they might stay away from some bigger names that might want a chance to close again or seek multi-year deals in the hopes of assembling a bullpen without paying big bucks or keeping players to short-term deals. But we'll see.
Anyone in particular you'd like to see the club grab for the bullpen?
November, 26, 2012
11/26/12
8:00
AM CT
By
Richard Durrett
| ESPNDallas.com
Front office personnel, agents and scouts will start to gather in Nashville this weekend in anticipation for the Winter Meetings, which run next week. In preparation for those meetings, we'll take a look at some areas the Rangers hope to address at the meetings. It's their version of a Black Friday shopping list.
Today's position:
Starting pitchers
It seems that every year the
Texas Rangers
are looking for starting pitching. And why not? It's a critical area of any club and one of the quickest ways to improve. Last offseason, it was the final day of the winter meetings that signaled the club's intention to dive back into the market, though no one knew it at the time. That last day of the meetings in Dallas, several Rangers staff members had meetings with Bob Simpson and Ray Davis to help convince them to spend the money to bid for
Yu Darvish
. That yielded dividends in 2012 and Darvish comes into 2013 as the No. 1 pitcher on the club.

Joining Darvish in the rotation at this point:
Matt Harrison
,
Derek Holland
and
Alexi Ogando
. That leaves one spot open. Filling it with a top-flight starter would certainly bolster the Rangers' chances in 2013.
On top of anyone's free-agent starting pitcher list has to be
Zack Greinke
. He's got the best resume of any pitcher looking for a job. And with Darvish signed up for five more seasons, the club hoping to get Harrison inked long-term (he's got two more arbitration years left before hitting free agency) and Holland already under contract that could have him pitching in Arlington through the 2018 season, adding another pitcher with pedigree to that group could make them a force for years to come.
Greinke pitched for the
Milwaukee Brewers
and then the
Los Angeles Angels
in 2012. He was 9-3 with a 3.44 ERA in 21 starts (123 innings) for the Brewers and then went 6-2 with a 3.53 ERA in 13 starts to finish the season for the Angels. Greinke's last eight starts in 2012 were impressive and have to be on the minds of general managers as they contemplate signing him to a big contract. He was 5-0 with a 2.04 ERA in those last eight starts, many of them big ones as the Angels tried (but ultimately failed) to secure a playoff spot.
Greinke has pitched well against the AL West in his career (2.91 ERA in 49 games) and is 3-5 with a 2.84 ERA in 79 1/3 innings at Rangers Ballpark in Arlington. The question is whether it would take six years to get him. At 29 years old, he may want something like the six year, $144 million
Cole Hamels
got. The Rangers may not want to make that big an investment, though I've got to think they'd consider it as it would be another player they could add to their core and fortify the rotation.
But the Angels are also going to be fully motivated to sign Greinke as their rotation goes through changes. Others will also jump in the Greinke sweepstakes, which you've got to think will heat up in Nashville.
There are other starting pitchers out there on the market --
Anibal Sanchez
,
Kyle Lohse
and
Edwin Jackson
, for example -- but they don't stack up to Greinke. The Rangers will look at trade possibilities too. If there's any chance the
Tampa Bay Rays
would part with
David Price
or
James Shields
, the Rangers could match up. But to me, it has to be a pretty big name that would help the rotation at the top end.
That's not to say the club won't look at increasing depth. They always do. But in terms of a big deal, I think they'd look to really increase the club's competitive chances with a front-end starter. That's high up on the shopping list in Nashville.
Which starting pitcher do you want? How do you think the Rangers will fill that spot?