ESPN Dallas speaks with Bellator CEO
May, 19, 2010
5/19/10
11:51
AM CT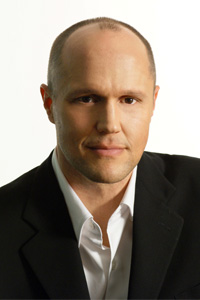 Courtesy of BellatorBellator CEO Bjorn Rebney says building an allegiance is key to having a successful MMA promotion.
Earlier this week, Bellator Fighting Championship CEO Bjorn Rebney shared his thoughts on Bellator 19, which will be held Thursday at Verizon Theatre in Grand Prairie and will be broadcast live on Fox Sports Net. Rebney shared his team's take on the fighters from the DFW area, and a possible return to the Metroplex.
This venue is not the typical setup you might expect for a mixed martial arts event. What might the experience be like for MMA fans?
A:
"We've done theatres like this [Verizon] in Chicago, and again at the Wang Theatre in Boston. The difference in the experience is that the cage is up on the stage. The upper level will be looking down into the cage. You've got the lower level, where you can enhance your view with two huge screens to the left and to the right of the cage, plus the cage in the middle with a screen behind it. It addresses all conceivable angles. What it eliminates are those dead spots. Imagine watching a theatre production in front of you with the aid of two huge big screens to the left and the right. You don't have to do that head-turn. So what we wanted to do was to ensure the audience gets as much of a show as somebody sitting at home on the couch. It's pretty cool. Our team does a great job at putting these together. Of course, next week we are in San Antonio at the Majestic [Theatre] with the same set-up."
How are big markets like the Dallas Fort-Worth area critical to Bellator's success?
"Boston, Chicago, Dallas, Miami. Cities like these … those are markets, that to a large extent, dictate how people respond to the industry. Who's doing what? They are not always the easiest places to draw fans, because there are so many options. There are so many options in Dallas in terms of things to do, but as a promotion we've got to go. You can't just pigeon hole yourself into Vegas or one or two small markets that you consistently go back to. You have to go to those major markets to expose your brand to major consumers that have huge power and huge influence over the entire country."
"You've got to go into markets like Dallas, and build that allegiance. X number of people will come Thursday night and have a great time. Double that the next time we come to Dallas in a few months. And then an additional 30 percent will come the next time. You have to be willing to put in the time to build that allegiance, and that trust with consumers."
How does Bellator's multi-tiered fight card setup and production techniques make for an experience that spectators certainly wouldn't get at your typical MMA show?
"I like boxing events, but there is no meat on the bone. Everything is focused on the main event. And nine out of 10 times, the main event is not any good. The undercard bouts are really set up as vehicles through which guys can win and build their record, as opposed to putting on a great show for a live event audience. When I went into this thing, and when we created the company, it was to put on a great live event that has a lot of traction and that is sticky. Instead of having one great fight, have eight great fights. And also intermix those fights with a great arena, big music, big lighting, and big sound -- an event entertainment experience."
Do you expect to be back in the Lone Star State for Season 3, which will start in August?
"That is the intent right now. We need to see how things go on Thursday and, of course, next Thursday night in San Antonio. But the intent is to come back to these markets again."
The bouts with the most implications at Bellator 19 are the two welterweight tournament semifinals. The winners go on to the finals for a chance at $100,000 later on this season. What's your opinion of the Dan Hornbuckle-Steve Carl matchup?
"The only division of the four where we felt that there was a favorite was at welterweight, in Dan Hornbuckle. He's a huge talent. A world class talent. The thing about Hornbuckle is that he has so many different skills and has such abilities as a striker, and his limbs are so long, yet he maintains power and can end a fight in any given technique.
"Steve Carl, and I say this with all due respect, is the epitome of a grinder. He's got the greatest cardio of anybody I've ever seen inside of an MMA cage. He comes at you and comes at you and never stops. His wrestling is terrific. His stand-up is good. His jiu-jitsu is good. He is just a grinder. He will come at you for five full minutes in every single round. Carl is as tough as they come. He's no joke. He's got a 13-1 record. I'm excited to see what happens in that fight."
What about the Askren-Thomas semifinal?
"The Askren-Thomas fight is going to be a ton of fun. They've been non-stop barking at each other since the eruption that took place in Chicago when, I think we can all agree, that Ryan got the short end of the stick on that decision [against Askren]. And the freak of nature, the volcano in Iceland causing Jim Wallhead not able to travel, gave Ryan a second chance. This should be a good fight from a storyline perspective, because both of these guys can't stand each other. They keep going back and forth [with trash talk]. It's a revenge match. Askren came out with some completely over the top comments yesterday and Thomas is coming back at him. So that fight should be terrific as well. I wouldn't want to have to pick a winner in that one."
The event will also showcase what the organization calls a "Superfight," which puts a previous tournament winner up against another worthy opponent. Your thought on Joe Soto, last year's featherweight winner, vs. Diego Saraiva?
"Soto vs. Diego is the toughest fight we've put together as far as Superfights go. Josh Neer-Eddie Alvarez was a good test [for Alvarez], but Diego is fighting on a tear at 145. This will be an extremely tough fight for Joe Soto."
Do you and Sam Caplan, who heads up fighter development, have your eye on any local fighters?
"I know Sam has some guys that he has earmarked [in Dallas] that could conceptually make the jump and be with us long term. Actually, some of the guys are guys that he has signed for multiple fights in anticipation that they will perform at a really high level."
Caplan:
If Chas Skelly wins, "he could be offered a potential promotional agreement for our season four featherweight tournament." Johnny Bedford, Skelly's teammate at Fitness Fight Factory, also is on the organization's radar. If Bedford beats Jared Lopez, "he would be added to our list of alternates for the Season 3 bantamweight tournament."
How pleased are you with the development of the local feature card for Bellator events?
"Sam Caplan has done an exceptional job. Literally everywhere we've gone, we've found the [Johnny] Bedfords of the world. He's found these local guys that have proven to have a following. Fighters like Johnny, which fans care about and that want to see them."
Main card (subject to change)
Non-title superfight -- Joe Soto vs. Diego Saraiva

Welterweight semifinal -- Ben Askren vs. Ryan Thomas

Welterweight semifinal -- Dan Hornbuckle vs. Steve Carl
Preliminary Card
Aaron Wise vs. Douglas Frey

Donyiell Winrow vs. Josh Smith

Jared Lopez vs. Johnny Bedford

Brandon McDowell vs. Joe Christopher

Daniel Pineda vs. Chas Skelly

Scott Barrett vs. Ty Lee