Part two of my two-part interview with Davis Sylvester, Supreme Warrior Championship CEO.
Q: I see that Marcus Hicks will be on the SWC 10 card. Obviously fans are excited to see a former WEC top contender fighting locally. Is this merely a treat that you are offering local MMA fans on a one-time basis, or do you see Hicks fighting additional bouts in the SWC and contending for titles?
Davis: Marcus' plan is to fight three regional fights and then make another move back to the WEC. I'd like to see him get three wins and get him back in the WEC on a winning streak. He and I have agreed that he will be fighting for the SWC. We are going to try to bring some of the best matchups for him. I'd like to see him fight an up-and-coming fighter, Charles Byrd, from Saekson. And maybe for his last fight in the SWC we would like to match him up against another former WEC fighter, Todd Moore.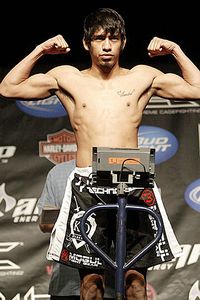 Jeff Sherwood/Sherdog
Will Campuzano
Q: Many have applauded the organization's efforts at assembling fight cards. Is this something that you do on your own, or do you have help? What is your strategy?
Davis: Basically, I do 100 percent of the matchmaking. I watch a lot of videos on the guys. And since I compete, I'm at most of the MMA shows so I can see most of the guys that are fighting out there. For those that I don't see in person, I'm able to get tapes of them. There are a lot of fighters sending us videos. In the short time that we've been in business, there have been a lot of guys trying to get into the SWC. We don't want the guys that disrespect the sport; we want the guys that are in it to win and to have very good sportsmanship. We will start doing steroid testing with our April show. This is something that most organizations outside of the UFC are not doing.
Q: Can you talk a little bit about the rumored noncompete agreement that you require of your fighters in regard to dealing with other local promotions? Is this specific to address Steele Cage, the other MMA promotion in the Frisco area?
Davis: What we have in our contract is a noncompete clause for the guys that fight for SWC that says they cannot fight for another organization within 100 miles for at least 180 days. I'm a fighter, and I don't like to withhold guys from fights, especially on the local side. Saekson's guys don't want to sign the contract, so that is why you are not seeing that camp in the SWC. Saekson also has an MMA promotion in the metroplex. We tried to give them the option that if they wanted to fight locally for their own promotion, they could. I think they were banking on having their fighters showcased in Steele Cage. To be honest, I don't know how many more shows Steele Cage will be doing in Frisco. From the inside information that I have, I was told that their plans are to go to San Antonio in March.
One other thing that we do with our fighters is to sign them for multifight deals, which would make them exclusive with the SWC. Mike Baskis is one of the first to sign a multifight deal with us.
Q: What do you think of Will Campuzano, Anthony Njokuani, Kamal Shalorus, and Clint Godfrey, who are all in the WEC? All of these guys have fought for your organization over the last two years. What do you think this says about the SWC?
Davis: I think it says that we are out there recruiting the best fighters. All of those guys are local guys. We went out there trying to showcase the best guys, and now they get to show the world that SWC guys can compete at the next level. All of those guys have really good chances at being world champions. Anthony has proven that he is at that level. His biggest weakness was his jiu-jitsu, but that has improved tenfold. I think he just got his purple belt. Not many can compete with him in his striking, and now they'll at least have to respect him on the ground. I don't think there is anybody in the WEC in that weight class that wants to stand with him.
When you come to an SWC fight, you are going to see some legitimate up-and-comers. And the next few guys that are ready for the next level are Johnny Bedford, Josh Clopton, and Mike Baskis. Mike Baskis is one tough kid, and he's only 21 years old. He can already compete at the WEC level now. We want to get him a couple more fights, and he'll then likely move up.
Q: Tell us a little bit about your amateur series that you are planning to introduce in 2010? What is your main objective with hosting amateur events?
Davis: The amateur series is there to help us find all up-and-coming fighters at any level, which was our original plan. We just happened to get our pro license first. Feb. 6 will be our first show right here in Frisco. All tickets for the event are currently half-off. We are going after the best amateur fighters in the state of Texas, Oklahoma, Louisiana, and Arkansas. The amateur series is separate from the pro shows and will not affect the number of shows that we will be doing on the pro level. Amateur shows will always be done on Friday and pro shows will be on Saturdays.
Q: What are you doing to get the word out about your organization? What is your plan to market SWC to the DFW area?
Davis: As far as getting the word out, we've been using billboards, printed press, and radio. For 2010, we've inked a deal to go on Fox 4, WFAA, and My27 when it comes to TV commercial advertisement. We are working on a weekly show with My27 to showcase our SWC events. We are still trying to secure a time slot in that deal. We are trying to have the same time and day each week. Right now it looks like Saturday at 12 to 1 p.m. or 1 to 2 p.m.
SWC hosts its 10th event on January 16th at the Frisco Convention Center. Go to swcmma.com for more information.
Fight Card
Marcus Hicks (former WEC veteran) vs Ira Boyd

Rocky Ramirez vs Roderick Richer

Brandon Smith vs Khevin Smith

Jason Sampson vs Joshua Montoya

Derek Campos vs Isaac Vallieflag

Jerry Hinojosa vs Devon Nichols

Tim Snyder vs Jacob Austin

Scottie Ayers vs Edwynn Jones