Ryan Newman drives with a degree
April, 13, 2012
4/13/12
3:30
PM CT

Sprint Cup driver Ryan Newman talks about being the only driver with a college degree, his partnership with the US Army and the difference between jelly and jam.


ABOUT THIS BLOG
Eddie Gossage

Legendary racing promoter Eddie Gossage is the current president of Texas Motor Speedway.
Richard Durrett

Richard Durrett joined ESPNDallas.com in September 2009. Richard writes about the Rangers, Cowboys, Mavericks, colleges, golf and motorsports and used to co-host Fitzsimmons and Durrett on ESPN Dallas 103.3 FM. Richard spent nine years at The Dallas Morning News covering the Rangers, Stars, colleges, motorsports and high schools.
ESPNNASCAR NASCAR on ESPN
Wishing you all a wonderful Thanksgiving.
5 minutes ago

MartySmithESPN Marty Smith
Thankful today&everyday 4 @la1nster, kids, friends, health, food, shelter, love, job @ESPN, freedom &those who preserve it, #406, music, Him
9 minutes ago

SSpakeESPN Shannon Spake
Happy Thanksgiving to all. A special blessing to the soldiers who are away from their family fighting so we can be with ours!
9 minutes ago

MartySmithESPN Marty Smith
Fin. 81st overall out of some 2k timed-runners. Ran 7th of 100 timed-runners in male 35-39 y/o. Turkey time! http://t.co/8N9ucVWw4v
23 minutes ago

JamieLittleTV Jamie Little
One tradition my family has...before eating and after a prayer, go around the table and vocalize what we're thankful for. #Thanksgiving
54 minutes ago

JamieLittleTV Jamie Little
I love this holiday because it's not about gifts or material things. It's simply about giving love and thanks. Make today about others.
about an hour ago

FlemESPN David Fleming
Happy Turkey Day everybody - #FlemFile http://t.co/QxQVGqLNpa
about an hour ago

continentaltire Continental Tire
Thankful for all our troops as they inspire us every day. Take a look at this inspiring story by @MartySmithESPN - http://t.co/IM6uBw63wx
about 2 hours ago

ESPNMotorsports ESPN_Motorsports
NHRA driver Courtney Force engaged to IndyCar driver Graham Rahal http://t.co/I5dKRPrkgu
about 3 hours ago

chefski324 Craig Marshall
@MartySmithESPN @ESPNMcGee @DaleJr @KevinHarvick @Amy_Reimann @MikeDavis88 @EarnhardtKelley happy thanksgiving #406 http://t.co/X0ZoCtZNxw
about 3 hours ago

SteveByrnes12 Steve Byrnes
My Oncologist just called and said my PET scan showed "progress." Thanks for your prayers, and Happy Thanksgiving. Grateful!
about 3 hours ago

MartySmithESPN Marty Smith
Great work hoss! "@odsteve: In the books! Time to eat http://t.co/U5Ts7yOvxH"
about 3 hours ago

ESPNMcGee Ryan McGee
#HappyThanksgiving http://t.co/nkOobBTN4w
about 6 hours ago

ESPNMcGee Ryan McGee
Nobody bother me for the next half-hour. #WKRP #Thanksgiving #bagsofwetcement http://t.co/h6B0qolDPF
about 15 hours ago

DStoltzfusWCIV Daren Stoltzfus
@ESPNMcGee Be serious. This is a startling move that disappoints dozens. #FXFL
about 16 hours ago

ESPNMcGee Ryan McGee
I would be more upset over news that #FXFL championship game has been canceled if I'd known that it'd had a regular season.
about 17 hours ago

MartySmithESPN Marty Smith
Who's running a San Diego turkey trot??? I need a race!!!!!
about 17 hours ago

ESPNMcGee Ryan McGee
@AnishESPN You win
about 18 hours ago

ESPNMcGee Ryan McGee
@AnishESPN In related news I dropped a hammer on my toe.
about 19 hours ago
TRACK GUIDE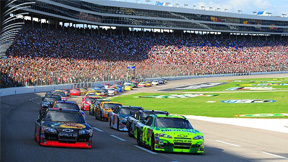 Texas Motor Speedway, in North Fort Worth, opened in April of 1997. The track hosts two NASCAR Sprint Cup races and one IndyCar race in 2013. It seats 138,122. Guide »
BLOG ARCHIVE:
CATEGORIES: