Courtesy of Texas Motor Speedway
Texas Motor Speedway president Eddie Gossage hesitated to go with this ad campaign, but NASCAR's decision to not suspend Carl Edwards helped him make his final decision.
"Have at it, boys."
Robin Pemberton, NASCAR vice president of competition, said those words in a January news conference. While we knew they would change racing, no one thought it would occur in such a spectacular manner in only the season's fourth race.
Let me say right up front that I really like both Carl Edwards and Brad Keselowski. Edwards is an incredible talent and one of the truly nice guys I've dealt with in my career in this sport. He will win NASCAR Sprint Cup titles, and I'll pay him my ultimate compliment -- he's old school.
And Keselowski is a sharp young guy who is a bit on the wild side, much as I remember a young Dale Earnhardt or a young Ernie Irvan. Those comparisons are high compliments. Keselowski and I text back and forth, and I always offer him encouragement. He's going to be huge, and I'll offer him the same compliment -- he's got some old school in him, too.
[+] Enlarge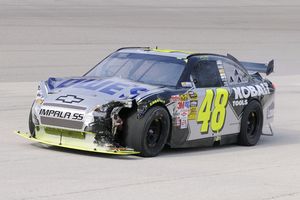 AP Photo/Larry Papke
Jimmie Johnson had his car mangled during last season's Chase for the Sprint Cup race at Texas Motor Speedway. The message, as taken by TMS's promotional campaign: "Door Dings. Approved."
Remember: The old-school way in NASCAR is to defend yourself. Sometimes it's immediate, sometimes it's on the track and sometimes it's off the track. It has been going on for decades. Both of these guys know and embrace old school.
After finding out that, fortunately, nobody was injured in Sunday's incident, thoughts immediately turned to -- what else? -- promotion. We've riled some people up over the years with some of our advertising. That's typically a good thing in advertising and marketing.
But understanding the sensitivity of this terrifying accident and recognizing the injuries -- or worse -- that could have occurred, how do you use this incident in promotion without going over the line?
So I discussed and debated the issue with myself. I discussed and debated it with key people on staff here at Texas Motor Speedway. (Yes, the staff debates me, and these people are very smart and in touch with the art of promotion. I hate "yes men.") But I just wasn't sure. In fact, I didn't sleep well Monday night because I was still debating internally.
And then NASCAR made its ruling on further punishment for Edwards: three races on probation. No suspension. No points penalized. No fine.
NASCAR made the right call. But the call also reiterated, "Have at it, boys."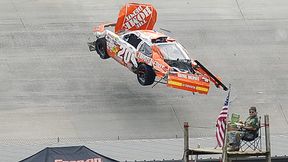 AP Photo/Nick Wass
Joey Logano's car flipped repeatedly during last season's AAA 400 at Dover International Speedway. Gossage's ad pitch: "Tailgating. Approved."
So my answer was easier. "You have to do it." It's one of the reasons the crowds at NASCAR Sprint Cup races are among the top five here all year.
Our ad campaign is "Approved." You perhaps have seen the ads and the billboards. A shot of Jimmie Johnson's crumpled car with the headline, "Door Dings. Approved." Or a shot of a wild-eyed Juan Pablo Montoya, headlined, "Road Rage. Approved." Or a shot of Joey Logano's car flipping over and over, reading, "Tailgating. Approved."
Who approved it? I don't know. You? Me? Some other fan? Some other driver? That's up to you to decide. We're just causing the debate to take place.
So a shot of the infamous incident at Atlanta shows Edwards driving away as Keselowski's car flips in the air. The headline reads, "Have at it, boys. Approved."
Who approved it?
That's the point: Debate among yourselves. Did Edwards approve it? Did Keselowski approve? How about NASCAR, by virtue of its light punishment? Other fans? Do you?
It's a hot topic, and that's Promotion 101. I don't want to offend either driver, but both eagerly pursued reaching the top level of American motorsports. And scrutiny comes with the territory.
The spotlight gets hot. Things happen. Welcome to the big leagues, boys!
I'd be negligent in my role as promoter if I didn't point out to you that the three-race probation will take place at Bristol, Martinsville and Phoenix. The first race Edwards will run when the probation is lifted?
Texas! April 18. The Samsung Mobile 500!
"Have at it, boys."