It was somewhat surprising to see engines blowing during Sunday's NASCAR Sprint Cup Series race at Auto Club Speedway. It used to be a common thing to see smoke erupt from a car and have four or five cars sitting in the garage with blown engines.
[+] Enlarge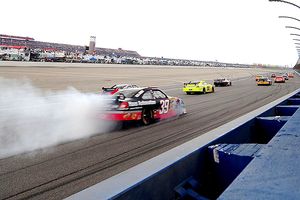 Gary A. Vasquez/US Presswire
Ryan Newman had to drop out of Sunday's Auto Club 500 with a blown engine.
But engine builders today in the NASCAR Sprint Cup Series have gotten so good that you seldom see a "smoker" on the track.
Engines from top-notch teams, including those of Juan Pablo Montoya and Ryan Newman, went up in smoke today. Both drivers retired from the race. It's just not a common thing anymore.
If your street car hits 3,500 RPMs, you are really pushing it. But a Cup car today runs more than 9,000 RPMs. Engine builders have become so adept at building the Cup engines and the parts and pieces they use have improved so much that it's just a rarity to see a blown engine.
Although the problems with the two engines appeared to be different, it makes you wonder if the teams had either run into a bad batch of parts or if the two teams were experimenting with parts under the hood. Both are running Chevys. Montoya had qualified second for Sunday's race and is a teammate of Daytona 500 winner Jamie McMurray. Newman is a teammate of Tony Stewart.