Sources: Clint Bowyer close to joining Waltrip Racing
September, 16, 2011
9/16/11
11:38
AM CT
Clint Bowyer is in serious negotiations
to drive next season for Michael Waltrip Racing, multiple sources told ESPN.com's David Newton.
Sources said the Toyota team is looking to expand to a third Sprint Cup team with Bowyer, whose contract with Richard Childress Racing expires after this season.
For more on the story,
click here.
ABOUT THIS BLOG
Eddie Gossage

Legendary racing promoter Eddie Gossage is the current president of Texas Motor Speedway.
Richard Durrett

Richard Durrett joined ESPNDallas.com in September 2009. Richard writes about the Rangers, Cowboys, Mavericks, colleges, golf and motorsports and used to co-host Fitzsimmons and Durrett on ESPN Dallas 103.3 FM. Richard spent nine years at The Dallas Morning News covering the Rangers, Stars, colleges, motorsports and high schools.
ESPNNASCAR NASCAR on ESPN
Lap 100/195: Harvick, Logano, Larson, Chase, Dillon, Busch, Kenseth, B.Scott, Smith, Ragan (lead lap). Bayne, Sadler.
6 minutes ago

ESPNMcGee Ryan McGee
Dawgs have more good running backs than some whole divisions. #CLEMvsUGA
14 minutes ago

IndyOreo John Oreovicz
Looks like they had quite the Brainerd final at Indy: Capps runs 4.02/320 to J. Force's 4.12/313 #NHRA
19 minutes ago

ESPNNASCAR NASCAR on ESPN
Caution for debris on the backstretch.
27 minutes ago

ESPNNASCAR NASCAR on ESPN
Lap 70/195: Harvick, Logano, Chase, Larson, Kenseth, B.Scott, Busch, Dillon, Smith (lead lap). David Ragan 1st car a lap down. #NASCAR
28 minutes ago

ESPNNASCAR NASCAR on ESPN
Harvick takes the lead from Chase. He's won this race twice; including last year's race.
47 minutes ago

ESPNNASCAR NASCAR on ESPN
Lap 35/195: Chase, Harvick, Joey, Larson, Busch, Kenseth, B. Scott, Dillon, Sadler, Smith. #NASCAR
48 minutes ago

MartySmithESPN Marty Smith
Awesome. "@gregolsen88: TJ was so happy his brother/sister could come see him today! Making strides! #onedayatatime http://t.co/JvoFQVv05N"
about an hour ago

ESPNNASCAR NASCAR on ESPN
Will either @Team_Penske or @JoeGibbsRacing finally win a @NASCAR_NNS race @amsupdates? Who is your pick tonight? #PitStudio #NASCAR
about an hour ago

Jayski_trucks Jayski_Trucks
Tagliani on @CTMPOfficial pole. Lineup---> http://t.co/XxTOlJ7GBK
about an hour ago

ESPNNASCAR NASCAR on ESPN
#NASCAR Countdown is live on ESPN2 from @amsupdates. We update you on Tony Stewart's return and get you ready for tonight's @NASCAR_NNS race
about an hour ago

AllenBestwick AllenBestwickESPN
Wishing @mikhailaleshin a very speedy recovery. A great new addition to @IndyCar this year. Get well soon!
about 2 hours ago

NASCARONFOX FOX SPORTS: NASCAR
30 minutes remaining in #NSCS practice on FOX Sports 2. Top 10 - 20 22 11 24 48 42 88 99 2 18. Leaderboard » http://t.co/wKkdifU4aD #NASCAR
about 2 hours ago

JayskiNNS Scott L Page
Starting Lineup for the Great Clips 300 #NASCAR @NASCAR_NNS race at @amsupdates tonight: http://t.co/P7HQNRJB58
about 2 hours ago

JamieLittleESPN Jamie Little
The next victory for @Team_Penske will be their 400th win. That's among NASCAR, IndyCar, SportsCar and F1. 2 races to get it done tonight.
about 2 hours ago

bobpockrass Bob Pockrass
Chase Elliott on NNS pole. Elliott Larson KyBusch Logano Sadler Kenseth Bayne Harvick Scott Ragan Smith Reed. #nascar
about 3 hours ago

GuruGarrow Mark Garrow
Elliott will share the front row with @KyleLarsonRacin with @KyleBusch @joeylogano @KevinHarvick the rest of top-5. Again PRN on air at 7.
about 3 hours ago

GuruGarrow Mark Garrow
On the pole tonight @chaseelliott for the Great Clips 300 @NAPARacing
about 3 hours ago

GuruGarrow Mark Garrow
Currently @chaseelliott @KyleBusch @Elliott_Sadler @Tbayne21 the top-4
about 3 hours ago

GuruGarrow Mark Garrow
Now third and final round of knockout qualifying for tonight's Great Clips 300 is underway. We'll know pole sitter in 5 minutes @amsupdates
about 3 hours ago
TRACK GUIDE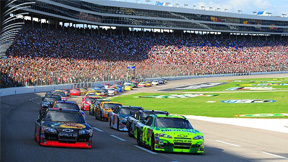 Texas Motor Speedway, in North Fort Worth, opened in April of 1997. The track hosts two NASCAR Sprint Cup races and one IndyCar race in 2013. It seats 138,122. Guide »
BLOG ARCHIVE:
CATEGORIES: