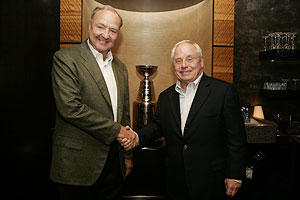 Courtesy of Dallas Stars
Stars owner Tom Hicks and current Montreal Canadiens owner George Gillett celebrate their nearly three-year partnership in owning Liverpool Football Club.
Stars owner Tom Hicks and George Gillett, who is still in the process of selling the Canadiens to members of the Molson family, watched the Stars-Flames game from Hicks' suite at American Airlines Center.
Hicks said the two were celebrating nearly three years of ownership of Liverpool Football Club. The two joined forces this time three years ago and had the offer accepted in February 2007.
"We're happy with the way things are going financially with Liverpool," Hicks said. "We wish they were a little better on the pitch."
Hicks is also pleased with how the Stars have started the season. Dallas is 6-3-6 and has 18 points, sixth in the Western Conference.