September, 23, 2014
Sep 23
11:12
PM ET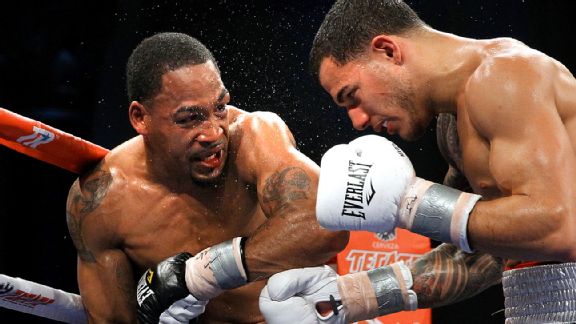 Chris Farina/Top RankJunior middleweight James Kirkland, left, will not face Gabriel Rosado on Nov. 8.
If you're a fan of the greatest baseball movie of all time, "Bull Durham," you know all about how Kevin Costner's character, minor league journeyman catcher Crash Davis, was assigned to the Durham Bulls to serve as a mentor to hot-shot pitching prospect Nuke Laloosh, played by Tim Robbins.
Laloosh had awesome talent but was not very smart. It was Davis' job to teach him the ins and outs of pro ball so his makeup could catch up to his ability.
At one point, Davis taunts Laloosh, telling him that he has a million dollar arm but a five-cent head.
If it were a boxing movie, Davis would be talking about junior middleweight James Kirkland, who yet again is showing that his five-cent head is nowhere near his million-dollar punch.
Kirkland, who has bailed on fights, gotten in trouble with the law (multiple prison terms, including possessing a firearm as a convicted felon) and generally made poor decisions on how to handle his career, is doing it again.
The 30-year-old Kirkland (32-1, 28 KOs) is one of most ferocious fighters in boxing. He is a punching machine with a chance to make huge sums of money because of the excitement and drama that he brings to the ring. Unfortunately, he keeps making terrible decisions that prevent him from advancing his career.
How else to explain his latest dopey decision -- passing on a career-high payday of $270,000 to fight Gabriel Rosado on Nov. 8 in the HBO co-feature of the Bernard Hopkins-Sergey Kovalev light heavyweight unification fight?
With Kirkland-Rosado off, the new co-feature is likely to be a very interesting fight between welterweight Luis Carlos Abregu (36-1, 29 KOs) of Argentina and 2008 U.S. Olympian Sadam Ali (20-0, 12 KOs) of Brooklyn, New York.
The sides are working out a few details and once it's done it will mean that Top Rank promoter Bob Arum and Golden Boy's Oscar De La Hoya are following through on their vow to do fights together again after their summer reconciliation. Abregu-Ali will be the first non-purse bid fight between a Top Rank fighter (Abregu) and a Golden Boy boxer (Ali) since a 2011 fight between Yuriorkis Gamboa and Daniel Ponce De Leon and only the second since they co-promoted the Manny Pacquiao-Ricky Hatton fight in 2009.
Kirkland's camp (promoter Curtis "50 Cent" Jackson and adviser/attorney Michael Miller with the blessing of trainer Ann Wolfe), made a deal with Rosado and promoter Golden Boy for the fight, even getting Rosado to agree to come down from the 160-pound middleweight division he had been fighting in to a catch weight of 157 pounds.
And it was a very winnable fight for Kirkland too, who accepted the terms.
And then he bailed.
"Here we go again," Miller told ESPN.com on Tuesday.
Miller, like everyone else involved with Kirkland's career, is as frustrated as can be. It's not the first time Kirkland has taken a fight only to drop out on a whim.
In 2012, Kirkland accepted a fight with Canelo Alvarez after Alvarez's opponent, Paul Williams, was paralyzed in a career-ending motorcycle crash. But then Kirkland quickly pulled out and was unable to get his story straight. First he said his injured shoulder was not healed enough to take the fight but then said he was unhappy with the purse offered to him but would fight with the bum shoulder if the purse was dramatically increased.
It's déjà vu all over again.
Miller said that Kirkland agreed to face Rosado for the money on Sept. 12. A few days later, Miller said, Kirkland called him and said he decided to pull out of the fight.
"He said he wouldn't have enough time to train even though he would be able to have an eight-week training camp," Miller said. "I talked to [HBO executive] Peter Nelson and they said they were willing to commit to the same fight on a card in December instead, which would give James more time to train. And when I told him that then he said the money wasn't enough.
"First it was not enough time and then it wasn't enough money."
Sound familiar?
"I think it was a very fair offer and a great opportunity," Miller said. "I told James you have to beat fighters like Rosado if you're going to be a world champion. It was a great opportunity and a very fair deal so I am frustrated and disappointed. James was going to make his biggest payday to fight on HBO against a guy who has lost three of his last four fights."
Indeed, Rosado lost three of his last four official boxing matches (with the other result being a loss that was changed to a no decision because winner J'Leon Love failed a drug test). Rosado's most recent fight was a knockout victory against Bryan Vera in the Big Knockout Boxing "pit" last month.
Yet Kirkland, who hasn't fought in nearly a year -- since his action-packed sixth-round beat down of Glen Tapia in December -- passed on the fight and the career payday.
He has no other fight on the on the table (contrary to popular belief, he is not a candidate to face Alvarez on Dec. 6), and allegedly hasn't made a dime in 10 months, has mounting debt, child support issues and a promoter, adviser and trainer who are fed up with him.
And, yes, he also still has that million-dollar punch to go with his five-cent head.