October, 24, 2014
Oct 24
10:06
AM ET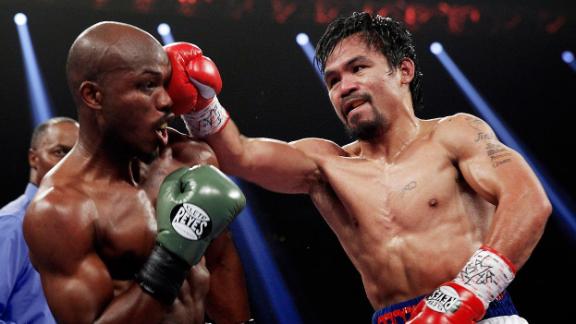 Junior welterweight titlist Chris Algieri has oozed confidence during the buildup to his challenge of welterweight titleholder Manny Pacquiao on Nov. 22.
The fight headlines an HBO pay-per-view card at the Cotai Arena at the Venetian Macao in Macau, China, and while Pacquiao is the prohibitive favorite, his team has not left anything to chance on the business end.
Top Rank promoter Bob Arum said on a teleconference with the boxing media Thursday that Pacquiao (56-5-2, 38 KOs) has a rematch clause in the event he should lose to Algieri (20-0, 8 KOs) -- which would be a huge upset.
"If Algieri wins the fight, there is a provision in the contract that he must give Manny Pacquiao a rematch," Arum said. "So if he does pull off the upset and win, I'm sure Manny would want revenge, so that would be Algieri's next fight. Then we would have to see what develops along the line. But Algieri is one of the most confident fighters that I have run across. He has convinced everyone he has spoken to, because he believes it himself, that he is prepared to give the fight of his life against Manny.
"He is very intelligent. He knows what he's doing in the ring, and this is going to be a very competitive fight."
Rematch or no rematch with Pacquiao, Arum said Algieri would become a much bigger name if he was to upset Pacquiao.
"Commercially, if you beat somebody like Manny Pacquiao, particularly someone as media friendly and so crowd friendly as Algieri, he would instantly be a huge attraction in the sport of boxing," Arum said.
When Algieri upset Ruslan Provodnikov to win his 140-pound belt by controversial split decision June 14, Provodnikov had a rematch clause at the discretion of his promoter, Banner Promotions' Artie Pelullo, who co-promotes Algieri now thanks to the options he secured in the deal for the fight with Provodnikov. When Algieri won, Pelullo elected to make the deal with Pacquiao before seeking a rematch for Provodnikov.