January, 29, 2015
Jan 29
5:41
PM ET
Given the proliferation of world title belts, they sure aren't what they used to be.
In fact, welterweight Keith Thurman had no idea that he had been elevated from a WBA interim titlist to a full titlist until your's truly asked him about it on a teleconference on Wednesday on which he was promoting his upcoming fight with Robert Guerrero.
[+] Enlarge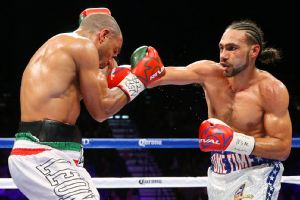 Ed Mulholland/Golden Boy/Getty ImagesKeith Thurman, right, was elevated from interim to full welterweight titlist by the WBA.
"I have not come to find out about that," Thurman said. "You're the first one to mention anything to me."
The WBA currently has 39 so-called world titleholders -- including at least two in all 17 weight divisions except lightweight.
"Me and my team, we joke about it all the time that I'm being treated like a champion, because [Floyd] Mayweather has two belts," said Thurman, who is technically Mayweather's mandatory challenger. "They have yet to issue a mandatory for it. He doesn't have to take the mandatory. They can issue the mandatory. He could vacate the belt and I could fight for it. I've been saying that for the past year."
The WBA, which often has three titleholders, sometimes even four, in the same division -- super, regular, interim and unified -- recently changed Mayweather's designation. It now calls Mayweather a "unified" titleholder and dropped the interim tag from Thurman's title.
Thurman was surprised to hear it.
"Well, thank you very much for that," he said. "At the end of the day, man, there's a lot of different alphabet belts out there. If that's what they chose to do, I'm truly grateful for that. It's an honor for them to raise me up to that level, but at the end of the day, man, with a belt, without a belt it doesn't matter. In the ring I'm ready to fight Robert 'The Ghost' Guerrero and I'm going to do my job. I'm truly looking forward to it."
Thurman will defend his belt against former two-division titleholder Guerrero when boxing makes its return to network prime time on March 7 at the MGM Grand in Las Vegas in the first main event of manager/adviser Al Haymon's "Premier Boxing Champions" series (NBC, 8:30 p.m. ET).
Thurman (24-0, 21 KOs) meets Guerrero (32-2-1, 18 KOs) in the main event and former three-division titleholder Adrien Broner (29-1, 22 KOs) squares off with John Molina (27-5, 22 KOs) in the junior welterweight co-feature.