September, 19, 2014
Sep 19
4:33
PM ET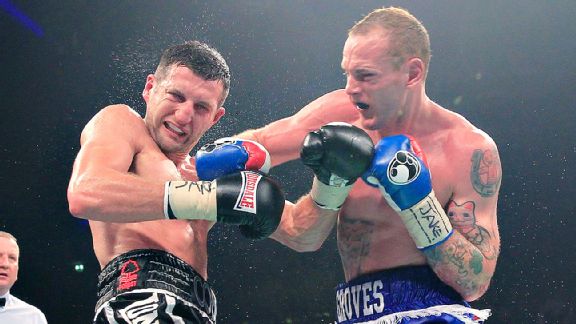 Matchroom Boxing England's George Groves looks to rebound on Saturday from a pair of losses to Carl Froch.
After back-to-back knockout losses to Carl Froch -- the first one highly controversial in November 2013 and the second one clean as a whistle in May -- super middleweight contender George Groves will look to put those disappointments behind him on Saturday.
Groves (19-2, 15 KOs) will fight at Wembley Arena in his hometown of London and challenge Christopher Rebrasse (22-2-3, 6 KOs) of France for the European 168-pound title.
Not only is the bout for Rebrasse's European belt, but the 12-round fight also serves as a world title eliminator. The winner will become the mandatory challenger for newly crowned titleholder Anthony Dirrell.
Groves, 26, has been focused on Rebrasse and a possible future world title shot rather than dwelling on the clean eighth-round knockout loss to Froch in front of some 80,000 in May.
"We've assessed Rebrasse as a fighter and we know the challenges he poses," Groves said. "He is big for the weight, throws a lot of punches and needs to be taken seriously. But this is my moment. I'm going to get in there, get the win, and show all the super middleweights in the world that I'm back and I mean business.
"Dirrell has been doing a lot of talking. He has said that he won't fight me, that I don't deserve a shot, but I think that just proves he's scared. We've had a letter from the WBC confirming a mandatory shot if I win this fight. Once I'm done with Rebrasse, I'm coming for him."
If Groves wins, promoter Kalle Sauerland said he will start the process of making a fight with Dirrell.
"We've got the money, we've got the talent, we've got the fans, we've got the market," Sauerland said. "We're ready for Dirrell. But make no mistake -- we have to focus on Saturday. We must not get ahead of ourselves. But I am confident that George will take care of business on Saturday night. He is one of the most exciting fighters on the planet."
Rebrasse, 28, has fought three of his last four fights in Italy -- with all of his other fights in France -- and has no problem fighting in Groves' hometown. Rebrasse is looking to ruin Groves' world title ambitions.
"I'm not a big talker. I prefer to do my talking in the ring. But what I will say is that I'm here to defend my titles and beat Groves on his home turf," Rebrasse said in translated remarks. "He is a good fighter but I have trained very hard. He is just the next step for me on my way to the top."