March, 5, 2015
Mar 5
10:30
PM ET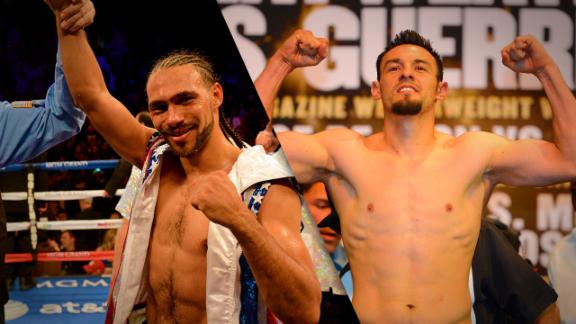 The MGM Grand Garden Arena in Las Vegas is one of the most famed boxing venues in the world. The best of the best have performed there in main events including Mike Tyson, Evander Holyfield, George Foreman, Julio Cesar Chavez, Oscar De La Hoya, Manny Pacquiao and, of course, Floyd Mayweather Jr.
Welterweight titlist Keith Thurman has fought there three times, in a co-feature in a December fight and twice before that further down the card.
But now he is pumped up to take his place in the pantheon of main event fighters there when he makes the first defense of his belt against contender Robert Guerrero on Saturday night (NBC, 8:30 ET with additional coverage on NBC Sports Net at 11 ET) as big-time boxing returns to network television in prime time with the kickoff card of adviser/manager Al Haymon's "Premier Boxing Champions" series.
"I love MGM Grand. The last time when I fought there as the co-main event it was an honor," Thurman said. "This is an even greater honor to be the main event. Many world-class fighters have performed there and Floyd Mayweather has made it his home. This is a dream come true."
Thurman, 26, of Clearwater, Florida, also understands the magnitude of being the A-side fighter in the return of boxing to prime time. It is not an accident that he was picked to headline the show. Many view Thurman as a possible future star with the chance to be one of the fighters to carry boxing into the future in the post Mayweather/Pacquiao era.
Thurman (24-0, 21 KOs) is personable, charismatic, very well spoken and -- and this is the most important part -- he can fight and he is also a huge puncher.
"It's a blessing and I've been working toward this for 19 years," Thurman said. "Al Haymon could have picked any of his great fighters for this moment and I'm honored be part of this night and kick things off right. With NBC coming back to prime-time boxing it gives us boxers a chance to shine again on the biggest stage. We've been continuing to fill up arenas for years, but boxing is returning to the mainstream spotlight with an even bigger punch on [Saturday]."
He is not in easy against Guerrero, a former featherweight and junior lightweight titlist, who also claimed interim belts at lightweight and welterweight. Guerrero (32-2-1, 18 KOs), a 31-year-old southpaw from of Gilroy, California, however, has been inactive. Since a lopsided loss challenging Mayweather in May 2013, Guerrero has fought only once, and that was a decision win in a life-and-death battle with unheralded Yoshihiro Kamegai in June.
"I'm expecting him to come out throwing punches and looking to execute his game plan when we enter the ring," Thurman said. "We're going to show him that he never should have signed this contract. There's a different side of Keith Thurman inside that ring and he's going to learn the hard way. He hasn't fought anyone with extreme power like me.
"He has been in the ring with some great fighters, but every fight is its own learning experience. We work hard in training every time to outbox boxers, outpunch punchers, and I'm expecting to be ready to do everything better than him."
When Thurman fought on Dec. 6, he dropped Leonard Bundu in the first round but was taken the distance by the obscure opponent in a fight most figured he would win by knockout. For his fight with Guerrero, Thurman sounded like a guy anxious to win by stoppage.
"I'll be honest, I'm going to stand there and exchange with him for six rounds, and if he's still standing there we'll see," Thurman said. "With my punching power the KO can come at any time with that one punch. If he walks into it or I lunge at him -- it can even be a body shot. I'm just looking to get him out of there. I'm going to do what I need to do to stay a champion and we're looking to move on past [Saturday] with a victory."
In the co-feature, former three-division titlist Adrien Broner (29-1, 22 KOs) takes on John Molina Jr. (27-5, 22 KOs) in a junior welterweight bout.