March, 3, 2015
Mar 3
5:35
PM ET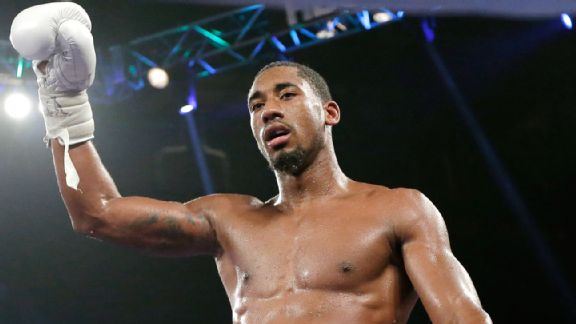 AP Photo/Eric GayDemetrius Andrade wants a crack at fellow junior middleweight titlist Erislandy Lara.
Junior middleweight titlist Demetrius Andrade is doing something nobody does -- calling out titleholder Erislandy Lara for a unification fight. Based on the heated rhetoric between camps it just might work.
Andrade (21-0, 14 KOs), who has not fought since June, pulled out of a December defense, scheduled to be on Showtime, against Jermell Charlo because he was unhappy with his $300,000 purse. But his father/trainer Paul Andrade said they ultimately did agree to face Charlo in a postponed fight, and signed a contract a month ago.
However, by that time, Charlo was lined up to face fellow contender Vanes Martirosyan on March 28 on Showtime. So Andrade turned his attention to Lara (20-2-2, 12 KOs) this week.
"We signed a contract to fight Charlo a month ago," Paul Andrade said. "He opted to fight a guy that we beat already in Vanes Martirosyan [for the vacant belt in 2013]. I don't even think Charlo will beat him. I can see Vanes out-bullying him and win a decision about eight rounds to four.
"That's in the past and now we have to look towards the future. That future hopefully includes Lara. The real fight for us is with Lara. Fighting Charlo would not have done much for us anyway. That would have been like a man fighting a boy. We are calling Lara out but he has had no response. He doesn't have a dance partner, so the time is right for both of us."
Lara got a fight with Canelo Alvarez, albeit a nontitle match, last year and lost a split decision, after relentlessly calling him out.
Now the shoe is on the other foot.
"Lara thought he was cute by calling out Canelo by going to his press conference," Paul Andrade said. "He was trying to embarrass him and goad Canelo into a fight. Lara is now in that position."
He then turned his comments directly to Lara.
"We would go to one of your press conferences and embarrass you but you don't even have a fight on the table, so there is no press conference for you," he said. "Why don't you step up like Canelo and be a man and accept our challenge like Canelo did for you. I guess it's not so cute for him anymore. And if you do step to the plate, you can bring your running shoes because you are a better runner than boxer."
Artie Pelullo of Banner Promotions, Andrade's co-promoter with Joe DeGuardia of Star Boxing, said he'd like to put the fight together; adviser Al Haymon oversees Lara's career as he is not signed to a promoter.
"This is a fight that Demetrius wants," Pelullo said. "Last year he wanted a fight with Canelo. Canelo had and has other plans now so why not fight the man who some people believe beat him in Lara."
After hearing about the comments from Andrade's camp, Lara responded.
"I'll fight him anytime," Lara said. "My resume speaks for itself. I'm willing to fight Cotto or GGG [middleweight titlist Gennady Golovkin] next. You think I'm worried about this little spoiled brat? Look at my resume of great fighters I've fought, [Paul] Williams, [Carlos] Molina, Vanes, [Austin] Trout, Canelo, [Alfredo] Angulo and now [Ishe] Smith. In 24 fights, who has he fought?"
Lara further bashed Andrade for pulling out of the fight with Charlo.
"I'm the best in the division. If I put my name to a contract I show up and fight, unlike him when he pulled out of the biggest fight of his career against Charlo. Not to mention, he turned down a fight with me on ESPN2 years ago when I was willing to put a beating on him for $15,000," Lara said. "And don't forget, I already whooped that ass for free in the amateurs."