March, 6, 2015
Mar 6
10:22
AM ET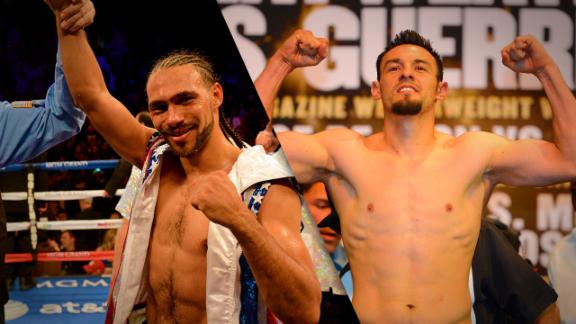 Robert Guerrero has had much success in his career. He has won world titles at featherweight and junior lightweight as well as interim belts at lightweight and welterweight.
He has been one of boxing's top fighters for several years, losing only once in the past decade, and that was certainly forgivable. It was a decision to the great Floyd Mayweather Jr. in a 2013 welterweight championship fight.
But Guerrero has also been a bit inactive. He fought only Mayweather in 2013 and fought only once in 2014, a very exciting but much more difficult than anyone expected decision against Japan's Yoshihiro Kamegai in June.
"My last opponent was tough and I was dealing with some injuries, but you have to be able to overcome and make adjustments," Guerrero said. "I got a little wild and just started slugging it out with him."
Guerrero's point is that, even if he may have looked vulnerable against Kamegai, he is not concerned about what is ahead. That is challenging Keith Thurman for his welterweight belt Saturday night (NBC, 8:30 ET) as live, regularly scheduled boxing returns to network prime time for the first time in decades.
In the co-feature, former three-division titlist Adrien Broner (29-1, 22 KOs) will face John Molina Jr. (27-5, 22 KOs) in a junior welterweight bout.
"There were doubters when I went to 147; people thought I was nuts," said Guerrero, who turned pro as a featherweight in 2001. "Every time people don't think I can do something, I prove them wrong. If you live the lifestyle of a fighter, you should be able to fight regularly."
Guerrero (32-2-1, 18 KOs), who owns solid welterweight victories against Andre Berto and Selcuk Aydin, said he is ready to show the world he can be a force at 147 pounds.
"I'm ready to go. I had a great training camp and worked very hard. It's time to take care of business Saturday night," he said. "We did a lot of different work in training camp to prepare for this fight. Keith Thurman is talking about coming out and becoming the first person to knock me out. I like that type of challenge."
Thurman (24-0, 21 KOs) is a big-time puncher. It's the reason he goes by the nickname "One Time" -- as in he only needs to hit you one time to knock you stiff.
He is undoubtedly the best puncher Guerrero will have faced. He is still confident, however.
"Thurman is very strong and has great lateral movement. He can box, fight on the inside," Guerrero said. "There are also a lot of flaws with his game, and we are going to take advantage of his flaws."
Aside from the potential to claim yet another world title, Guerrero understands that doing it on network prime time would be huge.
"I can't wait to show the world and everybody watching on NBC what I'm all about," he said.
In fact, Guerrero, a 31-year-old southpaw from Gilroy, California, said that being featured in the first PBC main event has given him additional drive.
"I'm extremely motivated to be the first fighter to bring boxing back to NBC on prime time," he said. "I want to show the world I'm an elite fighter, and what better way to do it than against an undefeated world champion."