January, 29, 2015
Jan 29
2:54
PM ET
Mexico's Daniel Estrada turned in a gutsy performance but was outgunned when he challenged Omar Figueroa for a lightweight world title on Aug. 16. Coming back from that defeat, Estrada can put himself in position for another world title bout with a victory.
Fighting on enemy turf, Estrada will square off with England's Kevin Mitchell in a title eliminator on Saturday (Sky Sports in the United Kingdom) at the O2 Arena in London with a mandatory shot at newly-crowned 135-pound titlist Jorge Linares at stake.
[+] Enlarge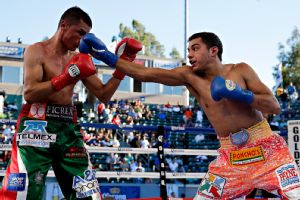 AP Photo/Chris CarlsonDaniel Estrada, left, who dropped a lightweight title bout to Omar Figueroa last August, is working alongside Juan Manuel Marquez in training camp.
Mitchell said he's not worried about fighting Mitchell in his hometown.
"I have lots of experience and I've had difficult opponents, even if Mitchell has had more fights than me. I feel this fight is at the right time for me," Estrada said. "I think that in a fight the only thing that matters are the two boxers in the ring. If people chant things at me, I don't care. It doesn't intimidate me. I know what I have to do in the ring and I'm not scared of fighting in his hometown in front of his fans. We know that we need to take the fight to him. That's my plan, to look for the knockout. I don't want to leave it in the hands of the judges.
"I accept that Omar Figueroa beat me. I recognize my defeat and I have no excuses, I just want to get another chance."
Estrada (32-3-1, 24 KOs), 29, will have the assistance of two all-time greats in his corner, Hall of Fame trainer Nacho Beristain, their first time working together, and Beristain's longtime pupil, the great Mexican legend and four-division titleholder Juan Manuel Marquez.
"Working alongside Marquez and the rest of his team will help me do something different in the fight," Estrada said. "It's the first time I've worked with Beristain but we're getting on well and I feel in great shape for this fight."
Said Marquez, "The most important thing here is to come in with the mentality that he wants to fight for the world title. He comes motivated and with this big hope to win. Every fighter's dream is to fight for the world title. That's why he is here in England.
"Mitchell is a good fighter. I think it's a difficult fight for Daniel, difficult because of Mitchell's style and also because the fight is in his country. It's an interesting and important fight and it will be good for the fans watching. I always say that when a Mexican is in the ring he's going to put on a good show, and he wants the victory, that's why fans enjoy fights involving Mexicans."
Marquez trained regularly with Estrada during his camp.
"I trained or went running with him often and it was a good training camp," Marquez said. "He comes here in good condition, he comes to win, like all fighters do. He's doing very well in terms of his condition. It was a tough and hard training camp and he's here to put on a great fight. Daniel wanted to run in the mountains to be in great shape and get that strength and we're hoping to see the results of that on Saturday."
Mitchell (38-2, 28 KOs), 30, is hoping to secure his second world title shot. He got knocked out in the fourth round by then-titleholder Ricky Burns in 2012, but has won five fights in a row since.
"I have been fighting now for 20 years and my dream has always been to be a world champion -- now is the time for that shot at the title," Mitchell said. "I am mature now. I have no longer got any boyish ways about me and I am ready for that title.
"Time is running out. I have 40 fights. If I can get that world title, then I might have another three or four more years left in the game to make some serious money and call it a day. But right now it's make or break for me, I know that and that's what makes it more interesting. If I can't beat this kid, I might as well go and get a day job. If I lose this, there won't be much more left in the sport for me. So it's 100 percent a fight I have to win and I really do fancy myself to beat him. My maturity of mind will be a strong asset for me."