February, 27, 2015
Feb 27
11:01
AM ET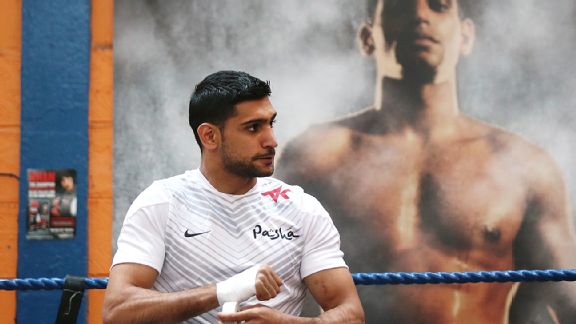 Alex Livesey/Getty ImagesAmir Khan could face Kell Brook in an all-British world title fight in June this year.
When Floyd Mayweather Jr. and Manny Pacquiao finally agreed to their May 2 mega fight the big loser was welterweight contender Amir Khan.
Had the fight not been made, Khan, a former unified junior welterweight titleholder, was a likely next opponent for either man but lost his chance at either of them for his next fight when the long-awaited deal was finally consummated.
That leaves Khan to take a look at what's behind door No. 3, and it's not so bad: welterweight titleholder Kell Brook in a big-time all-British world title fight.
Obviously, that fight for Khan is not nearly as big as a fight with either Mayweather or Pacquiao but it is clearly the next-best thing that he could purse and, according to Matchroom Boxing promoter Eddie Hearn, the talks have begun.
"Just some friendly, initial talks," Hearn said of his recent conversations with Khan's team. "They are confident the fight will happen this year. I am pushing for it early June."
For a Brook-Khan to become a reality that quickly Brook will have to make sure he takes care of business when he makes his first title defense, a mandatory against Jo Jo Dan, on March 28 at Motorpoint Arena in Sheffield, England, Brook's hometown.
If Brook wins and does not suffer any cuts or injuries a fight in June seems quite possible. Khan hoped to fight Mayweather or Pacquiao in May so waiting a few extra weeks for a fight with Brook should be no big at all.
Khan (30-3, 19 KOs), 28, last fought on Dec. 13, turning in a sensational performance in a near-shutout of former titleholder Devon Alexander in Las Vegas. A six-month wait until his next fight is nothing.
Last month, Khan told ESPN.com that if he couldn't get Mayweather or Pacquiao next that a fight with Brook was third on his wish list.
"That fight can definitely happen. He has a fight coming up (March 28) with his mandatory. I'm fighting in May, so Kell probably wouldn't be ready in May but I would love to fight him at the end of the year. It's a big fight even if it isn't as big as me against Manny or Floyd," said Khan, who could move up the timing of the possible showdown to June.
"Kell Brook is very powerful, very strong. He's kind of slick the way he fights. He puts his punches together quite well. Plus, it would be a massive U.K. fight. I think we could sell out Wembley. A fight between us has been talked about for a long time. He it would bring a lot of money for him to fight me. But he's my third choice."
Brook (33-0, 22 KOs), 28, won his 147-pound world title by majority decision against American Shawn Porter on Aug. 16 at the StubHub Center in Carson, California. Brook was supposed to make his first title defense in December but he suffered a stab wound in his leg during an incident while he was on vacation in Spain in September and his first defense was pushed back to March while he recovered.