March, 5, 2015
Mar 5
5:48
PM ET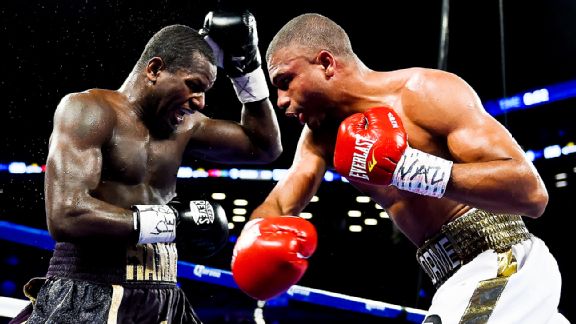 Alex Goodlett/Getty ImagesThomas Dulorme, right, will have a new trainer when he faces Terence Crawford on April 18.
For two fights, junior welterweight contender Thomas Dulorme trained with Robert Garcia, one of the best in the business, at his Oxnard, California, gym.
Dulorme (22-1, 14 KOs) won both bouts against solid opposition -- Karim Mayfield and Hank Lundy -- and will next fight for a vacant 140-pound world title when he meets 2014 fighter of the year Terence Crawford (25-0, 17 KOs), the lightweight champion who is moving up in weight, on April 18 (HBO, 9:45 p.m. ET/PT) at the College Park Center on the campus of the University of Texas at Arlington in the Dallas/Fort Worth area.
But Garcia will not be in the corner on his now-former fighter's biggest night. They have surprisingly parted ways.
"I had him for two fights, everyone in my gym liked him," Garcia told ESPN.com on Thursday, the same day that Crawford and Dulorme and their promoters were in Arlington, Texas, for the news conference formally announcing the bout. "I don't think it's him, I think it's the people who were advising him."
Garcia, who had also had a small piece of Dulorme's management contract with Cameron Dunkin, said that out of the blue about a month ago "we started getting calls from new agents of his from Puerto Rico. They were asking if I could go to Puerto Rico to train him and I said no. I got fighters from Argentina, from Russia, from Cuba -- I got guys from all over and for one fighter you want me to go to Puerto Rico? I can't do that. I have [featherweight titlist Evgeny] Gradovich fighting the next week in London. I can't leave them. We couldn't work it out."
If Garcia wouldn't travel to Puerto Rico to train Dulorme would he send Donald Leary, his assistant? Garcia said no to that request also because Leary is an integral part of the Oxnard gym who also works with many of the fighters there. It is unclear exactly who will train Dulorme for the fight with Crawford.
"We pushed hard to get that fight, a title opportunity, for Dulorme but it is what it is," Garcia said. "They advised him to stay in Puerto Rico."
Garcia said he and Dunkin gave up their management stakes, but Garcia said there are no hard feelings and he wishes Dulorme luck against Crawford, who is also managed by Dunkin.
"Dulorme is a very dedicated fighter and trains harder than anyone else. He will be in good shape," Garcia said. "I won't be there for that fight but I wish him the best. It won't be easy but it would be nice to see him win the title."