September, 9, 2014
Sep 9
8:33
AM ET
The glove situation for the rematch between welterweight champ Floyd Mayweather Jr. and former titlist Marcos Maidana is all squared away for their rematch on Saturday night (Showtime PPV, 8 ET), isn't it?
Yes?
When asked on a recent media teleconference whether Maidana would be wearing a pair of Everlast Powerlock model gloves, Maidana trainer Robert Garcia said, "I'm still not very sure. I know [Maidana manager] Sebastian Contursi is still on that. I haven't talked to him lately. I know Maidana was still asking me if we had resolved that. I told him no. So maybe that's a question Sebastian or maybe [Mayweather Promotions CEO] Leonard Ellerbe could answer, but we have no problem. We don't have a problem with the Powerlocks.
"We just wanted enough time to train and not use them the day of the fight when we had never worn those gloves before. There is no problem. The Powerlock is a good glove, and we have to wear that. We are already training in it just in case, but I have no problem. I'm already training my fighter to be prepared for that."
At that point, Ellerbe, who was also on the call, interjected, "Yes, Marcos will be fighting in the Powerlock gloves."
The day before Mayweather outpointed Maidana in a rough majority decision in May, there was a raging debate over which gloves Maidana would wear.
Mayweather was just fine in his normal Grant gloves. But he had a problem with Maidana's pair of custom Everlast MX gloves and complained to the Nevada State Athletic Commission, which disallowed the custom model at the rules meeting after the weigh-in over concerns about how the padding was distributed.
Maidana's team didn't argue the point too strenuously, and then the commission approved a pair of stock Everlast MX gloves. But Mayweather still was unhappy and refused to fight him if he wore that model, which are supposed to be conducive to punchers like Maidana.
Ultimately the managers made a deal in which Maidana agreed to compete in a pair of regular Everlast gloves after threats that the fight would be called off.
I was told by a source directly involved in the fight who had knowledge of the agreement that Maidana was paid $1.5 million on top of his purse to switch, even though Maidana denies it. Team Mayweather has declined to discuss whether a deal was made.
[+] Enlarge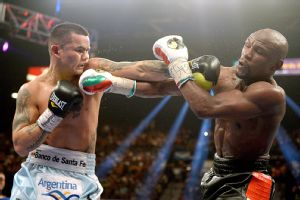 Harry How/Getty ImagesMarcos Maidana, left, was forced to change gloves the day before of the first meeting with Floyd Mayweather Jr.
"There were rumors that I got paid to use Floyd's gloves, but that's not true," Maidana said through a translator. "I had to accept his gloves because otherwise there was not going to be a fight. He basically called off the fight if I didn't use his gloves, so I had to. I had no choice. Unlike him, I had come to fight, not to whine."
However, it is incomprehensible that Mayweather would have walked out on a guaranteed minimum purse of $32 million and left himself open to never-ending criticism and possible litigation over canceling a fight because of a pair of commission-approved gloves.
In any event, it appears Maidana will wear the Everlast Powerlock gloves on Saturday.
"There's nothing we can do. We agreed, we're fighting in those gloves, so there's not going to be no excuses," Garcia said. "The fight is going to be the fight, but it does make a difference, and Mayweather's the only fighter that can make those calls, make those decisions, and we also have to understand that that's the way it is. That's what business is. But no, we are not going to have any, and we can't have any excuses."
Maidana said the sudden change in his model of glove did affect him in the May fight.
"In our first fight, the glove issue affected me a little," he said through a translator. "But now, I know how [Mayweather] operates, and if he wants different gloves, I'll have different gloves waiting for him. I'll bring a few options so I'm not caught off guard again.
"One hundred percent the gloves made a difference in the last fight. The gloves I use are fit to my hand and are more comfortable. But the ones that I was forced to wear were not comfortable. But the bottom line is, this time I'm going to win with any glove that I wear."