Dan Rafael:

Adrien Broner
July, 25, 2014
Jul 25
3:09
PM ET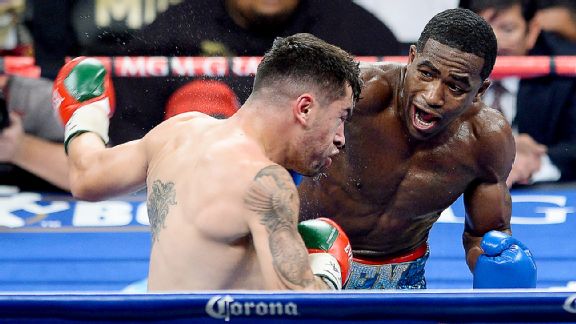 Ethan Miller/Getty ImagesAdrien Broner, right, is still looking for an opponent for his Sept. 6 fight.
Former three-division titleholder Adrien Broner, who will headline a Sept. 6 Showtime card (probably in his hometown of Cincinnati), said he's been training for about a month in Washington, D.C., while awaiting word on who his opponent will be for the junior welterweight bout.
"I'm chilling at camp but I still don't got an opponent," Broner told ESPN.com on Thursday night. "I really don't care who I fight Sept. 6. Somebody got to come to Cincinnati to get their ass kicked."
Broner (28-1, 22 KOs), who turns 25 on Monday, lost his welterweight belt to Marcos Maidana in December and then moved down to junior welterweight, where he returned on May 3 (on the Floyd Mayweather-Maidana undercard) and easily outpointed Carlos Molina in 10 rounds.
"By the end of the year, I should have a junior welterweight world title," Broner said.
One name mentioned as a possible opponent for Broner is former lightweight titlist Paul Spadafora. Although Golden Boy said that fight is not in the works, Broner said if they met "Spadafora would get his ass knocked out."
A more likely opponent is Emanuel Taylor (18-2, 12 KOs), who dropped and outpointed Karim Mayfield on ESPN2 on July 18.
"I heard it could be the guy that just beat Mayfield," Broner said. "So if I fight him I can shoeshine his ass. What's his name? I don't know him. He's probably a guy who got my autograph. Adrien Broner is willing to fight anyone who will fight him. I think I can make 135 [lightweight], but I don't want to fight at 135 because they'll say I'm just bullying the little guys."
Broner said he is comfortable training to fight at the junior welterweight maximum of 140 pounds, and after Thursday's session he weighed 145 pounds. He is on the same card as top junior welterweight contender Lucas Matthysse, who is fighting an opponent to be named.
Unfortunately, Broner and Matthysse are not facing each other. That's a very appealing fight, and Broner said he would be up for it.
"This is what they should do -- they should give me and Lucas Matthysse a warm-up fight at 6 and 7 [p.m.] and then we could fight each other at 11," he said. "But I don't know who I am fighting and I don't care. I just want to fight. I just want somebody to show up on Friday, Sept. 5, at the weigh-in."
January, 29, 2014
Jan 29
11:39
AM ET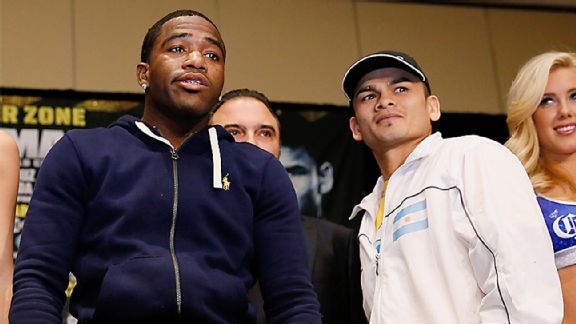 Soobum Im/Hoganphotos/Golden Boy PromotionsThe WBC finally stripped Adrien Broner when it learned he only had eyes for a Marcos Maidana rematch.
I don't agree with the WBC very often, but even a blind squirrel finds a nut once in a while.
So I agreed with the organization's decision this week to strip lightweight titleholder Adrien Broner of his 135-pound belt and elevate interim titleholder Omar Figueroa to full titlist.
Broner won the title impressively in November 2012, knocking out Antonio DeMarco in the eighth round of a dominant performance, and defended it once, a one-sided fifth-round destruction of Gavin Rees last February.
But after the win over Rees, Broner, also a former junior lightweight titleholder, jumped up two weight classes and outpointed Paulie Malignaggi in June to win a welterweight belt recognized by another alphabet organization. In December, Broner fought again at welterweight, losing the title to Marco Maidana in a terrific fight.
Both times, the WBC allowed Broner to keep his lightweight belt even while fighting in a different weight class for another title, something highly unusual. Broner was given notice that the deadline loomed for him to make a decision. But the deadline came and went and the WBC did nothing -- although, in its defense, longtime president Jose Sulaiman was in his final days before dying a couple of weeks ago and the organization's business largely was put on hold.
But once Broner exercised his contractual rematch option on Jan. 10 for another fight with Maidana -- meaning he would fight a third consecutive bout at welterweight without defending his lightweight title -- the WBC really had no choice but to make the move.
"The WBC supported Adrien Broner's request to fight as WBC lightweight champion in two welterweight contests," acting WBC president Mauricio Sulaiman said in a statement. "Broner was to inform the WBC of his decision regarding which division he would continue [in] after his December fight and he has opted to enforce the rematch against Maidana in the welterweight division. The WBC has, consequently, officially recognized the WBC interim champion, Omar Figueroa, as WBC lightweight champion. Broner has the WBC doors open at any time he wishes to contest in the future."
Broner didn't seem upset by the move at all.
"If I fight at 135 again, they will say I'm picking on people. Plus I only want to fight Maidana," Broner told ESPN.com. "The next move will be my best move."
January, 20, 2014
Jan 20
2:08
PM ET

Welterweight titlist Marco Maidana and Adrien Broner are still headed toward a rematch, but it isn't going to be in April, as Golden Boy Promotions chief executive Richard Schaefer and Showtime had planned.

Maidana scored two knockdowns and outpointed Broner to hand him his first defeat and win a 147-pound title in a dramatic fight on Dec. 14 in San Antonio. Earlier this month, Broner exercised his contractual right to a rematch and Schaefer said it would take place either April 19 or April 26.

But that was news to Maidana.

Although Maidana and manager Sebastian Contursi acknowledge Broner's right to a rematch, Contursi said Maidana won't be available to fight in April.

"After [Schaefer's] announcement [about April] had been made, [Maidana adviser] Al Haymon called me on the phone and we had this chat in which I explained to him that April was to soon for Maidana," Contursi told ESPN.com. "We did not get into any specifics of the potential rematch at all, but I've explained to him that Maidana is having a long-deserved vacation and, on top of that, his girlfriend Mariana is due to have their daughter in mid-March, and Maidana wants to be around for the birth.

"We've thought Maidana's impressive win was gonna earn him a unification fight against Mayweather in May. But one thing is Mayweather, and a totally different thing is Broner, needless to say. Mayweather is the best and he obviously calls the shots, but Broner is coming off a beating at the hands of Maidana, so if Al and [Golden Boy] think that a rematch is the best option, we need to understand Maidana [wants] to rest a bit before engaging himself in yet another fight with the guy he's just beaten. I think Al understood it and he said we'll talk again in the next few days."

All of this means that a rematch between Maidana (35-3, 31 KOs) and Broner (27-1, 22 KOs) probably will be pushed into at least the early summer.
December, 13, 2013
12/13/13
12:07
PM ET
SAN ANTONIO -- Keith Thurman will defend his interim welterweight title against Jesus Soto Karass in the co-feature Saturday night at the Alamodome (Showtime, 8 ET), and, although Thurman has given respect to Soto Karass as a serious opponent, he also has his mind on what he wants next.

Thurman would like to face Adrien Broner, who is set to defend his welterweight belt against Marcos Maidana in the main event. As the interim titleholder in the same organization that recognizes Broner as its full titleholder, Thurman is Broner's mandatory challenger.
Thurman would like the fight. He used to have Paulie Malignaggi on his mind, but then Broner outpointed Malignaggi to win the title in June.

"Paulie was on my mind due to that title, but when Adrien Broner took it, then that makes me look forward to stepping into that ring with 'AB' in 2014," Thurman said. "A lot of fans want that fight, and I want what the fans want."

Still, Thurman said he isn't looking past rough, tough Soto Karass, who is coming off an upset knockout of former titlist Andre Berto in July, on the same card on which Thurman stopped Diego Chaves to win the interim belt.

"I think he is a highly [underestimated] fighter," Thurman said. "He is 120 percent hard work and dedication. He says he has a new passion for the sport, and I believe him. He has been training hard in camp, and I am not underestimating him. I am looking forward to a tremendous fight on Saturday night."
September, 9, 2013
9/09/13
4:00
PM ET
Welterweight contender Marcos Maidana, a mandatory challenger, wants his shot at titleholder Adrien Broner -- a fight that is in the works to headline a Showtime PPV card at the MGM Grand on Dec. 14.

Broner (27-0, 22 KOs), in his public comments, also has sounded willing to make his first title defense against the Argentine slugger. The fighters' mutual promoter, Golden Boy, has been crunching the numbers and talking with Al Haymon, the adviser for both fighters, about a deal.

But while Golden Boy CEO Richard Schaefer and Haymon haggle over the particulars of the event, the fighters still need to negotiate their specific deals. Some of that will take place during the Floyd Mayweather Jr.-Canelo Alvarez fight week in Las Vegas, where the boxing world will gather.

Maidana (34-3, 31 KOs), a former junior welterweight titlist, and manager Sebastian Contursi will be traveling to Las Vegas this week, where they will meet with Haymon, hoping to hammer out their side of the deal for the fight, which was originally ticketed for Nov. 9 but moved last week. Maidana and Contursi recently brought Haymon on to help with his career.

"We talked with Al Haymon only regarding the new date, Dec. 14," Contursi said. "We didn't discuss any numbers yet, but we are travelling to Las Vegas for the Mayweather fight and we'll meet Al there to start the negotiations."
August, 12, 2013
8/12/13
2:11
PM ET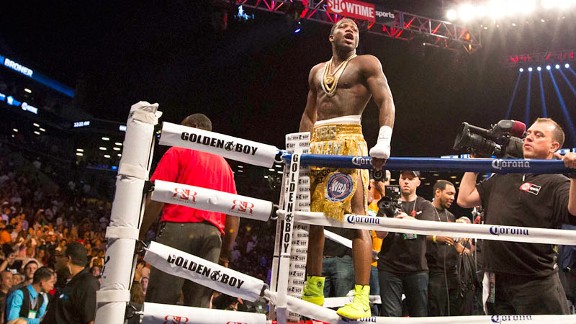 Tom Casino/ShowtimeAdrien Broner seems to be quickly warming to the idea of a welterweight bout with Marcos Maidana.
Immediately after Adrien Broner outpointed Paulie Malignaggi to win a welterweight belt on June 22, Golden Boy chief executive Richard Schaefer came to ringside at the Barclays Center in Brooklyn, N.Y., and among the first questions he was asked was whom he wanted to match Broner with next.
Schaefer didn't miss a beat, throwing out the name Marcos Maidana right away. That's quite a fight. But Schaefer was serious, and Maidana, as it happens, is Broner's mandatory challenger.
Many have doubted that Broner would accept such a dangerous fight. He also holds a lightweight belt and could go back down in weight, although the landscape for a big fight is desolate at 135 pounds, not to mention that it's hard to imagine Broner dropping that much weight at this point. He could also move down to junior welterweight rather than tangle with the huge-punching slugger from Argentina, but most of the top fighters at 140 have fights already scheduled.
That's why it looks as though Broner-Maidana is on its way to being made. In addition to there being the requisite trash talk from the fighters to each other on Twitter, Schaefer told ESPN.com that he is working on getting the fight done. Maidana (34-3, 31 KOs), a former junior welterweight titlist, has been asking for the fight, and now Broner (27-0, 22 KOs) is also saying he wants it.
"I'm continuing to work on it," Schaefer said. "I'm looking at November for that fight, so I have a little time on that. Broner is interested in the fight and Maidana is interested in the fight, so I need to see if I can pull it together."
Adding fuel to the fire is that Schaefer also said he is planning a "major" Showtime PPV card from the MGM Grand in Las Vegas on Nov. 9. Although he wouldn't name Broner-Maidana as the main event he is targeting for that show, it seems obvious that he is.
"As I said after the Broner fight, I said as a fan, I would love to see Broner and Maidana," Schaefer said. "I have no clue what will happen in that fight."
As for the pay-per-view, Schaefer said, "It will be a big event. That's all I am willing to say at this point. But I'm going to use our Oct. 26 Showtime card [with Bernard Hopkins-Karo Murat] and our Nov. 2 Showtime card [a proposed Keith Thurman-Robert Guerrero fight] to lead up to a big pay-per-view card. I don't want to talk about it yet, but I do have the date for the pay-per-view on hold and the MGM on hold. I'm working on a card which will be a dream card. I'm a 100 percent sure it will be a huge card for Nov. 9 on Showtime pay-per-view."
One thing that will undoubtedly grease the wheels to getting Broner-Maidana done is Maidana's imminent signing with powerful adviser Al Haymon, who also represents Broner. Sebastian Contursi, Maidana's manager, told ESPN.com that Golden Boy and Haymon want to make the fight before the end of the year.
"We are working an agreement with Al in order for him to advise Marcos Maidana, which we think would be a great move towards getting the best fights for Marcos, especially Broner," Contursi said.
August, 5, 2013
8/05/13
12:26
PM ET
Former lightweight titlist Antonio DeMarco of Mexico has been out of action since losing his belt by one-sided eighth-round knockout to Adrien Broner in November, but he is poised to make his ring return.

The 27-year-old DeMarco (28-3-1, 21 KOs), a southpaw who is moving up to junior welterweight, is scheduled to face Fidel Monterrosa (31-7-1, 25 KOs) in a 10-round bout on Saturday night in Tijuana, Mexico, DeMarco's adopted hometown, Zanfer Promotions announced.

DeMarco recently left promoter Gary Shaw, but Shaw claims he still has DeMarco under contract and is threatening to sue him.

Monterrosa, 25, a native of Colombia living in Mexico, has had one world title shot, but lost a unanimous decision to Mexico's Humberto Soto challenging for his lightweight belt in 2010.
July, 26, 2013
7/26/13
11:57
AM ET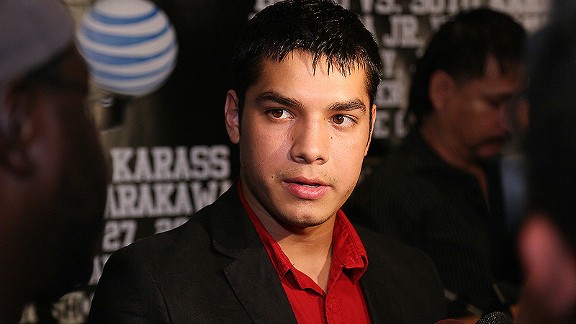 Soobum Im/Hoganphotos/Golden Boy PromotionsOmar Figueroa has become a big draw in his native Texas, where he'll get a title shot Saturday.
Lightweight Omar Figueroa could be on the precipice of stardom. The 23-year-old is a talented, pure action fighter with a growing fan base and a ton of potential.
He scored his biggest win in his most recent fight by blowing out undefeated Abner Cotto -- a cousin of Miguel Cotto's -- in the first round in a surprisingly easy fight. He dropped Cotto twice and stopped him, to the approving roars of a crowd of nearly 40,000 at the Alamodome in San Antonio on April 20, when Figueroa was on the undercard of the Canelo Alvarez-Austin Trout fight.
"Omar Figueroa is a guy who, every fight, every opponent we put him in against, he's getting better and better," Golden Boy promoter Oscar De La Hoya said. "He's passing the test with flying colors, and now it's time to step it up and step it up big time. These are difficult fights, but we feel comfortable that he will continue to pass these tests with flying colors. I don't think there's a limit to where he can go. This is a kid that we feel is going to go very, very far."
Figueroa, who lives in Weslaco, Texas, had a lot of fans on hand cheering him on against Cotto. Many of them figure to be back to see his next fight, this time at the AT&T Center in San Antonio for the "Knockout Kings II" card Saturday night (Showtime, 9 ET/PT; preliminary bouts on Showtime Extreme at 7 ET/PT).
Figueroa (21-0-1, 17 KOs) will be shooting for his first title -- a vacant interim belt -- on the undercard against 31-year-old southpaw Nihito Arakawa (24-2-1, 16 KOs) of Japan. The winner will likely become the full titleholder, assuming that Adrien Broner vacates and remains at welterweight, where he won a belt in June.
Interim belt or full belt, the fight is the culmination of a long rise for Figueroa, who has been boxing since he was a small child.
"This is it. This is 17 years of work," he said. "This is why every boxer starts, what every boxer dreams of. This is it. This is a great opportunity. This is what we have been working so hard for.
"We don't take anybody lightly. We are ready, we know that a fight can take many directions with every step you take in the ring, so we are ready."
Arakawa will be fighting outside of Japan for the second time. Two fights ago, in his only fight away from home, he lost a 10th-round technical decision to Daniel Estrada in Mexico in November when Estrada couldn't continue after suffering a swollen right eye caused by an accidental elbow. "I'm happy to have this chance at my first world title," Arakawa said through a translator. "That gives me extra motivation to win this fight. I don't think I can win by points. I have to knock him out. I think that's my only chance to walk out of here with a world title.
"I've prepared for this world title chance for my entire life, and I know Omar has prepared for this as well. We're both going to fight as hard as we can to get that first world title. I know I want it and I know he wants it, so it's going to be an exciting fight."
Although former two-time welterweight titlist Andre Berto headlines the card against Jesus Soto Karass, one of the reasons Golden Boy put the card in San Antonio was to take advantage of Figueroa's drawing power.
"I live only four hours away, so this totally feels like home," Figueroa said of fighting again in San Antonio. "Texas has the best fans in the world, and I'm glad to be a Texan. My plan is to go in there and give a great fight. [Arakawa is] a great guy and he's ranked No. 1 for a reason. I've prepared really hard for this fight and I'm ready to go 12 hard rounds.
"This is what it comes down to. It's the bottom of the ninth, two outs, full count. There's no room for butterflies. This is what we've been working for 17 years for, and it's finally here. I'm not going to let it slip."
July, 1, 2013
7/01/13
3:52
PM ET
Welterweight contender Marcos Maidana was in a car accident on Sunday evening in his native Argentina, but the fighter's manager says he is going to be just fine.

Sebastian Contursi told ESPN.com that Maidana was making the 30-minute drive home from a boxing gym near his hometown of Margarita when the accident happened.

"He was in the passenger seat while his friend and amateur boxer Jacinto Baigorria was driving his own car," Contursi said. "They clashed against a pickup truck. [Maidana] suffered a big blow in his chest and was taken to the hospital. He never passed out or anything, but had severe pain in the chest area -- probably as a result of the safety-belt that he was wearing at the time of the clash."

Maidana was taken to the hospital for X-rays and an MRI exam. Contursi said the "director of the hospital just confirmed to me that no injuries were sustained, thank God, so Maidana will spend [Sunday] night there for observation, but he could be released [Monday], so I guess we can back go to normal."

Contursi said Maidana's team is still waiting on a decision from newly crowned welterweight titlist Adrien Broner on what his next move will be. Maidana currently is the mandatory challenger for Broner, who won a welterweight belt against Paulie Malignaggi on June 22, and Contursi is pressing the issue. Broner also holds a lightweight title and hasn't decided yet if he will stay at 147, go back to 135 to defend that title or perhaps drop down to 140 and look for a shot in that deep weight class. Broner still has about a week to make a decision on which belt he plans to keep.

Contursi said Maidana's accident shouldn't derail his fighting schedule. Maidana wasn't getting ready for a fight just yet anyway. He fought on June 8 and stopped Josesito Lopez in the sixth round of an action-packed fight.
June, 29, 2013
6/29/13
9:06
AM ET
Welterweight contender Marcos Maidana, a big puncher from Argentina, wants a shot at newly crowned welterweight titlist Adrien Broner and, as his mandatory challenger, is trying to force the issue.

Broner outpointed Paulie Malignaggi on June 22 to win a 147-pound world title -- his third in three weight classes in the past 19 months -- and, along with the title, inherited the mandatory obligation.

Immediately after Broner's victory, Golden Boy promoter Richard Schaefer said he liked the idea of Broner's first defense coming against Maidana, for what would undoubtedly be an interesting fight -- one that would pit Broner's speed and skills against Maidana's brute strength.

Sebastian Contursi, Maidana's manager, told ESPN.com that after attending Broner-Malignaggi he met Schaefer and Broner adviser Al Haymon to discuss the fight.

"As the WBA mandatory challenger since last year, Maidana definitely wants to fight Broner next, and I let both Richard and Al know that," Contursi said.

"Richard and [Golden Boy president] Oscar De La Hoya told me they also want that fight. If Broner decides otherwise, he will have to give the title away and Maidana would be in line to fight for the vacant title. When and against whom? Don't know yet."

Contursi said he should have a better idea of what will happen in the coming days.

Maidana, a former junior welterweight titlist, is coming off an action-packed sixth-round knockout of Josesito Lopez on June 8.

Contursi said Maidana's title shot is overdue. When Malignaggi held the belt, he was ordered to face interim titlist Diego Chaves no later than Jan. 27. When it didn't happen, Contursi complained to the WBA and Malignaggi-Chaves went into negotiations for April 27 in Dubai, with Maidana in line to face the winner. But the Dubai deal was a dud (shocking, right?) and Maidana was offered the Lopez fight, which he won. Chaves, meanwhile, lined up a defense of his interim belt against Keith Thurman for July 27. And when Broner beat Malignaggi, the obligation to face Maidana came along with it.
June, 21, 2013
6/21/13
11:37
AM ET

The normal progression for a top fighter is to move from one weight class to the next and collect as many titles as possible. But Adrien Broner, who likes belts as much as the next guy, is doing something quite unusual.

A former junior lightweight titlist and reigning lightweight titleholder, Broner is skipping over the junior welterweight division and jumping up two weight classes to welterweight, where he will challenge Paulie Malignaggi for his belt Saturday night (Showtime, 9 ET) at the Barclays Center in Brooklyn, N.Y.

If Broner wins, he will become just the fourth fighter to win titles at 130, 135 and 147 pounds, joining his idol Floyd Mayweather Jr., Manny Pacquiao and Oscar De La Hoya, all of whom stopped off at 140 to win titles.

"I moved up for the opportunity to be a 23-year-old three-time world champion in three different weight classes," Broner said. "[Malignaggi] feels like I'm just a 135-pound fighter, but he's not on my level. It is going to be the 'AB Show.' You guys will be surprised when you see me fight at 147."

Some have been critical of Broner for skipping over the talent-rich 140-pound weight class -- which includes such fighters as Danny Garcia, Lucas Matthysse, Mike Alvarado, Brandon Rios, Lamont Peterson and Zab Judah -- in order to challenge Malignaggi.

But Garcia fought in April and Matthysse fought in May, and now they are close to a deal to fight each other. Alvarado and Rios are represented by promoter Top Rank, which means no fight because Broner is with Golden Boy. Judah just lost to Garcia (and may next face Alvarado), and Peterson got knocked out by Matthysse. The point is that none of those names were available for Broner for a late spring/summer fight.

"All of the good fighters at 140 were already matched up," Broner said.

The last significant lightweight titleholder to skip junior welterweight was Shane Mosley, but even he took a couple of fights at 147 before he challenged then-champion De La Hoya in 2000.

Broner (26-0, 22 KOs) said the move up in weight is no issue for him and that there is no need for a warm-up.

"I'm really not worrying about jumping weight classes," he said. "For me, the weight is not a problem. I'm originally a welterweight anyway. I just had to lose weight, so I really didn't have to do anything different. I mean, I don't walk around at 130 pounds. I don't walk around at 135 pounds. I walk around at 147, 150 pounds, so I'm at my regular weight."

Broner's 84.6 knockout percentage is one of the highest in boxing. He said he expects to carry his power with him up to 147 pounds.

"What a lot of people don't understand is, you can't really do nothing for power -- you're either born with it or you aren't," he said. "It's like Pacquiao when he was in smaller weights. He was knocking guys out. When he went up into the bigger weights, he was still knocking guys out. It's just something that God blessed me with. I've got power, so it really don't matter what weight class I'm in. I'm still going to have the same power as I had at any weight class I'm in."

Malignaggi (32-4, 7 KOs), 32, who will be fighting in his hometown, has viewed Broner with disdain throughout the promotion. His jump in weight is just part of it.

"He's a little guy and he's going to see how overrated his power was," Malignaggi said. "I think they were better off letting him fight a live guy -- a lightweight or someone below that -- before him fighting a live guy at welterweight. He's fighting this bigger guy all in one jump, so I don't think that was the most intelligent move on his team's part. He will wind up looking like they put his face in a blender when I'm done with him.

"He's coming up to a real weight class against a real man."