August, 12, 2013
8/12/13
7:07
PM ET
By
jasonlangendorf
| ESPN.com
Welterweight titlist Devon Alexander and Amir Khan are on the path to a Dec. 7 showdown, and one of the big questions about the fight, should it be finalized, is where will it take place?
[+] Enlarge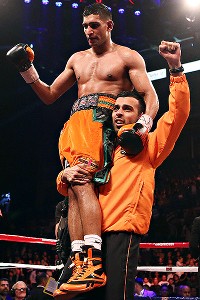 AP Photo/Dave ThompsonIf Amir Khan challenges for Devon Alexander's welterweight title in Dubai, it could be a hyped local event and give boxing a new exotic fight destination.
Golden Boy Promotions chief executive Richard Schaefer is keen to make the fight, as is Showtime, and both fighters have professed interest in it. So while everyone works to make a deal, the location of such a fight is significant because it could be in Dubai in the United Arab Emirates, where Schaefer said there is interest in hosting Khan -- a devout Muslim -- in a world title bout.
Now, Dubai is thrown around a lot these days as a possible location for fights, but it's rarely anything other than a fantasy or red herring. However, Alexander-Khan is a real enough possibility that Schaefer flew there recently to meet with investors interested in bringing the fight there. Schaefer was pleased with what he saw.
"I met with the right people, they made all the presentations and they are very interested," Schaefer told ESPN.com. "Now it's a matter of evaluating if the financials make sense for them and for us. But when I was there I looked at potential venues, and if it does come through, it's going to be spectacular."
One of the issues, of course, is the television timing. Will the fight take place in Dubai prime time, which is eight hours ahead of the United States, or at a time conducive for a live Showtime telecast in prime time in the United States?
"There are different financials if it's on American time or Dubai time," Schaefer said. "But they are interested and their preference is Dubai time."
Whatever the time the card would take place, the deal, like almost everything in boxing, will come down to money.
"I have talked to [Alexander adviser] Al [Haymon] and [manager and trainer] Kevin [Cunningham] and they said if it's the right deal that Devon Alexander will pack his bags and travel," Schaefer said. "But if the money is the same in Dubai as in the U.S., then he feels as the champion that he doesn't need to travel to Dubai. I can appreciate and agree with his position. But if the money is right, he would go to Dubai, so we are discussing numbers."
Schaefer said the issue probably won't be resolved for a few weeks.
"But I really want to do that fight," he said, adding that he is also looking at other venues.
Schaefer said it is possible that the fight could take place in England, where Khan is from, or the Barclays Center in Brooklyn, N.Y., where Golden Boy is holding the arena for Dec. 7.
"I discussed going to the U.K. with Devon's team, and it comes down to the same thing -- if it means substantially more money for Devon, he has no problem going there," Schaefer said.
If the fight does wind up in Dubai, Schaefer said the group there would build a temporary facility at the base of the Burj Al Arab, a hotel that is one of the tallest buildings in the world.
"It's right in the middle of downtown Dubai, surrounded by an unbelievable skyline," Schaefer said. "It's one of the most spectacular things I have ever seen. They could build a 20,000- or 30,000-seat venue. This fight would have a tremendous impact on Dubai."
July, 19, 2013
7/19/13
2:20
PM ET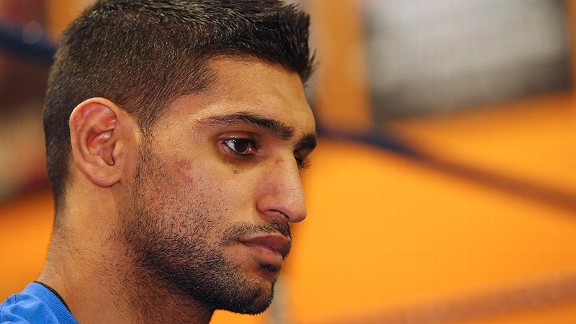 Alex Livesey/Getty ImagesAmir Khan has a strong interest in his proposed fight with Devon Alexander being staged in Dubai.
For many years, promoters haven't been able to help themselves, regularly invoking Dubai as a possible site for a significant fight.
The United Arab Emirates city has hosted some smaller fights, although nothing of major significance. But that could change later this year. Seriously.
Welterweight titlist Devon Alexander is being lined up to face former junior welterweight titlist Amir Khan on Dec. 7 on Showtime. The deal isn't done, but Golden Boy Promotions chief executive Richard Schaefer said he expects to wrap the fight up and is looking for a site. One of the possibilities is Dubai.
And this isn't the sort of wishful-thinking pipe dream that has come up so many times in the past with other promoters. It's real. So real that Schaefer is flying from Los Angeles to Dubai on Saturday -- after having just been in England for a week -- to meet with people interested in hosting the fight.
"I've been back and forth to Europe, but I am getting back on the plane and going to Dubai," Schaefer told ESPN.com. "I am meeting some people and we will be looking at several venues there, like five or six different venues. I'm going to see if I can pull it off. When I see opportunities, I always have an obligation to evaluate them, so we'll see."
Khan was ringside in Atlantic City, N.J., on May 18 to watch Alexander (25-1, 14 KOs), 26, of St. Louis, retain his 147-pound title by stopping Khan's British countryman Lee Purdy in the seventh round. Right after the fight, Schaefer said he hoped to make Alexander-Khan.
Khan (28-3, 19 KOs), 26, a devout Muslim from England, is very interested in fighting in Dubai. Alexander and his manager/trainer, Kevin Cunningham, aren't as interested, but Cunningham said they'd consider it as long "they show us the money."
Schaefer's close relationship with Alexander adviser Al Haymon will undoubtedly help get the deal done if the money in Dubai is there to make the fight.
"I talked to Team Alexander about going to Dubai, and it's coming down to 'show me the money.' So that's why I'm going to Dubai," Schaefer said. "Let's see if they can show us the money."
January, 25, 2013
1/25/13
7:30
PM ET
Since junior welterweight titlist Lamont Peterson's mandatory title defense against former titleholder Kendall Holt was finalized a couple of weeks ago, I have been inundated with questions about ticket availability from folks on Twitter and Facebook who want to attend the Feb. 22 fight at the D.C. Armory in Washington.

I'm looking forward to covering the fight, which will take place just a short car ride from my home in Northern Virginia and be televised on ESPN2's "Friday Night Fights." For those who want to attend, tickets are slated to go on sale Monday at 1 p.m. ET, a late start for a fight that will happen in less than a month, but D.C. is a good fight town, so hopefully folks will turn out.

Tickets are priced at $250, $150, $100, $75, $25 (not including applicable service charges). They will be on sale at the D.C. Armory box office and all Washington, D.C., Ticketmaster locations. To charge by phone with a major credit card, call Ticketmaster at 800-745-3000 or log on to www.ticketmaster.com.

Peterson (30-1-1, 15 KOs), who is from D.C., will be making his first title defense since winning a controversial split decision against Amir Khan in Washington in December 2011. He hasn't fought since because he tested positive for the banned substance synthetic testosterone in a random urine test just as the promotion for a May rematch with Khan was kicking off. Peterson wound up being stripped of one of his world titles, but he was allowed to keep the other.

Holt (28-5, 16 KOs) won a 140-pound title in 2008, made one defense and then lost a competitive decision to Timothy Bradley Jr. in a 2009 unification fight.
January, 25, 2013
1/25/13
1:21
PM ET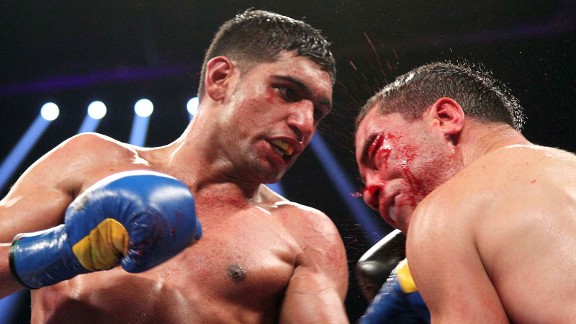 Tom Casino/ShowtimeAmir Khan battered Carlos Molina in December to rebound from dispiriting back-to-back losses.
Former junior welterweight titlist Amir Khan of England is ticketed to return to action April 20 on Showtime, Golden Boy promoter Richard Schaefer told me on Thursday.
Who will Khan fight and where will it take place? Schaefer said those questions haven't been answered yet.
"We have earmarked April 20 for Amir, but I can't say whether it will be from the U.S. or the U.K.," Schaefer said. "If it's up to Amir, he wouldn't mind doing a fight from the U.K. It's important to keep the U.K. tie. As for the opponent, I have been on the phone with [Showtime Sports boss] Stephen [Espinoza] and we're talking about it."
Khan has a multi-fight contract with Showtime, which will have substantial influence in the fight location and opponent.
"Showtime is open to doing a fight from England, but the question then will be the license fee and the opponent," Schaefer said. "When Amir entered into the multi-fight deal, it was tied to some pretty big names. But if you are fighting in the U.K., it doesn't make sense for the big names because of the time difference [meaning an afternoon fight in the U.S., which means less money from the network]. The license fee for an overseas fight will be less, so we are talking about it."
Khan (27-3, 19 KOs) lost two title fights in a row -- a controversial split decision loss to Lamont Peterson in December 2011 followed by a fourth-round knockout against Danny Garcia in July -- but returned with a win in December in a lopsided 10th-round knockout of Carlos Molina.
Schaefer said that if Khan fights in America, Josesito Lopez -- who stopped Victor Ortiz and then was wiped out by junior middleweight titlist Canelo Alvarez -- is a potential opponent.
Schaefer said he would like to make a Garcia-Khan rematch later in the year because the timing doesn't work for that match to be their next fight. Garcia fights Zab Judah on Feb. 9 and Khan is fighting in April -- too soon to make a Garcia rematch if Garcia beats Judah.
Khan is tied to April because he wants to fight before his wedding in May. And then comes the Muslim holiday of Ramadan, which means Khan won't be back until the fall.
Three names are being discussed, from what I'm told, if Khan fights in England -- although Schaefer didn't want to discuss the list. Nonetheless, those potential opponents are former lightweight titlist Humberto Soto, former interim junior welterweight titlist Pablo Cesar Cano (who lost a debatable decision in October versus welterweight titlist Paulie Malignaggi) and former welterweight titlist Vyacheslav Senchenko, who knocked out Ricky Hatton in the ninth round in November in Hatton's comeback bout.
Schaefer did say that if Khan fights in England, British middleweight Anthony Ogogo, the 2012 Olympic bronze medalist who recently signed with Golden Boy, would make his pro debut on the undercard.