December, 28, 2013
12/28/13
7:11
PM ET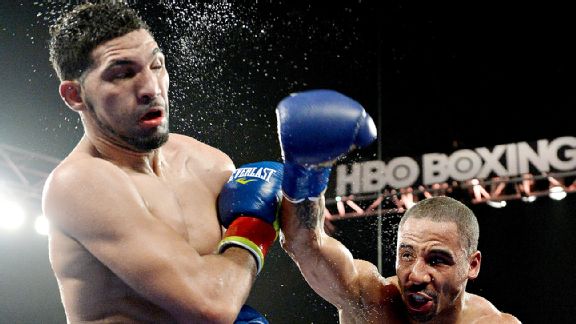 Harry How/Getty ImagesAndre Ward needs an opponent following his rout of then-unbeaten Edwin Rodriguez in November.
After super middleweight champion Andre Ward returned from a 14-month layoff because of a shoulder injury to rout Edwin Rodriguez on Nov. 16, the question that came to mind was, whom could Ward face next?
He has already virtually cleaned out the 168-pound division, having won the Super Six World Boxing Classic and banking lopsided wins against Carl Froch, Mikkel Kessler and Arthur Abraham, not to mention a nontournament rout of Sakio Bika (who later won the belt that was wrongly stripped from Ward).
After the tournament was over, Ward even crushed light heavyweight champ Chad Dawson, who had dropped down in weight to face Ward, stopping him in the 10th round of a one-sided fight.
A week after Ward's clinic against Rodriguez, George Groves challenged titleholder Froch on Nov. 23 in a big all-British showdown. Groves mostly took Froch to school, knocking him down in the first round, and was clearly winning the fight. But in the ninth round, Froch got Groves into some trouble and referee Howard John Foster suddenly jumped in to stop the fight in one of the worst stoppages in recent memory. Now Froch is telling anyone who will listen that he won't give Groves the rematch he deserves.
After seeing how Groves dominated Froch, awful stoppage notwithstanding, I thought: Wouldn't it be interesting if Ward gave Groves a shot?
After all, Ward (27-0, 14 KOs) beat Froch easily (and with one hand), and even though Froch has talked about his desire for a rematch with Ward, there is really no reason for it. That said, there is a very good reason for Froch-Groves II. But if Froch wants to run away from a rematch with Groves (19-1, 15 KOs), so be it. Ward would be justified in giving a shot to Groves, who looked good enough against Froch to deserve a shot against the real 168-pound champion anyway.
Maybe there will be a Ward-Groves fight, especially after Ward took to Twitter on Thursday to mention the possibility.
"UK fans still not happy with Carl 'The Cobra' Froch huh?? That's why I respect UK fans, they ride for the home team, but tell the truth," Ward wrote. "Thing is, if he is going to live up to his tough guy image, he has to rematch Groves or try to avenge his loss to me. He's got two options.
"His fans won't except anything else," Ward continued. "What do you think UK?
"I would consider fighting George Groves next. He showed a lot his last fight. He's a good fighter & deserves a shot."
Considering the facts that Ward has said he isn't prepared to move up to light heavyweight yet, he has beaten the other top fighters at super middleweight -- except for titlist Robert Stieglitz (who is slated for a rubber match with Abraham anyway) -- and the most intriguing middleweight opponent, Gennady Golovkin, is already scheduled for a February fight, I think Ward-Groves makes all the sense in the world.
Ward could face an interesting opponent and stick it to Froch at the same time.
Whether Ward will return to the ring in a timely fashion is another story now that he is suing promoter Dan Goossen to get out of their contract. The litigation could stall Ward's career again, something he should be wary of after two extended breaks for injury since beating Froch in December 2011. This is the second time this year that Ward has tried to break the contract, having previously lost in arbitration with the California State Athletic Commission, which upheld Goossen's agreement.
November, 16, 2013
11/16/13
1:50
PM ET

Super middleweight contender Edwin Rodriguez missed weight by two pounds at Friday's official weigh-in, but he was at least within the allowable limit at the Saturday morning weight check, hitting the scales at 179.8 pounds.

Rodriguez, who cannot win the 168-pound world title from champ Andre Ward on Saturday night (HBO, 10 ET/PT) at the Citizens Business Bank Arena in Ontario, Calif., weighed 170 pounds at the official weigh-in.

As part of the deal to move forward with the fight, Rodriguez agreed to a weight check at 9 a.m. PT Saturday at which he couldn't weigh heavier than 180 pounds. Ward had no issues at Friday's weigh-in, checking in at 167.8 pounds for his sixth title defense.

For missing weight, the California State Athletic Commission fined Rodriguez 20 percent of his $1 million purse, with $100,000 going to the commission and $100,000 being given to Ward, increasing his purse from $1.9 million to $2 million.
August, 29, 2013
8/29/13
6:12
PM ET
Well here's one way around the Top Rank-Golden Boy cold war: Although the promoters' fighters aren't going to fight each other for real any time soon, welterweight titleholder Timothy Bradley Jr., who is with Top Rank, and interim junior welterweight titlist Lucas Matthysse, who is with Golden Boy, went at it Monday in a sparring session at the Indio Boys and Girls Club in Indio, Calif., according to Bradley's hometown newspaper, The Desert Sun of Palm Springs.

Bradley was in his first sparring session in preparation for his Oct. 12 title defense against Juan Manuel Marquez, while Matthysse -- who has relocated his training camp from Argentina to Southern California -- is in the final stages of his training for a fight with unified junior welterweight titleholder Danny Garcia on Sept. 14.

• While super middleweight champ Andre Ward and his team continue to haggle with HBO over money and an opponent, the date penciled in for Ward's return is Nov. 16. Ward hasn't fought since September 2012 because of a shoulder injury. Contender Edwin Rodriguez remains a possible opponent, although the sides haven't agreed on money. Rodriguez promoter Lou DiBella said their side has been offered an $800,000 package from the $3.15 million HBO is willing to put up for the fight.

• Promoters DiBella and Curtis "50 Cent" Jackson –- the rap star -- have teamed up to sign a pair of prospects to co-promotional deals: lightweight Shemuel Pagan (2-0, 1 KO), 25, of Brooklyn, N.Y., and super middleweight Christopher Galeano of Bronx, N.Y. Both are scheduled to fight Sept. 16 at Resorts World Casino in Queens. Pagan was 89-19 as an amateur and a five-time N.Y. Golden Gloves champion. Galeano, 20, who will be making his pro debut, is the reigning 165-pound U.S. amateur national champion and a two-time N.Y. Golden Gloves champion. Galeano will pursue his pro career while also going to school. He is entering his third year of college at City College of N.Y., where he is working toward a business degree.

• Some think there is a chance that the Floyd Mayweather Jr.-Canelo Alvarez fight could approach, or even break, the all-time pay-per-view buy record of 2.44 million generated by Mayweather's 2007 fight with Oscar De La Hoya. Anything is possible, but one early piece of anecdotal evidence suggests it won't happen. According to Nielsen, Saturday night's debut of the fight buildup series "All Access: Mayweather vs. Canelo" on Showtime -- right before a live fight card -- snagged 225,000 viewers. The debut episode of HBO's "De La Hoya/Mayweather 24/7" on April 15, 2007 drew 1.4 million viewers.
July, 18, 2013
7/18/13
11:46
AM ET
Light heavyweight world champion Adonis Stevenson and Tavoris Cloud are getting closer to fighting each other. Their promoters, Yvon Michel and Don King, respectively, are nearing a deal for the fight, which, if finalized, is penciled in for Sept. 28 on HBO and would take place at the Bell Centre in Montreal, where Quebec's Stevenson is a crowd favorite.

Stevenson (21-1, 18 KOs) won the world championship on June 8, blasting out Chad Dawson in just 76 seconds. Cloud (24-1, 19 KOs) lost his version of the 175-pound title via unanimous decision to Bernard Hopkins on March 9.

That HBO telecast could also feature the return of super middleweight champion Andre Ward against an opponent to be determined from another site. Ward (26-0, 14 KOs) hasn't fought since last September after a shoulder injury and subsequent surgery.