Dan Rafael:

Bernard Hopkins
January, 30, 2014
1/30/14
11:35
AM ET
One fight that has been in the works probably will be finalized and another probably won't, according to Golden Boy Promotions chief executive Richard Schaefer.

Golden Boy has been working on the light heavyweight unification fight between 49-year-old Bernard Hopkins and Beibut Shumenov. Schaefer told ESPN.com that he is putting the finishing touches on the deal for the fight, which will be carried by Showtime, assuming it is finalized. Schaefer said the fight will take place either April 19 or April 26 at a site to be determined. With the other top light heavyweights -- champion Adonis Stevenson, titleholder Sergey Kovalev and former champ Jean Pascal -- fighting on HBO, this is the one top-level fight at 175 pounds that Schaefer and Showtime can make.

Incidentally, whichever date Hopkins-Shumenov lands on, Schaefer said he will put together another Showtime card for the other April date.

Another fight, however, that probably won't happen as initially planned is the rematch between featherweight titlist Jhonny Gonzalez and former titlist Abner Mares, who lost the belt to Gonzalez via first-round knockout on Aug. 24 in a major upset.

The fighters were supposed to meet in a Feb. 15 rematch on Showtime at the Staples Center in Los Angeles, but the fight was postponed because Mares suffered a rib injury in training. Right after the fight was postponed there were plans to immediately reschedule the bout. But that is seemingly no longer the case.

Schaefer said that Gonzalez, who isn't represented by Golden Boy, and his team have been itching for another defense first. (Translation: Gonzalez wants an easy fight and payday before a very tough rematch with Mares.) Schaefer said Mares' manager Frank Espinoza has also been talking to him about the prospect of a tune-up fight first.

"So I think they will have other fights first before we do the rematch," Schaefer said.

Presumably, if the interim fights happen and they both win, the rematch would come after that.
January, 21, 2014
1/21/14
11:05
AM ET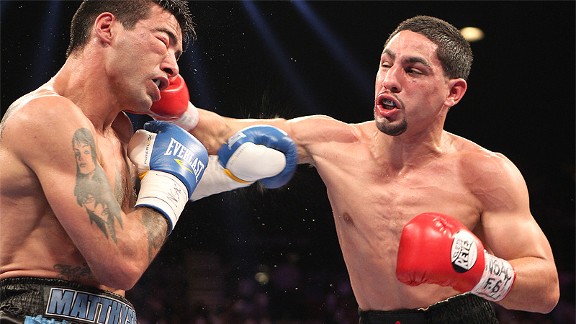 Hoganphotos/Golden Boy PromotionsAfter dispatching Lucas Matthysse, Danny Garcia will wait on a Floyd Mayweather Jr. fight.
Junior welterweight champ Danny Garcia finished 2013 strong by dropping and outfighting slugger Lucas Matthysse in a September fight that many expected "The Machine" to win. But Garcia did what he has done before: win a fight that many didn't think he would.
Garcia, who outpointed Zab Judah in his other 2013 fight, is now ready to kick off 2014. He will begin with a 140-pound title defense on March 15, Golden Boy promoter Richard Schaefer told ESPN.com on Monday.
There is no set opponent or site -- at least none Schaefer wanted to discuss -- but the date is locked in, he said. Schaefer also said Garcia would remain at junior welterweight, squashing speculation in some quarters that he would move up to welterweight, where he would be a prime candidate for a future fight with Floyd Mayweather Jr. In fact, when Garcia defeated Matthysse, the fight was on the undercard of Mayweather's win against Canelo Alvarez, making it very obvious that the Garcia-Matthysse winner was auditioning for an eventual fight with Mayweather.
Garcia's camp, from what I was told by multiple sources involved in the decision-making process, removed its fighter's name from the sweepstakes to land the Mayweather fight, scheduled for May 3. His representatives simply didn't want the fight for Garcia yet. Therefore, Garcia will fight in March instead, with a Mayweather fight still possible down the road.
Schaefer and Showtime Sports boss Stephen Espinoza will be together on Tuesday in Los Angeles for the press conference to formally announce Alvarez's March 8 Showtime PPV fight with Alfredo Angulo. Schaefer said he will meet with Espinoza and that one of the items on the agenda is to discuss Garcia's next fight, which will air on Showtime.
Schaefer said there are other things on the agenda for the meeting as well, including:
• The likely Bernard Hopkins-Beibut Shumenov light heavyweight unification fight in the spring.
• Rescheduling the Jhonny Gonzalez-Abner Mares featherweight title fight (postponed because of Mares' rib injury).
• Middleweight titlist Peter Quillin's next fight, which could wind up on the Garcia undercard.
December, 13, 2013
12/13/13
10:51
AM ET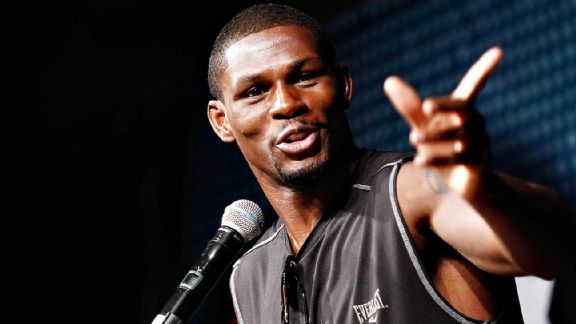 Craig Bennett/ShowtimeJermain Taylor, in the midst of a comeback, says he just wants to make a living. "Damn the legacy," he said.
SAN ANTONIO -- The fight hasn't received much publicity, almost as if it's being hidden, buried deep on the undercard and with nothing more than possibly highlights making the telecast.
It's the return of former undisputed middleweight champion Jermain Taylor (31-4-1, 19 KOs), who will face long-faded former junior middleweight contender J.C. Candelo (32-12-4, 21 KOs) in a super middleweight fight on the Adrien Broner-Marcos Maidana undercard on Saturday night at the Alamodome.
Taylor will be fighting for the first time in 14 months, since a second-round knockout of journeyman Raul Munoz.
Taylor had fought three fights in 10 months before his most recent layoff. But before those three bouts, he was out of boxing for 26 months following a harrowing 12th-round knockout loss to Arthur Abraham in the Super Six World Boxing Classic in October 2009. It was such a bad knockout -- his second brutal KO loss in a row -- that he suffered a small brain bleed, a concussion and short-term memory loss.
Many thought that was the end of Taylor's career --
and many still believe he should no longer be fighting
-- before he went through a series of medical exams, was eventually licensed in Nevada and made his comeback.
Although it stalled after the Munoz fight for no apparent reason, the 2000 U.S. Olympic bronze medalist from Little Rock, Ark., is back once again -- and seemingly with a chip on his shoulder.
"Training has been great, and I have been really focused in camp," said Taylor, who reunited with original trainer Pat Burns during his comeback. "I am 35 years old, so I have a small window of opportunity. I have been boxing since I was 12 and I am an Olympian. People would say that I would never make it to the Olympics, and I did that, and they also said that I would never be a champion, and I did that too."
In a perfect world, Taylor will again win a world title, but he claims he doesn't care about that or how he is remembered. He only wants to make a living.
"I have fought many talented champions in my career and I don't care about the legacy," said Taylor, who beat Bernard Hopkins twice in middleweight championship fights. "I'm happy. My family is being fed. Damn the legacy."
December, 6, 2013
12/06/13
12:15
AM ET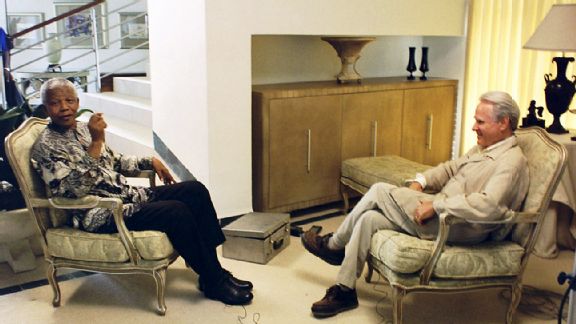 Courtesy of Larry MerchantNelson Mandela gave Larry Merchant the thrill of a career when he agreed to talk shop before a fight.
As a sports columnist, author and broadcaster, Larry Merchant has spent the better part of 60 years conducting interviews with a who's who of boxing luminaries, not to mention all of the other famous figures he dealt with during his newspaper days.
But of the thousands of interviews Merchant has done, there is one that stands out as his most memorable: a 2001 sitdown at the home of Nelson Mandela, the South African hero and former president who died on Thursday at age 95.
"I would say it's probably the most memorable I've done in more than half a century -- say, 60 years -- of doing this," Merchant said after hearing news of Mandela's passing.
After all, it's not every day that Merchant has an opportunity to sit down with a world-renowned hero and receive instruction on the proper way to throw a left hook. More on that in a minute.
Merchant, then an analyst for HBO, had gone to South Africa for the network's coverage of then-heavyweight champion Lennox Lewis' first fight with Hasim Rahman, which resulted in Rahman's massive upset via fifth-round knockout.
But before the fight, as part of a pre-taped segment for the broadcast, Merchant interviewed Mandela -- a serious boxing fan and former amateur fighter -- at his home in Mozambique, where he spent a lot of time after he was no longer president.
"I had somewhere read that he had been an amateur boxer," Merchant said, "and so when we found out we were going to cover that fight in Johannesburg it triggered that pathway in my brain and we set in motion the process to get an interview with him."
It was touch-and-go as to whether the interview would take place. It got to the point that network officials thought it wouldn't happen. But the morning before the fight, Merchant got a call from a producer, waking him up and telling him the approval had come through.
"The understanding was, we weren't going to be talking politics, that we would be talking boxing," Merchant said.
They flew to Mozambique and arrived at Mandela's home a few hours later.
"He came into the room where we had set up the interview looking regal, like there was an aura about him that matched his reputation and his achievements as a powerful political figure," Merchant said. "He was the George Washington and Abraham Lincoln of South Africa. He was very friendly and gracious. He had watched many of our fights, so he knew who I was.
"He said to me when we met, 'It's an honor for me to meet you,' and I said back to him, 'It's much more of an honor for me to meet you,' and that was the opening of our meeting."
Merchant said there are three things that stand out in his memory about the interview.
"One was when I asked him about Muhammad Ali and about what he meant to him while he was in prison," Merchant said. "He talked about how important Ali was as a huge international figure throughout Africa, and particularly to him as a former boxer and boxing fan.
"The second thing was that at some point in the interview he sat there and showed me how to throw a left hook. If fireworks could go off in my head, if rainbows could go off in my head, I couldn't have been happier watching Nelson Mandela demonstrate how you throw a left hook and roll your shoulder into it, and he rolled his shoulder into it. He was talking about the correct way to box and how to throw punches."
The third memory Merchant recalled was when he asked Mandela about how he reconciled his beliefs about non-violence and his love for boxing.
"He gave as perfect an answer as was possible," Merchant said. "He said, 'Boxers do it voluntarily.' What he was saying was, he was in favor of political non-violence as a way of changing South Africa because South Africans didn't have a choice in the system of apartheid."
A couple of years later, Merchant got an unexpected message from Mandela when he ran into a South African journalist he was acquainted with at a fight they both attended.
"This journalist came to me and said that Mandela had wanted me to know that he liked this one particular interview I had done with Bernard Hopkins," Merchant said, speaking of a particularly contentious interview he had with Hopkins on HBO after the fighter had beaten Morrade Hakkar, an utterly unworthy mandatory challenger.
"The word I got back from Mandela was that he appreciated the fact that I let Hopkins answer my tough questions in his own way," Merchant said. "It suggested that he was a real boxing fan. I don't know any other significant head of state in modern times who could have been considered a serious boxing fan."
As memorable as interviewing Mandela was for Merchant, there was one disappointment.
Although he has a photo displayed in his home of them sitting across from each other during the interview, Merchant said that when it was over, he and Mandela stood close to each other in a fighting pose.
"But the photographer blew it," Merchant said. "I had in my head an image of blowing that up as big as it could possibly be blown up to put in my office, but it never happened."
The wonderful memory of a great man will suffice.
August, 5, 2013
8/05/13
12:37
PM ET
Former junior middleweight titleholder John David Jackson has been one of boxing's top trainers for several years. Now he will be working with a number of new fighters after being hired as a trainer for Iron Mike Productions, the company announced.

"I'm very happy to be reunited with John David Jackson," said Henry Rivalta, head of boxing operations for Iron Mike Productions. "We worked together in 2008 at [promotional company] The Heavyweight Factory. He brings a lot to the table and is an incredible asset on our coaching staff. Our fighters are going to benefit from John David's teaching."

Jackson has worked with Bernard Hopkins, Shane Mosley and currently trains former welterweight titlist Randall Bailey and light heavyweight contender Sergey Kovalev.

Jackson will be co-head coach of Iron Mike Productions' fighters with Herman Caicedo. One of the assistants on staff is Micky Ward and longtime Tyson assistant trainer Stacey McKinley.

"Caicedo, Jackson, Ward and all our other coaches complement each other and give our kids a ton of invaluable experience," Rivalta said.

Iron Mike Productions had been Acquinity Sports until former heavyweight champion Mike Tyson came on board as a partner.

The company is promoting its first card with Tyson's involvement on Aug. 23 (ESPN2) at the Turning Stone Resort Casino in Verona, N.Y., where junior lightweight titlist Argenis Mendez (21-2, 11 KOs) will make his first defense when he faces Arash Usmanee (20-1, 10 KOs) in the main event. Jesus Marcello Andres Cuellar (22-1, 18 KOs) will meet Claudio Marrero (14-0, 11 KOs) for a vacant interim featherweight belt in the co-feature.
July, 18, 2013
7/18/13
11:46
AM ET
Light heavyweight world champion Adonis Stevenson and Tavoris Cloud are getting closer to fighting each other. Their promoters, Yvon Michel and Don King, respectively, are nearing a deal for the fight, which, if finalized, is penciled in for Sept. 28 on HBO and would take place at the Bell Centre in Montreal, where Quebec's Stevenson is a crowd favorite.

Stevenson (21-1, 18 KOs) won the world championship on June 8, blasting out Chad Dawson in just 76 seconds. Cloud (24-1, 19 KOs) lost his version of the 175-pound title via unanimous decision to Bernard Hopkins on March 9.

That HBO telecast could also feature the return of super middleweight champion Andre Ward against an opponent to be determined from another site. Ward (26-0, 14 KOs) hasn't fought since last September after a shoulder injury and subsequent surgery.
July, 5, 2013
7/05/13
1:06
PM ET
A few notes from my recent conversation with Golden Boy chief executive Richard Schaefer:

• Golden Boy is trying to wrap up the junior welterweight showdown between unified titlist Danny Garcia and interim titleholder Lucas Matthysse, which is one of the best fights in boxing. Although the main focus has been on finalizing it as a Sept. 7 Showtime main event, Schaefer said there is a possibility that it could land on the Sept. 14 Floyd Mayweather Jr.-Canelo Alvarez card as the co-feature. If that happens, the show would rank as one of the best pay-per-view cards ever.

• Former welterweight titlist Victor Ortiz, who competed on "Dancing with the Stars" while recovering from his broken jaw, is ready to return to action. Schaefer said he likely will be back in September, possibly on a Sept. 7 card or on the Mayweather-Alvarez undercard. He has no opponent yet.

• Now that Karo Murat has his visa and has been reinstated as light heavyweight titleholder Bernard Hopkins' mandatory challenger, Golden Boy is trying to reschedule the fight. "I'm looking at dates in late September or October," Schaefer said. The fight was originally scheduled for July 13, but it was canceled when Germany's Murat couldn't get a visa and it looked like it would take several months. Only after the show was canceled did Murat get the paperwork squared away, but by that time it was too late to proceed with July 13.

• When heavyweight prospect Deontay Wilder faces former titlist Sergei Liakhovich on Aug. 9 on Showtime, the initial idea was to stage the fight somewhere in Alabama, where Wilder is from. However, that didn't work out, and Schaefer said the card will instead take place at the Fantasy Springs Resort in Indio, Calif.

• Golden Boy is planning a card for Sept. 13 at The Cosmopolitan in Las Vegas as part of the Mayweather-Alvarez fight week festivities.
June, 22, 2013
6/22/13
9:28
PM ET
Ultimately, light heavyweight contender Sergey Kovalev elected to challenge titlist Nathan Cleverly rather than press for a higher-profile mandatory shot against Bernard Hopkins.

To some, it might sound like the wrong decision. Why would Kovalev agree to go to Cleverly's home country of Wales on Aug. 17 to face a titleholder in his prime rather than stay in the United States, where the Russian Kovalev is now based, and face the 48-year-old Hopkins, who can't defy Father Time forever and who is a much bigger name than Cleverly ever will be?

It was a calculated move, to be sure. Most significantly, Kovalev wanted a title shot as soon as possible, no waiting. He will get Cleverly on Aug. 17 and it will come on HBO, which is infatuated with Kovalev and wanted him on the air ASAP.

Also, had Kovalev pressed for the mandatory with Hopkins, there was no guarantee he would get the fight, because Hopkins' promoter (Golden Boy) was also eyeing Cleverly. If Kovalev turned down the deal for Cleverly, Golden Boy was ready to swoop in and make a deal for Hopkins to face him in a fight that Showtime surely would have bought.

It would mean Hopkins forfeiting his version of the title, but that wouldn't be so bad because he would be fighting for Cleverly's belt -- meaning as long as Hopkins won, he would still have a title.

If that scenario unfolded, Kovalev would still have fought for the vacant belt that Hopkins dumped, but he wanted to win a title against a reigning titleholder. Besides, there's no telling who he would end up facing or how long it would have taken for the vacant title fight to be scheduled given the purse bid process that might have unfolded.

Not insignificantly, for whatever reason, neither HBO nor Showtime wanted to buy Hopkins-Kovalev, which would have made it hard to place the fight for the kind of money each side would expect. HBO won't do business with Golden Boy, and I believe that Showtime had no interest in putting on Kovalev just to build him up and then watch him go to rival HBO in the event he won.

Therefore, Kovalev and promoter Main Events took the sure and immediate title shot with Cleverly.

Here's how Main Events promoter Kathy Duva explained it to me:

"[Kovalev] accepted the challenge to go to Wales and fight Cleverly in his hometown because that simply was his shortest route to a world title. Kudos to him for that. I realize that there are those who believe that Sergey is passing up an opportunity to fight Bernard Hopkins. But I was well aware that Golden Boy was also pursuing a Cleverly fight. While Bernard made statements earlier in the week about respecting his mandatory, he always couched those statements with qualifiers.

"If you listen carefully, what he was saying was that he would respect his mandatory obligation and fight Kovalev if he had no other alternative. But if Sergey had passed on Cleverly, Hopkins would have had an alternative --- which was to fight Cleverly for the WBO title. Again, Sergey did not want to wait around for months, only to end up fighting for a vacant title. And if Bernard really wants to fight Sergey, he can still do it. We will be very happy to accommodate him later this year when they are both champions and Hopkins-Kovalev will be a much, much bigger fight."
May, 9, 2013
5/09/13
7:38
PM ET
Some news and notes from the boxing world:

• Nevada State Athletic Commission executive director Keith Kizer said Thursday that the post-fight drug tests for Floyd Mayweather Jr., Robert Guerrero, Abner Mares and Daniel Ponce De Leon all came back negative for any prohibited substances. The results for the rest of the boxers on the May 4 card at the MGM Grand and May 3 card at The Cosmopolitan in Las Vegas are still pending. Kizer said all 30 boxers on the two cards were tested.

• Mares looked fantastic knocking out Ponce De Leon in the ninth round to win a featherweight title on the Mayweather-Guerrero undercard, giving Mares a world title in his third weight class in the past three years. Golden Boy Promotions CEO Richard Schaefer said two scenarios are being considered for Mares' first defense. One is for Mares, who lives in Southern California, to return home to his native Mexico for a homecoming fight. The other is for Mares to once again fight on Mayweather's undercard when he returns Sept. 14 to the MGM Grand.

• A little date switcheroo to fill you in on: Sakio Bika (31-5-2, 21 KOs) and Marco Antonio Periban (20-0, 13 KOs), due to meet for a super middleweight title that was stripped from Andre Ward for no good reason, were scheduled to fight June 8 on the Golden Boy/Showtime card at the Home Depot Center in Carson, Calif. But Schaefer said the fight has been pushed back two weeks and will instead go on a Showtime tripleheader on June 22 on the Paulie Malignaggi-Adrien Broner undercard at the Barclays Center in Brooklyn, N.Y. Also on the card is the heavyweight rematch between Johnathon Banks and Seth Mitchell.

• With Bika-Periban moving to June 22, Schaefer said another fight has been added to the June 8 card to also make it a tripleheader: a junior middleweight fight between hot prospect Jermell Charlo (20-0, 10 KOs), 22, of Houston, and Philadelphia's Demetrius Hopkins (33-2-1, 13 KOs), 32, the nephew of light heavyweight titlist Bernard Hopkins. The June 8 card is headlined by welterweight Marcos Maidana against Josesito Lopez and also includes a junior middleweight fight between Erislandy Lara and Alfredo Angulo.

• Featherweight prospect Gary Russell Jr. is slated to appear on Showtime on the undercard of light heavyweight titlist Bernard Hopkins' defense against mandatory challenger Karo Murat at the Barclays Center on July 13. Finding an opponent for Russell is always difficult, and this fight is no different.

"We have made a very strong offer to (former titlist) Jhonny Gonzalez and we're waiting to hear from him," Schaefer said.

• When the Canadian super fight between former light heavyweight champ Jean Pascal and former super middleweight titlist Lucian Bute, which was supposed to take place May 25 at the Bell Centre in Montreal, was called off because of Bute's left hand injury, Pascal promoter Yvon Michel said some of the undercard bouts would be shifted to the June 8 card at the Bell Centre headlined by light heavyweight champ Chad Dawson facing Quebec's Adonis Stevenson. Michel, who also promotes Stevenson, told ESPN.com that these two bouts would shift to June 8: light heavyweight Eleider Alvarez against Allan Green and welterweight Kevin Bizier versus Aldo Nazareno Rios.

• Up-and-coming lightweight Bahodir "Baha" Mamadjonov (13-1, 9 KOs), 25, a former standout amateur from Uzbekistan now living in Houston, has signed a promotional deal with Don King. Mamadjonov scored an upset on April 12 by knocking out Angelo Santana -- the best prospect in King's thin stable -- in the ninth round. Mamadjonov had taken the "ShoBox" main event on short notice and impressed in front of a national TV audience.

"Signing with Don King brings me closer to my goal of winning a world championship," Mamadjonov said. "That is what drives me every day. I want to win a world title for my family and the people of Uzbekistan who always believed in me."

Said King, "I am extremely pleased and proud to have Baha with me. I expect great things from this young man because he's dedicated and committed to becoming a world champion. He took the fight with Santana on almost no notice and stopped a great lightweight."

• Former junior welterweight titlist Gavin Rees (37-2-1, 18 KOs) of Wales, who got knocked out by Adrien Broner in the fifth round in a February world title bout, returns to face England's Anthony Crolla (25-4-1, 9 KOs) on June 29 in Manchester, England. The fight is the co-feature on the card headlined by former heavyweight titlist David Haye against former title challenger Manuel Charr. Crolla is coming off a 12-round split draw for the Commonwealth lightweight title against Derry Mathews on March 30 in a rematch of a Mathews sixth-round knockout win in April 2012.

"I cannot wait to get back into action," Rees said. "I am itching to get another world title shot after fighting Broner. He is a megastar and will go on to do massive things in the game, but I feel that I can win another world title and this is a massive fight to prove I still have ambitions at that level.

"Anthony is a very good fighter and he put up a great performance in his rematch with Derry Mathews, and I think that the draw was the fair result. All-British clashes are always great to be a part of, with my own battle against Mathews a real cracking fight."

• Irish featherweight Patrick Hyland (27-1, 12 KOs), who is coming off a decision loss to Javier Fortuna for an interim featherweight title on Dec. 8, was due back in action on May 18 in Poughkeepsie, N.Y. -- near his base of Marlboro, N.Y. -- but the card was canceled on Thursday because Hyland suffered a shoulder injury in his training camp, Final Round Promotions announced.
April, 22, 2013
4/22/13
5:19
PM ET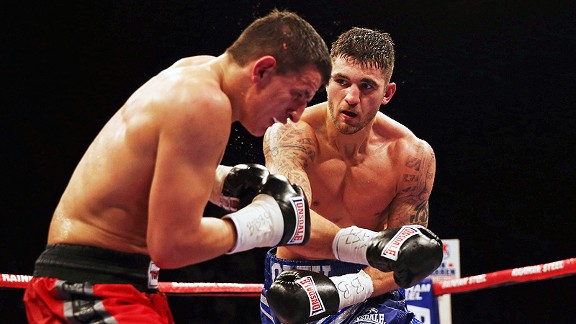 Scott Heavey/Getty ImagesNathan Cleverly, right, now hopes to test himself against an all-time great in Bernard Hopkins.
After light heavyweight titlist Nathan Cleverly of Wales rolled to a near-shutout decision win against mandatory challenger Robin Krasniqi of Germany on Saturday in London, he beat the drum yet again for a showdown with fellow titleholder Bernard Hopkins.
Cleverly did it in a respectful manner, too. He lauded Hopkins for being an all-time great and said he wanted to fight him to prove to himself that he was an elite champion and not just an ordinary titleholder.
"Hopkins is a great, great fighter, and against him I'll have to take my game to another level," Cleverly said. "His experience is unmatchable and technically he's superb, but I think my youth, pace and aggression will be too much for him. I'd force him to fight every second of every round and not give him an inch or second to think."
Cleverly looked good against Krasniqi and turned in an exceptional work rate (1,047 punches thrown). Cleverly doesn't have much pop, but that activity would be sure to give a slower, methodical fighter such as Hopkins some problems.
"I showed another side to my game against Krasniqi," Cleverly said. "I showed that I could box intelligently, not get reckless against a dangerous challenger and made it look easy. He was very tough, and maybe I would have liked to have knocked him out, but it was a great workout and I showed the pace I can set for 12 rounds at the highest level."
Hopkins (53-6-2, 32 KOs) has said he would like to face Cleverly (26-0, 12 KOs) and that he would be willing to go to the United Kingdom for the fight. But first Hopkins has a mandatory defense to make this summer against Karo Murat, whose only loss is a 10th-round knockout to Cleverly in a 2010 title eliminator.
On March 9, the 48-year-old Hopkins broke his own record of becoming the oldest fighter in boxing history to win a world title when he outpointed Tavoris Cloud.
Cleverly's promoter, Frank Warren, and Hopkins' promoter, Richard Schaefer, have done business before and get along just fine, so if the sides really want to make the fight, it shouldn't be too difficult. Warren would like to have Cleverly fight in the co-feature when Hopkins faces Murat and then have them square off if they both win.
April, 13, 2013
4/13/13
7:29
PM ET
The specific date and location haven't been set, but German light heavyweight contender Karo Murat is just happy that titleholder Bernard Hopkins has decided to fight him.

"I was so excited when I first found out about this," said Murat, 29.

On March 9, Hopkins won a light heavyweight title for the third time by outpointing Tavoris Cloud to become, at age 48, the oldest fighter in boxing history to win a world title -- breaking the record he set at age 46 in 2011 by beating Jean Pascal in their rematch.

Hopkins isn't going to fight much longer, so he had to make a decision: take the mandatory defense against Murat, an unknown fighter in the United States, or give up the title and pursue a bigger fight. Hopkins (53-6-2, 32 KOs) elected to face Murat (25-1-1, 15 KOs).

The bout will take place in July or August in the United States, likely at the Barclays Center in Brooklyn, N.Y., or Boardwalk Hall in Atlantic City, N.J., according to Golden Boy chief executive Richard Schaefer, who promotes Hopkins.

"Hopkins proved that he doesn't belong to the old guard," said Murat, who will be fighting in America for the first time. "I will do everything I can to be in the best shape possible. I am really looking forward to it. Fighting in the States will be a very special occasion in my career.

"I will hurt Hopkins. I have the same attitude as he does. I don't just train hard, but I train the right way. He is going to feel that."

Murat's only defeat came by 10th-round knockout to Nathan Cleverly of Wales in a 2010 title elimination bout, after which Cleverly went on to win a world title.