Dan Rafael:

Julio Cesar Chavez Jr.
November, 18, 2013
Nov 18
10:24
PM ET
The target date for the super middleweight rematch between former middleweight titlist Julio Cesar Chavez Jr. and Bryan Vera is now March 1, Top Rank's Bob Arum told ESPN.com.

Arum had hoped to schedule the fight for Feb. 8, but he said that HBO, which plans to buy the fight, didn't want to air it in February during the Winter Olympics, which will run from Feb. 7 to Feb. 23 in Sochi, Russia.

"So we are zeroing on March 1," Arum said. "I have to conclude the deal with [Vera promoter] Artie [Pelullo], but we're real close. No problems."

Chavez (47-1-1, 32 KOs), who was coming off a year out of the ring because of a drug suspension after his loss to middleweight champion Sergio Martinez, won a heavily disputed unanimous decision against Vera (23-7, 14 KOs) on Sept. 28, prompting a rematch. Chavez had signed for the fight at 168 pounds, but because he wasn't in shape for the fight, he wound up making a side deal with Vera's camp to pay him an extra six-figures sum to move the limit to 173 pounds. The rematch will be contracted at 168, Arum said.

The venue isn't set yet, but Arum said the fight could be in Texas or possibly Los Angeles at the renovated Great Western Forum, which re-opens in January.

The proposed co-feature for the card would see two-time Olympic gold medalist Vasyl Lomachenko (1-0, 1 KO) of Ukraine go for a featherweight world title in his second pro fight against Mexico's Orlando Salido (40-12-2, 28 KOs), who reclaimed a world title on Oct. 12 on the same card on which Lomachenko made his pro debut with a fourth-round knockout victory against Jose Luis Ramirez.

Initially, Salido-Lomachenko was going to take place on Jan. 25 in New York, but it was moved because Lomachenko is nursing a hand injury.

"Lomachenko's hand was bothering him, so I had him see a doctor in Los Angeles and he had a minor procedure, and he's coming around," Arum said. "He asked for another month to get ready, so we moved the fight from Jan. 25. It was nothing serious, something with a ligament in his finger."
October, 15, 2013
Oct 15
11:34
PM ET
Although plans remain in the works for a rematch between Julio Cesar Chavez Jr. and Bryan Vera, it won't take place in December as originally discussed.
Top Rank's Bob Arum, who promotes Chavez, told ESPN.com that the fight is now being targeted for late February, probably in Vera's home state of Texas, because HBO's budget and schedule can't accommodate the bout before the end of the year.
[+] Enlarge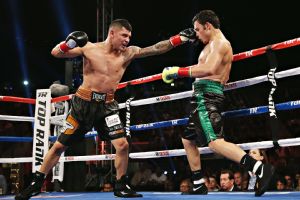 Jeff Gross/Getty ImagesJulio Cesar Chavez Jr., right, will have to wait until next year to begin restoring his ring reputation in a rematch with Bryan Vera.
Arum had said previously that the fight would air on pay-per-view if HBO couldn't handle it this year, but changed his mind. And it was a good call, because although Chavez-Vera II is an interesting rematch, it hardly rises to the level of being PPV-worthy.
"HBO wants to do it, and I think the less frequently we go on pay-per-view, the better for the whole business," Arum said. "With some fights it's impossible because you can't come up with enough money to do the fight on HBO, like the other night [for the Timothy Bradley Jr.-Juan Manuel Marquez bout]. But that is not the case with this fight."
Arum said he and Artie Pelullo, Vera's promoter, will talk more specifics of their deal this week when they are both in Denver for Saturday night's Mike Alvarado-Ruslan Provodnikov junior welterweight title fight.
Former middleweight titlist Chavez (47-1-1, 32 KOs) won a heavily disputed unanimous decision against Vera (23-7, 14 KOs) on Sept. 28 at the StubHub Center in Carson, Calif. Although it was a competitive fight, most viewed Vera as the winner. But it was Chavez who got the decision on scores of 98-92, 97-93, 96-94. The two wide scorecards were heavily criticized, and deservedly so. One poll of 60 media members had 54 scoring the fight for Vera and four scoring it a draw.
There also was controversy before the fight even started. During the week of the fight, Chavez, who signed for the bout to be contested at 168 pounds, left Vera little choice but to accept a six-figure side deal to move the limit up to 173 pounds because Chavez wasn't in shape.
Arum said he had a recent meeting with Chavez's camp -- the fighter, father Julio Cesar Chavez Sr., co-promoter Fernando Beltran and manager Billy Keane -- to discuss the rematch and the weight issue.
"We ironed all this stuff out. It was a very good meeting," Arum said. "[Chavez Jr.] said he would fight at super middleweight and that there wouldn't be any nonsense. He will make super middleweight [168 pounds], go with a real trainer and a real conditioner and do a regular camp. He said he will behave like a fighter."
Arum said Chavez -- who faced Vera after a year layoff following his loss to champion Sergio Martinez and a subsequent suspension for testing positive for marijuana after the fight -- needs to come into the rematch in shape and win if he wants to move on to a bigger fight and restore his fans' confidence in him.
"Chavez needs to be Chavez before you can put him with the guys he really wants to fight, guys like Andre Ward and Carl Froch," Arum said. "He has to beat this guy [Vera] first."
September, 24, 2013
Sep 24
10:03
PM ET

Former middleweight titlist Julio Cesar Chavez Jr. is about to make his return, which means one thing: drama, be it inside or outside of the ring.

It has been a year since he lost a lopsided decision to middleweight champ Sergio Martinez, but Chavez sent a jolt of electricity through the crowd when he nearly knocked out Martinez in a frantic final minute that was as dramatic as anything I've ever seen.

After the fight, there was more drama as Chavez, who already had a previous DUI charge on his record, tested positive for marijuana. He was fined and suspended for nine months by the Nevada State Athletic Commission.

Although Chavez was on ice, there was still more non-boxing drama. He battled with the Nevada commission, which eventually reduced the size of his fine. He split from trainer Freddie Roach and replaced him with his famous father, Hall of Famer Julio Cesar Chavez Sr., to work his corner. He cut ties with strength and conditioning coach Alex Ariza, who had helped him make weight so many times.

So when word began to spread in recent days that Chavez, notoriously heavy between fights, was having a terrible time making the contract weight of 168 pounds for his fight against Brian Vera on Saturday night (HBO, 10:15 ET/PT) at the StubCenter in Carson, Calif., it came as zero surprise.

Then on Monday, Chavez Sr. told the media that the weight limit for the fight had been increased to 173 pounds, despite there being a signed contract for 168. The supposed change in weight was news to Top Rank promoter Bob Arum and Chavez co-promoter Fernando Beltran, as well as to Vera and his promoter, Artie Pelullo.

On a teleconference with boxing reporters on Tuesday, Arum tried to downplay Chavez Sr.'s announcement, saying no determination had been made about increasing the weight.

"We're going to take a look at what the fighters weigh [on Wednesday] and decide what the weight limit will be, so right now there is no determination on that," he said. "I know what Julio Sr. said, but I really believe that at the time he said it, he misspoke."

Chavez Jr. (46-1-1, 32 KOs) said that as of Tuesday afternoon he was already down to 173 pounds, which, compared to his usual troubles, puts him way ahead of the game in terms of making weight. But who knows if he was telling the truth. Chavez's track record would indicate that he was probably much heavier than 173.

Arum said he and Pelullo will meet to talk about the situation on Wednesday. Pelullo, however, told ESPN.com that Vera (23-6, 14 KOs) wouldn't be stepping on a scale on Wednesday. He said Vera has no issue making weight, that their contract calls for 168 pounds and that Vera is under no obligation to get on a scale except at Friday's official weigh-in.

When the fight was first being negotiated, Pelullo said the weight proposed was originally 162 pounds. Pelullo said the Chavez camp then kept inching it up, to 164, then to 165 and finally to 168.

Pelullo said he was as surprised as anyone to hear that Chavez Sr. said the weight would be increased yet again, especially now that there was a signed contract.

"I found out [Monday] night about what Senior said, that his son couldn't make weight and he wanted to raise the limit to 173," Pelullo said Tuesday evening in Los Angeles. "I found out from reporters who called me at my home. I just landed. Bob Arum and I will meet and discuss it [Wednesday]."

When asked if the meeting with Pelullo was simply about negotiating additional money for Vera to accept a heavier weight than what he signed for, Arum said, "I don't want to discuss that."

Arum said he first needed to meet with Pelullo, adding that his counterpart was "a professional promoter. We always manage to find a solution."

That solution -- and you can take this to the bank -- will simply mean that drama king Chavez will be allowed to buy his way to a heavier weight, with more cash going to Team Vera for their troubles.
June, 10, 2013
Jun 10
7:56
PM ET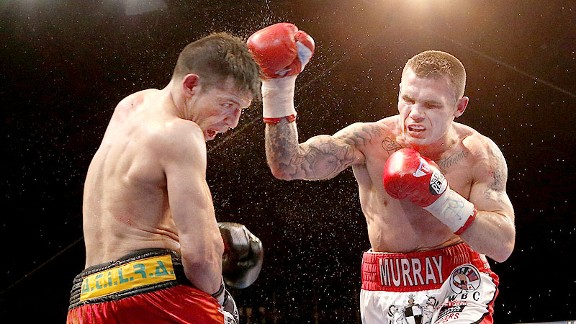 AP Photo/Victor R. CaivanoMartin Murray, right, proved his mettle in a close decision loss to Sergio Martinez in April.
Middleweight contender Martin Murray of England made a name for himself on April 27 when he dropped champion Sergio Martinez but lost a tight decision on Martinez's turf before some 50,000 fans at a soccer stadium in Argentina.
It was certainly a good enough performance for Murray to be right back in the mix for a significant fight in the strong middleweight division, and he would like to make one in the United States.
He was supposed to challenge then-titleholder Julio Cesar Chavez Jr. in El Paso, Texas in June 2012, but Murray, who holds an interim belt, was unable to obtain a visa in time because of his past criminal background. Chavez wound up facing Andy Lee instead.
But the 30-year-old Murray (25-1-1, 11 KOs) wants to try again -- this time taking care of his paperwork well in advance -- and hopes to fight in New York or Las Vegas before the end of the year. It could be difficult to line something up, but Murray is hopeful.
"I want to box in America, like every fighter does," said Murray, who is recovering from minor surgery on his elbow. "HBO were very impressed with how I performed against Martinez and have said they'd be happy to show me again. I need to get cracking on getting my visa sorted and then I can hopefully get some big fights sorted over there."
For the right opportunity, Murray said he would also consider moving up to super middleweight, but he prefers to remain at middleweight. There had been a chance he would face Chavez in August or September, but Chavez is instead likely to face Brian Vera at several pounds above 160, where Murray isn't too keen on moving yet.
"I'm open to all offers at middleweight, whether it be against Chavez Jr. the winner of [Gennady] Golovkin versus [Matthew] Macklin [on June 29], or whoever. I've got momentum from the Martinez fight and I need to make sure I don't go stale or get shut out of the picture, like I did after I fought Felix Sturm [to a draw in a 2011 world title bout in Germany].
"I've proven that I'm an elite fighter twice already, and I've been unlucky both times. I know I belong at the top level and I know I'm good enough to become a world champion. It's just a matter of time before I get my hands on one of those belts, and I don't care who I have to fight to do it."