Dan Rafael:

Nonito Donaire
November, 12, 2013
11/12/13
1:16
PM ET
Nonito Donaire's move up to featherweight on Saturday night in Corpus Christi, Texas resulted in a ninth-round knockout of Vic Darchinyan in a rematch of Donaire's much more dominant fifth-round knockout in their 2007 flyweight title fight.

Donaire, coming off a decision loss to Guillermo Rigondeaux in their April junior featherweight unification fight, didn't look like the fast and explosive fighter we have all become used to seeing. In fact, before the knockout, Donaire was trailing on two scorecards and was even on the third.

One of the reasons, perhaps, for his lackluster performance was an injury -- a possible cheek fracture -- suffered early in the bout.

Donaire is due to have an MRI on the injury on Tuesday afternoon in Las Vegas, manager Cameron Dunkin told ESPN.com.

Dunkin said that Donaire went to the hospital to be examined after the fight and got an X-ray "that showed maybe a hairline fracture, but not a significant one. We think it will heal, as opposed to Nonito needing surgery. So it may be fine. We're thinking it will be fine. But he'll have the MRI on Tuesday to be sure what is wrong."

During his postfight interview with HBO's Max Kellerman, Donaire (32-2, 21 KOs) said he thought he suffered a broken cheek during the fight.

"After the fight, he said he was not in any real pain, but he was uncomfortable," Dunkin said. "It happened when he got hit with a looping overhand left in the third or fourth round."

If Donaire's cheek is OK, he could be back in action as soon as Jan. 25 on an HBO card in New York, possibly to challenge featherweight titlist Nicholas Walters (23-0, 19 KOs), who recorded his first title defense on the undercard by knocking out Alberto Garza in the fourth round.
November, 8, 2013
11/08/13
3:57
PM ET

Nonito Donaire has grown into one of the best fighters in the world. He claimed 2012 Fighter of the Year honors and has won world titles in three weight classes, plus an interim belt in another.

The person most responsible for the development of the skills that led to those achievements is Nonito Donaire Sr., his father, who trained the younger Donaire until an acrimonious falling-out several years ago. They had been estranged since then until their recent reconciliation brought on by the birth of Nonito Jr.'s son.

Rachel Donaire, the fighter's wife, gave birth in July to their first child, a baby boy named Jarel -- an unusual name derived from the first letters in each word of the phrase "Junior and Rachel's everlasting love."

After the birth, Nonito Jr. began thinking about his father. He said he even had dreams about him. Rachel, whose frosty relationship with her father-in-law was part of the reason for the split between father and son, noticed. She had tried at various times to help them patch things up.

Then, in September, she finally took matters into her own hands and brought Nonito Sr. -- a Filipino immigrant who settled in San Leandro, Calif., where Nonito Jr. was raised -- to Las Vegas, where they now live. She hoped father and son would reconnect, and also wanted Nonito Sr. to meet his grandson.

Rachel's efforts paid off, and not long after the smooth reunion, Nonito Jr. asked his father to return to his corner as part of his training team. It was something the boxer especially needed after losing his most recent fight, in April, when Guillermo Rigondeaux outpointed him to unify junior featherweight titles in an upset that came in Donaire's first bout after receiving his Fighter of the Year award. Up to that point, Donaire (31-2, 20 KOs) hadn't lost since his second professional fight in 2001.

Now Donaire is set to return against 37-year-old, former two-division titleholder Vic Darchinyan (39-5-1, 28 KOs) -- the brawling power puncher who is a native of Armenia and who lives in Australia -- on Saturday night (HBO, 9:30 ET/PT) at the American Bank Center in Corpus Christi, Texas.

"Things happen for a reason, and when we had our baby, I realized my dad was always there, so I wanted to reach out," Donaire said. "Coincidentally, it was the Darchinyan fight and we got it settled and it just worked out. I thought, 'Why don't we just make it happen?' and I'm glad that things happened the way they did."

Donaire-Darchinyan is a rematch of the 2007 fight that put Donaire on the map -- a fight for which his father was his head trainer. That night, Donaire pulverized Darchinyan with a one-punch fifth-round knockout to win a flyweight world title. A rematch was talked about on and off, and now it's finally on as both men are moving up to the featherweight division.

Although Robert Garcia remains Donaire's head trainer, he said he welcomed Nonito Sr. to their training camp.

"His dad is the one that made him and was there when he won his first title, so I was very happy when I heard that his dad was back in the training camp," said Garcia, a former junior lightweight titleholder who was trained by his own father, Eduardo Garcia. "We had a great camp and it will show on Saturday night.

"When he first became world champion, his father was his only trainer and his father was doing all the work. Like all families, they had differences, but now that he is back, I think Nonito is better prepared mentally; he is happier and enjoying training camp, and that's what matters to me. They are father and son, and I'm glad they are back together and they are happy."

Donaire, 30, is also happy to have his father back in his corner. Besides having his family together again, he believes his dad's presence will help him return to the ways that made him so good in the first place, after admitting that he was complacent going into the Rigondeaux fight and hadn't trained as hard as usual, perhaps caught up in all of the hype surrounding his stellar Fighter of the Year campaign.

"He doesn't have a title in the corner," Donaire said of his father's role. "He holds the mitts for me in the gym and he is involved with everyone putting the game plan together. He is just a guy that is in the corner.

"[But] it has been great having my father around. I am getting back to the old me -- a smarter me -- not just someone getting ready to brawl. And that is something we are trying to get back."

September, 23, 2013
9/23/13
9:10
PM ET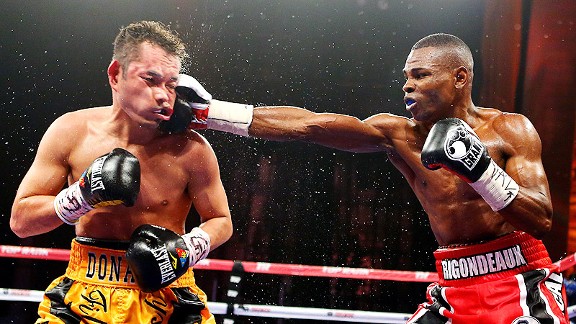 Al Bello/Getty ImagesGuillermo Rigondeaux, right, hasn't connected with audiences or network execs, despite his talent.
In April, Guillermo Rigondeaux outpointed Nonito Donaire to unify junior featherweight world titles. Although it wasn't a crowd-pleasing performance, Rigondeaux's talent is undeniable.
So when Top Rank chairman Bob Arum went to HBO to talk about his next fight -- and it was HBO that pressured Arum to make Rigondeaux-Donaire in the first place -- he was rather surprised when the network showed no interest in putting Rigondeaux back on.
The quote Arum gave me on the topic was one of his all-time classics:
"Every time I mention him, they throw up," Arum said of HBO executives.
Well, apparently those execs can now keep their food down because they have changed course and agreed to feature Rigondeaux (12-0, 8 KOs) as a headliner. Arum said that the network is giving him a date for the two-time Cuban Olympic gold medalists' next fight before the end of the year, which the network has acknowledged.
"He will definitely fight on HBO in December," Arum said.
The date will be either Dec. 7 or Dec. 14, Arum said.
"We're working on a good fight," Arum said, declining to name the prospective opponent. However, Arum did say it would not be Chris Avalos, a name floated recently as a possible Rigondeaux opponent but understandably declined by HBO.
Arum hopes to line up a fight for junior welterweight titlist Khabib Allakhverdiev (19-0, 9 KOs), a Russian southpaw, in the co-feature. He was due to fight on HBO in March in the Mike Alvarado-Brandon Rios II co-feature before an injury knocked him off the show.
September, 2, 2013
9/02/13
1:42
PM ET
By
jasonlangendorf
| ESPN.com
Junior featherweight champion Guillermo Rigondeaux is coming off his biggest victory, by far, when he got up from a knockdown and won a decision to unify 122-pound titles against 2012 fighter of the year Nonito Donaire in April.

But Rigondeaux (12-0, 8 KOs) still has nothing specifically lined up because HBO, less than enthralled with his non-aggressive performance against Donaire, has resisted putting him back on the air -- even though it was network executives who pressured Top Rank promoter Bob Arum to match Rigondeaux with Donaire.

However, it's Arum who says he remains hopeful that he can work something out with the network and that a potential December date for Rigondeaux is being discussed.

"I don't think it's right for them to abandon Rigondeaux, whatever his style is," Arum said of the two-time Cuban Olympic gold medalist. "He's still an amazing talent. We have to get him in with a guy who is aggressive."

Arum also hopes to feature junior welterweight titlist Khabib Allakhverdiev (19-0, 9 KOs), a Russian southpaw -- possibly on the same card with Rigondeaux. Allakhverdiev was scheduled to fight on HBO in March on the Mike Alvarado-Brandon Rios II undercard in Las Vegas, but an injury forced him off the show. He returned in July and made his mandatory defense in Monaco, scoring a lopsided 11th-round knockout of Souleymane M'baye.

If Arum has his way, Allakhverdiev will be headed back to America for his next defense.

"Khabib is a very entertaining and interesting fighter," Arum said. "I'd like to match him with [former lightweight titlist Antonio] DeMarco."

DeMarco lost his 135-pound title to Adrien Broner in November but returned on Aug. 10 to stop Fidel Monterrosa in the fifth round in an entertaining junior welterweight fight.
May, 14, 2013
5/14/13
7:58
PM ET
So much for Top Rank promoter Bob Arum's plans to match newly crowned junior featherweight titlist Victor Terrazas with either Vic Darchinyan on the Aug. 3 Julio Cesar Chavez Jr. undercard in Mexico City, or with former titleholder Nonito Donaire in his fall comeback fight following a loss to Guillermo Rigondeaux in their unification bout last month.

Mexico's Terrazas (37-2-1, 21 KOs), who won a vacant title by outpointing former junior bantamweight champ and countryman Cristian Mijares by split decision on April 20, is going to be tied up with a tough, tough fight beforehand. He likely won't be available on Aug. 3, and there's a good chance he will no longer have his title in the fall.

Terrazas has been ordered to make a mandatory defense against former bantamweight titlist Leo Santa Cruz (24-0-1, 14 KOs), who gave up his 118-pound belt and made the successful move to 122 on May 4 when he blitzed former junior bantamweight titleholder Alexander Munoz for a fifth-round knockout in a one-sided fight on the Floyd Mayweather Jr.-Robert Guerrero undercard.

Although Santa Cruz has made just one fight at junior featherweight, he was given the mandatory position by the WBC as a former titleholder in the weight class below.

"We got the notification that Santa Cruz is the mandatory and the WBC has ordered the fight," Golden Boy promoter Richard Schaefer, who represents Santa Cruz, told ESPN.com.

Schaefer said Golden Boy matchmaker Eric Gomez has reached out to Fernando Beltran, Terrazas' promoter -- and Arum's close associate -- to begin negotiating the fight.

Don't count on the camps making a deal given the bad blood that exists between Golden Boy and Top Rank.

Schaefer said the camps have been given until June 7 to negotiate a deal. If they don't make one by then, there will be a purse bid that day.

"We'll see if we can make a deal with Beltran, but if we don't, fine, we will go to a purse bid," Schaefer said. "If we win the purse bid, we will promote the fight. It's a good fight and we have plenty of spots to put it on. We're happy that Leo Santa Cruz has this opportunity and we are anxious to put on the fight."
December, 14, 2012
12/14/12
6:58
PM ET
HOUSTON -- Junior featherweight titlist Nonito Donaire and former titleholder Jorge Arce went to the oddest of places to weigh in on Friday -- a shopping mall food court filled with fast-food joints.

Neither stopped for a snack and both made weight for their world title fight on Saturday night (HBO, 9:30 ET/PT) at the Toyota Center.

Donaire was a half-pound inside the limit at 121½ for his third title defense. Arce stepped onto the scale at 122½. So the next step was for his handlers to raise a towel to cover him up as Arce dropped his underwear and scaled at the division limit of 122 pounds.

Donaire and Arce are friends and later posed for photos together while good-naturedly pretending to fight. They didn't do it for real. That comes Saturday night.
December, 14, 2012
12/14/12
11:30
AM ET
HOUSTON -- One thing that separates junior featherweight titlist Nonito Donaire from every other fighter in boxing is his hard-line stance on random drug testing.

Donaire, who will defend his 122-pound crown against Jorge Arce on Saturday night (HBO, 9:30 ET/PT) at the Toyota Center, heads into the fight once again allowing the Voluntary Anti-Doping Association to randomly test him.

But unlike other fighters who might make a deal to be tested randomly in the build-up to a particular bout, Donaire is the only fighter in the world enrolled with VADA who allows the organization to test him 24 hours a day, seven days a week, 365 days a year, whether he is in training for a fight or not.

"I just got a result and it was negative," Donaire said. "They emailed me the result [on Tuesday] and it was negative. I don't mind it. I think it's good for the sport and I am going to do it. It's a good idea. I don't think it really affects you."

Donaire said he laughs when he hears some fighters talk about the hardship of having to give blood at a moment's notice.

"I had four small vials of blood taken from me and then I sparred 11 rounds," Donaire said. "They took my blood and then, like, 20 minutes or 30 minutes later I did 11 rounds. They can come at any moment. But I'm a clean guy. I don't drink or do anything [bad]. No weed or any chemical in my body. I have nothing to hide. I would love for all fighters to follow me, but not everybody is like me."

Donaire is the A-side of his fights and could easily insist that his opponents partake in random testing heading into their fights, but he doesn't do that.

"I always invite everyone to do it. It's up to them," Donaire said. "It's voluntary for me. They can decline, I don't really care. We would love to have them do that and it would be great, but I train hard and I don't really care if people are on [performance-enhancing drugs] or not.

"They may be a little bit enhanced, but they're still human and their face will still break. They can still be knocked out. To me, they can do that stuff, but with my way of fighting, I will be able to fight anyone even if they are on drugs."
October, 13, 2012
10/13/12
1:30
PM ET
MANHATTAN BEACH, Calif. -- Here are the purses, according to the California State Athletic Commission, for the four fighters on the Nonito Donaire-Toshiaki Nishioka card Saturday night (HBO, 10 ET/PT) at the Home Depot Center in Carson:
• Unified junior featherweight titlist Donaire: $750,000.
• Former titlist Nishioka: $100,000, although his total compensation will be much greater because of the money he will receive from Japanese television rights.
• Former lightweight titlist Brandon Rios: $500,000.
• Junior welterweight contender Mike Alvarado: $250,000.