Roach has Pacquiao-Provodnikov solution
June, 12, 2014
Jun 12
3:18
PM ET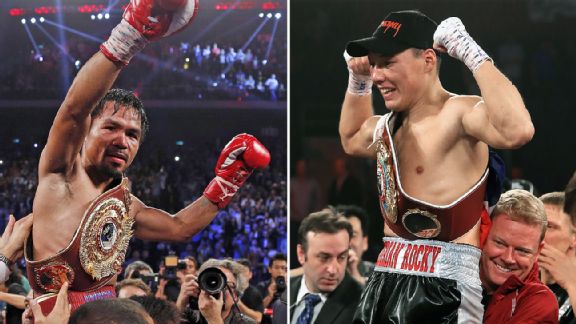 Reuters, Getty ImagesTrainer Freddie Roach will not pick sides should a Manny Pacquiao-Ruslan Provodnikov fight develop.
Welterweight titleholder Manny Pacquiao is due to return Nov. 22, probably in Macau, but he has no opponent at this point.
Of course, the talk is of a fifth fight with rival Juan Manuel Marquez, who became his mandatory challenger with a clear unanimous decision against Mike Alvarado on May 17 in an elimination fight. But what if they can't work out a deal? Who else is there for Pacquiao to fight in an interesting bout that is makeable in the morass of boxing politics?
Step right up, Ruslan Provodnikov.
Provodnikov (23-2, 16 KOs) certainly would need to take care of business in his first junior welterweight title defense against Chris Algieri (19-0, 8 KOs) on Saturday (HBO, 10 p.m. ET/PT) at the Barclays Center in Brooklyn, New York, in order to make the fight possible. But if he does, a fight with Pacquiao (56-5-2, 38 KOs) would certainly be interesting given the intense pressure both fighters are capable of applying.
Provodnikov has fought at welterweight, too, in an epic battle against then-titleholder Timothy Bradley Jr. Although Provodnikov lost a decision, it was the 2013 fight of the year and showed that Provodnikov is more than up to the task of carrying 147 pounds.
As most know, Pacquiao and Provodnikov have been sparring partners and they share Hall of Fame trainer Freddie Roach.
That would make a Pacquiao-Provodnikov pairing a bit dicey, wouldn't it? Well, not if you listen to Roach, who has a solution to the trainer conundrum.
"I have both fighters and I would hate to lose one of them, one of the fighters. But, the thing is, if the demand does come again, we're going to have to let it happen and it'd be a sad day for me," Roach said. "I'd probably sit out and just watch it on TV myself.
"Manny is my No. 1 guy and so forth, but Ruslan's very close to me. And Ruslan has been a very hard worker. But the demand is getting closer and closer, so with the win here [on Saturday] it could happen. And Manny is running out of opponents right now, and that's the way it goes."
Artie Pelullo, Provodnikov's promoter, who would certainly love to make the fight, said Roach wouldn't need to watch on television.
"We'll give him a ticket. Freddie, you got a ticket," Pelullo joked with Roach. "Don't worry about it. See? You got a ringside seat for the fight, Freddie. No problem."