Dan Rafael:

2012 Boxing Hall of Fame
June, 7, 2012
6/07/12
1:06
AM ET
LAS VEGAS -- This weekend is a huge one for trainer Freddie Roach. On Saturday night, of course, he will man Manny Pacquiao's corner when the fighter defends his welterweight title against Timothy Bradley Jr. at the MGM Grand Garden Arena.

But additionally, at 2:30 p.m. ET on Sunday, Roach will be inducted into the International Boxing Hall of Fame on the other side of the country, in Canastota, N.Y., and he has no intention of missing such a great honor.

Those events do, however, make for some tricky logistics. In order to be able to work the fight and also reach the Hall of Fame in time, Roach rented a plane.

Roach is going to give fellow inductee and famed ring announcer Michael Buffer, who is also working the Pacquiao-Bradley fight, a lift.

"This is a once-in-a-lifetime deal," Roach said Wednesday. "So my plane leaves at midnight and it will wait for me until 2 in the morning if I'm late."

The plane will fly to Syracuse, and then Roach and his traveling companions will drive to Canastota, which is about a half-hour away.

"I'll get the award and then I'm flying back [Sunday] night to Vegas, and then Monday I'm going to Texas with [Julio Cesar] Chavez [Jr.]

Roach, who also trains Chavez, will work out with him on Monday before they head to El Paso, Texas, where Chavez will defend his middleweight title next Saturday against Andy Lee at the Sun Bowl.

Despite the hectic schedule, Roach said he is "very excited" about his Hall of Fame induction. In addition to Roach and Buffer, the 2012 class includes Thomas Hearns, Mark "Too Sharp" Johnson, broadcaster Al Bernstein and writer Michael Katz.

Roach said his 11-person jet will be full. Among his guests: his mother, brother Al, girlfriend, longtime assistant Marie, his two agents, Buffer and his guest. Roach said he wasn't sure yet if another brother, Pepper, who is recovering from a stroke, would be able to make it.

Roach said the plane will cost him $26,000 to rent.
"I'm not happy about that," he joked.

Somebody suggested that he make Buffer kick in a few bucks toward the rental.

"We will," Roach said.
December, 6, 2011
12/06/11
5:17
PM ET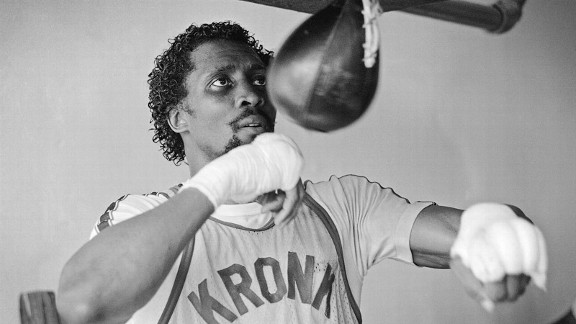 AP Photo/Kathy WillensThomas "Hitman" Hearns won titles in five weight divisions and helped carry boxing in the 1980s.
On Tuesday the 2012 International Boxing Hall of Fame class was announced, with the induction ceremony at the Canastota, N.Y., shrine set for June 10.
As a full member of the Boxing Writers Association of America, I've been voting in the "modern" fighter category (meaning, for eligible boxers whose last fight was no earlier than 1943) for about a decade. I don't vote in the categories for observers, nonparticipants, pioneers and old-timers. They are voted on by the Hall of Fame's board of directors and historians selected by the Hall.
There were 45 names on the ballot for modern fighters this year, and electors could vote for up to 10, with only three to be elected. (If there is a tie, there could be more.)
I voted for five candidates, including the three newcomers to the ballot:
Thomas Hearns
,
Mark "Too Sharp" Johnson
and
Dariusz Michalczewski
. I also voted for a pair of holdovers whom I have been voting for in recent years, former featherweight champion
Naseem Hamed
and former junior flyweight champion
Myung Woo Yuh
.
Detroit's Hearns (61-5-1, 48 KOs) -- known as the "Hitman" and "Motor City Cobra" -- was a no-brainer in his first year on the ballot. He fought from 1977 to 2006. He should have been elected years ago, but he'd go a few years without fighting and then take a fight, which started his eligibility clock over. He was a five-division champion and one of the most popular fighters of his generation, and he had one of the greatest right hands ever. He also was part of the legendary foursome that included
Sugar Ray Leonard
,
Marvelous Marvin Hagler
and
Roberto Duran
, whose round-robin of megafights from welterweight to super middleweight carried boxing in the 1980s. Hearns won titles at welterweight, junior middleweight, middleweight, super middleweight and light heavyweight (twice) and electrified fans with numerous action fights.
I'm not going to recite his résumé, but it's extensive and memorable. Even though Hearns lost arguably the two biggest fights of his career -- a 1981 welterweight unification fight with Leonard, who stopped Hearns in the 14th round in one of the biggest fights in boxing history, and his third-round knockout loss to Hagler challenging for the middleweight championship in 1985 in what some consider the greatest action fight ever -- the HOF shouldn't exist if he isn't in it.
Johnson (44-5, 28 KOs) was perhaps the finest pure boxer of his generation, maybe the best fighter to ever come out of Washington, D.C., and won titles at flyweight and junior bantamweight.
Unfortunately, Johnson, a southpaw with speed and power, never had big paydays or great television exposure because he was in a small weight class and couldn't lure the biggest names of his era in and around his division into the ring, meaning
Johnny Tapia
,
Danny Romero
,
Michael Carbajal
and
Ricardo Lopez
. For the record, I would have picked Johnson over each of them except Lopez. The insiders and hard-core fans know how great Johnson was, which is why he was a pound-for-pound list stalwart during the prime of his career, from 1990 to 2006.
Poland's Michalczewski (48-2, 38 KOs) -- "The Tiger" -- fought most of his career in Germany, won 48 consecutive fights to start his career and claimed titles in two weight classes (light heavyweight and cruiserweight). But he is best known for his historical run at light heavyweight, where he made 23 defenses during his 1994-to-2003 reign, several years of which were spent as the lineal champion. In 1997, he outpointed
Virgil Hill
(a reasonable bet to make the HOF when he becomes eligible) to add two alphabet belts to his one and claim the lineal championship.
Unfortunately, there are two marks against Michalczewski, which is why some won't vote for him. Admittedly, he doesn't have a lot of big names on his record. Besides Hill, his best wins were probably against
Graciano Rocchigiani
and
Montell Griffin
. Also, he was never considered the best fighter at 175 pounds because he was a contemporary of
Roy Jones Jr.
, who was the No. 1 fighter in the division and in all of boxing during Michalczewski's reign. They never fought, and both sides are to blame. It will go down as one of the most significant fights in history that never happened. But I voted for him because he was an outstanding fighter and because being No. 2 for all those years at 175 shouldn't be held against him just because the No. 1 guy was also No. 1 in the whole sport by a mile.
England's Hamed (36-1, 31 KOs) was flashy and rubbed a lot of people the wrong way with his outlandish trash talk and arrogant attitude. Sometimes I think people let that get in the way of the fact that, yes, he could fight, even if his technique was flawed and he relied too much on his massive, one-punch power. He also fought for only 10 years (1992 to 2002) and lost his biggest fight, a clear decision in a showdown with future Hall of Famer
Marco Antonio Barrera
in 2001, after which he fought only once more. I also dock him points for blatantly ducking
Juan Manuel Marquez
. However, a fighter must be judged on whom he did fight, and Hamed fought everyone else. When he was active, he brought excitement like nobody else and should be respected for his many accomplishments.
Not only did Hamed have massive power and a strong résumé, he gets points from me for changing the economics of the smaller divisions. Before Hamed, featherweights -- and even smaller fighters -- making seven-figure purses was almost unheard of. After the Hamed era, it became the norm for the smaller superstars.
Hamed was for years considered the best featherweight in the world, ranked on the pound-for-pound list, and in an era of watered-down titles and four major belts, he should have held all four simultaneously but for boxing's politics, which actively work against that. He defeated alphabet titleholders
Steve Robinson
(TKO8),
Tom Johnson
(TKO8) and
Cesar Soto
(W12) to claim belts. He also beat
Wilfredo Vazquez
(TKO7), who had been stripped of his version of the title for facing Hamed. Other notable names Hamed beat:
Kevin Kelley
(their 1997 fight was one of the most exciting fights of the decade),
Wayne McCullough
,
Paul Ingle
,
Vuyani Bungu
and
Manuel Medina
. Overall, Hamed defended his WBO version of the title 15 times and held the lineal 126-pound championship for three years, all while bringing extraordinary excitement and showmanship to a small weight class that had never before seen the infusion of money it enjoyed during Hamed's heyday.
South Korea's Yuh (38-1, 14 KOs) seems destined to be lost forever among voters, but I will keep checking off his name each year. He fought from 1982 to 1993, twice held versions of the junior flyweight title, went 7-1 against other titleholders and retired at age 29. He made a division-record 17 defenses during his first reign, which lasted six years, before losing to
Hiroki Ioka
via split decision. But Yuh regained the title in the immediate rematch, made one defense and then retired. I previously had voted for Yuh's countryman
Jung-Koo Chang
, who also was a junior flyweight champion and was elected to the HOF in 2010. They arguably are the two best fighters to come out of South Korea. It makes no sense that Chang has been elected but not Yuh. They were contemporaries with incredibly similar résumés. You can't have one in without the other, even if they both deserve points docked for never having fought each other.