December, 26, 2013
12/26/13
12:27
PM ET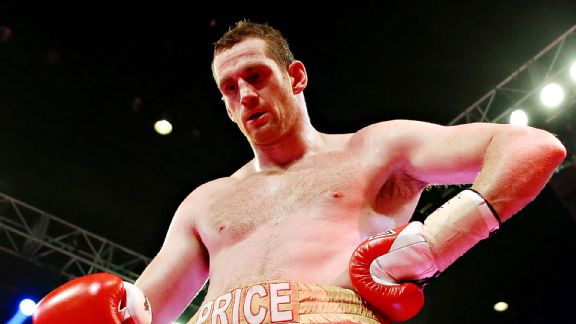 Scott Heavey/Getty ImagesHeavyweight contender David Price hopes a new trainer will help him get out of the slump.
In mid-October, highly regarded British heavyweight prospect David Price, a 2008 Olympic bronze medalist at super heavyweight, announced he had switched trainers, leaving longtime cornerman Franny Smith to work with Adam Booth, who has had success with former titleholder David Haye and super middleweight contender George Groves.
The 30-year-old Price (15-2, 13 KOs), the 2012 ESPN.com prospect of the year, said at the time that he believed Booth would be the right man to help him get back on track after back-to-back shocking knockouts losses to American contender Tony Thompson earlier this year.
Then Price signed with German promoter Sauerland Event and his return was planned for Dec. 14 against Evgeny Orlov. But Price came down with a virus and withdrew from the fight.
Then came word on Thursday that Price had cut ties with Booth and has hired American trainer Tommy Brooks, an experienced trainer who has worked with a number of heavyweights, including Evander Holyfield, Mike Tyson and brothers Wladimir and Vitali Klitschko.
Price made the announcement, adding that Brooks would come to his hometown of Liverpool, England, for training camps.
"I have been waiting for the phone to ring to work with a fighter who can make it to the top," Brooks said. "The heavyweight division is becoming very exciting again with a fresh, young crop of talent coming through, and Britain has some of the best prospects, but David has all the attributes needed to dominate the division."
Their first fight together will be the rescheduled bout with Orlov (14-12-1, 10 KOs), which will take place on Jan. 25 in Stutgart, Germany on the undercard of the rematch between cruiserweight titlist Marco Huck (36-2-1, 25 KOs) and Firat Arslan (33-6-2, 21 KOs).
As for the reason Price split with Booth?
"All was good with Adam but we couldn't reach an agreement on my management situation, so he stepped down," Price said. "I got Tommy over straight away as there's no time to waste, and I liked him and his training methods."
November, 18, 2013
11/18/13
3:04
PM ET
Last month, British heavyweight hopeful David Price, in an effort to reinvigorate his career after back-to-back upset knockout losses to American contender Tony Thompson this year, teamed up with trainer Adam Booth. On Monday, Price made another big change, signing with German promoter Sauerland Event.

"I'm excited to be joining Europe's biggest promoters," said Price, who holds the British and Commonwealth titles. "Kalle and Nisse [Sauerland] are great blokes, and I am looking forward to working with them. This is a fresh start for me. I can't wait to get back into action and with a new team around me. I feel I can pick up where I left off and become a world champion."

Price, a 2008 Olympic bronze medalist and the 2012 ESPN.com prospect of the year, was viewed by many as a future star in a division in need of one. But then came the stunning KO losses to Thompson, in the second round in February and in the fifth round in July.

The losses left Price's career in doubt, but he split from longtime trainer Franny Smith to hook up with Booth and now joins Sauerland Event as Frank Maloney, Price's former promoter, gets set to retire.

There is no return date set yet for Price (15-2, 13 KO), 30, but the Sauerland brothers said that they plan to keep him active in 2014, having Price box on their shows throughout Europe before returning to his hometown of Liverpool -- where both losses to Thompson took place -- next fall.
October, 16, 2013
10/16/13
1:05
PM ET
British heavyweight David Price, a 2008 Olympic bronze medalist, was viewed by many as a future star in a division that is much in need of one. But then came shocking back-to-back knockout losses to American Tony Thompson, in the second round in February and in the fifth round of their July rematch.
[+] Enlarge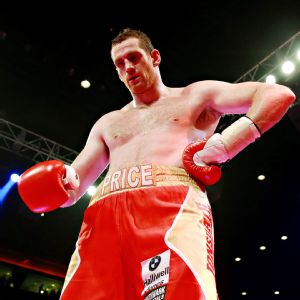 Scott Heavey/Getty ImagesDavid Price has the size and power, but coming off back-to-back defeats, he has made a move in his corner in hopes of addressing his deficiencies.
The defeats left Price's career in tatters, but he plans to fight on and announced a major change this week: He has left longtime trainer Franny Smith and will now be trained by Adam Booth, who also trains former heavyweight titlist David Haye, middleweight contender Andy Lee and, until their recent split, super middleweight contender George Groves.
The 30-year-old Price (15-2, 13 KO), the 2012 ESPN.com prospect of the year and the reigning British and Commonwealth heavyweight champion, hopes Booth can help him rebuild his career.
"It's a fresh start," Price said. "I can leave behind what has happened but know that I've learnt from it. I've got the passion back now and am looking forward to getting in shape and putting a few things right."
Price doesn't have a fight scheduled yet, but after parting ways with Smith, he contacted various trainers to seek advice and to possibly talk about working together. One of his calls was to Booth.
"When I first turned pro, I was signed by [Haye's] Hayemaker [Promotions] and only left because of the television situation at the time," Price said. "Adam pointed me in the right direction after that and advised me to go with Frank Maloney, and I've always valued his opinion. So after a brief chat, I brought up the idea of him possibly training me and we decided to have a meeting. I assumed he wanted to see what kind of frame of mind I was in.
"We did a few sessions together just to see how it would work, and he then agreed to train me. Adam is very selective when it comes to choosing fighters to work with. I've got a good feeling about this move, and believe Adam is the man to bring out my true potential."
Booth said he was enthusiastic about working with Price, who has great size and power, but was unable to stick to his game plan against Thompson and also seemed to lack stamina.
"I've always seen massive potential in David and have always been interested in working with him on a full-time basis," Booth said. "In addition to being a talented fighter, he's also a very nice guy and someone who is good for the gym and good for me. I like his personality and I like what he stands for.
"But he's also much more than a nice guy. He's a big heavyweight, standing at 6-foot-8, and he punches harder than anyone I've ever taken on the pads. David has enough power in his right hand to knock out anybody in the heavyweight division. Now we need to add other things to his game to enable him to land his shots and once again feel comfortable in the ring."
September, 24, 2013
9/24/13
11:37
AM ET
[+] Enlarge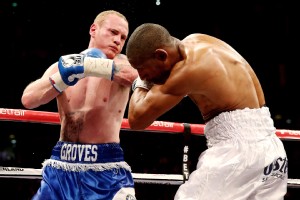 Scott Heavey/Getty ImagesGeorge Groves is changing cornermen two months before what he calls "the biggest fight of my life."
In a surprise move, super middleweight contender George Groves has split from longtime trainer Adam Booth and replaced him with Paddy Fitzpatrick just weeks before Groves is to challenge titleholder Carl Froch in an all-British showdown.
The 25-year-old Groves (19-0, 15 KOs) is scheduled to challenge Froch (31-2, 22 KOs), 36, on Nov. 23 at the Phones 4U Arena in Manchester, England.
It's highly unusual for a fighter to change trainers so close to such a significant fight, Groves' first shot at a world title. But for reasons that weren't disclosed, Groves made the move -- even though Booth, still under contract, remains his manager.
"I am extremely happy to name Paddy Fitzpatrick as my new trainer going into what is the biggest fight of my life," Groves said in a statement on Monday. "Paddy and I have worked closely together in the past and already have a very good relationship, one built over many years. Not only has he worked my corner for important fights, we have also spent a lot of time together when abroad on training camps, where Paddy has overseen a number of significant sessions.
"Although this is a fresh change for me, I'm working with someone I know and respect, and someone who knows my game inside out. We both know how the other works, so it won't take long to hit the ground running."
Fitzpatrick used to serve as one of Booth's assistants, so he is familiar with Groves.
"His experience and knowledge of the game is world-class and he is, without doubt, the perfect trainer to help me prepare for my next fight," Groves said. "He has a great energy, both in the gym and on fight night, and I feel totally comfortable in his presence. I'm looking forward to working with Paddy on a full-time basis and I'm excited to start adding many more tools to my arsenal. By the time Nov. 23 arrives, I'll be better than ever. And more than capable of dethroning Carl Froch."
Fitzpatrick has previously worked with fighters such as Virgil Hill, Michael Grant, Justin Juuko and female stars Lucia Rijker and Laila Ali.
February, 8, 2013
2/08/13
4:52
PM ET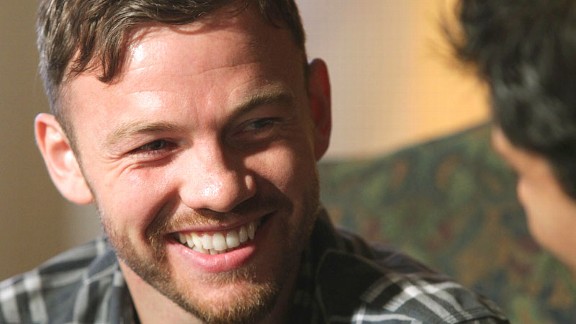 Chris Farina/Top RankAndy Lee is looking for his second straight victory after losing to Julio Cesar Chavez Jr.
A lot has happened to middleweight contender Andy in the past seven months.
First, he was stopped in the seventh round by Julio Cesar Chavez Jr. in a world title bout in June. A few months later, his longtime trainer and dear friend Emanuel Steward, with whom he had lived in Detroit for several years, died. And then Lee, still mourning Steward's death, returned to his home country of Ireland to begin training with Adam Booth in hopes of getting his career back on track.
On Saturday night in Belfast, Northern Ireland, the 28-year-old Lee (28-2, 20 KOs) goes back to work. He will face Anthony Fitzgerald (13-3, 4 KOs) at the Odyssey Arena on the undercard of European junior featherweight champion Kiko Martinez's defense against hot-shot prospect Carl Frampton.
"I'm ready to fight," Lee said. "My training has gone to plan. I'm really enjoying working with Adam. I am learning and improving with every training session. I'm very focused for this fight and expect a good performance."
Booth is best known for his work as trainer to former heavyweight titlist David Haye and super middleweight contender George Groves.
"He's an excellent, world-class trainer," Lee said. "We have worked hard together over the last five months in the gym reappraising my boxing style and making adjustments to my game. He's a very smart and strategic trainer and he has taught me a lot of new things in a short period of time.
"A new location and trainer has reinvigorated me. It is a new beginning and chapter in my life. I can't wait to step into the ring and get back to winning ways. Anthony Fitzgerald is a game and gutsy fighter and he is looking for an upset. However, I'm totally focused on the job at hand, I will be in Belfast to take care of business and leave nothing to chance. I intend to put in a quality performance and showcase my skills with an impressive win come Saturday night."
If Lee wins, potential matchups with other fighters from the United Kingdom that have been discussed include Matthew Macklin, Darren Barker and Martin Murray, although Barker and Murray also have fights scheduled and Macklin is a possible June opponent for titlist Gennady Golovkin.
December, 21, 2012
12/21/12
2:01
PM ET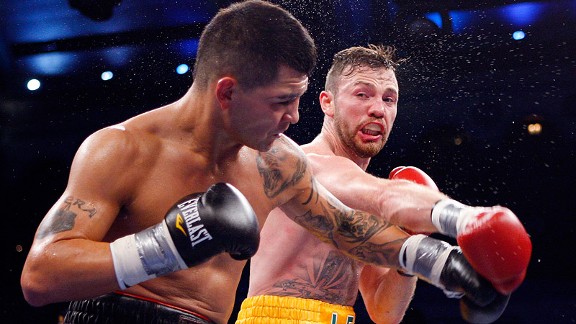 AP Photo/Tim LarsenAndy Lee hopes to bounce back from a trying year in a February return against Anthony Fitzgerald.
It has been a tough year for middleweight contender Andy Lee. In June, he challenged then-titleholder Julio Cesar Chavez Jr. for his world title but was stopped in the seventh round. In October, Emanuel Steward -- Lee's trainer, mentor and dear friend -- died.
Now Lee, who is from Ireland but had relocated to Detroit years ago to live with Steward, is returning home to restart his career.
He will face Ireland's 27-year-old Anthony Fitzgerald (13-3, 4 KOs) on Feb. 9 at Odyssey Arena in Belfast, Northern Ireland, on the undercard of the Kiko Martinez-Carl Frampton European junior featherweight title fight.
The fight will be Lee's first since the loss to Chavez and Steward's death. He is now working with British trainer Adam Booth, best known for training former heavyweight titlist David Haye and super middleweight contender George Groves.
"It is a new start for me over here," said Lee, 28. "I was in America for a long time. I fought for a world title, but it didn't work out. So I felt I needed a fresh start, and for me to come back here and train with Adam has been a fresh start.
"If I had stayed over there, I would have stayed in the same place physically and metaphorically in my career as well. When you fight for world titles and don't succeed, you have to ask yourself why you didn't succeed and you have to evaluate things. I felt like I had gone as far as I could in Detroit, and the only way forward was to change things."
Lee said even before Steward died following a short illness he thought he might have to change things up.
"It was tough losing Emanuel," Lee said. "I trained with Emanuel, lived with him and was very close with him. Before he was sick, I had already made my mind up to maybe try with a new trainer. Unfortunately, he was sick and passed away, and that was a tough loss for me and everybody who was close to him."
Lee (28-2, 20 KOs), a southpaw and 2004 Irish Olympian, hopes to land another title shot quickly under Booth's guidance.
"To get back to world title fights, I have to win fights; it is as simple as that," he said. "We need one or two fights and then maybe fight one of the best lads from the British scene, and that will put me right back in the mix and in touch of a title. I am not a million miles away. Three or four fights and I am back in contention."