Dan Rafael:

Adrein Broner
January, 26, 2015
Jan 26
6:28
PM ET
Golden Boy Promotions and HBO are teaming for a rare Thursday night boxing card.

Golden Boy Promotions president Oscar De La Hoya announced Monday that on March 12 at the Freeman Coliseum in San Antonio, HBO Latino -- HBO's Spanish-language channel -- will air a doubleheader (9:45 p.m. ET/PT) topped by Mexican junior lightweight Francisco Vargas (21-0-1, 15 KOs) taking on Australia's Will Tomlinson (23-1-1, 13 KOs).

In July, Vargas scored his biggest win as he wiped out former two-division titleholder Juan Manuel Lopez in a third-round knockout victory.

"Vargas is one or two fights way from a world title fight," De La Hoya said. "He looked sensational against 'Juanma.' He's right there, knocking on the door of a world title fight and Tomlinson and him should be a very competitive fight."

Vargas, who is managed by De La Hoya's brother, Joel De La Hoya, said he knows how important the bout is to his career.

"I am preparing for the best Tomlinson can give me. This fight is very important for me. A win would only get me closer to a world title fight," he said.

Said Tomlinson: "I am very excited to fight Francisco Vargas. He is a hungry, aggressive fighter. I think I have the speed, strength and movement to not only beat Francisco but also to give the fans one hell of a fight and introduce myself to the Latino fans."

In the co-feature, all-action San Diego junior welterweight Antonio Orozco (21-0, 15 KOs) will take on Emanuel Taylor (18-3, 12 KOs), of Edgewood Arsenal, Maryland.

"I am ready to put up a good fight for the fans. I know Emanuel Taylor is a tough fighter but I am more than ready to showcase my talent," Orozco said. "This is another step closer to becoming a world champion."

Taylor gave former three-division titlist Adrien Broner all he could handle in a decision loss in his last fight in September.

"I will be 100 percent ready and I know it will be a good fight with Orozco," Taylor said.

De La Hoya said that junior welterweight prospect Frankie Gomez (18-0, 13 KOs), the 22-year-old East Los Angeles product and former star amateur, could be added to the card. If he is, he would open the broadcast, which would become a tripleheader.

"We're looking at a couple of guys for Frankie," De La Hoya said. "In a couple of fights Frankie will be ready to take on any of the 140-pounders. We have high hopes for this kid."
September, 18, 2013
9/18/13
3:59
PM ET
Floyd Mayweather Jr. was so easily beating Canelo Alvarez on Saturday night that in about the seventh or eighth round, I actually began to think about whom Mayweather should fight next.
I'm still thinking about it a few days later and there is still no obvious choice that really pumps me up. You know why? Because it doesn't matter who Mayweather fights. He will beat anyone, probably easily, from 140 to 154 pounds. Frankly, there is not one fighter in those weight divisions who I think would even be competitive with the brilliant pound-for-pound king.
Junior welterweight champ Danny Garcia beat Lucas Matthysse in the co-feature of Saturday's card at the MGM Grand in Las Vegas and looks like a good bet to get the fight. It would be an easy fight to make because he is with Golden Boy and also with Al Haymon, the powerful manager and adviser whose No. 1 client is Mayweather.
For Garcia to put on seven pounds to meet Mayweather at welterweight would be no issue.
While Garcia, a heavy underdog against Matthysse, scored the upset and fought exceptionally well, would anyone give him much of a shot against Mayweather? No disrespect to Garcia, a fine fighter (and an exciting one) and a good guy, but he'd be a long shot. A really long shot.
Another opponent many mention as a possible Mayweather foe for May, when he plans to next fight, is the winner of a bout between welterweight titlist Devon Alexander and former junior welterweight titleholder Amir Khan. They are close to a deal for a fight on Dec. 7 at the Barclays Center in Brooklyn, N.Y.
As is the case with Garcia, would anyone give either man a serious chance to beat Mayweather? Alexander is a very good technical boxer, but there is not one category, other than age (26), in which he has an advantage over Mayweather, who's 36.
If Khan were to defeat Alexander (and he'd be the underdog for sure in that one), a fight with Mayweather might be the best bet economically because of the infusion of the British fan base and television money. Golden Boy CEO Richard Schaefer even talked about the possibility of having a potential Mayweather-Khan fight in front of 90,000 at Wembley Stadium.
So Mayweather-Khan would be a bigger event than Mayweather against Garcia or Alexander, but Khan has looked so bad in recent fights that he would be an even longer shot than those guys. I can't see him laying a glove on Mayweather.
All could land the fight with Mayweather -- and they are all with Golden Boy, which makes them relatively easy to make -- but none do anything to set the world on fire.
[+] Enlarge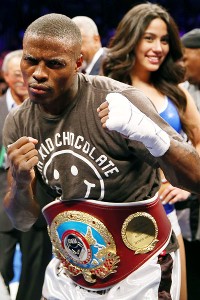 Elsa/Getty ImagesPeter Quillin could be an interesting opponent for the pound-for-pound king.
Fighters such as Manny Pacquiao, Brandon Rios, Timothy Bradley Jr. and Mike Alvarado you might as well cross off the list, because they are all with Top Rank, meaning there is no chance they would get made. We all know that. Other than Pacquiao -- and we've been down this road too many times -- none are all that interesting anyway.
Even Pacquiao, coming off a bad knockout loss to Juan Manuel Marquez (already dominated by Mayweather in 2009) has lost a lot of luster as a Mayweather opponent. Their fight would have set records had they gotten a deal done three years ago, when the world was desperate for the fight.
Eventually, a Mayweather-Adrien Broner fight will be big business if Broner continues to win (and he has a potentially tough fight in December against Marcos Maidana, should that deal be finalized). But it is not ready to be the May fight for Mayweather. Besides, I need to see Broner accomplish more before he deserves a shot at the king.
At junior middleweight, Mayweather has already convincingly defeated Alvarez and Miguel Cotto, and there is not another opponent in that weight class who would be any match for him or create any excitement whatsoever.
Basically, whomever Mayweather fights from 140 to 154 -- it's all the same. It makes no difference.
But if Mayweather wants to get people truly excited for his next fight -- and wants them to pay $75 to watch it on Showtime PPV in HD -- he needs to dare to be greater than he already is.
That means seeking out a quality middleweight whom he could force to come down in weight a bit, even to 155.
I'd love to see Mayweather challenge champion Sergio Martinez, but that isn't going to happen. Martinez is injured and fights on HBO. I wouldn't count on seeing Mayweather call out Gennady Golovkin, boxing's boogeyman, either. He also fights on HBO and might be the only man from 140 to 160 I'd give serious consideration to picking over Mayweather.
But the specter of Mayweather fighting somebody like titleholder Peter Quillin (easy to make, as he is with Golden Boy and Haymon), a quality bigger man with a personality built for selling pay-per-view? Now that is interesting.
February, 23, 2012
2/23/12
12:06
PM ET


We've got "Tebowing" in the NFL and now we have "The Brush" in boxing.

Junior lightweight titleholder Adrien Broner's absurd hair brush antics after fights are hilarious to me. It's the funniest shtick going.

I know some folks hate it and can't wait to see Broner get drilled because of it, but I'll give this to the 22-year-old kid: He knows how to get people talking about him.

If you've never seen what Broner does it's pretty simple, and so annoying to some: After winning a fight, but before he begins his post-fight TV interview, he'll call for his father to brush his hair. Gotta look nice for the cameras right?

It's become Broner's thing and he has done it time and again, with a twinkle in his eye that some people just don't get.

Broner is a showman. He loves to be flashy and stand out. Yes, he loves the attention.

After he destroyed overmatched Vicente Martin Rodriguez in the third round to win a vacant 130-pound belt in November Broner, as usual, called for his hair to be brushed on national television before beginning his HBO interview with Max Kellerman. (I guess he couldn't do it himself because his gloves were still on.)

Broner (22-0, 18 KOs) makes his first title defense against Eloy Perez (23-0-2, 7 KOs) on Saturday night (HBO, 10 ET/PT) in the opening bout of the "Boxing After Dark" season premiere headlined by the welterweight bout between Devon Alexander and Marcos Maidana at the Scottrade Center in Alexander's native St. Louis.

You can count on seeing The Brush if Broner, the favorite, wins.

The Brush is such a divisive boxing issue (that's sarcasm, people!) that it was a major topic of conversation during a recent teleconference that Broner and Perez participated in to promote the fight.

"I feel like everything's got to be neat and everything's got to be right before I put on my performance, so I brush my hair," Broner said, apparently with a straight face. "It's just something that came up. I felt like getting my hair brushed. I feel like I need to be fixed up. So that's why I did it. They loved it, so I'm going to keep doing it for the fans."

Keep in mind that Broner, following in the rich tradition of Cincinnati boxing, is a fabulously talented young man. He does not need The Brush, but it does keep things lighthearted in a tough business.

"Everybody's got their ways of doing things and for me I've got to stay fresh, fly and flashy," Broner said. "So I'm going to make sure I'm fresh, fly and flashy in the ring too. I'll never change. This is how I grew up. No matter if I'm in the ring or on the streets this is going to be Adrien Broner, so you either like it or love it. And if you like it or love it doesn't matter, I'm still going to be Adrien Broner. So this is just me."

Perez is not impressed by The Brush.

"He's the world champ. People look up to him. People look up to the champs and he should be a role model, and you have your dad combing your hair on national television," Perez said. "Respect your dad. He's the one that gave you life. If I asked my dad to ever comb me he'd smack me across the head. But I'm just a respectful kind of guy, you know? I own that. I own my life. But, Adrien Broner, whatever floats his boat, whatever he does to pump him up, more power to him. And it's been working for him. There's nothing much else to say about it."

When Broner was asked if he would stick to The Brush or perhaps change his prop, he was quick with his response just as he is quick with his hands.

"Listen, man, if you were in the ring you might be brushing my hair," he said. "Listen, man, I love it, the fans love it. so that's just me. It's not a gimmick. That's just me. I didn't make this up. I didn't plan it out. This is something I felt like needed to be done, so I just do it to brush my hair."

The Brush lives.