November, 26, 2013
Nov 26
5:10
PM ET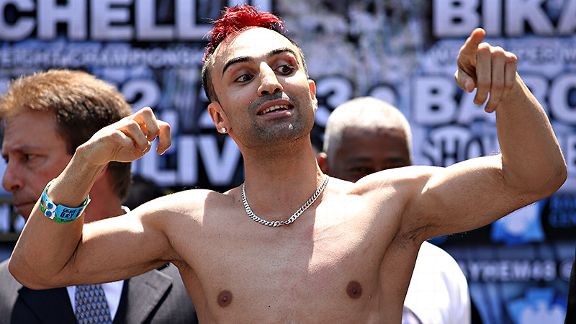 Nick Laham/Getty ImagesPaul Malignaggi could get another title opportunity ... if he defeat Zab Judah on Dec. 7.
Several fighters are training over Thanksgiving for their Showtime fights on Dec. 7 at the Barclays Center in Brooklyn, N.Y., and Dec. 14 at the Alamodome in San Antonio.
But while they won't get stuff themselves with turkey on Thursday, they're still thankful for what they have. Golden Boy's media relations team asked the featured fighters on the two shows what they are thankful for year.
Dec. 7 fighters
Paulie Malignaggi (training in Brooklyn):
"[I am thankful for] My family and my true friends, especially those that have stuck with me from the start."
Zab Judah (training in Las Vegas):
"I am thankful for this time and that I get to be together with my family."
Devon Alexander (training in St. Louis):
"I am very thankful just to be living and in the position I'm in to help a lot of kids and inspire them too. I'm really thankful for so many things in my life, but I can't mention them all because then the list would go on and on."
Shawn Porter (training in Las Vegas):
"I am most thankful for family because they are the most important thing to me."
Erislandy Lara (training in Houston):
"I am most thankful for being in the United State of America and for the freedom I have been given."
Austin Trout (training in Houston):
"First and foremost I am most thankful for God, the Son of Jesus. Also, I am thankful for the love from my family, friends and fans. I have so much that I am grateful for including my health and career that allows me to provide for family."
Sakio Bika (training in St. Louis):
"I am most grateful to have my family. Also, I am thankful that I have my health and a roof over my head because in this world there are a lot of disabled and homeless people."
Anthony Dirrell (training in Del Rey, Fla.):
"I am most thankful for my family and getting this (super middleweight) world championship title opportunity. What I have been through has been amazing with the cancer (Non-Hodgkin lymphoma) and the motorcycle accident. Having the opportunity to recover and fight for the title means a lot to me."
---
Dec. 14 fighters
Adrien Broner (training in Colorado Springs, Colo.):
"I am thankful to God for giving me the ability to take care of family, friends and children."
Marcos Maidana (training in Oxnard, Calif.):
"I'm thankful for this opportunity that Golden Boy Promotions is giving me. I'm really excited about this fight because of the many more opportunities that will come my way if I win. I'm also grateful to the fans, all the Mexican fans that are showing me their support."
Keith Thurman (training in Clearwater, Fla.):
"I am most thankful for my career in boxing. Boxing is the only job that I have ever had and the only job I have ever wanted and I am truly grateful for that."
Jesus Soto Karass (training in Los Angeles):
"I am most thankful for my life and my family. I am grateful to have the love of my wife, kids, parents and siblings. I have the best in life with them. I am also grateful for my health."
Leo Santa Cruz (training in Los Angeles):
"I am most thankful for my family, especially my brother. He still suffers from his illness [lupus], but he is doing much better."
Cesar Seda (training in Salinas, Puerto Rico):
"I am thankful to God for my health and all of the good things in life that have happened to me and my beautiful family. I know that this Thanksgiving I won't be able to be with my wife, kids, mother or my grandparents and the rest of my family, but they understand the sacrifice that I am making for their good. This Thanksgiving I pray that God blesses the whole world and that he brings a lot of peace. I am so grateful for the new opportunity he gave me to fight for a world title again."
Beibut Shumenov (training in Las Vegas):
"As the Thanksgiving holiday approaches, I am most thankful for my family. My father and mother raised me to be the person I am today and the continuous love and support from my brother, Chingis."
Tamas Kovacs (training in Budapest, Hungary):
"I am very thankful for my family and feel very grateful every day to see my kids and my wife. When I am preparing for a fight my family is always on my mind and in my heart. In my career I am very grateful for the opportunity that I can fight for the WBA title."