March, 3, 2014
Mar 3
5:16
PM ET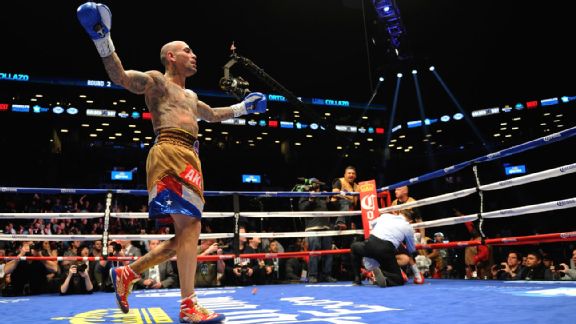 Maddie Meyer/Getty ImagesSigning with powerful adviser Al Haymon will open many doors for welterweight Luis Collazo.
Add one more guy to the list of fighters who undoubtedly will say at his next news conference or after his next victory, "I'd like to thank Al Haymon."
Former welterweight titlist Luis Collazo became the latest fighter to sign with Haymon, the most powerful adviser in boxing, whose vast stable includes many of the best fighters in the world, including Floyd Mayweather Jr., Marcos Maidana, Danny Garcia, Adrien Broner, Keith Thurman, Shawn Porter, Peter Quillin, Deontay Wilder, Devon Alexander, Lucas Matthysse and many others.
Collazo, 32, of Brooklyn, N.Y., is coming off a second-round knockout of Victor Ortiz, another Haymon client, on Jan. 30.
"I'm excited to be joining Team Haymon," Collazo said. "I'm looking forward to the doors this opportunity is going to open for me. I can't wait to get this partnership going."
Collazo (35-5 18 KOs), who held a welterweight world title from 2005 to 2006, has won four in a row and put himself in position for a major fight in a deep 147-pound weight class.
"I'm looking forward to a big year ahead and signing with Team Haymon is just one of the first steps," Collazo said. "He works with a lot of guys in my division and with this new step in the right direction, I'm sure I will be fighting some of them in the near future."
Collazo, like everyone else, would love a piece of Mayweather and the big payday that goes with it. Collazo called out Mayweather after knocking out Ortiz, who had previously been knocked out by Mayweather.
"God willing I'll get the chance to be in the ring against Mayweather and prove what I've always thought, that I'm the best in the world," Collazo said.
Haymon, as always, had no comment.
February, 19, 2014
Feb 19
6:37
AM ET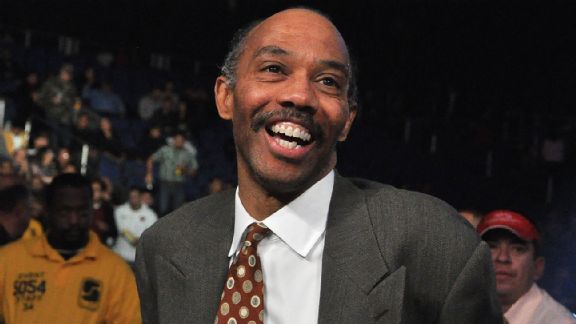 Ramon Cairo for ESPNPowerful adviser Al Haymon works behind the scenes with some of the best fighters in boxing.
Light heavyweight champion Adonis Stevenson surprised many on Tuesday when he signed with powerful adviser Al Haymon.
Stevenson signed the papers in California with Sam Watson, Haymon's right-hand man. Watson said he has known Stevenson for a while and that Stevenson has wanted to sign with Haymon because the boxer has seen what Haymon has been able to do for his numerous clients.
"This is a big signing for me," Stevenson told ESPN.com. "I've known Sam a long time and wanted to be with Al. It will be better for me and my career and give me better opportunities."
Said Watson, "It's big fights for Adonis."
What is unclear is whether the signing will have an impact on the game plan already in motion for Stevenson, or if it just means that Haymon will work to get Stevenson a better deal for the fights that are in the works.
Stevenson (23-1, 20 KOs) is supposed to be back in action for his third title defense on May 24, when he is planning to headline an HBO card in his hometown of Montreal against Chicago-based Poland native Andrzej Fonfara (25-2, 15 KOs). However, that fight is not signed yet. A Stevenson victory would supposedly lead to a fall unification showdown with titleholder Sergey Kovalev, who fights his interim bout against Cedric Agnew on March 29 in Atlantic City, N.J., in the main event of his own card. That fight is not signed either, and Haymon may have other ideas for Stevenson.
Haymon, of course, is essentially a recluse and does not speak to the media, so don't expect to hear from him on the matter.
However, it is common knowledge that HBO -- which has made Stevenson-Kovalev one of its 2014 priorities -- and Haymon are on the outs following the defection last year of Haymon's No. 1 client, Floyd Mayweather Jr., to Showtime.
Additionally, Haymon represents numerous Golden Boy fighters, including Marcos Maidana, Adrien Broner, Danny Garcia, Lucas Matthysse, Beibut Shumenov, Devon Alexander, Deontay Wilder, Peter Quillin, Shawn Porter and Keith Thurman. After Mayweather left HBO, the network banned Golden Boy fighters and those boxers wound up on Showtime, even though HBO had poured considerable resources into many of them.
HBO did make one exception for a Haymon fighter -- when Edwin Rodriguez (who is promoted by Lou DiBella, not Golden Boy) fought super middleweight champ Andre Ward in November. However, the deal for that fight was way down the road to being completed before Rodriguez signed with Haymon. Perhaps it will be the same thing with regard to Stevenson and the fights against Fonfara and Kovalev that are being lined up for him by promoter Yvon Michel.
Watson said Haymon and Michel spoke on Tuesday about the signing and had a "good conversation."
Michel told ESPN.com that he expected to still go forward planning the fights with Fonfara and Kovalev.
"Adonis' goals have not changed," Michel said. "He wants three fights [in 2014], wants to unify the titles, be considered in the top five pound for pound before the end of the year and keep winning by spectacular knockout. I can also add making a lot of money. We are still moving forward in our negotiations. Al Haymon is certainly a great asset for Adonis and for us and his presence can only be positive."
Said Stevenson, "We haven't made any fights yet but whatever my promoter and Al say I should do, that's the way I'm going to go. I'll fight anybody. Al has a plan that will be good for me. I'm ready for anything. My job is to knock everybody out."
Watson said that Haymon has also signed John Molina (27-3, 22 KOs), the former lightweight title challenger who fought at junior welterweight in his last fight in November. Watson said Molina plans to continue to fight at 140 pounds.
September, 18, 2013
9/18/13
3:59
PM ET
Floyd Mayweather Jr. was so easily beating Canelo Alvarez on Saturday night that in about the seventh or eighth round, I actually began to think about whom Mayweather should fight next.
I'm still thinking about it a few days later and there is still no obvious choice that really pumps me up. You know why? Because it doesn't matter who Mayweather fights. He will beat anyone, probably easily, from 140 to 154 pounds. Frankly, there is not one fighter in those weight divisions who I think would even be competitive with the brilliant pound-for-pound king.
Junior welterweight champ Danny Garcia beat Lucas Matthysse in the co-feature of Saturday's card at the MGM Grand in Las Vegas and looks like a good bet to get the fight. It would be an easy fight to make because he is with Golden Boy and also with Al Haymon, the powerful manager and adviser whose No. 1 client is Mayweather.
For Garcia to put on seven pounds to meet Mayweather at welterweight would be no issue.
While Garcia, a heavy underdog against Matthysse, scored the upset and fought exceptionally well, would anyone give him much of a shot against Mayweather? No disrespect to Garcia, a fine fighter (and an exciting one) and a good guy, but he'd be a long shot. A really long shot.
Another opponent many mention as a possible Mayweather foe for May, when he plans to next fight, is the winner of a bout between welterweight titlist Devon Alexander and former junior welterweight titleholder Amir Khan. They are close to a deal for a fight on Dec. 7 at the Barclays Center in Brooklyn, N.Y.
As is the case with Garcia, would anyone give either man a serious chance to beat Mayweather? Alexander is a very good technical boxer, but there is not one category, other than age (26), in which he has an advantage over Mayweather, who's 36.
If Khan were to defeat Alexander (and he'd be the underdog for sure in that one), a fight with Mayweather might be the best bet economically because of the infusion of the British fan base and television money. Golden Boy CEO Richard Schaefer even talked about the possibility of having a potential Mayweather-Khan fight in front of 90,000 at Wembley Stadium.
So Mayweather-Khan would be a bigger event than Mayweather against Garcia or Alexander, but Khan has looked so bad in recent fights that he would be an even longer shot than those guys. I can't see him laying a glove on Mayweather.
All could land the fight with Mayweather -- and they are all with Golden Boy, which makes them relatively easy to make -- but none do anything to set the world on fire.
[+] Enlarge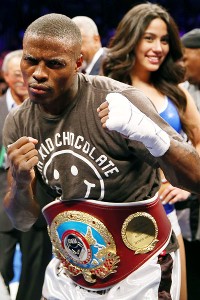 Elsa/Getty ImagesPeter Quillin could be an interesting opponent for the pound-for-pound king.
Fighters such as Manny Pacquiao, Brandon Rios, Timothy Bradley Jr. and Mike Alvarado you might as well cross off the list, because they are all with Top Rank, meaning there is no chance they would get made. We all know that. Other than Pacquiao -- and we've been down this road too many times -- none are all that interesting anyway.
Even Pacquiao, coming off a bad knockout loss to Juan Manuel Marquez (already dominated by Mayweather in 2009) has lost a lot of luster as a Mayweather opponent. Their fight would have set records had they gotten a deal done three years ago, when the world was desperate for the fight.
Eventually, a Mayweather-Adrien Broner fight will be big business if Broner continues to win (and he has a potentially tough fight in December against Marcos Maidana, should that deal be finalized). But it is not ready to be the May fight for Mayweather. Besides, I need to see Broner accomplish more before he deserves a shot at the king.
At junior middleweight, Mayweather has already convincingly defeated Alvarez and Miguel Cotto, and there is not another opponent in that weight class who would be any match for him or create any excitement whatsoever.
Basically, whomever Mayweather fights from 140 to 154 -- it's all the same. It makes no difference.
But if Mayweather wants to get people truly excited for his next fight -- and wants them to pay $75 to watch it on Showtime PPV in HD -- he needs to dare to be greater than he already is.
That means seeking out a quality middleweight whom he could force to come down in weight a bit, even to 155.
I'd love to see Mayweather challenge champion Sergio Martinez, but that isn't going to happen. Martinez is injured and fights on HBO. I wouldn't count on seeing Mayweather call out Gennady Golovkin, boxing's boogeyman, either. He also fights on HBO and might be the only man from 140 to 160 I'd give serious consideration to picking over Mayweather.
But the specter of Mayweather fighting somebody like titleholder Peter Quillin (easy to make, as he is with Golden Boy and Haymon), a quality bigger man with a personality built for selling pay-per-view? Now that is interesting.
August, 30, 2013
8/30/13
5:11
PM ET

With training camp winding down ahead of his Sept. 14 megafight against fellow junior middleweight titleholder Canelo Alvarez at the MGM Grand in Las Vegas, Floyd Mayweather Jr. opened his gym for media day this week.

Mayweather hit the mitts, heavy bag and speed bag, jumped rope, stretched, did calisthenics and, of course, did a ton of interviews.

Mayweather fought in May, easily outpointing Robert Guerrero, and is returning very quickly -- at least by his usual standards. Without a long layoff, Mayweather figures to be in better form than usual, a scary prospect.

"I think I'll be a lot sharper for this fight," Mayweather said. "My training camp has been great. Actually, this is one of my best training camps I've had, probably since 2005. On my first day back, I got right back into sparring. I think I sparred seven rounds.

"I've been boxing a lot of rounds, so I'm sharp. I'm in great condition and happy to get right back in there. I feel tremendous."

The fight, although to be contested for the 154-pound titles that Mayweather and Alvarez hold, is at a catchweight of 152 pounds, which is more of a concession by Alvarez to the smaller Mayweather, who has no issues making weight.

"My weight is made," Mayweather said. "I came into training camp weighing 150 or 149 and I came into the gym [for Thursday's media day] probably weighing 150 or 149. "Canelo is a solid competitor, but it is what it is: I've faced the best in this sport, I know what it takes to be involved in a fight of this magnitude and I'm dedicated to my craft. I was born for this."

Mayweather also talked up the match that so many fight fans are anxious to see.

"This is a great matchup. He's a puncher. I'm a sharp boxer," he said. "You know, a lot of times I hit these guys and I make them go into survival mode. Even in the Robert Guerrero fight, I was looking for the knockout, but I hurt my hand. So I wasn't impressed with myself, because I didn't get the knockout. This time around, I'll be looking for the knockout.

"He's banking on his youth, I'm banking on my experience. I have a lot of experience in championship fights. Look at his résumé, look at my résumé and see what you come up with."

Mayweather has faced numerous titleholders, former titleholders or future titleholders and many fighters who will someday be in the Hall of Fame. Alvarez's experience level isn't even close, but Mayweather said he believes Alvarez is one of the best active fighters.

"He is one of the best in boxing at this particular time. He's young and strong," Mayweather said. "He's got guts, so we'll see how the fight plays out.

"It's not about the weight, it's about the skills. The skills pay the bills. I can't wait to get in there and compete and test my skills against this young guy. I feel good. I'm still hungry."

One of the many topics Mayweather addressed was the prediction from Alvarez and Golden Boy promoter (and former Mayweather victim) that Canelo would win by knockout.

"Did Canelo KO [April opponent] Austin Trout? This is a whole different ballgame," Mayweather said. "He may be predicting a knockout, but all you have to do is look at the opponents he's faced. I really don't know too many, but a lot of the guys went the distance with him. And we're not just talking about A-fighters, but D- and C-fighters. Guys that he should have knocked out in the fourth round, they were able to go into the eighth and ninth rounds even though they were caught with numerous shots. I don't think Ricky Hatton's brother [Matthew] is on the level of a Floyd Mayweather."

As for De La Hoya making the KO prediction?

"Oscar said he was gonna knock me out also," Mayweather said. "Did you see what happened in that fight? People are entitled to their opinion. People are going to say what they're going to say. My job is to be the best I can be and continue to do my job. There's a reason I do record-breaking numbers."
June, 11, 2013
6/11/13
4:26
PM ET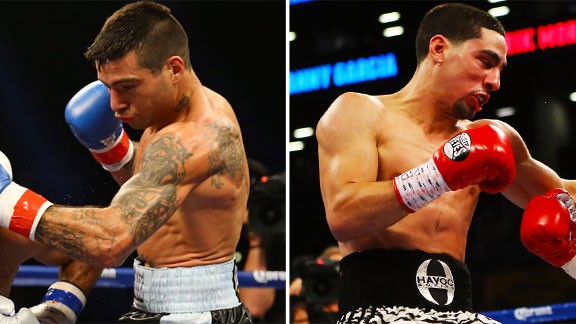 Getty ImagesLucas Matthysse and Danny Garcia have a new date for their promotional tour in the U.S.
Golden Boy chief executive Richard Schaefer is awfully busy juggling a bunch of fights that are coming up, including the big one, Floyd Mayweather-Canelo Alvarez on Sept. 14. But there are a lot of other fights to get done also, undercards to load up and Showtime dates to fill.
Schaefer, who has been in Mexico on business, told ESPN.com that he and Al Haymon, Mayweather's adviser and manager to many of Golden Boy's fighters, plan to sit down in the coming days when they are both back in Los Angeles to go over a host of issues. Among them: ironing out the Mayweather-Alvarez Showtime PPV undercard and trying to finalize a Sept. 7 fight between Danny Garcia and Lucas Matthysse (both Haymon clients) for junior welterweight supremacy.
Here's an update from Schaefer on a variety of things he's working on:
• Schaefer said his main focus is getting Garcia-Matthysse done.
"That's what I'm working on this week," he said. "I'd like to have the August and September schedules all done by the end of the week. I need to sit down with Al though and figure everything out."
Schaefer said while some have been skeptical that Haymon would go through with Garcia-Matthysse, he is not.
"Al realizes that having all these fighters means they will sometimes have to fight each other," Schaefer said. "Danny Garcia has never turned down anybody. And Matthysse? This is the fight he's been waiting for. The fighters want it and the adviser is on board. I just have to finalize the money and the site. But I think we will get this done."
• Former welterweight titlist Victor Ortiz, healed from his broken jaw after a knockout loss to Josesito Lopez last June, is expected back in action either late this summer or in the fall. Schaefer said one fight he is considering trying to make is Ortiz against Shane Mosley, who is coming off a desperately needed win against Pablo Cesar Cano on May 18 after exiting retirement.
This is not a fight I am a fan of, especially considering all of the top guys Schaefer could match Ortiz with. For example, I love the idea of an Ortiz fight against Robert Guerrero, a fight Guerrero also wants. Ortiz (two losses in a row) and Guerrero are both coming off defeats, but it would definitely be a fan-friendly fight with the winner putting himself back on track.
With regard to an Ortiz-Mosley fight, Schaefer said, "I would like to see it. Both guys have a lot to prove if they want to fight for a title again. I ask people, 'Who do you think wins?' And the response is split. That makes it an interesting fight to me."
• Golden Boy recently won the purse bid for the mandatory fight between junior featherweight titlist Victor Terrazas and Leo Santa Cruz and needs to schedule the bout. Schaefer said it could wind up on the Mayweather-Alvarez pay-per-view. But so, too, could featherweight titlist Abner Mares' next fight.
"It could be Mares against [former titlist] Jhonny Gonzalez," Schaefer said. "Gonzalez would love to fight for the title and you know how Abner is. He's never worried about fighting anybody."
There is also the possibility, Schaefer said, of Mares and Santa Cruz not appearing on the PPV undercard and instead having their next fights in Mexico, possibly on the same card. It is also possible that one will be on the PPV and one will fight in Mexico.
• With Marcos Maidana defeating Josesito Lopez last Saturday in a barnburner, Schaefer said Maidana is in line for two potential fights. One would be a match with Andre Berto should Berto defeat Jesus Soto Karass on July 27 in San Antonio in the main event of a Showtime tripleheader. The other could be a shot at the winner of the June 22 fight between welterweight titlist Paulie Malignaggi and Adrien Broner. Maidana could shadowbox and I'll be watching, so either fight sounds good to me, but I love Maidana-Berto. Can you say fight of the year?
"Maidana-Berto, Maidana with the Paulie-Broner winner, both are great fights," Schaefer said. "We have so many guys at 140 and 147 you can mix and match any of these guys. It's insane."
• Schaefer said in addition to the Sept. 7 and Sept. 14 cards, he will also have a major card on either Aug. 24 or Aug. 31.
February, 5, 2013
2/05/13
12:22
PM ET
Power punching prospect Keith Thurman, the Al Haymon-managed HBO darling, is one win away from fighting for a world title despite an awfully thin resume.

Thurman, who makes exciting fights but has been matched very, very cautiously by Haymon and Golden Boy Promotions, will be back in action March 9 in the HBO co-feature of the Tavoris Cloud-Bernard Hopkins light heavyweight title fight at the Barclays Center in Brooklyn, N.Y., in a welterweight title eliminator against former titleholder Jan Zaveck.

The contracts for the bout are being finalized.

Thurman (19-0, 18 KOs), 24, of Clearwater, Fla., who did not fight at all in 2011, was still fighting eight-round bouts in early 2012 until a pair of scheduled 10-rounders on HBO, a gimme mismatch against Orlando Lora (TKO6) and another relatively soft touch in faded former welterweight titlist Carlos Quintana (TKO4) at 152 pounds.

Next up will be Slovenia's Zaveck (32-2, 18 KOs), 36, who won a belt in 2009 and made three defenses against soft opposition before coming to America and losing the strap by fifth-round knockout (because of a badly busted up right eye) to Andre Berto in an HBO fight in November 2011. Zaveck returned to decision Bethuel Ushona (who?) last March but has been out of action since because of an elbow injury.

The winner of Thurman-Zaveck will be in position as the mandatory challenger for the title held by Timothy Bradley Jr.
January, 19, 2013
1/19/13
10:21
PM ET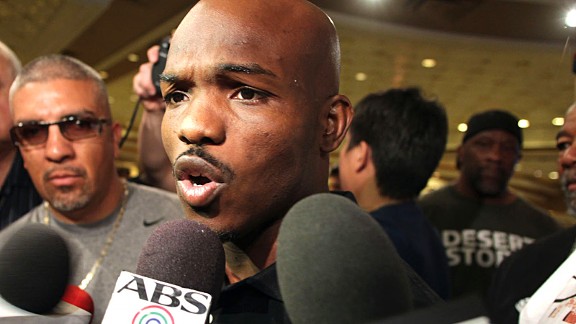 Chris Farina/Top RankTimothy Bradley Jr. could face Yuriorkis Gamboa ... or Floyd Mayweather Jr. in his next fight.
NEW YORK -- Welterweight titlist Timothy Bradley Jr. is supposed to be back in action March 16 and Top Rank promoter Bob Arum has been saying it's going to be a big-name opponent, but he won't say who.
But from what I am told, Top Rank has a deal with Yuriorkis Gamboa to face Bradley in an HBO main event at the Home Depot Center in Carson, Calif.
Gamboa, the 50 Cent-promoted former featherweight titlist, won an interim junior lightweight belt in December on the Manny Pacquiao-Juan Manuel Marquez IV undercard in a deal made with Top Rank (Gamboa's former promoter).
Gamboa would move up in weight to challenge for Bradley's welterweight title, but there are issues of how high. My sources tell me that they have been unable to agree on an exact weight. Gamboa, at a huge size disadvantage, would like Bradley to come into the low 140s while Bradley (not far removed from being a champion at 140) is not keen on dropping weight, nor is he in love with the financial terms.
It remains to be seen if Bradley will take the fight. He hasn't fought since June, when he got a gift decision (and a welterweight title) against Pacquiao.
He could have returned in December to fight a rematch with Lamont Peterson (the junior welterweight titlist who would have moved up in weight) on HBO for $2.3 million. But Bradley turned it down, even though he had decisively beaten Peterson a couple of years ago.
One of the reasons there could be issues closing a deal with Bradley -- and this is speculation, but some in the business believe could be legit -- is that he is also being considered as an opponent for Floyd Mayweather Jr. on May 4.
Obviously, he would make way more money against Mayweather than Gamboa. And he wouldn't have to lose any weight.
Some might ask how could a Mayweather fight be made, since Mayweather is with Al Haymon and Golden Boy is the main promoter of the event, and Haymon and Golden Boy have horrific relations with Top Rank, Bradley's promoter.
I believe that if a Mayweather fight was presented to Bradley, that Top Rank, for the right seven-figure cut of the Bradley package, would allow him to go fight Mayweather and stay out of the promotion.
I can see it happening. If you're Mayweather, Bradley is a better style fight for him than either of the two candidates being discussed for his next fight: Robert Guerrero (a physical southpaw) and Saul "Canelo" Alvarez (a bigger man with good power). Bradley is right-handed, smaller and presents less problems than they do.
Maybe I'm being a conspiracy theorist here, but maybe, just maybe, the hang up in announcing Mayweather's next opponent is because there are delicate talks going on behind the scenes for a possible fight with Bradley, whose attorney Gabriel Penagaricano, has a good relationship with Golden Boy through his recent dealings with the company on behalf of his top client, Miguel Cotto (Mayweather's last opponent).
If Bradley vacates the March 16 date -- be it to fight Mayweather or because he won't agree to terms for a Gamboa fight -- it would not surprise me to see Top Rank and HBO move junior featherweight titlist Nonito Donaire up a month (possibly to fight a unification bout with Guillermo Rigondeaux) and have him fill the date rather than go in April, which is the plan now.
All food for thought.
December, 28, 2012
12/28/12
10:25
AM ET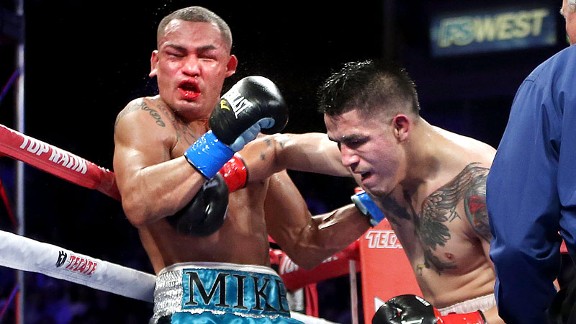 Chris Farina/Top RankMike Alvarado and Brandon Rios went toe-to-toe in an all-action fight last October.
Over the course of two meetings, one on Dec. 1 in New York on the day the Austin Trout-Miguel Cotto fight and one on Dec. 8 in Las Vegas on the day of the Juan Manuel Marquez-Manny Pacquiao IV, members of the Boxing Writers Association of America met to finalize the ballot for the organization's annual awards.
Over the next week or so, members will begin to receive their ballots, which are due back by Jan. 19. The winners will be honored at the annual BWAA awards dinner (public can purchase tickets). The date and location is not set, but it likely will take place around a major fight in the spring.
Here's a look at who is on the ballot in each category:
•
Fighter of the year:
Nonito Donaire, Danny Garcia, Robert Guerrero, Juan Manuel Marquez and Brian Viloria.
•
Fight of the year:
Brandon Rios-Mike Alvarado, Roman Gonzalez-Juan Francisco Estrada, Guerrero-Andre Berto, Orlando Salido-Juan Manuel Lopez II, Viloria-Hernan Marquez and Marquez-Manny Pacquiao IV.
•
Trainer of the year:
Nacho Beristain, Eric Brown, Robert Garcia, Ruben Guerrero, Virgil Hunter.
•
Manager of the year:
Luis DeCubas Jr., Cameron Dunkin, Frank Espinoza, Gary Gittelsohn, Al Haymon.
•
Long and meritorious service to boxing:
Bob Canobbio (CompuBox), promoter Lou DiBella, promoter Kathy Duva, referee Steve Smoger, Top Rank matchmaker Bruce Trampler.
•
Excellent in broadcast journalism:
Bruce Beck (my broadcast partner at Epix), Max Kellerman (HBO), Tony Paige (WFAN radio), Bob Papa (HBO), Travis Pomposello (Epix executive producer), Dan Rafael (ESPN and Epix -- and honored to be nominated). Nominees in this category can only win once and it's open to broadcasters, TV executives and production people.
•
Good guy:
Don Chargin (Hall of Fame promoter), Steve Farhood (Showtime), Norm Frauenheim (writer), Scott Ghertner (MGM and Mandalay Bay media relations), Wladimir Klitschko (heavyweight champ).
•
Courage in overcoming adversity:
Alfredo Angulo, Johnathon Banks, Danny Jacobs, Peter Quillin, Paul Williams.
July, 5, 2012
7/05/12
12:18
PM ET
As a late substitute, Josesito Lopez moved up to welterweight, busted Victor Ortiz's jaw in two places and forced him to retire on his stool after the ninth round for a major upset win June 23 in a breakout performance.

Junior middleweight contender Erislandy Lara, who disposed of Freddy Hernandez for a lopsided decision win on June 30, is one of the most avoided fighters in boxing.

But you can count on seeing Lopez and Lara get more notable fights now, for one very obvious reason: They have joined the impressive stable of powerbroker adviser Al Haymon, who has unparalleled influence with the promoters he works with -- primarily Golden Boy -- and with HBO and Showtime, where executives go out of their way to make him happy.

Lopez and Lara signed with Haymon after their recent wins and join a stable that includes crown jewel Floyd Mayweather Jr. -- the key reason for so much of Haymon's juice -- in addition to such notable fighters as Cristobal Arreola, Devon Alexander, Adrien Broner, Andre Berto, Danny Garcia, Austin Trout, Seth Mitchell, Gary Russell Jr., Antonio Tarver, Sakio Bika and "Kid Chocolate" Peter Quillin, not to mention a host of other lesser-known young fighters on the rise.

Those youngsters include Keith Thurman and Omar Figueroa, who aren't even close to being ready for prime time, but because of Haymon's influence, HBO has handed them prime slots on the July 21 Broner-Vicente Escobedo televised undercard, much to the shock (and displeasure) of many in the industry.

If Haymon can get Thurman and Figueroa -- barely eight-round fighters -- on HBO, imagine what he'll be able to do for Lopez and Lara?

Henry Ramirez trains Arreola and also trains and manages Lopez. He has seen up close what Haymon has done for Arreola. He figured Haymon could do the same thing for Lopez.

"Along with our promoters, Dan Goossen and Thompson Boxing, Al was instrumental in making the Ortiz fight happen," Ramirez said. "His guy [Berto] got pulled out of the fight [for a failed steroid test], and he was instrumental. It's a positive for Josesito moving forward.

"Our thing was to sign with Al to maximize every possible opportunity off of this win. Bringing Al aboard, I think, will benefit us. He can get things done that others can't. I have a relationship with him for over eight years because of Cris, so to me, this was a no-brainer. We're glad he was interested.

"With Al having leverage with the networks, he can get more money than other people can -- someway, somehow. So this is all good. Josesito was very excited to sign with Al. We'll see what's out there next and try to maximize his earning power."

Ramirez said Haymon reached out to him to talk about Lopez the day after his victory against Ortiz.
It was a similar situation with the Golden Boy-promoted Lara, whose manager, Luis DeCubas Jr., has seen what Haymon can do and made the same move after Haymon approached them following the win against Hernandez.

"Any time you can bring in one of the smartest men in any business, you do it," DeCubas said. "My job is to do what's best for my fighter and make him the most money, and in this situation it's bringing in Al Haymon. I think Lara has a very bright future, and the addition of Al Haymon is priceless. We look forward to Al getting Lara the big opportunities he deserves. I couldn't be happier with the scenario we're in."
April, 11, 2012
4/11/12
10:21
AM ET
Powerful adviser Al Haymon has added yet another top fighter to his growing stable. Just a couple of weeks after signing junior middleweight titlist Austin Trout, Haymon has signed welterweight contender Devon Alexander, a former unified junior welterweight titlist and St. Louis attraction.

"Team Alexander and Al Haymon is official," Kevin Cunningham, Alexander's trainer and manager, told ESPN.com by email late Tuesday night. When I saw Cunningham in Houston late last month, while I was there covering the Danny Garcia-Erik Morales fight, Cunningham mentioned he and Haymon were in talks.

Like many of Haymon's top clients, Alexander is represented by Golden Boy Promotions.

Alexander (23-1, 13 KOs) left behind the 140-pound division to move up to 147 pounds and made an impressive debut on Feb. 25, easily outpointing big puncher Marcos Maidana, a junior welterweight titleholder who was also testing out welterweight (but is now headed back to 140).

Alexander has been a staple on HBO and has an Aug. 18 Showtime date on deck, so it remains to be seen what Haymon can do for him. However, Haymon's influence at the premium cable networks is unparalleled.

Haymon, who refuses media interview requests, is the man behind the scenes for Floyd Mayweather Jr., which is where he gets so much of his leverage. But he also works with fighters such as Andre Berto, Adrien Broner, Jermain Taylor, Cristobal Arreola, Paul Williams, Gary Russell Jr., Antonio Tarver and Garcia, among others.