Dan Rafael:

Alejandro Lopez
July, 5, 2013
7/05/13
1:25
PM ET
Junior featherweight titlist Jonathan Romero (23-0, 12 KOs) of Colombia, who outpointed Alejandro Lopez in February to win a 122-pound belt that Nonito Donaire vacated, will make his first defense Aug. 17 (HBO) at the Revel Casino Hotel in Atlantic City, N.J. The opponent isn't set, but the leading candidate is Spain's Kiko Martinez (28-4, 20 KOs), a former European champion who is promoted by middleweight champion Sergio Martinez.

Whomever Romero faces, the fight will be the co-feature on the card headlined by middleweight titlist Daniel Geale (29-1, 15 KOs) of Australia, who will be making his American debut in a defense against England's Darren Barker (25-1, 16 KOs), whose only loss came by 11th-round knockout against Martinez in a 2011 championship fight in Atlantic City.

Welterweight prospect Thomas Dulorme (18-1, 13 KOs) of Puerto Rico will also be on the card, and his bout will be televised on HBO Latino. Dulorme was being lined up to face former lightweight titlist Paul Spadafora (48-0-1, 19 KOs), who has been fighting at junior welterweight and welterweight for the past several years. However, according to HBO, after going far down the road on a deal, Spadafora ultimately rejected the fight. Dulorme's team is still searching for an opponent.

• Assuming Julio Cesar Chavez Jr. gets his visa issues worked out and his planned fight with Brian Vera goes on as planned at the Staples Center in Los Angeles on Sept. 7, Top Rank and HBO are planning for Las Vegas welterweight Jesse Vargas (22-0, 9 KOs) to be in the televised co-feature. HBO and Top Rank want to match him with Luis Carlos Abregu (35-1, 28 KOs), but Vargas' team has so far balked at the match, according to Top Rank.

• Ryota Murata, the heralded 2012 Olympic middleweight gold medalist from Japan, will make his pro debut Aug. 25 in Tokyo. He'll face Akio Shibata (21-7-1, 9 KOs) in a scheduled six-rounder. Murata recently signed a co-promotional contract with Akihiko Honda's Teiken Boxing, the No. 1 promoter in Japan, and Top Rank, which will handle any of his bouts outside of Japan. Murata's gold medal was the first for a Japanese boxer in the Olympics since Takao Sakurai claimed one at the 1964 Tokyo Games. Murata is also the first Japanese fighter to win an Olympic medal in a division other than bantamweight or flyweight.

• Puerto Rican flyweight prospect Jonathan "Bomba" Gonzalez (13-0, 11 KOs) is stepping up his level of opposition in a major way. He will face former junior flyweight champion Giovani Segura (29-3-1, 25 KOs) of Mexico on Aug. 17 in a 10-rounder in Carolina, Puerto Rico. Promoter Peter Rivera said that the winner could face flyweight titlist Juan Francisco Estrada, who will first defend against Milan Melindo on July 27 (HBO2) in Macau, China.

"Segura beat two times our champion Ivan Calderon, and the fight is a fight that Bomba always has told us he wanted since he started his professional career," Rivera said.

• Middleweight titlist/knockout artist Gennady Golovkin is steadily building his name and audience. According to Nielsen, Golovkin's vicious third-round body-shot knockout of Matthew Macklin on Saturday drew 1.1 million viewers, the biggest audience of GGG's three HBO fights. It was a 35 percent increase over his January undercard fight against Gabriel Rosado, which drew 813,000 viewers -- a nice increase over his HBO debut last year against Grzegorz Proksa, which drew 685,000 viewers for a main event. What it means is that Golovkin is clearly gaining an audience with each successive fight.

• British lightweight contender Kevin Mitchell (33-2, 24 KOs), 28, was blown out in his most recent fight, getting stopped in the fourth round by titleholder Ricky Burns in September. Mitchell will return Saturday in London against Sebastien Benito (10-6, 3 KOs) of France for what should be a routine destruction. The scheduled 10-rounder is designed to get Mitchell back in the ring so that he can shake off some rust and move back in the direction of another title shot.

"It's a great division, and I want to get back up there," Mitchell said. "Where do I see myself in it? I want to be a world champion. I'm not here to mess around and play games, be second best and get stopped in four rounds. I'm in it for the long haul and I want to beat the top boys. Anthony Crolla just beat Gavin Rees [last Saturday], and they both interest me, and I'll be keeping a close eye on the Derry Mathews and Tommy Coyle fight next week. There are some big British dust-ups out there, and I love those fights as much as the fans and TV do. I want to correct the loss against Ricky for the world title and become a world champion. I've been out of the ring for too long and it's time to get back in there. I feel a lot of relief, really, as I feel like I've got something to work."
February, 15, 2013
2/15/13
12:53
PM ET
Last July, Nonito Donaire cruised past Jeffrey Mathebula to unify two of the junior featherweight world titles. However, before Donaire's next fight, an October bout against former titleholder Toshiaki Nishioka, Donaire vacated the belt he won against Mathebula.

That vacancy will be filled when Mexico's Alejandro Lopez (24-2, 7 KOs) and Colombia's Jhonatan Romero (22-0, 12 KOs) meet for the belt on Saturday night (UniMas, 11:30 ET/PT) in Tijuana, Mexico.

Romero spent the first few weeks of his training camp in Colombia and the last five training in Los Angeles.

"I know that Alejandro Lopez is a guy that likes to move a lot in the ring," Romero said. "He shifts a lot and relies more on his boxing ability. I have gotten the appropriate sparring. I can adapt better to my opponent. I'm physically in top condition and I'm excited about the possibility of becoming a world champion because Colombia currently doesn't have one.

"This is a world title fight, and I have prepared properly physically and mentally. I have to take it to him not only because of his style but also for the fact that he is fighting in his own town. I have not only worked on my attributes inside the ring but also my head game to make sure that I can get the results that I want."

Romero got into position to fight for the belt with a decision win in a September elimination bout against Efrain Esquivias. Lopez won his eliminator in October by outpointing former titlist Takalani Ndlovu.

Romero said he has watched video of Lopez and believes he knows how to fight against him.

"I know what he is capable of, but based on my experience inside the ring, it is a completely different story," Romero said. "I am not concerned about what he does but more so about what I will do to get that championship title.

"I am known for my movement and my ring generalship. Take my word for it: I am going to take it to him. I have been given the opportunity to fight for a world title and my mission is to do what ever it takes to get it. I'm ready for this. Colombia is ready for this. My team has prepared me. I just have to seize the moment."
February, 12, 2013
2/12/13
12:10
AM ET
Junior featherweight Carl Frampton went from top-notch prospect to contender by knocking out Kiko Martinez in spectacular fashion in the ninth round to win the European title on Saturday.
[+] Enlarge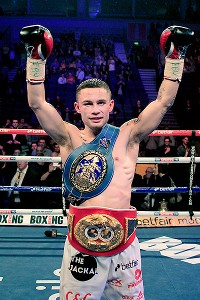 Lawrence Lustig/Matchroom SportNow that Carl Frampton has the European junior featherweight belt, he's aiming even higher: a world title.
Although the win was a huge one for the 25-year-old Frampton, who did the business in front of his hometown fans at the Odyssey Arena in Belfast, Northern Ireland, he hasn't reached his ultimate goal, which is to win a world title. But Frampton is on his way.
"I'm not there yet, because I want to be a world champion," said Frampton, the first man to stop Martinez. "We're halfway there, but I feel the excitement and the buzz now. The atmosphere was amazing; they were very, very noisy. I was in the zone, so you sort of block it out, but I know when I watch it back, it's going to feel amazing."
Although Frampton (16-0, 11 KOs) ended the fight in fine fashion -- and was ahead 78-74, 78-74, 77-75 on the scorecards going into the ninth round -- Martinez (27-4, 19 KOs) posed a stern test and landed some very solid shots.
"I think I proved that I have a good chin," Frampton said. "I got hit with some clean shots, so I could feel his power, but he never once shook me -- and he's a big puncher. He's a guy that has never been hurt before, never been on his back and never really been wobbled. He's been in with some good opposition, and I took him out of there.
"I'm going to be respectful to Kiko. He was a tough man. He took a lot of punches and kept coming forward. He shook my hand after the fight and he's a good champion. I felt that my uppercut was working well and I am getting better on the inside, and I think I was outfighting him in there, which is how he wanted the fight to go. I've always been confident in my ability, and when you beat a good champion like that, it's always going to give you a bit of extra confidence."
Matchroom Sport promoter Eddie Hearn said the plan is to have Frampton back in the ring on May 11 to headline another card at the Odyssey Arena, where Frampton can be expected to draw another big crowd.
Hearn said he will likely steer Frampton toward the IBF version of the world title. That vacant title will be filled on Saturday (assuming there is no draw) in Tijuana, Mexico, where Alejandro Lopez and Jhonatan Romero will fight for the belt that Nonito Donaire gave up last fall.
"After the IBF title is fought for, they will put out a final eliminator for the mandatory position and I would expect us to be in there," Hearn said.
February, 2, 2013
2/02/13
6:57
PM ET
The new season of "Solo Boxeo Tecate" begins on Saturday night after being off the air in January -- but it returns with several changes.
For years, the weekly Spanish-language boxing series aired on Telefutura, a sister network to Univision. But Telefutura was renamed UniMas on Jan. 7 as part of a company re-branding. The good news: If you got Telefutura before, you'll get the newly named network on the same channel, with the 90-minute cards beginning at either 11 p.m. ET/PT or midnight ET/PT.
Also, for the past few years, almost all of the shows were promoted by Golden Boy, with a few shows mixed in from Don Chargin and Miguel Cotto Promotions (who got their dates from Golden Boy's allotment).
This year, Golden Boy likely won't be doing any shows, and Top Rank -- which started the series in 2000 and once controlled all of the dates -- is back as the main supplier. Top Rank will put on at least 26 shows this year, although a handful of them might be fights from its vast library rather than live events. The promoter also might pick up more live dates.
UniMas has changed its business model from that when it had been Telefutura. Rather than UniMas doling out a weekly license fee to the promoter, Top Rank will bring sponsors and generate revenue from sponsors as well as its international television rights and gate money.
Doing the series is no money maker. Top Rank's hope is to simply not lose too much. The cards are essentially a way for the promoter to invest in its fighters by keeping them active and getting them exposure. The series will offer a place for fans to watch the development of young fighters such as standout prospects Jessie Magdaleno, Jose Ramirez, Oscar Valdez and Felix Verdejo.
Although Top Rank hopes to make the new model work, Golden Boy -- which has more television dates than Top Rank, including a slew on Fox Sports Net/Fox Deportes -- is not inclined to continue with UniMas under the new model, according to Golden Boy CEO Richard Schaefer. If it wants to, however, Golden Boy could pick up around 24 shows.
"If [UniMas] is changing their model and it's a time buy in an attractive time slot, that's one thing," Schaefer said. "But if it's a time buy at 11 p.m. on the West Coast or midnight, it doesn't do much good other than to build up the record of the fighters. So I am not jumping into it, because it's not a model I like -- but I'm thinking about it. A time buy is a difficult thing to sustain."
Top Rank declined to discuss the series because, although it begins Saturday night (midnight ET/11 PT), the contracts have not been executed yet.
The season opener will take place in McAllen, Texas and will be headlined by a lightweight bout between promising Jose Felix Jr. (22-0-1, 18 KOs) and Gerardo Robles (16-10, 7 KOs).
Although the bout isn't scheduled for the broadcast, super middleweight contender Andre Dirrell (20-1, 14 KOs) -- promoted by rapper 50 Cent (aka Curtis Jackson) and appearing on the card because Top Rank's Bob Arum is doing Jackson a favor -- will face Ghana's Michael Gbenga (13-6, 13 KOs) in a 10-rounder. Dirrell, a 2004 U.S. Olympic bronze medalist and former title challenger, has had just one fight since suffering a head injury in an 11th-round disqualification win against Arthur Abraham during the second stage of the Super Six World Boxing Classic in March 2010. In his only fight since then, Dirrell stopped Darryl Cunningham in the second round in December 2011.
Top Rank has three additional dates on the schedule so far:
• Feb. 9 in Mexico City, where welterweight Daniel Sandoval will meet Miguel Callist.
• Feb. 16 in Tijuana, Mexico, where Alejandro Lopez will face Jhonatan Romero for a vacant junior featherweight world title (the belt vacated last fall by Nonito Donaire).
• Feb. 23 at a site to be determined. One of the bouts on the card will involve 2012 U.S. Olympian Jose Ramirez, a lightweight, in his second pro bout.
January, 2, 2013
1/02/13
4:17
PM ET
The first two purse bids of the year were held Wednesday at the IBF offices in Springfield, N.J., and Sampson Lewkowicz's Sampson Boxing won both auctions for the same price.

• Sampson Boxing won the purse bid for the vacant junior featherweight title bout between Mexico's Alejandro Lopez (24-2, 7 KOs) and Colombia's Jhonatan Romero (22-0, 12 KOs) with an offer of $132,000, beating Gary Shaw's bid of $122,200.

The fighters are each entitled to 50 percent of the winning bid --$66,000. No date or site is set, but Sampson Boxing has 90 days to put on the bout. They will be fighting for the belt Nonito Donaire vacated in October.

• Sampson Boxing also won the purse bid for junior flyweight titlist Johnriel Casimero's mandatory defense against Luis Alberto Rios (18-1-1, 13 KOs) of Panama. The winning bid was also $132,000, which beat the only other bid of $95,000 offered by Promociones y Eventos Del Istmo. As the titleholder, the Philippines' Casimero (17-2, 10 KOs), Lewkowicz's fighter, is entitled to 75 percent of the winning bid ($99,000) with Rios getting the remaining 25 percent ($33,000).

Lewkowicz told ESPN.com that the fight will take place March 16. He said there are three potential sites – the Philippines, Panama or Las Vegas.
December, 27, 2012
12/27/12
2:38
PM ET
The business of boxing will be humming again on Jan. 2. That is when two purse bids are scheduled to take place at the IBF offices in Springfield, N.J., according to championships chairman Lindsey Tucker.

Up for bid to promtoers registered with the organization are:

• A fight between Mexico's Alejandro Lopez (24-2, 7 KOs) and Colombia's Jhonatan Romero (22-0, 12 KOs) for the organization's vacant junior featherweight title. They will split the money from the winning purse offer 50-50.

The belt became vacant in October, when Nonito Donaire, who won it from Jeffrey Mathebula to unify two titles in July, reliniquished it before facing Toshiaki Nishioka. Romero got into position with a decision win in a September semifinal elimination bout against Efrain Esquivias. Lopez won his semifinal eliminator in October by outpointing former titlist Takalani Ndlovu.

• Junior flyweight titlist Johnriel Casimero's mandatory defense against Luis Alberto Rios. Casimero (17-2, 10 KOs), of the Philippines, will be making his second defense. Rios (18-1-1, 13 KOs), of Panama, scored an 11th-round knockout of Felipe Salguero in October in a title eliminator to become the mandatory challenger. Casimero is entitled to 75 percent of the winning bid with Rios getting 25 percent. The winning promoter has 90 days to put on the fight.