Dan Rafael:

Alexander Povetkin
October, 11, 2013
10/11/13
4:13
PM ET
Former undisputed heavyweight champion and Hall of Famer Lennox Lewis, who announced his retirement in early 2004 and is now 48 years old, is not coming back, is not in talks for a fight with one of the Klitschko brothers and never received an offer for such a fight.

But that didn't stop several members of the breathless British media from running wild this week with their "world exclusive" that England's Lewis had been offered $50 million by an unidentified investor to come out of retirement to face either Wladimir or Vitali Klitschko in a heavyweight title fight, but that Lewis demanded $100 million for such a fight.

In reality, Lewis attended champion Wladimir Klitschko's one-sided title defense against Alexander Povetkin in Moscow last week, where he was asked about fighting a Klitschko. Lewis, of course, retired following his 2003 cut-induced TKO win against Vitali Klitschko and there was speculation about a rematch.

Lewis said the comments he gave to British media members were based strictly on hypotheticals, even though the articles neglected to point that out, making it look as if Lewis was seriously considering a comeback and that talks for a Klitschko fight were taking place.

"I was asked a hypothetical question and gave a hypothetical answer," Lewis told ESPN.com. "There are no negotiations with the Klitchkos. As I've always said, $100 million and I'll get out of my PJs, knowing it would never happen.

"But if the money was real and on the table, I'm all ears. I did say $50 million is not enough to put my legacy on the line, but all this was under cover of a hypothetical comeback. [There is] nothing in the works."
September, 30, 2013
9/30/13
2:39
PM ET
Heavyweight champion Wladimir Klitschko will defend his various belts against mandatory challenger (and secondary titleholder) Alexander Povetkin on Saturday (HBO, 3:30 p.m. ET) in Moscow, and on Monday the officials were announced.

The referee will be Luis Pabon of Puerto Rico. He will be working his second Klitschko championship fight. He was also the referee for Klitschko's fourth-round blowout of Jean-Marc Mormeck in March 2012.

Pabon will be working his third Povetkin fight. He worked Povetkin's 11th-round knockout of former titleholder Chris Byrd in 2007 and drew criticism for his work in Povetkin's majority decision win against cruiserweight titleholder Marco Huck, who was moving up in weight, in 2012. In that fight -- a controversial majority decision win for Povetkin -- Pabon continually broke the fighters even when they were not in clinches and wouldn't let them fight on the inside, which cost Huck dearly because he was the one doing damage in tight quarters. Povetkin also made a habit of leaning over into Huck's right hands, yet Pabon routinely warned Huck for hitting Povetkin behind the head rather than telling Povetkin to stop bending over.

The judging panel will be Glenn Feldman and Ted Gimza, both from the United States, and Phillippe Verbeke of Belgium.

Verbeke judged Klitschko-Mormeck, and neither Feldman nor Gimza has worked a Klitschko fight. Feldman had Povetkin a clear winner against Ruslan Chagaev in their 2011 vacant title bout. Verbeke worked Povetkin-Huck and scored it a draw. Gimza hasn't worked a Povetkin fight.
September, 2, 2013
9/02/13
1:49
PM ET
By
jasonlangendorf
| ESPN.com
Former junior featherweight and featherweight titlist Daniel Ponce De Leon (44-5, 35 KOs) lost his featherweight belt by ninth-round knockout to Abner Mares in May and has decided to move up in weight, manager Frank Espinoza told ESPN.com. He said Ponce De Leon, having trouble continuing to make 126 pounds, will move up to the 130-pound junior lightweight division for his next fight, which hasn't yet been scheduled.

• Cruiserweight contender Ola Afolabi (19-3-4, 9 KOs) of England concluded his trilogy with titleholder Marco Huck by losing a spirited majority decision in June to go 0-2-1 in the rivalry. Now Afolabi is moving on and will fight Nov. 2 at the Theater at Madison Square Garden in New York, K2 promoter Tom Loeffler told ESPN.com. Afolabi, whose opponent isn't set, will fight on the undercard of middleweight titlist Gennady Golovkin's defense against Curtis Stevens.

• Former heavyweight titlist Ruslan Chagaev has only two losses in his career, both in world title bouts, against Wladimir Klitschko and Alexander Povetkin. For his next fight, Chagaev will appear on the undercard of their championship showdown on Oct. 5 in Moscow. Chagaev (31-2-1, 20 KOs) will face Jovo Pudar (30-3, 17 KOs) of Serbia in a scheduled 12-round bout. Pudar is 42 and was retired from 2004 to 2010 but has won his eight fights since returning, although he has faced low-level opposition.

• Cruiserweight titlist Krzysztof Wlodarczyk (48-2-1, 34 KOs) of Poland and Italy's 43-year-old Giacobbe Fragomeni (30-3-2, 12 KOs), who briefly held a belt from late 2008 until mid-2009, are due to meet for the third time in a mandatory fight. Wlodarczyk promoter Leon Margules of Warriors Boxing told ESPN.com that if the sides don't make a deal, there will be a purse bid on Sept. 7. Wlodarczyk was saddled with a disputed draw against Fragomeni in a 2009 title fight and then knocked him out in the eighth round of a dominant performance in a 2010 rematch. If Margules wins the purse bid, he might try to bring the fight to Chicago, where there is a large Polish community that has been very supportive of Polish fighters.
August, 20, 2013
8/20/13
11:57
AM ET
Bulgarian heavyweight contender Kubrat Pulev is one win away from getting a shot at the title when he meets veteran American contender Tony Thompson.

They square off in a final eliminator on Saturday in Schwerin, Germany with the winner becoming a mandatory challenger for one of the belts held by Wladimir Klitschko.

Pulev (17-0, 9 KOs) is 32 already, but was a top amateur and only been a pro since 2009. He holds the European heavyweight title, although likely will vacate it since he probably won't be able to make a mandatory defense against Dereck Chisora by the deadline because he is fighting on Saturday.

A potential shot at the heavyweight title, however, is much bigger anyway than defending the European title. Pulev said he is not concerned by Thompson's tremendous experience advantage, which includes two title shots already at Klitschko (although both resulted in knockout losses) and back-to-back knockout wins against England's David Price.

"That does not fluster me in the slightest," Pulev said. "I am motivated to finally step into the ring again and get my job done. My aim is to become a world champion."

Pulev has not fought since September 2012, when he dominated previously undefeated Alexander Ustinov en route to an 11th-round knockout in a semifinal eliminator. Problems putting together the final eliminator, with various opponents dropping out, have kept Pulev on the shelf for almost a year.

Tomasz Adamek and Tyson Fury (who got a much bigger payday to face David Haye next month) both declined opportunities to face him in the final eliminator.

"I guess that they have fear of losing against me," Pulev said. "Maybe these fighters see an easier chance to get a big fight. I have no problem with it as I just want to go toe-to-toe with fighters who have the ambition to go up against the best and Thompson is somebody like that."

Thompson (38-3, 26 KOs), 41, of Washington, D.C., polished off Price via fifth-round knockout on July 6 for his second win against him this year. Then the southpaw quickly accepted the offer to face Pulev, hoping to land yet another shot at Klitschko, who is scheduled for an Oct. 5 bout against Alexander Povetkin.

"This is really huge for me," Thompson said. "That would be third time's the charm [against Klitschko]. My confidence is running high after having stopped Price not once but twice this year. It was also good to see that my body is still able to compete at such a high level. This fight is going to be over inside eight rounds with me being the winner."

Pulev is just as confident.

"I not only have to beat him, I must beat him," he said. "It does not matter if I win on points or make it an early night. Afterwards, nobody can talk about a worthy world title challenger without using the name Kubrat Pulev."
August, 2, 2013
8/02/13
3:28
PM ET
Although the deal isn't signed yet, HBO is in the process of finalizing a deal to acquire American broadcast rights for heavyweight champion Wladimir Klitschko's defense against Alexander Povetkin on Oct. 5 in Moscow. The network would televise the fight live in the afternoon and then replay it in prime time along with live coverage of that night's Miguel Cotto-Delvin Rodriguez card from Orlando, Fla. Klitschko hasn't appeared on HBO in his past four fights, all of which were broadcast on Epix. Klitschko's last appearance on HBO was his one-sided domination of David Haye in a 2011 unification bout.

• Longtime Nevada judge Duane Ford resigned his position earlier this month, according to the Nevada State Athletic Commission. Ford is leaving ringside to take over as president of the North American Boxing Federation, a regional affiliate of the WBC. Ford judged hundreds of world title fights but drew heavy (and warranted) criticism for his scoring of the Manny Pacquiao-Timothy Bradley Jr. fight in June 2012. He was one of the two judges, along with C.J. Ross, to submit a 115-113 score in favor of Bradley, setting off wide outrage at the split decision (when most believed Pacquiao had clearly won). Ford opened himself up for even more criticism after the fight when he remarked that Bradley had given Pacquiao "a boxing lesson."

• Promising middleweight Gilberto "Zurdo" Ramirez Sanchez (25-0, 20 KOs), a 22-year-old from Mexico, will make his American debut on Aug. 24 (UniMas) in Glendale, Calif., Top Rank announced. He will face one-time prospect Julio Cesar Garcia (46-8, 39 KOs) in a 10-rounder. If Sanchez beats Garcia, he would then be likely to face Italy's Domenico Spada (37-4, 19 KOs) in a title eliminator. Also on the card, blue-chip junior featherweight prospect Jessie Magdaleno (15-0, 11 KOs), 21, will face stepping-stone opponent Jose Luis Araiza (31-8-1, 22 KOs) in an eight-rounder.
May, 15, 2013
5/15/13
2:24
PM ET
Tuneup fights can be a recipe for disaster. Just ask, for example, former heavyweight contender Tommy Morrison.

He had a done deal worth $8 million to fight Lennox Lewis but took what was supposed to be an easy tuneup fight against Michael Bentt in 1993. In shocking fashion, Bentt -- a massive underdog -- knocked Morrison out in just 93 seconds and the huge-money fight with Lewis went down the drain.

Although they would eventually fight two years later, it was not nearly as big of a fight and Morrison made a fraction of the money.

That is perhaps the most stark example of the tuneup fight turning into a nightmare, but there is always a danger and Russia's Alexander Povetkin faces just that when he defends his secondary heavyweight belt against anonymous and untested Andrzej Wawrzyk (27-0, 13 KOs) of Poland on Friday night in Moscow.

If Povetkin (25-0, 17 KOs) blows through Wawrzyk then the decision to fight him will be forgotten. But if Povetkin should lose or get hurt it will be an absolute disaster for him.

Povetkin is going into the fight with a long-awaited showdown against champion Wladimir Klitschko on the schedule for Aug. 31. Klitschko crushed Francesco Pianeta in six one-sided rounds on May 4 in his tuneup defense.

Making the stakes even greater than just Povetkin's shot at the real champion is the sheer amount of money at stake.

When the Klitschko and Povetkin camps could not make a deal the fight went to a purse bid and Russian promoter Vladimir Hryunov, who doesn't promote either fighter, stunned everyone with an astronomical bid of $23,333,330, the third-biggest winning purse bid ever for a fight that most experts believe won't come even close to generating that kind of money. But Hryunov put down his 10 percent deposit and both sides believe his bid is legit and that he won't default.

Based on that massive bid -- which blew away bids from Klitschko's K2 Promotions ($7.13 million) and Povetkin promoter Sauerland Event ($6.014 million) -- Klitschko is due a career-high payday of $17,499,997 (75 percent of the bid) with Povetkin due the remaining 25 percent for a career-best $5,833,333.

Povetkin knows what is at stake Friday but did his best to ignore the Klitschko talk at Wednesday's final news conference.

"I am putting my belt on the line, so this is a very important fight for me," Povetkin said. "I promise to give it all I have. My opponent's name on Friday is Wawrzyk and not Klitschko. I am fully focused on him and want to give the fans inside the arena a great show."

Wawrzyk would love nothing more than to repeat what Bentt did to Morrison 20 years ago.

"As soon as they offered me to fight Povetkin, I accepted," he said. "This could be the chance of a lifetime. I have been in training anyways so I was ready from the get-go and I will try everything possible to burst the bubble that is the fight between Povetkin and Klitschko."
February, 7, 2013
2/07/13
10:20
AM ET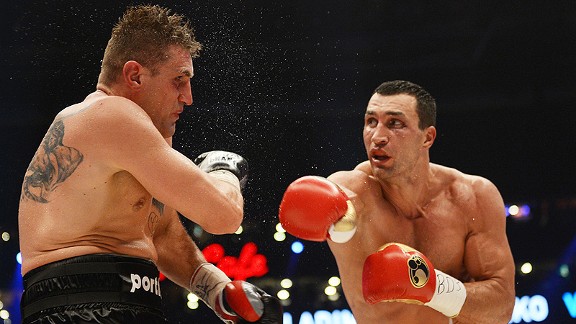 Patrik Stollarz/AFP/Getty ImagesHeavyweight champion Wladimir Klitschko will look to add another title defense to his record.
Wladimir Klitschko, entering his eighth year as heavyweight champion, is supposed to be back in action for defense No. 14 on April 6, although the date might move deeper into the spring.
Klitschko has won all 13 of his defenses in dominant fashion, including a 12-round beatdown of previously undefeated Mariusz Wach in November, after which Wach tested positive for steroids. They didn't help.
So who will be Klitschko's next victim? I'm told by the Klitschko camp that it likely will be 6-foot-5, 243-pound Francesco Pianeta (28-0-1, 15 KOs), a 28-year-old southpaw from Italy who lives in Germany.
He has been seen by the German public, and RTL -- the German network that has Klitschko under contract -- has approved him as an opponent.
Pianeta matches up physically with Klitschko, but despite his glossy record, he has zero wins of serious note on his record, unless you count a pair of decisions in 2012 against two totally shot fighters with recognizable names -- Frans Botha (44) and former titleholder Oliver McCall (47!). The draw on Pianeta's record came in 2009 against Albert Sosnowski, who was knocked out in the 10th round of a 2010 world title fight by Vitali Klitschko, Wladimir's big brother.
So Pianeta isn't going to have anyone (at least on this side of the pond) jumping up and down, but at least he's under 30, physically imposing and does have that nice record.
Hopefully, soon enough, Klitschko (59-3, 50 KOs), who turns 37 in March but has shown no signs of slowing down, will begin facing some of the division's more interesting up-and-comers, including 2012 ESPN.com prospect of the year David Price, Tyson Fury, Kubrat Pulev and the promising American duo of Deontay Wilder and Bryant Jennings.
Assuming Klitschko wins his spring fight (which likely will be televised on Epix in the United States), he is supposed to be on track to face the man who has ducked him for years -- second-tier titlist Alexander Povetkin, who has already passed on two previous opportunities as a mandatory challenger.
The WBA, which sanctions both fighters as titleholders, has given Klitschko permission to make the optional defense in the spring, with their showdown likely to happen in late summer or fall. Povetkin might also fight an interim bout before he will hopefully finally man up and fight Klitschko. If they can't make a deal and Klitschko-Povetkin goes to a purse bid, Klitschko would be entitled to 75 percent of the money and Povetkin 25 percent.
One name that came up as a possibility for Klitschko's spring fight was Odlanier Solis, the 2004 Cuban Olympic gold medalist, who suffered a knee injury in a first-round knockout loss to Vitali Klitschko in a 2011 title fight. However, Solis' messy promotional problems killed that fight.
Another name some had mentioned is long-faded contender Fres Oquendo, although Klitschko manager Bernd Boente told me this week that "Oquendo was never in the mix."
Thank goodness. Still, that didn't stop the delusional Oquendo (35-7, 23 KOs) from making one of the single-most absurd statements I have ever read in a press release. Ever.
"No one deserves the Klitschko fight more than me," said the 39-year-old Oquendo.
When you stop laughing, please continue reading.
Oquendo hasn't remotely been a factor since back-to-back losses in title fights to Chris Byrd (in a controversial decision in 2003) and an 11th-round knockout to John Ruiz (in 2004, in one of the worst heavyweight title fights in the history of the world).
(By the way, I was ringside for Ruiz-Oquendo at Madison Square Garden, and again I want say thank you to late referee Wayne Kelly for stopping the fight and saving us all the misery of having to sit through another round.)
"I'm seeing these newcomer kids talking about how they deserve to fight Klitschko," Oquendo said. "I haven't lost a fight legitimately since 2006 [even though he has three losses since then]. In 2003, I had a world title fight and lost an outrageous robbery against Chris Byrd. Byrd went on to lose the title that I should have won that night to Wladimir. So if they hadn't stolen my title from me that night, I would have already had a fight against Wladimir. Me getting the fight against Wladimir is boxing karma making things right."
I could continue to mock Oquendo, but I'll cut him a break here.
The 28-year-old Jennings (16-0, 8 KOs), one of the bright newcomers on the scene, isn't remotely ready to challenge Klitschko yet, but he is nonetheless asking for the fight. His promoter, Russell Peltz, spoke with a Klitschko rep about the possibility of the bout, but those conversations didn't go far.
"I am sure there are more than a few European boxing fans who have heard of Jennings, especially after he knocked out [former titlist] Sergei Liakhovich," Peltz said. "Some of the recent names that have been tossed out there couldn't stand up to Jennings, so I do not see what the problem is with finding someone credible to fight Klitschko. Bryant has been asking for this fight for months."
He won't get it this time, but maybe it'll be there for him a couple of fights down the road, when Klitschko undoubtedly will still be the division ruler.
December, 19, 2012
12/19/12
6:03
PM ET

After ducking heavyweight champion Wladimir Klitschko since 2008, Alexander Povetkin is now apparently ready to face him. It took him long enough.

Sauerland Event, which promotes second-tier titlist Povetkin, said on Wednesday that it hopes to make the fight, claiming that the WBA, which recognizes Klitschko as its "super champion" and Povetkin as the "regular" titlist, has ordered negotiations to begin between the two camps.

According to Sauerland Event, the WBA wrote the various camps before Klitschko spanked David Haye in July 2011 to make it clear that the Klitschko-Haye winner would have to face the Povetkin-Ruslan Chagaev winner within 18 months of that Aug. 27, 2011 bout.

Sauerland Event claims that Klitschko-Povetkin is due by Feb. 26, 2013 -- 18 months after Povetkin beat Chagaev.

"We are very excited that Povetkin will be Wladimir Klitschko's next opponent," promoter Kalle Sauerland said. "We consider Wladimir Klitschko to be a great champion but we also consider Alexander Povetkin to be a very serious challenger. A fight between two Olympic heavyweight champions is always something special and one that will turn out to be a real treat for boxing fans all over the world."

Chris Meyer, the managing director of Sauerland Event said, "We have a four-week period to negotiate terms on the fight and will be in contact with the Klitschko management. We worked together for many fights as co-promoters of the Klitschkos. Therefore, I am convinced that we will have a professional dialogue. However, if we should not be able to reach a voluntary agreement we are prepared to enter a purse bid."

The Klitschko camp does not agree with Sauerland's assessment of the situation.

Bernd Boente, Klitschko's manager, told ESPN.com that the WBA told them that they had 24 months from the Klitschko-Haye fight to make the mandatory defense, which would mean a Klitschko-Povetkin bout wouldn't be due until early July.

"The WBA has told (K2 Promotions managing director) Tom (Loeffler), (adviser) Shelly (Finkel) and myself that we have 24 months from the Wladimir-Haye fight, so we will ask them," Boente said.

Boente said Klitschko (59-3, 51 KOs) plans to fight in early April in what would be his 14th title defense, but did not commit him to facing Povetkin (25-0, 17 KOs), although he didn't seem particularly concerned about the fight possibly being mandated next.

"We will ask the WBA about this issue and then see," Boente said.

Klitschko ought to be licking his chops to finally get Povetkin into the ring, because he probably would hammer him.

Since Povetkin, the 2004 Russian Olympic super heavyweight gold medalist (Klitschko won gold for Ukraine in 1996), beat Eddie Chambers in a January 2008 title eliminator to become Klitschko's mandatory for the first time, he's gotten worse, not better.

Povetkin had a huge struggle with Chagaev to win the vacant "regular" belt and also got a gift decision against cruiserweight titlist Marco Huck, who moved up in weight, in a horrible performance in February.

But you have to love the tough talk from Sauerland Event, considering that Povetkin has run from Klitschko since 2008. Klitschko's camp has already won two purse bids for the fight, but Povetkin failed to show for the bout either time.

They were supposed to fight in December 2008, but Povetkin injured his foot when he tripped over a tree root while doing a run in preparation for the bout. However, when Povetkin came back, he went in another direction.

In 2010, there was another purse bid for the fight and K2 won it again. Povetkin would have made a career-high payday of more than $2 million, but Teddy Atlas, then his trainer, convinced him not to take the September fight, and Povetkin failed to show up at a news conference announcing the bout. Klitschko fought Samuel Peter in a rematch and knocked him out instead.
August, 27, 2012
8/27/12
11:43
AM ET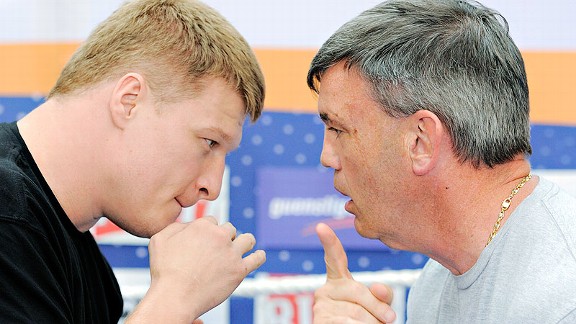 AP Photo/Jens MeyerWith Alexander Povetkin and Teddy Atlas no longer seeing eye to eye, he has a new trainer in Hall of Famer Kostya Tszyu.
For the third time in three fights, there will be a new voice in the corner of heavyweight titlist Alexander Povetkin.
Kostya Tszyu, the Hall of Fame former undisputed junior welterweight champion, is training Povetkin for the third defense of his second-tier title against mandatory challenger and former world champion Hasim Rahman on Sept. 29 (Epix and EpixHD.com) in Hamburg, Germany.
Povetkin spent a few years with Teddy Atlas -- also ESPN2's "Friday Night Fights" ringside analyst -- as his head trainer, and together they won a vacant belt via unanimous decision against former titleholder Ruslan Chagaev in August 2011. Atlas' impassioned words between rounds helped drive Povetkin through a very tough fight.
Atlas was with Povetkin for his first defense, a walkover eighth-round knockout of overmatched Cedric Boswell in December in Finland, but then came their split. It was caused by a disagreement over where Povetkin should train. Povetkin, or rather his handlers, wanted to remain in his native Russia. Atlas, who wanted him to train in the United States, said their agreement was that Povetkin would train in the U.S. during Atlas' "Friday Night Fights" season, and that Atlas would go to Russia if there was a fight during the show's offseason.
When Povetkin (24-0, 16 KOs) wouldn't come to the U.S., that was it for their relationship, and Atlas was replaced by Russian trainer Alexander Zimin on somewhat short notice. With Zimin in the corner, Povetkin struggled to a controversial decision win Feb. 25 against cruiserweight titlist Marco Huck, who had moved up for the shot.
And now Zimin is out and Tszyu is in to train Povetkin for the fight with Rahman (50-7-2, 41 KOs), which was supposed to have taken place July 14 but was postponed because Rahman had to have a cyst removed from his wrist.
"I am very happy with my new coach," Povetkin said. "We have a great relationship. I can learn a lot from Kostya Tszyu. I have already improved my stamina while training under his supervision in my hometown of Chekhov. I am feeling really good.
"I promise you that I will be in great shape and will deliver an amazing fight in Hamburg. I am not going to let anyone down. But you should never underestimate a mandatory challenger. Rahman wants to win, but so do I."
March, 8, 2012
3/08/12
11:11
AM ET

Your random thoughts ...

• A tip of the hat to super middleweight titlist Lucian Bute for his willingness, almost eagerness, to leave his comfort zone of Quebec -- when he didn't have to -- to defend his title in Carl Froch's hometown of Nottingham, England, on May 26. You can be sure that Bute, who draws sellout crowds in Montreal and Quebec City, is leaving money on the table by going to England. But he's doing it because that's what real fighters do.

• I'm as bummed as any boxing fan by the apparent implosion of the Brandon Rios-Yuriorkis Gamboa lightweight title bout scheduled for April 14 on HBO. Gamboa apparently is pulling out after skipping both kickoff news conferences this week and complaining about the deal that Top Rank says he agreed to. When that fight first came up, the styles of the fighters and the matchup immediately reminded me of the all-time classic bout between Julio Cesar Chavez and Meldrick Taylor.

• One fight I would like to see in the future would match Gamboa with hair-brushing expert and junior lightweight titlist Adrien Broner. That would be explosive, and the speed matchup would be ridiculous. Of course, it's unlikely to happen anytime soon because Gamboa is with Top Rank and Broner is with Golden Boy. But I can dream.

• I can't wait to see the junior welterweight bout between Lucas Matthysse and Humberto Soto, which is due to take place on Showtime on the undercard of the Victor Ortiz-Andre Berto rematch on June 23. To me, it's a can't-miss fight. Matthysse-Soto has action written all over it.

• I've thoroughly enjoyed HBO's new 15-minute "2 Days" features, which follows fighters during the two days prior to an upcoming bout. So far, two fighters have been profiled, Rios and James Kirkland. Both shows have been outstanding, but the piece on Rios, which followed him in the two agonizing days before his December fight with John Murray, was mesmerizing. HBO's David Roofthooft, who oversees "2 Days" and the network's "Face Off with Max Kellerman," did a masterful job of making viewers feel like they were with Rios as he severely struggled, and ultimately failed, to make weight and was stripped of his lightweight title. It is 15 of the most riveting minutes of television I've ever seen.

• I was disappointed that the IBF didn't order a rematch between light heavyweight titlist Tavoris Cloud and Gabriel Campillo, who got robbed Feb. 18. Other than the two judges who scored it for Cloud, I have yet to encounter anyone else -- other than Cloud and his own team -- who thought he won.

• After watching Alexander Povetkin struggle badly to keep his paper heavyweight belt against cruiserweight titlist Marco Huck -- like many, I thought Huck clearly won -- we all know why Teddy Atlas, Povetkin's former trainer, kept him far away from Wladimir Klitschko, the real champion, even with a career-high $2 million-plus payday at stake for the mandatory fight. Povetkin couldn't handle a decent right hand from Huck. Klitschko, with the best right hand in boxing, would knock Povetkin's head off his shoulders.

• If Mikey Garcia defeats Bernabe Concepcion on Saturday's Showtime undercard, he'll be 28-0. It'll be time for a title shot, already.

• I found it amusing that David Haye seemed to throw more punches at Dereck Chisora during their recent brawl at the news conference following Chisora's lopsided loss to Vitali Klitschko than Haye threw in his actual fight with Wladimir Klitschko last summer. Speaking of Chisora, I found it typical of the wretched WBC that it banned him indefinitely for the brawl with Haye, but when it came to Floyd Mayweather Jr.'s guilty plea on a domestic battery charge against his ex-girlfriend, WBC president for life Jose Sulaiman not only didn't suspend Mayweather, he endorsed violence against women by initially commenting on Mayweather's case that "beating a lady is highly critical, [but] it is not a major sin or crime." How sweet. I'm sure the women in his family are so proud.

• I'm still a bit shocked that Sonny Boy Jaro knocked out Pongsaklek Wonjongkam to win a flyweight title last week. It'll take something crazy to happen in the coming months for that fight to be unseated as upset of the year.

• I am mildly intrigued by Showtime's May 26 cruiserweight fight between Antonio Tarver and Lateef Kayode. I'm not at all for Showtime's April 21 fight between Abner Mares and Eric Morel. Love Mares, but Morel makes bad fights. Always has.

• Good luck to former middleweight titlist Sebastian Sylvester, 31, of Germany, who has announced his retirement. Sylvester (34-5-1, 16 KOs) was never the No. 1 middleweight, but he was a top-10 guy for several years, fought a number of quality opponents and won a world title in 2009. He made three defenses, before going out having lost his last two fights. However, he got knocked out in the first round of his pro debut in 2002 and regrouped to become one of the rare fighters to lose his debut and go on to win a title.

• Happy birthday to all-time great trainer Freddie Roach, who turned 52 on Monday.

• DVD pick of the week: It's one of the most significant fights in history -- they called it the "Fight of the Century" -- and it never gets old. It's the first epic battle between Joe Frazier and Muhammad Ali, both undefeated at the time and both with a claim to the heavyweight championship. Frazier had the belt, but he had won it only after Ali had been stripped and banned from boxing for refusing induction into the Army. Ali returned in late 1970 and fought twice before he faced Frazier on March 8, 1971 -- exactly 41 years ago -- at Madison Square Garden in New York in one of the most anticipated fights ever. Ali controlled the early action, but Frazier came back to even it up in the middle rounds before taking over in the late rounds. Early in the 15th round, Frazier landed his classic left hook to Ali's jaw and dropped him to punctuate a unanimous decision victory in the first fight of their historic trilogy.
March, 3, 2012
3/03/12
7:45
PM ET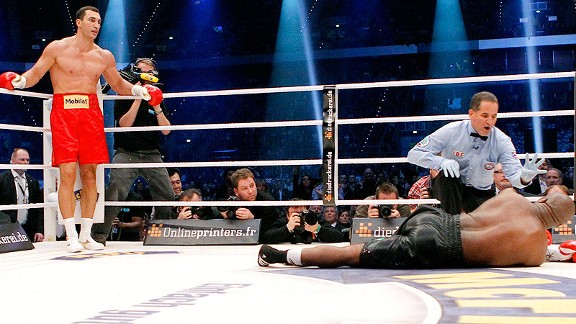 AP Photo/dapd/Roberto PfeilWladimir Klitschko needed only four rounds to destroy Jean-Marc Mormeck and earn his 50th KO.
There were no surprises on Saturday at the Esprit Arena in Düsseldorf, Germany, where a crowd of about 50,000 watched as heavyweight champion
Wladimir Klitschko
toyed with
Jean-Marc Mormeck
like a child plucking wings off of a fly.
As expected, Klitschko rolled to the uncompetitive fourth-round destruction of Mormeck, the 39-year-old former cruiserweight champion who hadn't fought in 15 months and had looked awful in his three heavyweight bouts after moving up in weight.
There was one round in which Mormeck -- seven inches shorter and 25 pounds lighter than the giant Klitschko -- landed no punches. Zero. There was another in which he landed one. It was that bad of a showing for Mormeck (36-5, 22 KOs), who was simply out of his depth.
All the while, Klitschko (57-3, 50 KOs) jabbed him, fired some left hooks and dropped bombing right hands. Mormeck was a sitting duck until Klitschko, who can be a fluid combination puncher when he wants to be, put together a sweet three-punch combo to knock Mormeck out -– a stiff left that froze him, a massive and flush right hand behind it and a window-dressing left as Mormeck was falling to the canvas.
It was easy, easy work for Klitschko, who scored his coveted 50th career knockout and continues to dominate the heavyweight division, which, admittedly, is short on talent and long on Klitschkos.
Klitschko has been champion since 2006, has made 11 defenses (nine by knockout) during his second title reign and has barely lost any rounds along the way.
Frankly, as I said on the air while calling the fight as a commentator for the American television audience on Epix, had Mormeck won, I would have considered it an even bigger heavyweight title-fight upset than when
Buster Douglas
knocked out
Mike Tyson
.
Between Klitschko and his older brother, fellow champion
Vitali Klitschko
, they have basically cleaned out the top 10. The one top-10 guy they haven't faced is
Alexander Povetkin
, who has blatantly ducked the Klitschkos.
As the brothers have laid waste to the division, it's becoming increasingly difficult to see what fight on the horizon would pose any challenge. Wladimir owes a mandatory defense to
Tony Thompson
, whom he has already knocked out. There's a chance a fight in America will materialize later this year against
Cristobal Arreola
, who was already knocked out by Vitali. Rising American prospect
Seth Mitchell
is still too green.
After the destruction of Mormeck, Klitschko mentioned two other possible opponents from the U.K. –-
Tyson Fury
and
David Price
-– but neither is ready yet, if they ever will be.
So what's left for Klitschko to accomplish as he continues one of history's most dominant heavyweight championship reigns?
I can think of only two things, both of which I asked Klitschko about during an interview we had a few days before the fight. He was noncommittal about both, but said, "You have pretty good ideas" before he chuckled.
Wladimir owns three of the four major sanctioning organization belts, plus the lineal championship.
Vitali has the WBC version of the title. But Vitali is 40 and, although he just retained the belt three weeks ago in a dominant win against
Dereck Chisora
, he doesn't plan to stick around forever. I am convinced that Wladimir wants nothing more than to win the WBC title once his brother either loses it (because they won't fight each other) or retires.
The only other meaningful accomplishment for Klitschko -- who also was a 1996 Olympic gold medalist -- would be to look longer-range and grind toward the all-time heavyweight record for title defenses.
The record is 25, held by the great
Joe Louis
, who was champion from 1937 to 1948 and made many of those defenses during his so-called "bum of the month" circuit.
With his 50th knockout, Klitschko moved into fifth on the all-time list for most knockouts by a heavyweight champion. He had been tied with the legendary
Jack Dempsey
and Louis.
Why not look at another Louis stat to match? Klitschko needs 15 more defenses to surpass Louis. It's a daunting task. Sure, it's unlikely. Impossible, some would say.
Certainly to have any chance, Klitschko would need to fight more than just once or twice a year. He's 35 and turns 36 on March 25. With his dedication, conditioning and the fact that he takes almost no punishment, he should have some good years left. There is nothing else to accomplish for him in the here and now. So why not just keep racking up defenses and look to a record in the future? Because right now, there is nobody who can touch him.
February, 29, 2012
2/29/12
3:57
PM ET

Picking on the heavyweight division these days is pretty easy. In an era when champion brothers Wladimir and Vitali Klitschko stand head and shoulders above the rest of the field, the popular refrain is that there's no competition in the weight class for them and that the division is a waste of time.

Between them, the brothers Klitschko have, in their current title reigns, combined to make 18 defenses since 2006. They have dominated every single one of the fights, without exception, and won 13 of them by knockout.

It doesn't help matters, at least on this side of the pond, that there is such a dearth of American contenders, especially when Americans used to own the division.

And because, as we all know, the Klitschkos have said since Day 1 that they will never fight each other, many have just written off the division. HBO and Showtime, the leaders in American televised boxing, have all but given up on it. Even when HBO dipped its toe back into the heavyweight business last year, making a deal with the Klitschkos to televise Wladimir's defense against David Haye and Vitali's against Tomasz Adamek, it didn't get one competitive round out of the 22 combined in the two fights. Maybe the most compelling drama in both bouts was watching Haye embarrass himself by blaming his loss on a sore toe and then whipping out the digit to show HBO analyst Larry Merchant in his postfight interview.

But you know what? A funny thing happened on the way to the heavyweight black hole: The division is actually starting to perk up. There are reasons to watch, fighters to be interested in and, lately, some pretty good bouts.

Two weeks ago, Vitali rolled to a lopsided unanimous decision against British crazy man Dereck Chisora, essentially as a one-armed fighter because he suffered a left shoulder ligament tear early in the fight. It was the first of three heavyweight title bouts in three weeks on American premium network Epix, which has picked up the slack for HBO and Showtime. But although it was a one-sided fight on the scorecards, it was an absolutely entertaining scrap (watched by more than 13 million people on German network RTL), probably Vitali's most exciting bout since his 2004 brawl with Corrie Sanders. And Chisora certainly spiced things up with his loose cannon behavior before the fight (when he slapped Vitali at the weigh-in and then spit water in Wladimir's face in the ring before the bout began) and after the fight, when Chisora instigated a brawl with Haye at the press conference. Chisora behaved like a buffoon, but for better or worse, he brought a lot of attention and excitement to the division.

It wasn't Chisora's first entertaining fight, either. His loss (a robbery!) to Robert Helenius (another young contender to keep an eye on) in December was an entertaining fight, as was his collision last summer with England's up-and-coming Tyson Fury, who also has been in some entertaining bouts.

Just last week, Alexander Povetkin defended his version of the title against Marco Huck, a cruiserweight titleholder who moved up in weight. It was a terrific fight -- one of the best in the heavyweight division in a long time -- even if the majority decision awarding the decision to Povetkin wasn't so good.

But Povetkin is a normal-sized heavyweight, not a giant like the Klitschkos, so Huck wasn't overmatched despite his moving up to heavyweight for the first time. Povetkin has been in other good fights as well.

If you can put the Klitschkos to the side for just a minute, there are good fights that can be made involving Chisora (assuming he keeps his license following his latest antics), Adamek (who returns from his loss to Vitali on March 24) and the always-entertaining Cristobal Arreola (who two weeks ago won a fight that lasted only one round but was quite exciting).

Hopefully, Huck will stick around at heavyweight, too, because a pressure fighter with a big right hand and a big heart is always welcome.

Even though it wasn't the most significant heavyweight fight, Americans Bryant Jennings and Maurice Byarm, who were pressed into action at the last minute on Jan. 21 when the original main event fell out, produced a fun heavyweight fight in the first main event of the new "Fight Night" series on NBC Sports Net.

There are other heavyweights to watch who could develop, including Seth Mitchell (America's current best hope); younger and rawer American Deontay Wilder (a 2008 Olympic medalist who is 21-0 with 21 KOs and has a massive right hand but who hasn't fought anyone with a pulse); British giant David Price (a 2008 Olympic medalist who is 12-0 with 10 KOs); Bulgarian Kubrat Pulev (15-0 with 7 KOs, who goes for the vacant European title March 31); and Ireland-based Cuban Mike Perez (18-0, 12 KOs), who has looked good in recent fights.

So even though Wladimir is expected to roll through yet another title defense, this time against former cruiserweight champion Jean-Marc Mormeck, on Saturday, just as he and his brother have made routine, it doesn't mean the heavyweight division is dead.

You just have to respect the historic dominance of the Klitschko brothers and then take a minute to look beyond them for satisfaction. If you do, you'll find that the heavyweight division isn't so bad after all.
February, 24, 2012
2/24/12
12:59
PM ET


When it comes to cruiserweight titleholders moving up to conquer the heavyweight division, many have tried. Most have failed.

In recent years, cruiserweight champions such as Tomasz Adamek, Juan Carlos Gomez and James Toney have made the attempt. Adamek and Gomez were both dominated and knocked out by Vitali Klitschko when they got their shots. Toney outpointed John Ruiz in a title bout, but the result was negated because Toney tested positive for steroids after the fight.

Other cruiserweight titleholders have fought at heavyweight but had only middling success and never even got a title opportunity, including Vassiliy Jirov, Bobby Czyz and Orlin Norris.

Only two have made the successful jump.

Evander Holyfield was the undisputed cruiserweight champion and eventually the undisputed heavyweight champion. He was the real deal at both weights. Many years later, David Haye, who won three of the four major alphabet belts and was generally considered the real cruiserweight champ, also moved up to heavyweight and claimed a belt in 2009, even though he was never the legitimate champion (and made more news with his mouth and sore toe than his actual heavyweight fighting ability).

Next up to try is Germany's Marco Huck (34-1, 25 KOs), who I regard as the No. 1 cruiserweight in the world. He won a belt in 2009 and has made eight defenses.

Now Huck, an aggressive crowd pleaser and a good puncher, is doing what other cruiserweights have done before him -- moving up for the opportunity to win a heavyweight belt. Huck challenges Russia's Alexander Povetkin for his title Saturday (Epix and EpixHD.com, 4 p.m. ET) in Stuttgart, Germany.

Even though Povetkin holds a second-tier tissue-paper thin WBA belt (the WBA loves to give out multiple titles in the same division to collect a few extra bucks) when we all know the legit champ is Wladimir Klitschko, it will be still be an accomplishment if Huck can topple Povetkin (23-0, 16 KOs), a 2004 Olympic gold medalist and legitimate top 5 heavyweight.

"I know this is a gigantic task," Huck said through a translator. "It can write boxing history and following the path of superstars like Holyfield and Haye would be fantastic. It's going to be tough though because Povetkin is a very accomplished fighter. But I will win.

"I'm ready to become heavyweight champion. I would not have taken the fight if I didn't believe in myself. Povetkin is good, but I can beat him. We once did sparring together and he has bad memories of me."
Huck is even boldly predicting a knockout.

"I plan to show my fans a great fight, which will end in a KO victory for me," Huck said. "Povetkin is a great champion but I will defeat him and finally accomplish my goal of becoming word heavyweight champion."
Povetkin will be making his second title defense. When he was presented with Huck as a possible opponent, he didn't expect it.

"At first I was surprised about Huck's challenge because he has never fought at heavyweight before, but I am happy to defend my title against anybody out there," said Povetkin, also through a translator. "I am in great shape and I will win."

I think the match has all the makings of an exciting fight. Although Huck is moving up in weight, Povetkin isn't a giant like the Klitschko brothers, so I think it will be competitive. Promoter Kalle Sauerland agrees.

"This is what the heavyweight division needs. It will be very exciting," he said. "Both are fast, aggressive, strong and full of confidence. And both do not always have the best defense."

Povetkin will enter the fight with a new trainer. Gone is Teddy Atlas, who is also the ESPN2 "Friday Night Fights" analyst. Atlas was very critical in helping Povetkin navigate tough moments in his title-winning effort against Ruslan Chagaev in August, so his absence could be a factor.

Atlas' deal with Povetkin required him to train in the United States while Atlas was in season for "FNF." Atlas would go to Europe to train him during the show's August-January hiatus. Povetkin didn't honor the commitment to train in America for the Chagaev fight, so Atlas, only a few weeks before the fight, went to Russia and missed the final few "FNF" cards last season. Atlas was not happy about it and, understandably, refused to do it again.

That means Alexander Zimin -- who trained former heavyweight titlist Nikolai Valuev -- is now in charge of Povetkin's corner.

"I have had a very good preparation with Alexander Zimin, all went very well," Povetkin said. "I am ready for Saturday. I am here to defend my title. I will win."