Dan Rafael:

Alexander Ustinov
August, 14, 2013
Aug 14
10:37
AM ET
Remember heavyweight David Tua?

At one time, in the second half of the 1990s, the Samoan knockout artist from New Zealand was the No. 1 contender. He was powering through the division and knocking out everyone, including several top opponents of his day -- John Ruiz, David Izon, Hasim Rahman and Oleg Maskaev. But when he got his long-awaited title shot in 2000, he ran into a prime Lennox Lewis and lost a decisive decision.

Tua continued to fight, although he had multiple lengthy layoffs and was never really a top contender again.

The 40-year-old Tua (52-4-2, 43 KOs) has not fought since losing a unanimous decision in a rematch to Monte Barrett in August 2011. He was due to come off his latest long layoff -- almost two years to the day -- Aug. 31 to face Alexander Ustinov (28-1, 21 KOs), who is one fight removed from an 11th-round knockout loss to contender Kubrat Pulev in a title elimination fight last September.

However, according to promoter David Higgins of Duco Events, who was putting on the fight in Hamilton, New Zealand, Tua suffered a grade one calf muscle tear during training last week, forcing the fight to be postponed until Nov. 16.

"This is the fight game and every now and again fighters get injured and plans change," Higgins said. "Alexander and his crew from K2 Promotions have been exceptional. They understand that delays are commonplace in the world of boxing. They couldn't have been more accommodating in terms of accepting the new date. And David Tua, too, has been excellent to deal with. He has put in an enormous amount of work to get himself into peak condition for the bout. But he has kept his spirits up and has accepted the new date and has already begun re-strategizing his buildup."

Russia's Ustinov, who lives in Belarus, will return home and get set for the new date.

"Coming to New Zealand to prepare for Aug. 31 has been great," Ustinov said. "Even though the fight has been delayed, when I come back in November I will know what to expect inside and outside of the ring. These things happen in boxing. I'm just looking forward to the fight and taking on the world famous David Tua."

As for Tua, he said he will remain positive.

"It is what it is," Tua said. "All you can do is be positive, and to be honest, there is plenty to be positive about. The delay gives me even more time to get into peak condition and it also allows me to leave no stone unturned when it comes to the strategy of the fight."
July, 10, 2013
Jul 10
10:01
AM ET
A few notes from the boxing world:

• Junior lightweight contender Juan Carlos Burgos is in need of a new opponent for his fight on July 26 (ESPN2 and ESPN Deportes). Burgos (30-1-1, 20 KOs), who fought to a disputed draw with titleholder Rocky Martinez in January, was due to face Daulis Prescott in a 12-round bout at Thunder Valley Casino Resort in Sacramento, Calif. However, Prescott (26-2, 19 KOs), the brother of longtime junior welterweight and lightweight contender Breidis Prescott and a former featherweight title challenger, withdrew because of kidney stones.

• Promoter Rodney Berman has secured an American TV outlet for Saturday's "Monte Carlo Million Dollar Super 4" final between super middleweight contender Edwin Rodriguez (23-0-0, 15 KOs) of Worcester, Mass., and light heavyweight contender Denis Grachev (13-1-1, 8 KOs), a San Diego-based Russian, who will meet at a catch weight of 171½ pounds in Monaco. The card will be televised by beIN Sport beginning at 3 p.m. ET. beIN Sport, which bills itself as "the international sports channel," carries mostly soccer and is available on several outlets in the United States, inclucing DirecTV, Dish Network, Comcast and AT&T U-Verse TV.

Also on the card, junior welterweight titlist Khabib Allakhverdiev (18-0, 8 KOs) of Russia makes a mandatory defense against France's Soulemayne M'baye (40-4-1, 22 KOs), Max Bursak (26-1-1, 12 KOs) of Ukraine defends the European middleweight title against England's Prince Arron (23-4-1, 5 KOs) and Dmytro Kuchar (21-0, 15 KOs) of Ukraine faces South Africa's Ilunga Makabu (13-1-0, 13 KOs) in a scheduled 12-round cruiserweight bout.

• Famed broadcaster Col. Bob Sheridan, who has called more than 900 world title fights, has a history of heart trouble and is scheduled for triple bypass surgery on Monday. He's already had five heart attacks and nearly died from pneumonia, but he's still kicking and hopes to reach the 1,000 mark. Sheridan is in good spirits and, assuming all goes well, plans to be in New Zealand on Aug. 31 to work the broadcast of heavyweight David Tua (52-4-2, 43 KOs) against Alexander Ustinov (28-1, 21 KOs). Tua, the former title challenger and longtime contender, has not fought since a decision loss to Monte Barrett in their rematch in August 2011.

• The shakeup at HBO Sports continues under division president Ken Hershman as longtime director of programming Luis Ferrer, one of the deparment's main boxing executives, is leaving. Ferrer, 41, had worked in boxing programmning at the network since 2004, although he took a leave of absence from September 2010 through December 2012 when he joined the army and served in Afghanistan. Ferrer, who is going to NBC Sports, is the second major programming executive to leave HBO Sports in the past month, joining his boss and senior vice president Kery Davis, who recently resigned.
July, 12, 2012
7/12/12
1:29
AM ET
Now that heavyweight champion Wladimir Klitschko has blown through Tony Thompson, who was his IBF mandatory challenger, for the second time, the organization is beginning the process of finding the next sacrificial lamb.
Klitschko's next mandatory for the organization isn't due for a year, but the IBF is beginning the process now and is proposing a four-man box-off, with the winner to receive the title shot.
These things rarely work out, as the IBF is well aware. It tried this last time around. Thompson committed to the mini tournament, but when the three other contestants bailed out, Thompson's promoter, Dan Goossen, convinced the organization to make Thompson the mandatory rather than go through another time-consuming effort to find participants in a new tournament.
[+] Enlarge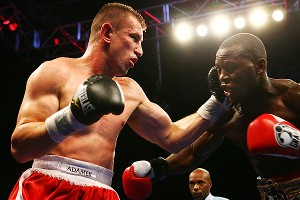 Al Bello/Getty ImagesTomasz Adamek, left, is one of four heavyweights being asked to participate in an eliminator tournament to determine a future Wladimir Klitschko mandatory.
I have little expectation it will work this time around, either, but at least for now, the four leading available fighters in the IBF's heavyweight rankings (which are very weak) are being lined up. If it works out, the semifinals would match Tomasz Adamek (who was smoked by Vitali Klitschko in a title fight last year) with Alexander Ustinov, and Odlanier Solis (who already suffered a first-round, knee injury-induced loss to Vitali in a title fight) with European champion Kubrat Pulev.
Nothing there to get anyone too excited, but the promoters and fighters are at least talking about making the fights.
"We have reached out to the Ustinov people, K2 East, and are waiting to hear back from them," Pat English, the attorney for Adamek's promoter, Main Events, told me on Wednesday.
Adamek is scheduled to fight Sept. 8 in Newark, N.J., in a fight that will air as a pay-per-view in his native Poland. Thankfully,
the sham of a fight
that was proposed between Adamek and the totally shot James Toney for that date has fallen through. English said for a variety of reasons "we just never consummated the deal."
So it's possible that Adamek's fight could become part of the proposed elimination tournament.
Solis is also apparently game, according to Arena-Box promoter Ahmet Oner, who co-promotes the fighter with Main Events.
Solis, a former Olympic gold medalist and Cuban defector, had knee surgery after the loss to Vitali Klitschko and returned from a 14-month layoff to outpoint Konstantin Airich in March.
"I am convinced that Solis is the man who will finally end the boredom in the heavyweight division," said Oner, who has been making the same ludicrous comment for about the past five years. "As an amateur, he beat whoever came his way, and as a professional he would already be world champion if his knee hadn't given in. Now the younger Klitschko will have to suffer for Solis' bad luck against the older brother."
Solis-Pulev would be a rematch of an amateur meeting. Pulev beat him in a 2002 tournament.
"But the tournament was in Pulev's home country, Bulgaria, and Solis lost a close decision," Oner said. "I think that alone tells you enough about that fight. I hope that for the elimination bout there will be neutral ring officials, but I'm sure the IBF will take care of that."
Pulev has not yet committed to the tournament.
"We will discuss his options and then decide," Chris Meyer of Sauerland Event wrote to me in an e-mail on Tuesday.
While the various contenders sort this all out, I'm sure Klitschko isn't too worried about the outcome.