Dan Rafael:

Arash Usmanee
April, 10, 2014
4/10/14
6:07
PM ET
Chris Farina/Top RankRay Beltran is hoping a victory over Arash Usmanee on Saturday can lift him to another title shot.
LAS VEGAS -- On Thursday afternoon inside the Manny Pacquiao-Timothy Bradley II media center at the MGM Grand, there was a ceremony for newly crowned lightweight titlist Terence Crawford, who received the world title belt he won March 1 against Ricky Burns by unanimous decision on Burns' home turf in Scotland.
Lightweight contender Raymundo Beltran was in the building but not in the media center and was happy he missed the ceremony. It's not that Beltran has anything against Crawford; it's just that Beltran, along with many others, believes that Crawford's belt should be his.
In the fight before Burns lost to Crawford, Burns defended the title against Beltran in Scotland in September. Beltran broke Burns' jaw in the second round, dropped him in the eighth round and basically ran over him for most of the fight. But when the scores were announced, Burns retained the title on a hometown draw.
Beltran was crushed, and rightfully so. He hoped for an immediate rematch, but Crawford was waiting as the mandatory challenger, got the next shot and dethroned Burns.
Beltran (28-6-1, 17 KOs), known to many for his work as one of Pacquiao's top sparring partners in recent years, will fight for the first time since the draw when he faces late substitute Arash Usmanee (20-1-1, 10 KOs) in the co-feature on the Pacquiao-Bradley II card Saturday night. Usmanee accepted the fight last weekend when former junior lightweight titlist Rocky Martinez dropped out due to illness.
"I should be defending my title," Beltran said of Saturday's fight. "But only God knows why it happened. I just focus and try to stay positive. I've been through a lot in boxing. I think me and my team got here from our hard work. Nobody put us here."
Beltran said he heard from many fight fans after the robbery against Burns and it made him feel good, even if it didn't make up for not having the title.
"I focus on the positive, and it made me feel good because if the fans know who you are that really gives you the strength," said Beltran, who is from Mexico and lives in Los Angeles. "Without the fans you are nothing. The fans saw what happened and they want to see me victorious."
Beltran has not even been able to watch a video of the entire fight with Burns.
"It still hurts. It pisses me off," he said. "It puts me in a bad mood, so I just leave it alone."
With a victory against Usmanee, Beltran likely will get another shot at the title in Crawford's first defense.
"I think Beltran got screwed when he fought Burns in Scotland and easily won that fight and came away with a draw, and I feel really bad on that," Top Rank promoter Bob Arum said. "He wanted to get an immediate rematch with Burns but Crawford was waiting as the mandatory, so I see no reason why that wouldn't be a terrific fight with Crawford and Beltran."
Arum's plan is to put the fight on HBO June 28 or July 12 and do it in Council Bluffs, Iowa, right over the border from Omaha, Neb., which is Crawford's hometown.
"Three minutes from Omaha over the bridge is Council Bluffs, where they have all the casinos and more hotels, and we'd do it," Arum said. "I'd insist on a judging panel that has to be approved by both fighters."
It sounds like a good plan to Beltran.
"Once I beat Usmanee, I should be fighting for a title [against] Crawford or anybody," he said. "Even without Usmanee, I should be fighting for a title. But hopefully we beat Usmanee and then, no question, I should fight for a title. I'll fight Crawford. I would like to fight Crawford. He's a champion. I just want to fight the best."
January, 2, 2014
1/02/14
9:00
AM ET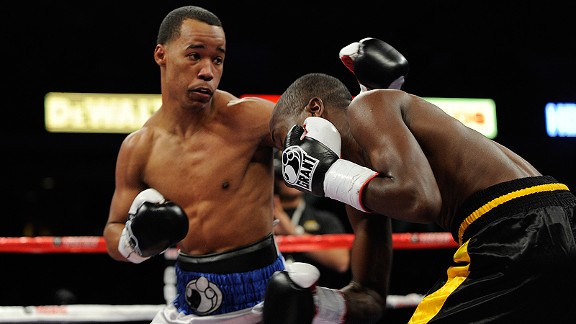 (AP Photo/Paul BeatyArgenis Mendez hopes to end his fight with Rances Barthelemy within 12 rounds.
When Argenis Mendez won a junior lightweight world title in March, he did it by scoring a fourth-round knockout in a rematch with Juan Carlos Salgado. When Mendez made his first defense on Aug. 23, the fight went the distance and he retained the belt via unpopular majority draw against Arash Usmanee.
Headed into his second defense, Mendez said he is determined not to leave the result in the hands of the judges this time when he faces mandatory challenger Rances Barthelemy in the main event of this week's season debut of "Friday Night Fights" (ESPN2, 9 ET) at the Target Center in Minneapolis.
"I definitely learned that when you're in the ring you have to give it your all. Sometimes what you and your corner think isn't what is going through the judges' minds," Mendez said, referring to the Usmanee bout. "Honestly, I don't know what fight the judges saw. There was no way that bout was a draw.
"Unfortunately, that fight wasn't the first time this has happened to me. I've been robbed twice before, once in Denver [in an eight-round decision loss to Jaime Sandoval in 2008], and the other time in Mexico [in the first fight with Salgado in 2011]. I knocked both guys down during our fights. Now, I'm more determined to get in there and be more aggressive to make sure there is no doubt that I am the winner. I'm definitely not going to leave it to the judges. I know for sure that I'm going home with my title."
Mendez (21-2-1, 11 KOs), 27, a native of the Dominican Republic fighting out of Brooklyn, N.Y., will be fighting with trainer John David Jackson in his corner for the first time. Jackson is very familiar with Barthelemy (19-0, 12 KOs), 27, a native of Cuba living in Miami. Jackson used to train Barthelemy, who scored the title shot by winning two elimination bouts with Jackson in his corner.
The first one was a highly controversial decision against Usmanee last January, followed by a second-round knockout of Fahsai Sakkreerin in June, also in Minneapolis.
"[Jackson has] definitely been teaching me how to be more aggressive, throwing more punches and improving my power," Mendez said. "He's great strategizing and together we have worked out a great plan for this upcoming fight. We already have the blueprint. My job is to go out there [on Friday] and execute."
In the scheduled 10-round co-feature of the card, co-promoted by former heavyweight champ Mike Tyson's Iron Mike Productions (with Tyson expected ringside), Minnesota middleweight Caleb Truax (23-1-1, 14 KOs), whose only loss came to former middleweight champion Jermain Taylor, faces late substitute Ossie Duran (28-11-2, 11 KOs), 36, a native of Ghana living in Paterson, N.J. Truax, 30, has won five fights in a row since the points loss to Taylor in April 2012, including a sixth-round knockout of Donovan George.
"It means a lot to be fighting at home in front of family and friends," Truax said. "My fight is going to be a battle against an opponent who wants nothing more than to make a name for himself. I will be ready for anything he has to offer."
August, 21, 2013
8/21/13
3:29
PM ET

Getting to see bonus fights is always a good thing for boxing fans and that will be the case with this week's edition of "Friday Night Fights."

While the first card promoted by Mike Tyson's Iron Mike Productions will feature a pair of title bouts on the ESPN2 telecast (9 p.m. ET), two additional 10-round preliminary bouts will be streamed live beginning at 7 p.m. on ESPN3.com, the network announced on Wednesday.

The bonus fights will be welterweight Ed Paredes (33-3-1, 22 KOs) against Noe Bolanos (25-7-1, 16 KOs) and a junior lightweight Alexi Collado (16-0, 15 KOs) taking on Hugo Partida (18-4-2, 14 KOs).

On the televised portion of the card from the Turning Stone Resort Casino in Verona, N.Y., junior lightweight titlist Argenis Mendez (21-2, 11 KOs) makes the first defense of the belt he won in March when he faces Arash Usmanee (20-1, 10 KOs). In the co-feature, Claudio Marrero (14-0, 11 KOs) and Jesus Cuellar (22-1, 18 KOs) square off for a vacant interim featherweight belt.
August, 5, 2013
8/05/13
12:37
PM ET
Former junior middleweight titleholder John David Jackson has been one of boxing's top trainers for several years. Now he will be working with a number of new fighters after being hired as a trainer for Iron Mike Productions, the company announced.

"I'm very happy to be reunited with John David Jackson," said Henry Rivalta, head of boxing operations for Iron Mike Productions. "We worked together in 2008 at [promotional company] The Heavyweight Factory. He brings a lot to the table and is an incredible asset on our coaching staff. Our fighters are going to benefit from John David's teaching."

Jackson has worked with Bernard Hopkins, Shane Mosley and currently trains former welterweight titlist Randall Bailey and light heavyweight contender Sergey Kovalev.

Jackson will be co-head coach of Iron Mike Productions' fighters with Herman Caicedo. One of the assistants on staff is Micky Ward and longtime Tyson assistant trainer Stacey McKinley.

"Caicedo, Jackson, Ward and all our other coaches complement each other and give our kids a ton of invaluable experience," Rivalta said.

Iron Mike Productions had been Acquinity Sports until former heavyweight champion Mike Tyson came on board as a partner.

The company is promoting its first card with Tyson's involvement on Aug. 23 (ESPN2) at the Turning Stone Resort Casino in Verona, N.Y., where junior lightweight titlist Argenis Mendez (21-2, 11 KOs) will make his first defense when he faces Arash Usmanee (20-1, 10 KOs) in the main event. Jesus Marcello Andres Cuellar (22-1, 18 KOs) will meet Claudio Marrero (14-0, 11 KOs) for a vacant interim featherweight belt in the co-feature.
December, 28, 2012
12/28/12
1:38
PM ET

On Sept. 1, junior middleweight prospect Johnathan Gonzalez got a huge opportunity to step up in competition and face former titleholder Sergiy Dzinziruk on HBO.

Instead of taking advantage, Gonzalez blew it big time and left his career in tatters. Not only did he show up way out of shape (he was 169 pounds a few days before the fight and ultimately weighed in at 163 pounds for a 154-pound fight), he fought terribly. In a tremendously uninspired performance, Gonzalez (15-0-1, 13 KOs) was lucky to get a 12-round split draw in a horrible fight.

The stench of his September performance and his blowing weight by such an absurd amount won't be forgotten, but the 23-year-old former amateur standout from Puerto Rico is getting another chance to show that he should still be considered a prospect.

He'll face Derek "Pooh" Ennis (23-3-1, 13 KOs) on Jan. 4 at the Magic City Casino in Miami, Fla., in the co-featured bout of the season-opening card of "Friday Night Fights" (ESPN2 and ESPN Deportes, 10 p.m. ET). In the main event, junior lightweight Rances Barthelemy (17-0, 11 KOs) will meet Arash Usmanee (20-0, 10 KOs).

Gabby Penagaricano, Gonzalez's adviser, was as disappointed in his performance in September as anyone, but said he believes Gonzalez has learned from the situation and taken this training camp seriously.

"Jonathan has been in camp in Florida for close to two full months without any interruptions," Penagaricano said. "These have been the best preparations of his career. He'll be 100 percent on fight night, on weight and ready to go.

"He's absolutely maturing as a result of the September fight and everything that happened. I think that camp, he needed to be in Puerto Rico for personal reasons and he wasn't able to be with his trainer, and there were interruptions and distractions. Even apart from the weight, he was not 100 percent like he will be this time. This time has been fantastic. He definitely made the right decisions for this one."

Gonzalez is training in Miami under the supervision of trainers John David Jackson and Chico Ramos.

"He has taken this camp very seriously," Penagaricano said. "We're all seeing him maturing as a fighter and as a person. I think he realized the need to leave Puerto Rico for camp every fight, like other important fighters [from this country] have done. He notices the difference in his level of conditioning."

Penagaricano was talking about one of his clients, Puerto Rican star Miguel Cotto, who also trains in Florida.

"I'm very happy with the preparation. I'm in the best shape of my career, and at the end of the fight, the result will be a knockout," Gonzalez said.

Penagaricano said he's also pleased that Gonzalez is facing a solid opponent in Ennis instead of having him return against a no-hoper.

"It would have been very easy to find some opponent for him to beat in one or two rounds, but in his career, he's never been like that," Penagaricano said. "He's a prospect that has faced quality opposition since the beginning. His record has a lot of opponents with winning records, which is not typical anymore.

"The majority of opponents have been decent opposition and he has been able to knock all but (three) out. And now, even though we could have picked someone very easy for him, this opponent came across who is very decent and capable fighter and he said right away that's the fight he wants. That's just how he is. He will always choose the harder opponent. With his ability and this new mentality, I have no doubt he will become one of the great Puerto Rican fighters."
October, 31, 2012
10/31/12
3:16
PM ET
It can't get here soon enough, but the new season of "Friday Night Fights" on ESPN2 and ESPN3 (and simulcast every week in Spanish on ESPN Deportes) will kick off on Jan. 4.

ESPN boxing programmer Doug Loughrey is in the process of putting together the early part of the schedule, but the season premiere will take place in Miami and be headlined by a scheduled 10-round junior lightweight bout between prospect Rances Barthelemy (17-0, 11 KOs), a Miami-based Cuban defector, against Arash Usmanee (20-0, 10 KOs), a native of Afghanistan based in Montreal.

The scheduled 10-round co-feature is slated to be junior middleweight Jonathan Gonzalez (15-0-1, 13 KOs) of Puerto Rico against Derrick Ennis (23-3-1, 13 KOs) of Philadelphia. Gonzalez is coming off a terrible performance in a terrible fight against former titlist Sergiy Dzinziruk in September, a fight for which Gonzalez showed up at 163 pounds -- nine pounds over the 154-pound contract limit.

The Jan. 11 show is still being put together, and there is no card on Jan. 18. The site for the Jan. 25 show will take place at a site that hasn't been finalized. It will be headlined by the always-exciting Russian junior welterweight contender Ruslan Provodnikov (22-1, 15 KOs), an FNF regular for the past few years. His opponent hasn't been finalized, but one possibility is the Philippines' Jason Pagara (30-2, 19 KOs).