Dan Rafael:

Argenis Mendez
January, 31, 2014
Jan 31
5:05
PM ET
Junior lightweight contender Rances Barthelemy is not a happy camper.
On Jan. 3, he knocked out Argenis Mendez in the second round of a dominant performance to win a 130-pound world title at the Target Center in Minneapolis. It was a terrific performance.
The problem was that the punches that ended the fight came after the bell sounded to end the second round. Barthelemy didn't hit Mendez after the bell on purpose, but he did hit him after the bell, although referee Pete Podgorski did not rule the punches as an accidental foul. Instead, he counted Mendez out.
Mendez appealed the decision to Minnesota authorities.
Earlier this week, they ruled in his favor
, overturning the result to a no decision. That gave Mendez (21-2-1, 11 KOs) the title back.
Naturally, Barthelemy (19-0, 12 KOs), who had legally knocked Mendez down moments before the fight-ending punches, did not agree with the ruling.
"First off, I could not disagree more," Barthelemy said through a translator. "This decision to take away my title is a terrible one. The referee did not call a foul that night, so how can a commissioner overrule him by watching TV weeks later? I am better, stronger and more talented than him, and I knocked him out. Now I have to do it again."
The IBF, whose title was at stake, is likely to order a rematch. Fine by Barthelemy.
"If they put me in the ring with Mendez again, I will hurt him again," Barthelemy said. "They haven't done him any favors by making him fight me again. His legs were going weak with every punch I even touched him with. And now I know exactly how to get to him, so it'll be even worse next time. I was glad he survived to fight another day, but he is making a mistake fighting me again."
Luis DeCubas Sr., Barthelemy's co-promoter, was just as up in arms as the fighter about the ruling.
"First of all, it's ludicrous that my fighter trains hard, does nothing wrong, and becomes world champion only to have an inexperienced commission unilaterally take his win away without a hearing," said DeCubas, failing to mention that they have 30 days to appeal the ruling and get a full hearing. "Rances is the champion of the world everywhere but in the eyes of the revered boxing body called the Minnesota Department of Labor and Industry."
DeCubas also forgot to mention that the IBF also no longer recognizes him as a titleholder, nor would anyone else who comprehends the rules.
In any event, DeCubas went on with his rant.
"There is a reason there are not more world title fights in that state," he said. "There's no instant replay in boxing in Minnesota. If the rules were interpreted improperly, the commission can change the outcome. However, the referee didn't do that. The referee did not rule that a foul was committed that night, so how can a commission in an office play second referee weeks later? That's not fixing a misinterpretation, that's acting as a second referee and it sets a very dangerous precedent in boxing."
Regardless, Barthelemy will get another title opportunity, be it in a rematch with Mendez or somebody else if Mendez decides not to take it.
"I dare any 130-pound fighter in the world to get in the ring with me," he said. "I have developed my skills to the point where I am the best boxer in the world at my weight. What happened to Mendez was just the first of many."
January, 2, 2014
Jan 2
9:00
AM ET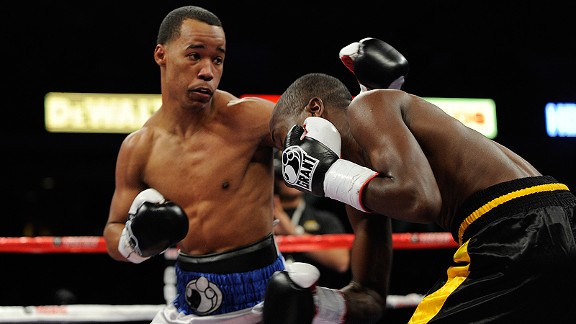 (AP Photo/Paul BeatyArgenis Mendez hopes to end his fight with Rances Barthelemy within 12 rounds.
When Argenis Mendez won a junior lightweight world title in March, he did it by scoring a fourth-round knockout in a rematch with Juan Carlos Salgado. When Mendez made his first defense on Aug. 23, the fight went the distance and he retained the belt via unpopular majority draw against Arash Usmanee.
Headed into his second defense, Mendez said he is determined not to leave the result in the hands of the judges this time when he faces mandatory challenger Rances Barthelemy in the main event of this week's season debut of "Friday Night Fights" (ESPN2, 9 ET) at the Target Center in Minneapolis.
"I definitely learned that when you're in the ring you have to give it your all. Sometimes what you and your corner think isn't what is going through the judges' minds," Mendez said, referring to the Usmanee bout. "Honestly, I don't know what fight the judges saw. There was no way that bout was a draw.
"Unfortunately, that fight wasn't the first time this has happened to me. I've been robbed twice before, once in Denver [in an eight-round decision loss to Jaime Sandoval in 2008], and the other time in Mexico [in the first fight with Salgado in 2011]. I knocked both guys down during our fights. Now, I'm more determined to get in there and be more aggressive to make sure there is no doubt that I am the winner. I'm definitely not going to leave it to the judges. I know for sure that I'm going home with my title."
Mendez (21-2-1, 11 KOs), 27, a native of the Dominican Republic fighting out of Brooklyn, N.Y., will be fighting with trainer John David Jackson in his corner for the first time. Jackson is very familiar with Barthelemy (19-0, 12 KOs), 27, a native of Cuba living in Miami. Jackson used to train Barthelemy, who scored the title shot by winning two elimination bouts with Jackson in his corner.
The first one was a highly controversial decision against Usmanee last January, followed by a second-round knockout of Fahsai Sakkreerin in June, also in Minneapolis.
"[Jackson has] definitely been teaching me how to be more aggressive, throwing more punches and improving my power," Mendez said. "He's great strategizing and together we have worked out a great plan for this upcoming fight. We already have the blueprint. My job is to go out there [on Friday] and execute."
In the scheduled 10-round co-feature of the card, co-promoted by former heavyweight champ Mike Tyson's Iron Mike Productions (with Tyson expected ringside), Minnesota middleweight Caleb Truax (23-1-1, 14 KOs), whose only loss came to former middleweight champion Jermain Taylor, faces late substitute Ossie Duran (28-11-2, 11 KOs), 36, a native of Ghana living in Paterson, N.J. Truax, 30, has won five fights in a row since the points loss to Taylor in April 2012, including a sixth-round knockout of Donovan George.
"It means a lot to be fighting at home in front of family and friends," Truax said. "My fight is going to be a battle against an opponent who wants nothing more than to make a name for himself. I will be ready for anything he has to offer."
August, 21, 2013
8/21/13
3:29
PM ET

Getting to see bonus fights is always a good thing for boxing fans and that will be the case with this week's edition of "Friday Night Fights."

While the first card promoted by Mike Tyson's Iron Mike Productions will feature a pair of title bouts on the ESPN2 telecast (9 p.m. ET), two additional 10-round preliminary bouts will be streamed live beginning at 7 p.m. on ESPN3.com, the network announced on Wednesday.

The bonus fights will be welterweight Ed Paredes (33-3-1, 22 KOs) against Noe Bolanos (25-7-1, 16 KOs) and a junior lightweight Alexi Collado (16-0, 15 KOs) taking on Hugo Partida (18-4-2, 14 KOs).

On the televised portion of the card from the Turning Stone Resort Casino in Verona, N.Y., junior lightweight titlist Argenis Mendez (21-2, 11 KOs) makes the first defense of the belt he won in March when he faces Arash Usmanee (20-1, 10 KOs). In the co-feature, Claudio Marrero (14-0, 11 KOs) and Jesus Cuellar (22-1, 18 KOs) square off for a vacant interim featherweight belt.
August, 5, 2013
8/05/13
12:37
PM ET
Former junior middleweight titleholder John David Jackson has been one of boxing's top trainers for several years. Now he will be working with a number of new fighters after being hired as a trainer for Iron Mike Productions, the company announced.

"I'm very happy to be reunited with John David Jackson," said Henry Rivalta, head of boxing operations for Iron Mike Productions. "We worked together in 2008 at [promotional company] The Heavyweight Factory. He brings a lot to the table and is an incredible asset on our coaching staff. Our fighters are going to benefit from John David's teaching."

Jackson has worked with Bernard Hopkins, Shane Mosley and currently trains former welterweight titlist Randall Bailey and light heavyweight contender Sergey Kovalev.

Jackson will be co-head coach of Iron Mike Productions' fighters with Herman Caicedo. One of the assistants on staff is Micky Ward and longtime Tyson assistant trainer Stacey McKinley.

"Caicedo, Jackson, Ward and all our other coaches complement each other and give our kids a ton of invaluable experience," Rivalta said.

Iron Mike Productions had been Acquinity Sports until former heavyweight champion Mike Tyson came on board as a partner.

The company is promoting its first card with Tyson's involvement on Aug. 23 (ESPN2) at the Turning Stone Resort Casino in Verona, N.Y., where junior lightweight titlist Argenis Mendez (21-2, 11 KOs) will make his first defense when he faces Arash Usmanee (20-1, 10 KOs) in the main event. Jesus Marcello Andres Cuellar (22-1, 18 KOs) will meet Claudio Marrero (14-0, 11 KOs) for a vacant interim featherweight belt in the co-feature.
March, 8, 2013
3/08/13
11:49
AM ET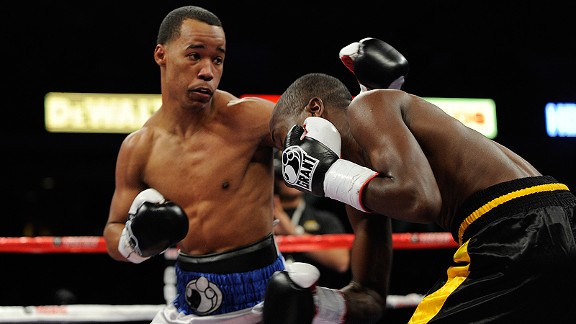 (AP Photo/Paul BeatyArgenis Mendez hopes to end his fight with Rances Barthelemy within 12 rounds.
The first time Argenis Mendez faced Juan Carlos Salgado, it was for a vacant junior lightweight title in Salgado's home country of Mexico in September 2011. It was a spirited scrap in which Mendez dropped Salgado in the 12th round and had him in deep trouble.
But Salgado survived, made it to the final bell and won a tight unanimous decision.
Mendez won his next two fights, including an official eliminator against Martin Honorio in July, to become Salgado's mandatory challenger. With the fighters set to meet again on Saturday, Mendez (20-2, 10 KOs), 26, a 2004 Olympian from the Dominican Republic, is determined to keep Salgado down this time.
"I'm going to take care of unfinished business," he said. "I'm not going to leave the final result in the hands of the judges this time. I'm coming back with the belt for my family and team, [promoter] Acquinity Sports, and my country, Dominican Republic."
Mendez, who lives in Miami and trained for the fight in England, learned a hard lesson in the loss to Salgado, according to his representatives.
"In the first fight, Mendez should have done a little more early in the fight," said Acquinity Sports vice president Henry Rivalta. "He beat up Salgado near the end of the fight, but the judges must not have felt that he did enough to beat the defending world champion in his home country.
"Mendez doesn't plan for this fight to go the full distance. He's in great shape after going through a rigorous training camp with his trainer, Lee Beard. Salgado won't be fighting the same Mendez this Saturday night."
The 28-year-old Salgado (26-1-1, 16 KOs) will be making his fourth title defense, all of which have come against solid opponents. After beating Mendez for the belt, he defended against Miguel Beltran Jr. (although it was declared a no-contest in the second round because of an accidental head butt), Honorio and former featherweight titleholder Jonathan Barros.
February, 21, 2013
2/21/13
2:42
PM ET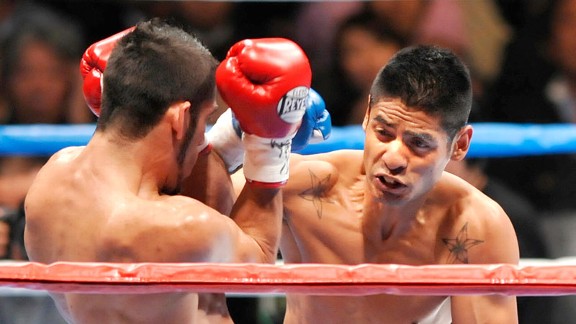 Kazuhiro Nogi/Getty ImagesThe rematch between Juan Carlos Salgado and Argenis Mendez found a home on U.S. TV.
A few updates on some upcoming fights:
• American fans will have a chance to see the rematch between junior lightweight titlist Juan Carlos Salgado (26-1-1, 16 KOs) and Argenis Mendez (20-2, 10 KOs). HBO bought the rights to the March 9 bout and will air it on HBO Latino (8:30 p.m. ET).
The fight takes place in Costa Mesa, Calif., on the undercard of the heavyweight eliminator between Cristobal Arreola and Bermane Stiverne. Arreola-Stiverne is part of an HBO-split site tripleheader that also includes light heavyweight titlist Tavoris Cloud against Bernard Hopkins and welterweight Keith Thurman against Jan Zaveck from the Barclays Center in Brooklyn, N.Y. HBO did not have room for a fourth fight on its telecast, but made a deal for Salgado-Mendez II to air on its Spanish-language channel. I hope we will see more of this sort of thing from HBO, sort of like how Showtime Extreme has done a great job televising preliminary bouts for Showtime cards.
March 9 is a big night for HBO -- a live title fight on HBO Latino followed by the network tripleheader and then, immediately following the tripleheader on HBO, there will be a new edition of "The Fight Game with Jim Lampley."
• Golden Boy CEO Richard Schaefer said that the return of former junior welterweight titlist Amir Khan, slated for April 20, will move to April 27 (Showtime). Nothing official yet with regard to the site or opponent, although he is likely to fight in his native England.
• Polish light heavyweight Andrzej Fonfara suffered a hand fracture, forcing him to withdraw from the main event of the March 22 ESPN "Friday Night Fights" card. He was due to face Nicholson Poulard. Fonfara will be out for at least four weeks, but if he needs surgery he could be sidelined for three to six months. ESPN2 is working with the promoters to put together a new main event, but still has a quality co-feature that could possibly move up to the main event spot -- Donovan George, who is moving down to middleweight, against David Lopez.
• An injury has knocked light heavyweight prospect Mike Lee off the March 16 Timothy Bradley-Ruslan Provodnikov card. Top Rank has also added hot junior featherweight prospect Jessie Magdaleno to the card in an eight-rounder.