September, 20, 2013
9/20/13
11:35
AM ET
Floyd Mayweather Jr.'s performance against Canelo Alvarez on Saturday night was so brilliant and so decisive it has to be considered one of the best performances in a career filled with them. But where specifically does this junior middleweight unification victory rank?
Here's my opinion on the top 10 performances in the career of the pound-for-pound king: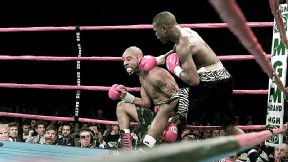 John Gurzinski/AFP/Getty ImagesMayweather Jr. sent Corrales to the canvas four times during their fight in January 2001.
1. Diego Corrales (2001):
A massive puncher, Corrales was undefeated and had a terrific résumé, and he should have had a world title but gave it up as part of boxing politics to make the fight with Mayweather happen. Although Corrales had distractions going into the bout -- he was soon headed to prison for a domestic-abuse situation and was also having problems making weight -- he was viewed as having a serious chance to win. In fact, this fight is the last time I picked against Mayweather. Instead of winning, or even making it competitive, Corrales was dropped five times and was stopped in the 10th round. It remains Mayweather's signature victory.
2. Canelo Alvarez (2013):
Alvarez was 13 years younger and strong, and he outweighed Mayweather by 15 pounds on fight night (165-150). It made no difference. Mayweather took every possible weapon away from Alvarez and did as he pleased, landing lead right hands and jabs all night long, not to mention solid body work. It was a masterpiece.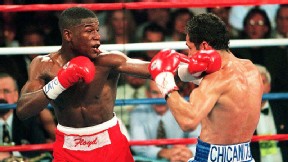 AP Photo/Las Vegas Review-Journal/Craig L. MoranMayweather Jr. won his first title against Hernandez, who retired after the fight.
3. Genaro Hernandez (1998):
Mayweather was 17-0 and had yet to face anybody who was any good. Hernandez was a well-respected champion, undefeated at 130 pounds and considered No. 1 in the division. Many thought Mayweather was biting off more than he could chew so early in his career. But Mayweather rose to the occasion and authored a beatdown, forcing Hernandez to retire on his stool after eight one-sided rounds. Hernandez retired after the fight while Mayweather, who won the first of his nine world titles in five weight classes, went on to greatness.
4. Ricky Hatton (2007):
Hatton was 43-0 and the reigning junior welterweight champ when they fought in a huge fight. It felt like half of England had come to Las Vegas to support Hatton, making Mayweather's hometown like enemy turf. But Mayweather took his time, broke Hatton down and, while leading widely on all three scorecards, drilled him for a spectacular 10th-round knockout.
5. Juan Manuel Marquez (2009):
After beating Hatton, Mayweather retired but returned nearly two years later to face Marquez, who was moving up to welterweight. Although Mayweather purposely blew the 144-pound contract weight by two pounds and paid a $600,000 penalty, he was dazzling against a future Hall of Famer, who has since proved he is legitimate as a welterweight. Despite the long layoff, Mayweather looked as good as ever, dropping Marquez in the second round and cruising to a near-shutout decision.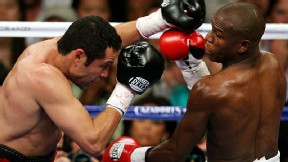 Gabriel Boyus/AFP/Getty ImagesThe fight against De la Hoya set all kinds of boxing revenue records in 2007.
6. Oscar De La Hoya (2007):
In the fight that set all boxing revenue records (some of which the Alvarez fight broke), Mayweather moved up to challenge the Golden Boy for his junior middleweight title. Although Mayweather had some problems in the first half of the fight thanks to De La Hoya's superb use of his left jab, De La Hoya could not maintain it for the entire fight, while Mayweather figured his opponent out and coasted to a split-decision victory that really should have been a clear unanimous decision. Besides a strong performance, the fight helped Mayweather break through as a pay-per-view megastar.
7. Miguel Cotto (2012):
Mayweather, who had returned to welterweight after beating De La Hoya, went back up to junior middleweight -- no catch weight for this fight -- and met Cotto for his belt. Cotto is a future Hall of Famer, and although no longer in his prime, he gave Mayweather a very tough fight. But Mayweather did what he always does: He found a way to win a clear unanimous decision in one of the most entertaining fights of his career. In the long view of history, this will go down as one of his biggest wins.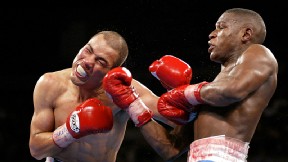 Chris Polk/FilmMagicMayweather dominated Castillo in the rematch after getting a close decision in their first meeting.
8. Jose Luis Castillo II (2002):
In early 2002, Mayweather moved up to lightweight and challenged Castillo, the No. 1 fighter in the division, for his world title, winning via a controversial decision. There are many who believe Castillo deserved the victory or, at least, a draw. Perhaps stung by the criticism of the performance, Mayweather gave Castillo an immediate rematch later in the year and left no doubt as he won another decision, this time with more authority.
9. Angel Manfredy (1998):
Just 47 days after dominating Genaro Hernandez to win the junior lightweight world title, Mayweather not only returned to make his first defense, but did so against the de facto No. 1 contender, Manfredy, who had looked good in a string of wins and had stopped Arturo Gatti earlier in the year. While many thought Manfredy would hang tough, he was nothing more than fodder as Mayweather simply crushed him in two one-sided rounds.
10. Arturo Gatti (2005):
Few doubted that Mayweather would beat Gatti. The speed and defensive differences were going to be overwhelming. However, given his heart and penchant for comebacks and slugfests, Gatti could never be totally counted out. This one, however, was more or less over right off the bat. Mayweather absolutely dominated even more than some anticipated. He was ahead by a shutout on all three scorecards after six rounds when Gatti did something shocking: He retired on his stool. Not only had Mayweather battered Gatti, but he had made the ultimate warrior quit.
June, 13, 2013
6/13/13
1:15
PM ET
A little of this and a little of that from the world of boxing:

• There's been a big shake-up behind the scenes at Golden Boy as chief executive Richard Schaefer recently announced a major restructuring of the staff of the world's No. 1 promotional company.

Chief operating officer David Itskowitch is leaving the company after six years, effective July 31, which set off a slew of changes. Bruce Binkow, the chief marketing officer, will also now be the COO, and longtime vice president of operations Armando Gaytan will also assume the newly created position of deputy COO and has been promoted to senior VP of operations. Chief of staff Robert Gasparri will take on the role of VP of operations. Schaefer also announced that attorney Arnold Joseph, who has done work for the company for years, is joining the staff full-time as general counsel. Longtime director of communications and events Monica Sears was promoted to VP of operations and digital marketing coordinator Nicole "The Spark" Sparks is moving up to director of marketing. Marylyn Aceves is returning to the company as VP of public relations.

"Given his contributions to Golden Boy Promotions over the past six years, David Itskowitch's departure from the company is significant and he will be missed, but with the restructuring we have implemented we will have a smooth transition that will ensure the continued success of Golden Boy Promotions," Schaefer said.

• Golden Boy announced the full undercard for its June 22 Showtime tripleheader at the Barclays Center in Brooklyn, N.Y. In addition to the TV fights -- welterweight titlist Paulie Malignaggi defending against lightweight titleholder Adrien Broner, the heavyweight rematch between Johnathon Banks and Seth Mitchell and Sakio Bika-Marco Antonio Periban for a vacant super middleweight belt -- junior middleweight prospect Julian Williams (12-0-1, 7 KOs) will face chin-challenged former titleholder Joachim Alcine (33-4-1, 19 KOs) in the most notable other bout. Three of the other bouts will involve members of the 2012 U.S. Olympic team: Staten Island light heavyweight Marcus Browne (4-0, 4 KOs), who always has a fan section cheering for him at Barclays, bantamweight Rau'Shee Warren (4-0, 2 KOs) and lightweight Jamel Herring (3-0, 2 KOs).

• Promoters Lou DiBella and Curtis "50 Cent" Jackson announced that they have acquired the rights to "Tapia," a documentary on the late former five-time world champion Johnny Tapia, who died in May 2012 at age 45. The world premiere of the documentary will take place at the Los Angeles Film Festival on Saturday. The film, directed by Eddie Alcazar, chronicles Tapia's tumultuous personal and professional life using first-person narration from Tapia himself, archival footage and personal photos. Alcazar spent many hours with Tapia filming, including in the weeks before Tapia's death. Those last interviews are included in the film, as are interviews with Mike Tyson, trainer Freddie Roach (who trained Tapia at one point during his career) and Teresa Tapia, Johnny's widow.

"I was drawn to the intensity of this project," Jackson said. "His story resonated with me because like Tapia, I too lost my mother to violence and grew up with limited means. It's a heartfelt story and it was important for me to get involved with bringing this to a broader audience."

Said DiBella, who, when he programmed boxing at HBO, put Tapia on the network, "This is not a boxing film, but a film about tragedy, triumph, demons and redemption. Johnny gives us an honest assessment of his strengths and frailties; he reminds us of the power and resiliency of the human spirit."

• European light heavyweight champion Juergen Braehmer (40-2, 31 KOs), a former world titleholder, will make his second defense against Italy's Stefano Abatangelo (17-2-1, 6 KOs) on Aug. 24 in Schwerin, Germany, Sauerland Event announced. Abatangelo is 11-0-1 in his past 12 fights. Braehmer is the mandatory challenger for world titleholder Nathan Cleverly, who he could meet later this year. Also on the card is supposed to be the return of former middleweight and super middleweight titlist Arthur Abraham (36-4, 28 KOs) against Willbeforce Shihepo (20-6, 15 KOs). In his last fight, Abraham was destroyed in four rounds and lost his super middleweight belt to Robert Stieglitz in their March 23 rematch.

• Some interesting stats from last Saturday's head-to-head clash between the HBO and Showtime cards. According to Nielsen Media Research, HBO's undercard fight of Yuriorkis Gamboa-Darleys Perez drew 947,000, which increased to 1,024,000 viewers for the Adonis Stevenson-Chad Dawson main event. Showtime, which had a tripleheader, drew a measly 207,000 viewers for the Jermell Charlo-Demetrius Hopkins opener, which grew to 471,000 for the Erislandy Lara-Alfredo Angulo co-feature and then 594,000 for the Marcos Maidana-Josesito Lopez main event. Although Showtime (which is in about 8 million fewer homes than HBO) had the better overall card for sure and has seen its boxing viewership on an overall upswing, the dreadful Gamboa-Perez undercard fight on HBO still drew 353,000 more than Showtime's main event.
October, 25, 2012
10/25/12
10:56
AM ET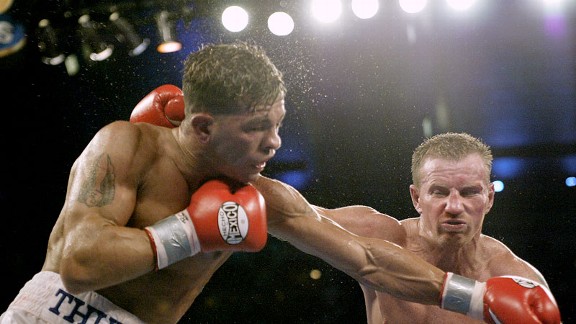 Al Bello/Getty ImagesThe Hall of Fame case for Arturo Gatti is open and shut, according to rival and friend Micky Ward.
Ballots for the International Boxing Hall of Fame's class of 2013 are due back by Oct. 31. Up for election in the modern category are 45 fighters, including three first-timers on the ballot: the late Arturo Gatti and light heavyweight champion rivals Virgil Hill and Henry Maske.
Gatti's inclusion on the ballot has been a lightning rod of controversy because, despite his building a career filled with incredible, all-time action fights, there are a lot of people who believe he shouldn't be voted in.
The detractors say that although Gatti, who died in 2009 under mysterious circumstances -- authorities initially detained his wife as a murder suspect but later concluded that Gatti had committed suicide -- won alphabet belts in two weight classes (junior lightweight and junior welterweight) during a 16-year pro career, he was never considered the best fighter in his division and his résumé lacked victories against prime, A-level opponents.
Those in support of his election would agree but say that his massive popularity -- he was the boxing franchise in Atlantic City, N.J., for several years -- and the unforgettable nature and ferocity of his many brawls, which helped create so many new boxing fans, made him special and worthy of inclusion.
I filled out my ballot this week and at a later date I'll detail my own selections. But with regard to the Gatti vote, I asked one man who knew Gatti well what he thought about his candidacy.
I asked Micky Ward, Gatti's greatest ring rival who became his close friend by the end of their now-legendary three-fight series, which Gatti won 2-1.
Their first junior welterweight fight was as good as it gets and was the consensus 2002 fight of the year, which Ward won via majority decision. Later in 2002, Gatti won a decision in the second fight, which was excellent but not one of those truly memorable slugfests that dot Gatti's résumé. In 2003, Gatti won the rubber match, which also was widely considered the fight of the year.
Ward, who retired after the third fight and then briefly trained Gatti at the end of his career, believes that, without question, Gatti is a Hall of Famer.
"I think he definitely should be," Ward said. "If you look at the statistics, he was in fight of the year four times. He had a number of comebacks in fights. He had so many exciting fights that people remember. He's a two-time word champion and he had round of the century with me."
Ward is referring to the amazing ninth round of their first fight, when Ward dropped Gatti early with a brutal left hook to the body and came close to knocking him out before Gatti came roaring back in one of the best toe-to-toe action rounds in boxing history.
"So I think he's a Hall of Famer. Why not? Look at some of the guys who are in there who I don't think have done what he has done," said Ward, who participated in three consecutive fights of the year -- his 2001 win against Emanuel Augustus and then the first and third Gatti fights.
Ward said when he heard that Gatti had made the ballot in his first year of eligibility, he was very excited.
"It was great. I was just so happy when I found out," said Ward, who is a regular visitor to the Hall of Fame induction weekend at the Canastota, N.Y., shrine each June.
He said that if Gatti is elected, he would be there for induction day (although Gatti would have to be represented by his family). It would be bittersweet, Ward said, but there is no way he would miss it.
"Most definitely and without a doubt, I will be there," he said. "It would be the second-best thing to me getting in there."
Ward said he is enjoying his retirement and working with a few young fighters. He also said that there is a good chance that there will be a sequel to the critically acclaimed 2010 film "The Fighter," which was based on his life.
Ward said that he has been talking to Mark Wahlberg, the film's producer and star, about a sequel that would focus on Ward's trilogy with Gatti. "The Fighter" timeline ended before the Gatti-Ward fights.
"I've been talking with Mark, and they're talking about doing the movie," Ward said. "Will it happen? I don't know, but if it does, it will be around the Gatti fights. I hope it happens. It would be great. It would remind everyone again what Arturo meant to boxing."