Dan Rafael:

Audley Harrison
May, 24, 2013
5/24/13
1:54
PM ET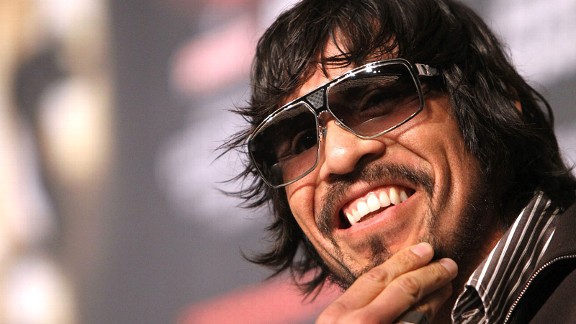 Chris Farina/Top RankFormer champion Antonio Margarito denied the rumors of a possible comeback to the ring.
It is not unusual for a fighter who says he is retiring to reconsider and return. Sometimes it's only a matter of days, such as this week's announcement from Audley Harrison that he was coming back just 20 days after announcing his retirement. Sometimes it is years. George Foreman, for example, was retired for a decade before launching a comeback that included reclaiming the heavyweight championship.
When former welterweight titlist Antonio Margarito, notoriously remembered for getting caught with illegal knuckle pads coated with a plasterlike substance before a 2009 fight with Shane Mosley and his subsequent license revocation, announced his retirement after taking a beating from Miguel Cotto in their rematch for Cotto's junior middleweight title in December 2011, many figured it would be only be a matter of time until the "Tijuana Tornado" made a comeback, despite a surgically repaired right eye that Cotto smashed up.
Rumors have swirled recently that Margarito (38-8, 27 KOs), 35, was on the verge of unretiring because of financial difficulty while going through a divorce. Frankly, money issues or not, few would have been surprised had he done so.
But Margarito, who lives in Los Angeles, put the rumors to rest this week when he issued a statement denying any financial issues (which he shouldn't have after the millions he earned for major fights against Cotto, Manny Pacquiao and Mosley) and saying that he wasn't coming back.
"I was surprised by several unfounded rumors regarding my current situation, including news on a return to boxing and supposedly a divorce settlement that has left me broke and with the need to return to boxing," Margarito said in a statement. "In some cases, the information dealt with news of my return, and some unfounded news about a settlement. However, some tabloid media has gone further than that, spreading unfounded rumors that no one took the trouble to investigate fully. I am the fist to admit that my time [on] the boxing stage is a thing of the past and as a man who has his feet firmly on the ground, I also know that I have to be jealous of guarding my property as it will be difficult to find another profession that could produce a higher yield than what I earned in the ring. However; there is some damage to my family that can be done by spreading lies and half-truths."
Margarito explained that he and his wife, Michelle, have been separated for more than two years and that she is in a new relationship and pregnant. He said he has also started a new life and has a baby with girlfriend Lorena Vidales.
"The divorce settlement has not been finalized and as civilized people we respect each other's life, and during this time have been negotiating the settlement," Margarito said. "With what we will share, I expect that it will help us to live, if not full of luxuries, in a comfortable lifestyle. However, when people start talking of 'a millionaire settlement,' it exposes Michelle and my children -- who live in Tijuana, Mexico -- to becoming victims of blackmail and even kidnapping. That is why I wanted to make this public statement about the situation.
"I accepted and still accept any criticism about my boxing career and was always thankful that the press covered my boxing career. But this is not a case strictly related to the sport. I believe that boxing has been used by a few journalists to trample on my private life, showing no respect for other people who have nothing to do with boxing and could be seriously hurt by this erroneous information."
May, 22, 2013
5/22/13
9:19
AM ET
Heavyweight Audley Harrison, long ago dubbed "Fraudley" by the media for his massive underachievement, is now just a sad joke in boxing.

Harrison (31-7, 23 KOs) won a 2000 Olympic super heavyweight gold medal for Great Britain and arrived on the pro scene with enormous potential. It went unfulfilled -- and dramatically so.

He never had a breakout win, yet still got a world title shot against David Haye, who cherry-picked him and won by third-round knockout in a fight so horrible that British fans revolted and caused Sky Sports to stop broadcasting pay-per-view boxing for a while.

Harrison thankfully retired. But he came back 16 months later, beat nobody and then got whacked in the first round by hot prospect David Price in October.

After winning an edition of the "Prizefighter" competition, Harrison got obliterated by Deontay Wilder in the first round on April 27.

On May 1, Harrison announced his retirement again. Good, I thought. He should have stayed retired after the Haye embarrassment.

But on Tuesday -- just 20 days after retiring a second time -- Harrison announced that he is unretiring.

Oh joy.

Harrison claims that the birth of his son last week helped him make the decision.

"When I made the tough decision to walk away from boxing, I knew it was not going to be easy. As the days passed, I knew I would not be able to live with the decision," he said in a long-winded statement. "I wrestled with it for a few weeks and spoke to everyone from the [British] Boxing Board, to Lennox Lewis, David Haye, my dad, wife and many others. Ultimately, seeing my son born crystallized my decision.

"There is no way I am going to tell my son, 'I gave up because I didn't want to climb the mountain again, I didn't want to dust myself off again, when I'm now in the best shape of my career, doing things I haven't done for years, and back in love with the sport.' How can I retire when I know I have another shot in me? If I don't get up and try again, everything I've stood for would mean nothing."

Does Harrison actually believe that? He has been knocked out four times, all inside three rounds. And when Harrison, who has no chin whatsoever, gets knocked out, he really gets knocked out. In splattering fashion.

For him to seriously think he will ever get another big-time fight, or even have a prayer of winning one, is just sad. Seriously, who would pay 10 cents to see him fight again? Yet here comes more gibberish from his statement:

"We all saw how the fight [with Wilder] ended, which was not right," Harrison said. "I can't walk away with that performance. If I do, it would haunt me until I'm old and gray. I got up. They should have let him come to finish me and let me show what I got."

Show what I got? Really? REALLY?

Harrison had absolutely nothing, which was exactly why Golden Boy Promotions settled on him as the opponent for Wilder. He was a decent name who presented no real danger to the undefeated prospect.

"People who worry I may get hurt, I thank you for your concerns," Harrison continued. "We live in a free society, and my desire for freedom and autonomy is my universal right. Don't know where, but see you in a ring real soon."

And then, without question, we'll see "Fraudley" flat on his back yet again.

April, 30, 2013
4/30/13
10:20
AM ET
Want to perk up interest in the heavyweight division? Match two up-and-coming guys against each other and see what happens.

There are good fights to be made, even though most guys want to sit around waiting for a shot at one of the Klitschko brothers. But Golden Boy Promotions chief executive Richard Schaefer wants to make interesting fights, Klitschko brothers be damned.

He wants to make a fight -- a very attractive fight, I might add -- between the 6-foot-7, 225-pound Deontay Wilder and 6-9, 250-pound Tyson Fury, two up-and-coming big men with a lot of question marks that a fight between them might answer.

Schaefer promotes Wilder, a 2008 U.S. Olympic bronze medalist, who has blasted through a litany of terrible opponents to compile a glittering record -- 28-0 -- without proving a thing other than he can knock out punching bags.

Wilder, 27, of Tuscaloosa, Ala., has real power in his right hand and obvious potential, but nobody knows if he can really fight because he has smashed his overmatched opponents so early, including the shot Audley Harrison on Saturday night in Sheffield, England, on the Amir Khan-Julio Diaz undercard. Wilder needed just 70 seconds and the first real punch of the fight -- a right hand -- to drill Harrison.

Fury (21-0, 15 KOs), 24, of England, is a bit more advanced than Wilder, having beaten opponents such as Dereck Chisora, Kevin Johnson and, on April 27 in New York, former cruiserweight titlist Steve Cunningham. But Fury has not shown the best chin. Obscure Neven Pajkic dropped him in a 2011 fight and Cunningham, a much smaller man, also dropped him and was roughing him in the early part of the fight. Wilder is a much bigger puncher than either of them.

"We'd like to make Wilder against Tyson Fury," Schaefer said. "We'd do it in a minute. It would be a fight a lot of people would be interested in."

Alas, like most interesting potential heavyweight fights, don't count on seeing it.

Schaefer said Golden Boy matchmaker Eric Gomez called Fury promoter Mick Hennessy to see if they were interested and they weren't.

"Hennessy was saying that they have other options and this and that and other excuses," Schaefer said. "They were not all that keen on it. It's too bad."

It is too bad.
October, 17, 2012
10/17/12
1:05
PM ET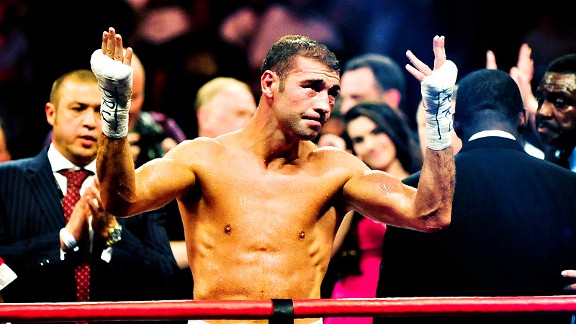 AP PhotoLucian Bute returns to the ring after a disappointing defeat against Carl Froch in May.
A few fights here and there have been added to the upcoming TV schedule. Here's a look:
• WealthTV announced that it has picked up the American rights to a pair of interesting fights. On Nov. 3, it will air live coverage of former super middleweight titlist Lucian Bute's comeback bout in Montreal against Denis Grachev. Bute will be fighting for the first time since Carl Froch knocked him out and took his title in May.
WealthTV also has the U.S. rights to the Nov. 17 flyweight unification fight between Brian Viloria and Hernan "Tyson" Marquez, which will take place at the Los Angeles Sports Arena. This is a fantastic matchup, a fight that deserved interest from premium cable networks HBO and Showtime.
It looks like WealthTV is diving into boxing in a big way. It has output deals with Canadian promoter Yvon Michel and British promoter Mick Hennessy but hasn't limited itself to their fights. Last weekend WealthTV provided live coverage to U.S. viewers of three international fights: Adonis Stevenson's 12th-round knockout of Donovan George in a super middleweight eliminator in Montreal (a Michel fight); heavyweight prospect David Price's first-round destruction of Audley Harrison in Liverpool, England (a Frank Maloney fight); and James DeGale's European super middleweight title defense against Hadilla Mohoumadi on another card in England (a Hennessy fight).
• In addition to live coverage of heavyweight champ Wladimir Klitschko's Nov. 10 defense against Mariusz Wach from Hamburg, Epix's show will be a split-site doubleheader. In addition to the Klitschko fight, there will also be coverage of the return from injury of heavyweight contender Robert Helenius (17-0, 11 KOs). He will fight at home in Helsinki, Finland, likely against Finnish southpaw Jarno Rosberg (14-0, 4 KOs).
• "Friday Night Fights" doesn't return to ESPN2 (and ESPN3) until January, but there will be a Thursday night boxing special from the Mirage in Las Vegas on Dec. 6 as part of the festivities surrounding Manny Pacquiao-Juan Manuel Marquez IV fight week. The card isn't set, but lightweight Raymundo Beltran (26-6, 17 KOs) is due to headline against an opponent to be determined. Beltran, who is one of Pacquiao's sparring partners, is coming off a July upset of Hank Lundy on FNF.
• It's not a fight, but HBO announced its next installment of the "2 Days" documentary series. The 15-minute show will focus on heavyweight prospect Seth Mitchell and debut Oct. 27 at 10 pm ET/PT. The show follows Mitchell in the 48 hours before his most recent fight, against Chazz Witherspoon. Mitchell will return to the ring on an HBO undercard on Nov. 17 against Johnathon Banks. The "2 Days" show precedes a live tripleheader from Turning Stone Casino in Verona, N.Y., featuring welterweight prospect Thomas Dulorme against Luis Carlos Abregu, junior welterweight Karim Mayfield against Mauricio Herrera and lightweight titlist Miguel Vazquez in a mandatory defense against Marvin Quintero.