Dan Rafael:

Billy Joe Saunders
November, 14, 2014
Nov 14
4:15
PM ET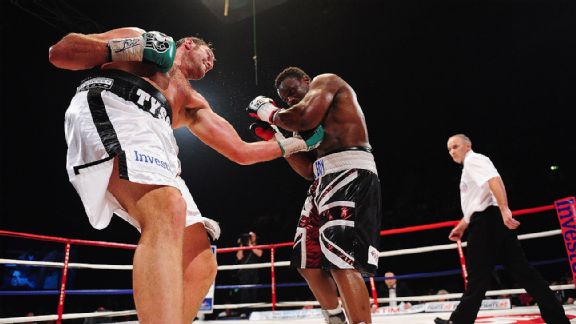 Martin McNeil/Getty ImagesTyson Fury, left, defeated Dereck Chisora by unanimous decision in 2011.
The all-British heavyweight rematch between trash-talking contenders Tyson Fury and Dereck Chisora, scheduled for Nov. 29 at the ExCel Arena in London, finally has a U.S. outlet.
The fight, as well as two undercard fights, will stream live (and free) on ESPN3. According to the network, it wrapped up a deal with promoter Frank Warren on Friday.
The stream will begin at approximately 3 p.m. ET with the main event ring walks at approximately 5:30 p.m. ET. The ESPN3 stream will include three bouts beginning with the British and Commonwealth welterweight title bout between Frankie Gavin (20-1, 13 KOs) and Bradley Skeete (18-0, 7 KOs), followed by the middleweight world title eliminator between Billy Joe Saunders and Chris Eubank Jr. and then the main event. Saunders-Eubank is also for Saunders' British, Commonwealth and European titles.
Fury and Chisora are meeting for the right to become one of world champion Wladimir Klitschko's mandatory challengers, as well as for Chisora's European title.
Originally, Fury-Chisora II was scheduled for July 26 in Manchester, England, but it was postponed until Nov. 22 after Chisora fractured his left hand during his final sparring session eight days before the fight, and then it was moved a week later.
Fury (22-0, 16 KOs), 26, and Chisora (20-4, 13 KOs), 30, first met in July 2011 in a much-hyped showdown and engaged in an exciting fight, although Fury pounded his way to a clear decision against an obviously out-of-shape Chisora -- who suffered his first loss -- to win the British and Commonwealth titles.
The winner between British countrymen Saunders (20-0, 11 KOs), 25, and Eubank (17-0, 12 KOs), 24, will earn a shot at the winner of the Dec. 13 vacant title bout between Matt Korobov and Andy Lee.
October, 31, 2014
Oct 31
7:08
PM ET
The 27th annual WBO convention wrapped up on Thursday at Caesars Palace in Las Vegas. The most significant activity at any sanctioning body convention comes on rankings and mandatory day, which is when the floor is open for promoters to make their cases for their boxers to receive favorable rankings. The organizations also will typically go over each division's title status and make any necessary rulings.

Here's an update with a few notable items from the convention, division by division:

• Super middleweight: Although the WBO declined to order a mandatory rematch between titlist Arthur Abraham and Paul Smith in the wake of Abraham's controversial decision win on Sept. 27, it said the fighters likely will face off in an optional rematch in February. It's no secret that their promoters have been in talks.

• Middleweight: The Nov. 29 fight between Billy Joe Saunders and Chris Eubank Jr. was sanctioned as the final eliminator to produce the mandatory challenger for the winner of the Dec. 13 vacant title bout between Matt Korobov and Andy Lee.

• Welterweight: Former welterweight titlist Shawn Porter, who held another organization's belt, and former junior welterweight titlist Mike Alvarado requested to rankings in the welterweight division, which are likely to be granted.

• Junior welterweight: In a surprise move, the WBO announced that titleholder Chris Algieri, who challenges welterweight titlist Manny Pacquiao on Nov. 22, will have his belt vacated with the commencement of the fight with Pacquiao -- rather than be able to pick a division to defend in should he win or have the ability to return to junior welterweight to defend if he loses.

• Junior lightweight: Titleholder Orlando Salido may go to Russia to defend against Andrey Klimov, but whomever he fights he expects to defend in February or March.

• Junior featherweight: The organization said it would sanction a bout for the vacant interim title. Full titleholder Guillermo Rigondeaux had been ordered to face mandatory challenger Chris Avalos. Rigondeaux's team won a purse bid, but Avalos, also mandatory in the IBF, elected to go that route for a bigger fight with titlist Carl Frampton. So the WBO wants the winner of the interim title bout -- participants TBA -- to face Rigondeaux in a mandatory fight. It's pretty silly to sanction the interim title bout if that's the reason. The WBO should either go down its rankings until it finds somebody willing to accept the mandatory assignment against Rigondeaux or it should order the top contenders to fight and call it a title eliminator, not an interim title bout.

• Junior bantamweight: Titleholder Omar Narvaez will defend in December, but no date or opponent was specified.

• Junior flyweight: Titleholder Donnie Nietes will defend his belt against Carlos Velarde on Nov. 15 in the Philippines, but after that Nietes plans to go up to flyweight, which would leave the junior flyweight belt vacant.

October, 2, 2014
Oct 2
7:25
PM ET
When Peter Quillin gave up his middleweight world title in early September at the behest of manager Al Haymon rather than face Matt Korobov for a career-high payday (by far) of $1,428,630 -- because Jay Z's Roc Nation Sports swooped in and won a purse bid to grab control of the fight from Haymon -- it set things in motion for how the vacancy would be filled.
And what a roller coaster that has been.
[+] Enlarge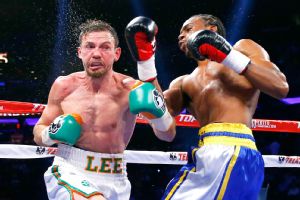 Rich Schultz/Getty ImagesMiddleweight Andy Lee, left, could find himself in a vacant title bout against Matt Korobov on Dec. 13.
Originally, the vacancy was to be filled by Korobov taking on Billy Joe Saunders. Korobov promoter Bob Arum of Top Rank and Saunders promoter Frank Warren quickly made a deal for Korobov to travel to England for the fight, which was ticketed for the Tyson Fury-Dereck Chisora undercard on Nov. 29 in London.
But then Banner Promotions' Artie Pelullo, the co-promoter of junior middleweight titlist Demetrius Andrade, petitioned the WBO to give Andrade the shot at Korobov for the vacant title. It is commonplace for the WBO to allow a titleholder from one division to get an immediate shot at the title in the weight class above where they hold the title.
So it came as no surprise when the WBO ruled in Pelullo's favor, causing Arum to rip Pelullo because Arum claimed they had worked out a deal for Andrade to step aside.
But a funny thing happened on the way to Korobov-Andrade: Andrade's camp rejected the fight this week, instead electing to remain at junior middleweight to defend his title, even though he has no specific date or opponent lined up just yet while Pelullo battles it out with HBO over his next bout.
So that set things back in motion for a possible Korobov-Saunders fight right? Sort of. Saunders is supposed to meet Chris Eubank Jr. on Dec. 13 in a fight that was agreed to when it looked like Saunders wouldn't get the world title shot.
Arum said he got a call this week from Warren saying that it looked as though Saunders-Eubank -- which has had trouble of its own getting finalized -- would indeed take place. If that actually happens, it means that Korobov could instead face perennial contender Andy Lee for the vacant belt on Dec. 13 on the HBO undercard of Timothy Bradley Jr.'s next fight or in the United Kingdom.
"The deal would be the winner of Korobov-Andy Lee could fight Saunders if he beats Eubank," Arum said.
Arum was still steamed that Pelullo went to so much trouble to get Andrade the shot at the vacant belt only to back out of the position and mess up the plans for Korobov-Saunders.
"I'm pissed off," Arum said. "I'm not against a promoter doing the best he can for his fighter but to go off on a tangent and disturb everything that was planned and not even have the fighter on board is amateur night. You get your ducks in order before you make that move [with the WBO]. If Andrade really wanted to fight for the middleweight title then I would have understood it. I wouldn't have liked it but I would have understood it. This I don't understand. Why make such a production out of getting the kid the fight for the vacant title and then you don't take the fight?"
Korobov is going to fight for the vacant belt against whomever the WBO approves for the fight. As for Lee, promoter Lou DiBella said, "It's a possibility. Andy would definitely be interested in fighting Korobov for the title."
The WBO is considering a request to approve Korobov-Lee for the belt.
January, 8, 2014
Jan 8
1:41
PM ET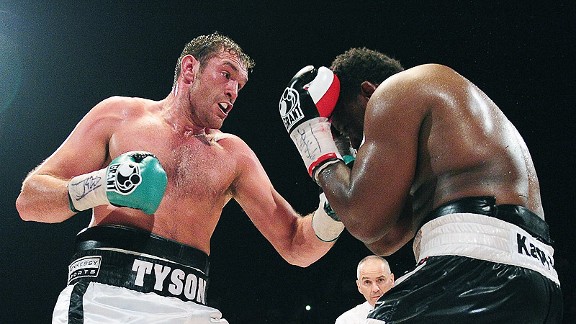 Martin McNeil/Getty ImagesTyson Fury topped Dereck Chisora in 2011, and the hope is that the heavies will go at it again in June.
In July 2011, Tyson Fury outpointed an out-of-shape Dereck Chisora in a crowd-pleasing fight between two of Great Britain's best heavyweights. If things work out, the world contenders could be on their way to a June rematch.
Chisora (19-4, 13 KOs) has won four fights in a row since a knockout loss to former world titleholder David Haye in July 2012, and he is aiming to win a fifth consecutive fight on Feb. 15 when he defends his European title against Ukraine's Andriy Rudenko (24-0, 16 KOs) at the Copper Box Arena in London.
Fury (21-0, 15 KOs), whose career has been stalled since last April because Haye pulled out twice from their scheduled fight, could appear on the card as well, with the idea being that if he and Chisora both win they could meet again in what would be a big fight.
Frank Warren, Chisora's promoter, announced on Wednesday that he had come to an agreement with Fury promoter Mick Hennessy for Fury to be on the card.
"The plan is for both of them to come through their fights on the night and then the pair will meet in a massive rematch in June," Warren said. "Because it's the biggest fight out there for them and it's a fight that the public want to see, the only place for it to happen would be a football stadium, a real summer extravaganza between the big men of British boxing, before the World Cup. Tyson beat Dereck a few years ago, and since then both of them have come on. Tyson has done fantastic, winning both here and abroad, and has marked himself as one of the world's most exciting heavyweights.
"Dereck's performances have been spot-on recently, his weight is right and so is his attitude and focus, and he's a real handful for any heavyweight out there. I'm already excited by it. Chisora versus Fury is the biggest fight out there and it could certainly be a world title eliminator. But plans can be upset, though. Chisora has a by-no-means-easy fight against a hard and undefeated Ukrainian in Rudenko."
Hennessy said that although the plan is being considered, it isn't set just yet, contrary to Warren's announcement.
"We have had a verbal offer from [British boxing subscription network] BoxNation for Tyson to appear on three of their shows, but as yet have not received any contract to look at and consider," Hennessy said. "Until something is agreed in writing and signed into, myself, [Fury manager and uncle] Peter Fury and Tyson are still keeping our options open. We were told it would be 48 hours before we even receive any paperwork to look at, and we are still awaiting any such communication."
Super middleweight prospect Billy Joe Saunders was supposed to appear on the Feb. 15 card to defend his British and Commonwealth middleweight titles, but he has withdrawn because a hand injury suffered in his previous fight is still not healed.
September, 30, 2013
9/30/13
2:31
PM ET
Billy Joe Saunders, the British and Commonwealth middleweight champion, and heavyweight Dereck Chisora co-headlined the first pro boxing card at the Copper Box Arena -- a facility used for the 2012 London Olympics -- on Sept. 21.

The card was a success, with Saunders retaining his belts by decision against John Ryder and Chisora stopping Edmund Gerber in the fifth round to win the vacant European title.

Saunders and Chisora will be back to co-headline the second card at the arena on Nov. 30. Neither fighter has an opponent yet, but both will defend their belts.

Chisora (18-4, 12 KOs), who lost a world title challenge by lopsided decision to Vitali Klitschko in 2012, hopes to use his European title to help him land either a rematch with titleholder Vitali (unlikely) or a shot at world champion Wladimir Klitschko (not out of the realm of possibility). Wladimir, of course, would have to retain his title against Alexander Povetkin on Saturday in Moscow, where Chisora plans to be ringside.

"I said that I would be destroying these guys from now on, and that's what I've done in my last two fights," Chisora said. "The fans and media know what I can do. This is the new 'Del Boy' and this time I'm on the road to win the world heavyweight title. I love fighting at the Copper Box Arena, and this is my new home. Whoever I have in front of me on Nov. 30 is getting destroyed."

Saunders (19-0, 10 KOs) has won all three of his fights so far in 2013 and hopes to close out the year 4-0 with another defense.

"To say this year has been the best of my career would be an understatement," said Saunders, a 2008 British Olympian. "I couldn't have wished for a better one, but it's only going to get better and better. I'm producing the best boxing of my career. I've defended my British and Commonwealth titles, I've beaten two unbeaten fighters in [Gary] O'Sullivan and Ryder. I'm still unbeaten and I've won the Best Young Boxer of the Year award [from the British writers]. But the year isn't over yet."
August, 2, 2012
8/02/12
10:44
AM ET
The first thing I thought of when I saw super middleweight contender George Groves of England suffer a really nasty cut over his right eye in his fight against Francisco Sierra last Saturday was that there was no chance he would be able to go forward with another fight he had already scheduled.

Sure enough, the cut caused Groves, the British and Commonwealth champion, to withdraw on Thursday from a Sept. 14 title defense against Kenny Anderson.

Although Groves (15-0, 12 KOs) stopped Seirra in the sixth round of an exciting fight, Groves' eye got busted open in the third round of the Showtime Extreme-televised bout on the Robert Guerrero-Selcuk Aydin undercard. Besides gaining American exposure, Groves was also using the fight as a tuneup for his rematch with Anderson.

The fight was supposed to headline promoter Frank Warren's show at Wembley Arena. But because of Groves' withdrawal, Warren announced that the show would move to the smaller York Hall in London. Other than Groves' departure, the card will remain intact. Moving up from the undercard to top the bill, as they say in England, will be 2008 British Olympian Billy Joe Saunders (14-0, 9 KOs), who will make the second defense of his Commonwealth middleweight title against Jarrod Fletcher (12-0, 7 KOs) of Australia.

Warren also announced that tickets that already have been purchased for Wembley Arena can be exchanged for the new venue.