December, 4, 2012
12/04/12
1:48
AM ET
Former super middleweight titlist Mikkel Kessler has won a piece of the 168-pound title three separate times. He will try to do it for a fourth time by beating "regular" titlist Brian Magee on Saturday night, which could set Kessler up for something big.
[+] Enlarge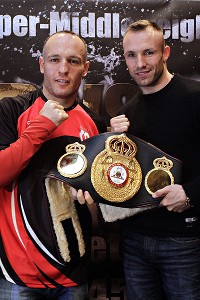 AP Photo/Peter MorrisonSuper middleweight titlist Brian Magee says he'll beat former titlist Mikkel Kessler in his native Denmark, while Kessler's side is predicting a knockout.
Magee, a southpaw from Northern Ireland, will travel to Kessler's home turf of Herning, Denmark, to defend his belt for the first time. While Kessler aims to claim another belt, the real incentive, at least for boxing fans, is that a Kessler win could set the stage for a rematch with titleholder Carl Froch, who lost a title bout to Kessler during the Super Six World Boxing Classic in April 2010.
Their scrap was very, very close and, by far, the most exciting fight of the tournament. A rematch is a natural.
Froch thrashed Lucian Bute in May to win a belt for the third time and retained it against Yusaf Mack by third-round knockout on Nov. 17. Froch is supposed to now meet Bute -- who struggled to win his interim bout against Denis Grachev last month -- in a rematch on Bute's turf in Montreal in March. However, behind the scenes the two sides are discussing putting off the rematch for at least one more fight.
Bute would be wise to take an easier fight considering how bad he looked against Grachev. There's a chance he could fight on HBO in March against Edwin Rodriguez.
Froch, meanwhile, really wants a rematch with Kessler, which just might happen if the Bute fight is put off and Kessler (45-2, 34 KOs) beats Magee (36-4-1, 25 KOs).
Jimmy Montoya, Kessler's trainer, is predicting that his man will knock out Magee.
"I don't want to take anything away from Magee," Montoya said. "He is a great fighter and very skilled, but Mikkel is just too strong and too good for him. Mikkel is just one of a kind. Magee won't be there for the 10th round."
Kessler is also confident of a victory, even if he isn't predicting a knockout himself.
"The KO over Allan Green was great," Kessler said of his performance in a May win, a knockout of the year candidate. "Now I want to defeat Magee and become world champion again. This is personal now; Magee has knocked out two of my countrymen. But now his winning streak in Denmark will come to an end. I'm in great shape and I'm ready to get it on."
Magee has gone to Denmark twice and knocked out Danish fighters. In 2010, he stopped Mads Larsen in the seventh round to win the vacant European super middleweight title. In his most recent fight, in February, he knocked out Rudy Markussen in the fifth round to retain an interim world title (before being elevated to a full titlist a few months ago).
"Brian has already made a lot of successful trips abroad, and two of them have been to Denmark," Kessler said. "But I will make sure that his third trip over will not be a good one for him. I have a lot of respect for Brian. He is a warrior. There are a lot of similarities between us. We are solid fighters and we are not scared to fight abroad. I have fought in Wales, Australia and the U.S., and Brian has also fought in a lot of places, including Denmark, of course. But I think I am the better boxer, I have much more power. I have never lost a fight in Denmark, and it will be no different against Magee."
Magee said he isn't worried about fighting on Kessler's turf.
"I guess I am the most hated man in Denmark this week, but that's fine," he said. "I am here to beat one of the greatest fighters Denmark has ever had and I am confident I can do that. I love fighting in Denmark. The fans are great and the atmosphere will be brilliant. It's going to be fantastic fight, a fantastic show. I am ready to beat Kessler."
November, 3, 2012
11/03/12
1:24
PM ET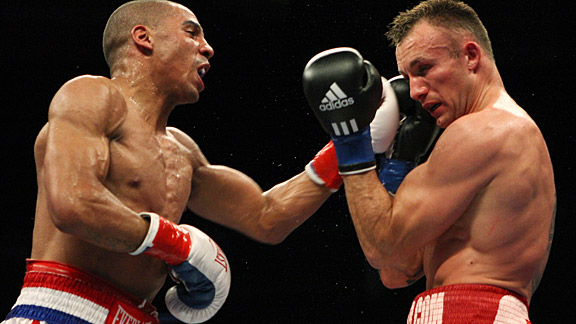 Jed Jacobsohn/Getty ImagesAndre Ward would consider a rematch if Mikkel Kessler wins on Dec. 8 to become Ward's mandatory.
While the promoters for super middleweight champ Andre Ward and former middleweight champ Kelly Pavlik continue to work toward finalizing their fight in January, others are lining up for a chance to face Ward, assuming he beats Pavlik.
At this week's WBA convention in Jakarta, Ward (26-0, 14 KOs) was ordered to face the winner of the Dec. 8 fight between Brian Magee (36-4-1, 25 KOs), the organization's "regular" titlist, and former titleholder Mikkel Kessler (45-2, 34 KOs).
Ward, who hasn't made a mandatory defense, would have to fight the winner by June 8, six months after the Magee-Kessler bout.
Kessler was happy about the order because he believes he will have an opportunity for a rematch with Ward, who took his title in the opening round of the Super Six World Boxing Classic in November 2009. Ward manhandled Kessler and was beating him easily when the fight was stopped because of an accidental head-butt and ruled a technical decision in the 11th round.
"I did not think it was possible to be more motivated to beat Magee and become world champion again on Dec. 8, but now I have found a reason," Kessler said. "Andre Ward knows that he owes me a rematch. That was not the real 'Viking Warrior' in the ring on that night. I was at my best against [Carl] Froch and Allan Green, and I will be at my best against Magee. Now I just have to regain my title on Dec. 8, and then we will have the rematch. Ward had better get ready."
Naturally, Sauerland Event promoter Kalle Sauerland used the ruling to hype the Magee-Kessler fight.
"This makes the Magee clash Mikkel's most important fight ever," Sauerland said in a massive overstatement. "Ever since that dubious night in Oakland, where Mikkel suffered cuts only from elbows and head-butts, he has wanted nothing more than a Ward rematch on even terms. Now, if he can reclaim the world championship against Magee -- and that's a big if, because Magee is an accomplished fighter -- we will finally have the rematch."
Whoever comes out on top, Ward promoter Dan Goossen told me Friday that Ward would entertain the fight.
"We're always happy to see someone go out there and fight their way to another opportunity, so if Kessler can do that, it is one of the options we will have," Goossen said. "I know that Andre and the whole team talked about Magee before. He was someone we were looking to fight at one point anyway. So if Magee beats Kessler, he'd certainly earn his right. We always need options, and the winner is an option."