June, 13, 2014
Jun 13
12:49
PM ET
Junior middleweight Brian Rose of England will be looking for the upset when he challenges titleholder Demetrius Andrade on Saturday night (HBO, 10 ET/PT) at the Barclays Center in Brooklyn, New York.

The fight, the co-feature of the card headlined by junior welterweight titlist Ruslan Provodnikov (23-2, 16 KOs) making his first defense against Chris Algieri (19-0, 8 KOs), will be Rose's first outside the United Kingdom. Andrade is Rose's most technically gifted opponent yet.

But Rose (25-1-1, 7 KOs), who became the mandatory challenger off a split decision win against Javier Maciel of Argentina in October, said he is confident about bringing the 154-pound belt home despite the long odds.

"Out of all of them, Andrade is the weakest of the world champions at light middleweight -- but he is a world champion," Rose said. "I have a chance in this fight, and I haven't come over here to get beat and just make up the numbers. I'm here to take the chance that I have earned, and I am positive that I am going to come home with a world title. I am going to enjoy the experience, of course -- how could I not? I am fighting in New York for a world title. This is the big time; it's an amazing venue and I've never boxed somewhere as brilliant as this.

"But I am here to do a job. I've been out here for a while and I have not put any pressure on myself. People don't expect me to win and I don't care about that. This is a tough task. I'm under no illusions. I'm a realist, but I believe in myself and I have a team behind me that know I am capable of winning this, so it's not a case of proving doubters wrong but proving those people that have believed in me from the start right.

"Every boxer always says it's the best camp they have ever had, and it's true for me. I'm injury-free, I've sacrificed more than ever, and I cannot be any fitter or more tactically prepared for this fight. I've done everything right."

Andrade (20-0, 13 KOs), a 2008 U.S. Olympian and 2007 world amateur champion, survived a first-round knockdown and won the vacant belt by decision in November against previously undefeated Vanes Martirosyan. Andrade has predicted that he will knock Rose out, which Rose has scoffed at.

"He's building the fight up, and it's been tongue in cheek, but I haven't got involved," Rose said. "He's put himself on a pedestal and saying that he's going to knock me out, and we'll see how good he is and if he can handle the pressure. I don't think he is as good as he makes out."

June, 12, 2014
Jun 12
12:21
PM ET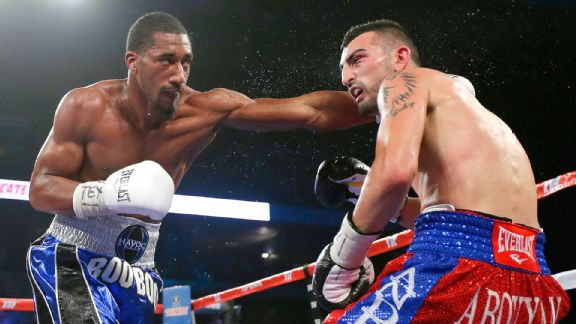 AP Photo/Eric GayDemetrius Andrade outpointed Vanes Martirosyan to win a junior middleweight title last November.
Junior middleweight titlist Demetrius Andrade was a star amateur -- 2008 U.S. Olympian and 2007 world amateur champion -- and is beginning to make his name as professional.
He claimed a vacant world title in November when he outpointed previously undefeated Vanes Martirosyan despite being knocked down in the first round. After the knockdown, however, the slick Andrade mostly dominated the fight.
Now he is back and ready to make his first title defense Saturday (HBO, 10 p.m. ET/PT) at the Barclays Center in Brooklyn, New York, in the cofeature of the card headlined by junior welterweight titlist Ruslan Provodnikov (23-2, 16 KOs) making his first defense against Chris Algieri (19-0, 8 KOs). The broadcast will also include a replay of last Saturday's Miguel Cotto-Sergio Martinez pay-per-view fight.
The 26-year-old Andrade (20-0, 13 KOs), who is from Providence, Rhode Island, and living in Atlanta, will be facing mandatory challenger Brian Rose (25-1-1, 7 KOs), 29, of England. Rose is an unknown fighter stateside, but Andrade is hoping to shine so he can launch himself into the discussion for bigger fights in a weight class that includes star Canelo Alvarez as well as (occasionally) Floyd Mayweather Jr.
Andrade has been criticized by some for his sometimes very technical style, but he knows if he wants to get bigger fights and for HBO to continue featuring him, he will have to also entertain.
He seems ready and willing to do that.
"I'm a bad man! I'm going to whip his ass," Andrade said of Rose. "He's getting knocked out. Fans are going to see why none of the top guys in my division want to fight me. I'm taking over!"
Rose has won 11 fights in a row since a 2010 sixth-round knockout loss to unknown Max Maxwell, including a split-decision win against Argentina's Javier Maciel in an October eliminator to earn the title shot.
Rose has two notable names on his record in former titleholders Vivian Harris (KO3 in 2012) and Joachim Alcine (TKO12 in 2013), but both were well past their prime when he beat them.
Andrade is not too impressed.
"I've seen clips of Rose," he said. "He's a straight-up boxer. I won't know too much more until I get in the ring with him. I do know I'm not going 12 rounds with this guy."
That is what Ed Farris, Andrade's manager, is hoping for.
"I'm very excited about this opportunity for Demetrius," he said. "Hopefully, we'll get a spectacular win and provide fans with the kind of performance that they deserve. They will see Demetrius' incredible potential and special gifts if he does what he's capable of in the ring. Hopefully, they will become excited to see him fight guys like Mayweather and Alvarez. I know Demetrius can beat every one of the top guys out there. Whether politics in this sport will allow Demetrius the opportunity to show the world his tremendous ability, well, that's another story.
"I know one thing, though: Sooner or later Demetrius Andrade will be recognized as one of the most talented boxers in the world, and boxing politics won't stop him from eventually getting to the top."
February, 26, 2014
Feb 26
5:45
PM ET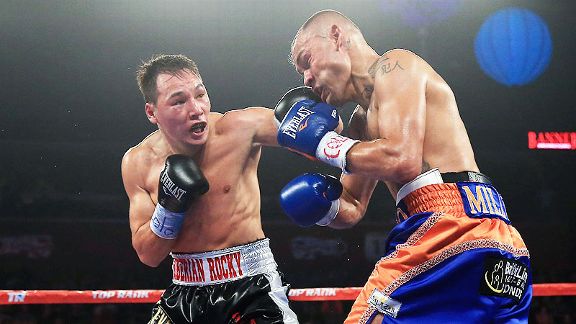 Doug Pensinger/Getty ImagesRuslan Provodnikov is still waiting for an opponent to defend his title against in June.
Junior welterweight titlist Ruslan Provodnikov is penciled in for his first title defense on June 14, location to be determined.
Besides figuring out where the fight will take place, promoter Artie Pelullo told ESPN.com that he is in discussions with HBO, which will televise the bout, about an opponent -- a situation they do not see eye to eye on at the moment.
Pelullo said that he and Bob Arum, Provodnikov's co-promoter for the next fight, want to match Provodnikov either with former lightweight titlist Antonio DeMarco (30-3-1, 23 KOs) of Mexico, who has won his past two fights since moving up in weight, or Chris Algieri (19-0, 8 KOs) of Huntington, N.Y., who looked good outpointing Emmanuel Taylor on ESPN2's "Friday Night Fights" on Feb. 14.
"Arum and I want DeMarco or even [promoter] Joe DeGuardia's guy, Algieri," Pelullo said. "But HBO wants us to wait for the winner of the Thomas Dulorme-Karim Mayfield fight and we don't want to wait another month. Besides, what happens if the guy who wins that fight gets injured or cut? We want to make a fight now and get it done as soon as possible so we can go out and sell the fight, get a site and really promote it. But we're trying to work things out with HBO."
Dulorme (20-1, 14 KOs) and Mayfield (18-0-1, 11 KOs) meet on March 29 in Atlantic City, N.J., on HBO on the undercard of light heavyweight titlist Sergey Kovalev's defense against Cedric Agnew.
Provodnikov (23-2, 16 KOs) lost the 2013 fight of the year by decision to welterweight titlist Timothy Bradley Jr. but then returned to junior welterweight, went to Mike Alvarado's hometown of Denver in October and stopped him in the 10th round of a bruising fight to win a 140-pound title.
Whomever Provodnikov faces, Pelullo said that the co-feature could be junior middleweight titlist Demetrius Andrade making his first defense against mandatory challenger Brian Rose (25-1-1, 7 KOs) of England.
Pelullo and DeGuardia co-promote Andrade and are working to make a deal with Rose promoter Matchroom Sport.
"HBO tells us they are interested in Demetrius, but not really interested in that fight [with Rose]," Pelullo said. "But it's a mandatory so we are trying to work it out."
Andrade (20-0, 13 KOs) won a vacant title by split decision against Vanes Martirosyan on Nov. 9 on HBO, which holds the first right of refusal and a last look option on his next bout.
January, 14, 2014
Jan 14
5:24
PM ET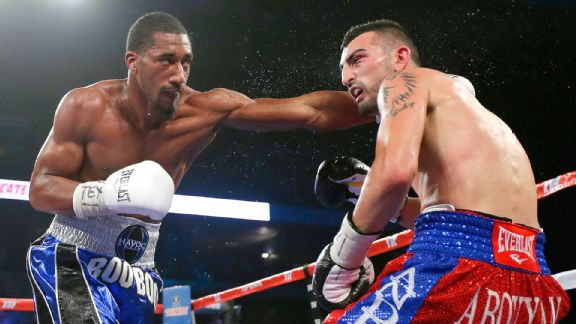 AP Photo/Eric GayDemetrius Andrade outpointed Vanes Martirosyan to win a junior middleweight title last November.
Junior middleweight titlist Demetrius Andrade's first defense is going to come against mandatory challenger Brian Rose. The question of who will promote it and when and where it will take place, however, remains up in the air.
A purse bid is scheduled to take place Jan. 23 at the WBO office in Puerto Rico. Minimum bid is $200,000.
Banner Promotions' Artie Pelullo, Andrade's co-promoter with Joe DeGuardia of Star Boxing, told ESPN.com that he is hopeful they will make a deal with the Rose camp.
The bid was initially scheduled for Thursday, but the sides asked for an extension, which was granted.
"We're trying to figure out what to do so Barry Hearn [the head of Matchroom Sport, Rose's promoter], Joe and I asked to extend the deadline by a week," Pelullo said. "But we are trying to make a deal. We're having a difficult time. Not with each other, but where to place the fight. We're talking to HBO about the fight. HBO made a commitment to Demetrius when he won the world title on the network, so we're trying to see if they would put the fight with Rose on in April or May."
Andrade (20-0, 13 KOs), 25, a southpaw from Providence, R.I., and a 2008 U.S. Olympian, survived a first-round knockdown and went on to win a split decision against Vanes Martirosyan for a vacant 154-pound title on Nov. 9 in Corpus Christi, Texas.
Rose (25-1-1, 7 KOs), 28, of England, is riding an 11-fight winning streak, including a split-decision win in his last fight against Javier Maciel on Oct. 26 in the title eliminator that got him the shot at Andrade.
October, 22, 2013
10/22/13
1:31
PM ET
On Nov. 9, Vanes Martirosyan and Demetrius Andrade meet for a vacant junior middleweight title in Corpus Christi, Texas. But even before the fight begins, they will know who the winner's mandatory challenger will be.

That is because Argentina's Javier Maciel (27-2, 20 KOs) will take on England's Brian Rose (24-1-1, 7 KOs) in Sheffield, England on Saturday (AWE, 3 p.m. ET) in the final eliminator to determine the mandatory for the Martirosyan-Andrade winner.

Maciel, 29, is counting on his previous world title fight experience to be a big help. In March 2011, Maciel traveled to Russia and lost a somewhat competitive unanimous decision to then-middleweight titlist Dmitry Pirog.

"This is one of the most important fights of my career because it would mean another chance to fight for a world title and this time I'll be better prepared and more experienced," Maciel said. "I've mainly been sparring with Mike Jones and Carlos De Leon Jr. in Las Vegas. I've seen various videos of Rose. He has a good boxing style. He's compact. It's going to be a difficult fight but I'm going to bring it to him to be able to get the win."

Maciel, who has won nine fights in a row since the loss to Pirog, went to Russia for a title shot, so he has no problem going to England for an eliminator.

"I don't mind where the fight is held because I just have to focus myself on winning by any way possible," he said. "I'm feeling pretty calm and ready to bring home a victory for Argentina. We're ready for each fight to go 12 rounds. I'll be calm in there and do things in the best possible way."

Maciel said when he fought Pirog, he went into the bout with an injured left hand.

"I had an injury in my left hand which didn't allow me to be at 100 percent," he said. "I just wasn't prepared mentally to be a world champion. My amateur career was pretty short and I hadn't had that many professional fights at the time. I lacked experience and I lacked preparation. I take it all as a good experience though, and right now I'm a completely different fighter."

Rose, 28, the former British junior middleweight champion, is riding a 10-fight winning streak since 2010.
In Saturday's main event, hometown favorite Kell Brook and former titlist Vyacheslav Senchenko meet in a welterweight title eliminator. Anthony Joshua, the 2012 British Olympic super heavyweight Olympic gold medalist, will also appear in his second professional bout as he takes on Paul Butlin in a six-rounder.