November, 11, 2014
Nov 11
1:00
PM ET

Despite starting at about midnight on the East Coast, Saturday night's light heavyweight title unification fight between Bernard Hopkins, one of boxing's most well-known fighters, and Sergey Kovalev, one of the sport's fastest rising stars, still delivered a strong viewership number.

The bout averaged 1.328 million viewers for HBO's live first-time airing, according to Nielsen Media Research.

That has to be music to the executives' ears, as it ranks as the second-most viewed fight in the United States in 2014, with little remaining on the schedule that would appear capable of threatening the mark. Only the rematch between super middleweights Julio Cesar Chavez Jr. and Bryan Vera had more viewers, averaging 1.390 for the fight on March 1.

Hopkins-Kovalev peaked at 1.397 million viewers, who saw Kovalev score a first-round knockdown and win a shutout decision against the 49-year-old legend to unify three 175-pound title belts.

The fight made a big leap from an audience tuned in for the opening bout of the telecast, a welterweight scrap between Sadam Ali and Luis Carlos Abregu, which averaged 882,000 viewers. Ali won by ninth-round knockout.

HBO has televised the top 13 most-watched fights of the year in the United States.
September, 25, 2013
9/25/13
10:36
PM ET

One thing we know: Julio Cesar Chavez Jr. and Brian Vera will fight a scheduled 12-round bout Saturday night (HBO, 10:15 ET/PT) at the StubHub Center in Carson, Calif., Chavez's first bout in a year, since a lopsided decision loss to Sergio Martinez in a middleweight championship fight and his subsequent nine-month suspension for a failed drug test.

What we still don't know: The weight for the fight. As Top Rank promoter Bob Arum said on Wednesday, "Wait for the weight."

Just another day in Chavez Land.

Of course, Chavez-Vera was signed as a 168-pound bout. However, Julio Cesar Chavez Sr., Junior's Hall of Fame father, announced to the media earlier in the week that the weight was being increased to 173 pounds, which was news to everyone else involved in the fight.

Chavez Jr., as usual, apparently is having all kinds of problems making 168 and since he's the star of the show and Vera will make by far his biggest payday, Vera will go along for the ride. But that left Chavez's promoter, Bob Arum of Top Rank, and Vera's promoter, Artie Pelullo of Banner Promotions, to make a side deal in the event Chavez is overweight at Friday's weigh-in, which most expect he will be.

So Arum and Pelullo, who had discussed the matter by phone a few times previously, met face to face on Wednesday in Los Angeles to talk things over.

According to Arum, they made a deal. Most likely it means that Vera (23-6, 14 KOs) will get an agreed-upon amount of money if Chavez (46-1-1, 32 KOs) is overweight. It might mean a certain dollar figure for each pound he is over. Whatever the details are, Arum and Pelullo weren't talking specifics.

"I know it's something bizarre, but we're doing it because we had this [weight] issue and we're making the issue a character in the promotion of the event," said Arum, who once tried to stir up interest in a dead Oscar De La Hoya-Yory Boy Campas fight by concocting a secret potion for Campas to take at the final news conference.

Arum said that he and Pelullo made their deal after consulting with the fighter camps.

"We got everything worked out," said Arum, declining to specify the weight limit. That, he said, would be announced at the weigh-in at the Millennium Biltmore Hotel in Los Angeles. ESPN Deportes [and ESPN.com] will air the weigh-in at 6 p.m. ET.

"I guarantee you that we'll have a crowd at this weigh-in," he said, sounding very proud and trying not to laugh. "So you can just wait for the weight."
September, 24, 2013
9/24/13
10:03
PM ET

Former middleweight titlist Julio Cesar Chavez Jr. is about to make his return, which means one thing: drama, be it inside or outside of the ring.

It has been a year since he lost a lopsided decision to middleweight champ Sergio Martinez, but Chavez sent a jolt of electricity through the crowd when he nearly knocked out Martinez in a frantic final minute that was as dramatic as anything I've ever seen.

After the fight, there was more drama as Chavez, who already had a previous DUI charge on his record, tested positive for marijuana. He was fined and suspended for nine months by the Nevada State Athletic Commission.

Although Chavez was on ice, there was still more non-boxing drama. He battled with the Nevada commission, which eventually reduced the size of his fine. He split from trainer Freddie Roach and replaced him with his famous father, Hall of Famer Julio Cesar Chavez Sr., to work his corner. He cut ties with strength and conditioning coach Alex Ariza, who had helped him make weight so many times.

So when word began to spread in recent days that Chavez, notoriously heavy between fights, was having a terrible time making the contract weight of 168 pounds for his fight against Brian Vera on Saturday night (HBO, 10:15 ET/PT) at the StubCenter in Carson, Calif., it came as zero surprise.

Then on Monday, Chavez Sr. told the media that the weight limit for the fight had been increased to 173 pounds, despite there being a signed contract for 168. The supposed change in weight was news to Top Rank promoter Bob Arum and Chavez co-promoter Fernando Beltran, as well as to Vera and his promoter, Artie Pelullo.

On a teleconference with boxing reporters on Tuesday, Arum tried to downplay Chavez Sr.'s announcement, saying no determination had been made about increasing the weight.

"We're going to take a look at what the fighters weigh [on Wednesday] and decide what the weight limit will be, so right now there is no determination on that," he said. "I know what Julio Sr. said, but I really believe that at the time he said it, he misspoke."

Chavez Jr. (46-1-1, 32 KOs) said that as of Tuesday afternoon he was already down to 173 pounds, which, compared to his usual troubles, puts him way ahead of the game in terms of making weight. But who knows if he was telling the truth. Chavez's track record would indicate that he was probably much heavier than 173.

Arum said he and Pelullo will meet to talk about the situation on Wednesday. Pelullo, however, told ESPN.com that Vera (23-6, 14 KOs) wouldn't be stepping on a scale on Wednesday. He said Vera has no issue making weight, that their contract calls for 168 pounds and that Vera is under no obligation to get on a scale except at Friday's official weigh-in.

When the fight was first being negotiated, Pelullo said the weight proposed was originally 162 pounds. Pelullo said the Chavez camp then kept inching it up, to 164, then to 165 and finally to 168.

Pelullo said he was as surprised as anyone to hear that Chavez Sr. said the weight would be increased yet again, especially now that there was a signed contract.

"I found out [Monday] night about what Senior said, that his son couldn't make weight and he wanted to raise the limit to 173," Pelullo said Tuesday evening in Los Angeles. "I found out from reporters who called me at my home. I just landed. Bob Arum and I will meet and discuss it [Wednesday]."

When asked if the meeting with Pelullo was simply about negotiating additional money for Vera to accept a heavier weight than what he signed for, Arum said, "I don't want to discuss that."

Arum said he first needed to meet with Pelullo, adding that his counterpart was "a professional promoter. We always manage to find a solution."

That solution -- and you can take this to the bank -- will simply mean that drama king Chavez will be allowed to buy his way to a heavier weight, with more cash going to Team Vera for their troubles.
September, 20, 2013
9/20/13
5:52
PM ET
A few notes from the boxing world:

• European junior featherweight champion Carl Frampton is defending his title against Jeremy Parodi on Oct. 19 in Belfast, Northern Ireland, Frampton's hometown. The fight took on even bigger meaning this week, when it was announced that it would also serve as a world title eliminator. The winner will become the mandatory challenger for newly crowned 122-pound titlist Kiko Martinez of Spain.

Martinez won a world title Aug. 17 in Atlantic City, N.J., by knocking out Jhonatan Romero. If Frampton earns the title shot by beating Parodi, which he is heavily favored to do, he would meet Martinez in a rematch. In a European title fight in February, Frampton knocked out Martinez in the ninth round only to watch as he went on to win a world title two fights later.

• Lightweight titlist Miguel Vazquez's mandatory defense against Ammeth Diaz, scheduled for Sept. 28 in Tijuana, Mexico, has been moved to Oct. 26, still in Tijuana, according to Zanfer Promotions. The reason has to do with the television schedule on Mexico's TV Azteca. After Julio Cesar Chavez Jr.'s fight with Brian Vera, originally scheduled for Sept. 7, was postponed until Sept. 28 after Chavez suffered a small cut over his eye, it took up that date on TV Azteca, forcing the lower-profile Vazquez-Diaz rematch to be moved to the new date.

• Chicago's Carlos Molina, who outpointed Ishe Smith to win a junior middleweight world title last Saturday on the Floyd Mayweather Jr.-Canelo Alvarez undercard, will be honored in his hometown when he throws out the first pitch at U.S. Cellular Field before the Chicago White Sox-Toronto Blue Jays game.

"I am honored by this," Molina said. "This has been a dream come true for me, and even better than I pictured the day I started boxing. I want to thank the Chicago White Sox for thinking of me and I will continue to do my city of Chicago proud."
September, 4, 2013
9/04/13
4:42
PM ET
• When the Julio Cesar Chavez Jr. got cut training for his super middleweight fight with Brian Vera on Sept. 7 at the Staples Center in Los Angeles, the entire card was postponed. With Chavez-Vera rescheduled for Sept. 28, now at the StubHub Center in Carson, Calif., promtoer Top Rank has rescheduled most of the original undercard bouts to also shift to Sept. 28.

The undercard will include junior lightweight contender Diego Magdaleno against Edgar Riovalle, junior welterweight contender Karim Mayfield (in his first fight since signing with Top Rank) against Pavel Miranda, up-and-coming junior lightweight Jose Felix Jr. (no opponent yet) and middleweight prospect Matt Korobov against former "Contender" winner Grady Brewer. Also on the card in six-round fights are two 2012 Olympians, who are among boxing's top prospects: American junior welterweight Jose Ramirez and featherweight Oscar Valdez, a two-time Olympian from Mexico.

• Heavyweight contender Tomasz Adamek's next fight likely will take place Nov. 16 on NBC, Main Events promoter Kathy Duva told ESPN.com. There had been some talk that Adamek (49-2, 29 KOs) might face up-and-comer Bryant Jennings (17-0, 9 KOs), and it could still happen, but not on this card. Duva is also engaged in discussions with HBO about the next fight for newly crowned light heavyweight titleholder Sergey Kovalev (22-0-1, 20 KOs). He will make his first defense on the network before the end of the year, likely in November, but they are still ironing out the exact date and an opponent.

• Top Rank has released five fighters their promotional contracts, according to vice president Carl Moretti: lightweight Mercito Gesta (26-1-1, 14 KOs), welterweight Wale Omotoso (23-1, 19 KOs), junior middleweight Abie Han (19-1, 12 KOs), flyweight Jonathan Gonzalez (13-1, 11 KOs) and junior welterweight Levan Ghvamichava (10-1, 8 KOs). All are coming off defeats.

• In a last-minute addition to it's schedule, Spanish-language network UniMas has added a card to its "Solo Boxeo Tecate" series and will carry Saturday night's card from Tapachula, Mexico. The main event is for a vacant interim junior flyweight title between Moises Fuentes (17-1-1, 8 KOs), a former strawweight world titleholder from Mexico, and Colombia's Luis De La Rosa (22-1-1, 12 KOs). Full titleholder Donnie Nietes (31-1-4, 17 KOs) of the Philippines is sidelined by a cut and will be obligated to face the winner of Saturday's fight in his return. Nietes and Fuentes fought to a draw in a March title fight in the Philippines.

• Super middleweight titlist Robert Stieglitz (45-3, 26 KOs) of Germany, scheduled to defend his title on Oct. 19 in Leipzig, Germany, now has an opponent. He is due to face Isaac Ekpo (22-1, 16 KOs) of Nigeria. Ekpo is an obscure fighter with no names of note on his record who has never boxed outside of Africa. The undercard is slated to include flyweight titlist Moruti Mthalane (29-2, 20 KOs) of South Africa in a mandatory defense against Spain's Silvio Olteanu (14-6-1, 6 KOs) in a fight originally scheduled for Sept. 13 but shifted to this card.
August, 27, 2013
8/27/13
10:55
PM ET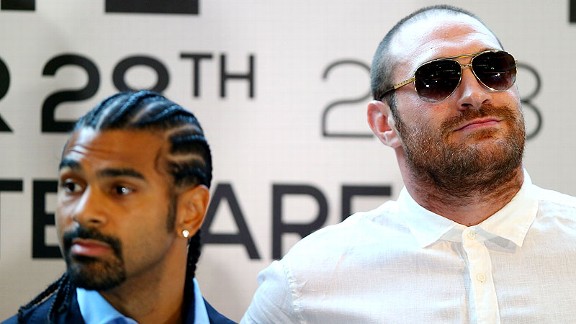 Clive Rose/Getty ImagesAmerican fans will be able to watch the David Haye-Tyson Fury fight on TV.
Since the fight was made it was unclear where American fans could watch the very interesting all-British heavyweight showdown between rising heavyweight contender Tyson Fury and former titleholder David Haye, which takes place on Sept. 28 in Manchester, England.
Worry no more.
HBO has made a deal for the American rights and will broadcast the scheduled 12-round fight between Fury and Haye, who have talked smack throughout the promotion, as part of an unprecedented tripleheader from three countries.
"Haye versus Fury is going to be entertaining," said HBO Sports president Ken Hershman, who decided to go after the fight even though he already had two other bouts scheduled from two other locations. "It features two heavyweights who as much as they want to win also don't want to lose to this fighter in particular."
The network has televised plenty of split-site doubleheaders in its 40 years of boxing coverage, but this will be the first time it has had three fights from three locations.
"HBO subscribers love big events and that is what we plan on delivering on Sept. 28. Three exciting bouts from three different countries," Hershman said.
I agree with him. After opening with Haye-Fury on a few hours' delay (no decision has been made yet whether HBO will also air it live in the afternoon), the telecast will shift to Montreal for light heavyweight champion Adonis Stevenson's first defense against former titlist Tavoris Cloud followed by former middleweight titleholder Julio Cesar Chavez Jr.'s return to the ring after a year off to face Brian Vera in a super middleweight fight from Carson, Calif.
When Fury-Haye was announced, I thought the card might end up headlining an independent afternoon pay-per-view. Fury promoter Mick Hennessy was in talks trying to make a deal and it made sense, because I didn't think HBO would have room to accommodate a third fight coming from Europe.
I'm glad I was wrong. As Hershman said, and I couldn't agree more: "Great value night for boxing fans."
All three of these fights have a chance to be highly entertaining and I'm glad to see Hershman go all in on a tripleheader that, while it could be logistically complicated, has a real chance to deliver in triplicate.
August, 6, 2013
8/06/13
3:21
PM ET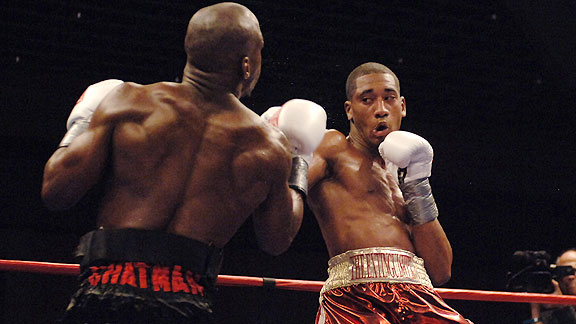 Emily Harney/Fightwireimages.comDemetrius Andrade will face Vanes Martirosyan for a junior middleweight vacant belt.
Junior middleweight contender Demetrius Andrade is pumped up to be fighting for a world title. He gets to face Vanes Martirosyan for a vacant belt on Sept. 7 (HBO) on the Julio Cesar Chavez Jr.-Brian Vera undercard at the Staples Center in Los Angeles.
"I am looking forward to this fight and have been waiting for this fight ever since I walked into the gym at age 7," Andrade said. "I always wanted to be champion of the world, and on Sept. 7th, I will be crowned champion."
Andrade (19-0, 13 KOs) was supposed to travel to Ukraine to challenge Zaurbek Baysangurov for his 154-pound belt on July 6, but Baysangurov suffered a back injury, withdrew from the bout and was eventually stripped as per the terms of the purse bid that had taken place a couple of months earlier.
That left Andrade, 25, of Providence, R.I., to face Martirosyan, the next leading available contender, for the vacant belt.
Andrade was a star amateur who won a gold medal in the 2007 world amateur championships and was also a 2008 U.S. Olympian. But in Martirosyan (33-0-1, 21 KOs), Andrade will be facing another fighter with a strong amateur background. Martirosyan, 27, of Glendale, Calif., was a 2004 U.S. Olympian.
"I wanted to win an Olympic gold medal, and since they took that from me, I am going to take this world title," Andrade said. "I was a 2008 Olympian, and he made it in 2004. I will show him that if I was around in 2003 and 2004, he would not have made the team."
July, 5, 2013
7/05/13
1:25
PM ET
Junior featherweight titlist Jonathan Romero (23-0, 12 KOs) of Colombia, who outpointed Alejandro Lopez in February to win a 122-pound belt that Nonito Donaire vacated, will make his first defense Aug. 17 (HBO) at the Revel Casino Hotel in Atlantic City, N.J. The opponent isn't set, but the leading candidate is Spain's Kiko Martinez (28-4, 20 KOs), a former European champion who is promoted by middleweight champion Sergio Martinez.

Whomever Romero faces, the fight will be the co-feature on the card headlined by middleweight titlist Daniel Geale (29-1, 15 KOs) of Australia, who will be making his American debut in a defense against England's Darren Barker (25-1, 16 KOs), whose only loss came by 11th-round knockout against Martinez in a 2011 championship fight in Atlantic City.

Welterweight prospect Thomas Dulorme (18-1, 13 KOs) of Puerto Rico will also be on the card, and his bout will be televised on HBO Latino. Dulorme was being lined up to face former lightweight titlist Paul Spadafora (48-0-1, 19 KOs), who has been fighting at junior welterweight and welterweight for the past several years. However, according to HBO, after going far down the road on a deal, Spadafora ultimately rejected the fight. Dulorme's team is still searching for an opponent.

• Assuming Julio Cesar Chavez Jr. gets his visa issues worked out and his planned fight with Brian Vera goes on as planned at the Staples Center in Los Angeles on Sept. 7, Top Rank and HBO are planning for Las Vegas welterweight Jesse Vargas (22-0, 9 KOs) to be in the televised co-feature. HBO and Top Rank want to match him with Luis Carlos Abregu (35-1, 28 KOs), but Vargas' team has so far balked at the match, according to Top Rank.

• Ryota Murata, the heralded 2012 Olympic middleweight gold medalist from Japan, will make his pro debut Aug. 25 in Tokyo. He'll face Akio Shibata (21-7-1, 9 KOs) in a scheduled six-rounder. Murata recently signed a co-promotional contract with Akihiko Honda's Teiken Boxing, the No. 1 promoter in Japan, and Top Rank, which will handle any of his bouts outside of Japan. Murata's gold medal was the first for a Japanese boxer in the Olympics since Takao Sakurai claimed one at the 1964 Tokyo Games. Murata is also the first Japanese fighter to win an Olympic medal in a division other than bantamweight or flyweight.

• Puerto Rican flyweight prospect Jonathan "Bomba" Gonzalez (13-0, 11 KOs) is stepping up his level of opposition in a major way. He will face former junior flyweight champion Giovani Segura (29-3-1, 25 KOs) of Mexico on Aug. 17 in a 10-rounder in Carolina, Puerto Rico. Promoter Peter Rivera said that the winner could face flyweight titlist Juan Francisco Estrada, who will first defend against Milan Melindo on July 27 (HBO2) in Macau, China.

"Segura beat two times our champion Ivan Calderon, and the fight is a fight that Bomba always has told us he wanted since he started his professional career," Rivera said.

• Middleweight titlist/knockout artist Gennady Golovkin is steadily building his name and audience. According to Nielsen, Golovkin's vicious third-round body-shot knockout of Matthew Macklin on Saturday drew 1.1 million viewers, the biggest audience of GGG's three HBO fights. It was a 35 percent increase over his January undercard fight against Gabriel Rosado, which drew 813,000 viewers -- a nice increase over his HBO debut last year against Grzegorz Proksa, which drew 685,000 viewers for a main event. What it means is that Golovkin is clearly gaining an audience with each successive fight.

• British lightweight contender Kevin Mitchell (33-2, 24 KOs), 28, was blown out in his most recent fight, getting stopped in the fourth round by titleholder Ricky Burns in September. Mitchell will return Saturday in London against Sebastien Benito (10-6, 3 KOs) of France for what should be a routine destruction. The scheduled 10-rounder is designed to get Mitchell back in the ring so that he can shake off some rust and move back in the direction of another title shot.

"It's a great division, and I want to get back up there," Mitchell said. "Where do I see myself in it? I want to be a world champion. I'm not here to mess around and play games, be second best and get stopped in four rounds. I'm in it for the long haul and I want to beat the top boys. Anthony Crolla just beat Gavin Rees [last Saturday], and they both interest me, and I'll be keeping a close eye on the Derry Mathews and Tommy Coyle fight next week. There are some big British dust-ups out there, and I love those fights as much as the fans and TV do. I want to correct the loss against Ricky for the world title and become a world champion. I've been out of the ring for too long and it's time to get back in there. I feel a lot of relief, really, as I feel like I've got something to work."
April, 25, 2013
4/25/13
1:52
PM ET
A few fight and fighter updates:

• Former middleweight titlist Julio Cesar Chavez Jr., whose first fight since losing his belt to Sergio Martinez and subsequent suspension for testing positive for marijuana after the fight was being planned for either June 15 or 22, will be delayed a few weeks. Top Rank promoter Bob Arum told ESPN.com that Chavez, who is likely to fight at about 164 pounds, will instead fight July 13 (HBO). Arum said the likely opponent is Brian Vera and that the fight would be in Texas or Mexico.

• With Chavez moving into July, Arum said featherweight titlist Miguel Angel "Mikey" Garcia would tentatively take the June 15 HBO date for his first defense. The two opponents under discussion remain former titlist Juan Manuel Lopez and Orlando Cruz. Prospect Terrence Crawford, who easily outpointed perennial junior welterweight contender Breidis Prescott on March 30 as a late substitute on the Mike Alvarado-Brandon Rios II undercard, is being penciled in for the opening television bout. Crawford fought Prescott at junior welterweight but he is likely to go down to lightweight, where he has fought most of his career.

• Junior featherweight champion Guillermo Rigondeaux, who unified titles on April 13 with a decision victory against Nonito Donaire, has nothing specific planned yet for an encore, but Arum said he would meet with HBO in the coming weeks to talk about his next bout.

• Junior middleweight titlist Ishe Smith's first defense (and a mandatory) against Carlos Molina will take place July 19 in Las Vegas, Warriors Boxing promoter Leon Margules told ESPN.com. Margules, who promotes Molina, made a deal for the fight with Mayweather Promotions CEO Leonard Ellerbe to promote the bout a few weeks ago, but now the date is locked in. Smith, the first native of Las Vegas to win a world title, will get to make his first defense in his hometown. TV arrangements are pending.

February, 5, 2013
2/05/13
6:35
PM ET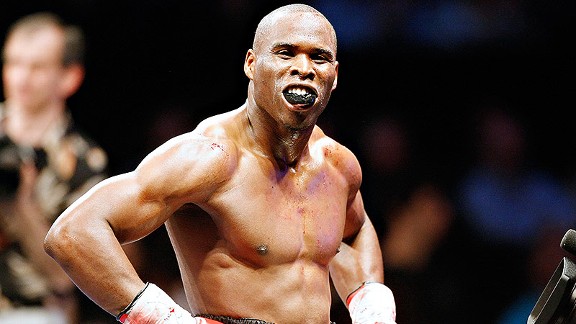 Richard Wolowicz/Getty ImagesAdonis Stevenson could finally get a chance to fight for a super middleweight title in June.
Before super middleweight titleholders Carl Froch and Mikkel Kessler could finalize that their much-anticipated rematch would be a unification bout for the sanctioning organization belts they each hold, Adonis Stevenson was in the way.
Stevenson (19-1, 16 KOs), the humongous puncher from Quebec, is the mandatory challenger for the IBF version of the title that Froch holds and the fight was due no later than April 27. Stevenson won an official title eliminator in October by stopping Donovan George in the 12th round.
However, after much wheeling and dealing -- and who really knows what went on behind the scenes -- Yvon Michel (Stevenson's promoter), the Froch and Kessler camps and the IBF worked out an agreement that will allow Kessler-Froch II to take place as a unification fight May 25 in London.
However, and it's a big however: While Kessler-Froch II will be allowed to go forward as a unification match, the winner will vacate the IBF belt after the fight, so it's a hollow unification bout. And then Stevenson will fight the IBF's leading available contender for the vacant title in June. Even if Kessler-Froch II is postponed, cancelled or ruled a draw, Froch has agreed to vacate to allow Stevenson to fight for the belt, according to Michel.
"The unification was a must for Froch-Kessler for British TV and for the prestige of their encounter," Michel told ESPN.com. "We also were in accord that this fight was great for the super middleweight division and for boxing. Their target date was May 25 to optimize the promotion and maximize the revenues. The IBF had ordered the fight to be done by April 27 and the winner had to confirm his intention of fighting the IBF mandatory contender (Stevenson) next. We knew the winner had no real intention of fighting Stevenson for now. Since the IBF does not allow interim titles (except in the case of injury) we had to find a solution to please everybody within the IBF rules.
"We proposed to the IBF to grant the unification fight on May 25. In return, Froch and Kessler have confirmed they will vacate the IBF title immediately after the unification title fight. Everybody is happy."
So Stevenson will get his title shot but doesn't want to sit and wait until June. So Michel has set up a fight for him -- a rematch with journeyman Darnell Boone (19-20-3, 8 KOs) on March 22 at the Bell Centre in Montreal. Boone has a horrendous record, but the fight still figures to generate some interest because Boone pulled a huge upset by knocking Stevenson out in the second round in April 2010.
Stevenson has won six fights in a row since the loss and might as well take this window he has to gain revenge before his title shot. Boone has fought everyone -- Stevenson, Andre Ward, Enrique Ornelas, Jean Pascal, Curtis Stevens, Brian Vera, Erislandy Lara, Sergey Kovalev (twice), Edwin Rodriguez, among them. He's a professional opponent (with three losses in a row and losses in five of his last seven fights) but he has one knockout of Stevenson, so maybe, just maybe, he can do it again (even though it's probably doubtful).
Michel re-signed Stevenson to a promotional contract in 2011 after they had a brief split. Since Stevenson re-signed, Michel said, "He has asked me one big favor -- to eventually provide him the opportunity to avenge his only loss against Darnell Boone. The timing was never good before and since I believe he will be world champion by June, the timing will be bad also after. So we have contacted Darnell Boone, who has agreed to give a rematch to Stevenson.
"Stevenson will carefully prepare for the fight and will move to Detroit next week with (trainer) Javan Hill to hold his training camp. We all know this is a risk because if he loses the fight he would be out as mandatory contender, but we believe it is a calculated risk and we are in a business of perpetual risks."
June, 16, 2012
6/16/12
10:45
PM ET
Former junior middleweight titlist Sergio Mora (23-2-2, 7 KOs), who won the first season of "The Contender" reality series, lost a 10-round upset split decision in February 2011 against Brian Vera (20-6, 12 KOs), who participated in a later season of "The Contender." Mora has one win since but few options because his un-fan-friendly style has turned off the premium networks. So he'll take on Vera in a rematch on "Solo Boxeo Tecate" looking to even the score. They meet in a scheduled 10-rounder on Aug. 11 at the Illusions Theater at the Alamodome in San Antonio.