Dan Rafael:

Bruce Trampler
December, 28, 2012
12/28/12
10:25
AM ET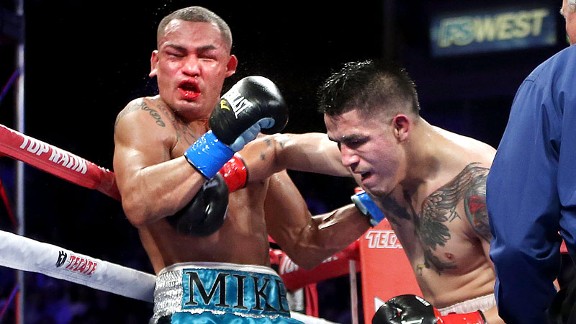 Chris Farina/Top RankMike Alvarado and Brandon Rios went toe-to-toe in an all-action fight last October.
Over the course of two meetings, one on Dec. 1 in New York on the day the Austin Trout-Miguel Cotto fight and one on Dec. 8 in Las Vegas on the day of the Juan Manuel Marquez-Manny Pacquiao IV, members of the Boxing Writers Association of America met to finalize the ballot for the organization's annual awards.
Over the next week or so, members will begin to receive their ballots, which are due back by Jan. 19. The winners will be honored at the annual BWAA awards dinner (public can purchase tickets). The date and location is not set, but it likely will take place around a major fight in the spring.
Here's a look at who is on the ballot in each category:
•
Fighter of the year:
Nonito Donaire, Danny Garcia, Robert Guerrero, Juan Manuel Marquez and Brian Viloria.
•
Fight of the year:
Brandon Rios-Mike Alvarado, Roman Gonzalez-Juan Francisco Estrada, Guerrero-Andre Berto, Orlando Salido-Juan Manuel Lopez II, Viloria-Hernan Marquez and Marquez-Manny Pacquiao IV.
•
Trainer of the year:
Nacho Beristain, Eric Brown, Robert Garcia, Ruben Guerrero, Virgil Hunter.
•
Manager of the year:
Luis DeCubas Jr., Cameron Dunkin, Frank Espinoza, Gary Gittelsohn, Al Haymon.
•
Long and meritorious service to boxing:
Bob Canobbio (CompuBox), promoter Lou DiBella, promoter Kathy Duva, referee Steve Smoger, Top Rank matchmaker Bruce Trampler.
•
Excellent in broadcast journalism:
Bruce Beck (my broadcast partner at Epix), Max Kellerman (HBO), Tony Paige (WFAN radio), Bob Papa (HBO), Travis Pomposello (Epix executive producer), Dan Rafael (ESPN and Epix -- and honored to be nominated). Nominees in this category can only win once and it's open to broadcasters, TV executives and production people.
•
Good guy:
Don Chargin (Hall of Fame promoter), Steve Farhood (Showtime), Norm Frauenheim (writer), Scott Ghertner (MGM and Mandalay Bay media relations), Wladimir Klitschko (heavyweight champ).
•
Courage in overcoming adversity:
Alfredo Angulo, Johnathon Banks, Danny Jacobs, Peter Quillin, Paul Williams.
December, 6, 2012
12/06/12
9:06
AM ET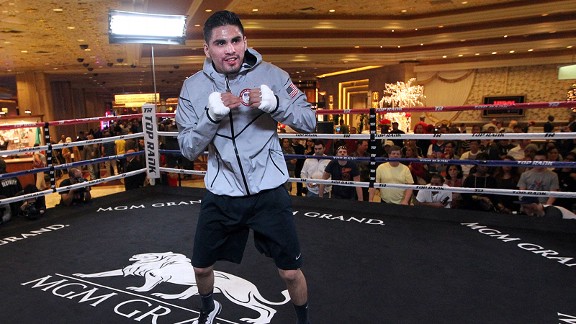 Chris Farina/Top RankJose Ramirez's first professional fight will be on a very big stage Saturday night.
LAS VEGAS -- While most boxing fans will be paying close attention to the fourth fight between Manny Pacquiao and Juan Manuel Marquez, who meet in a welterweight showdown Saturday night (HBO PPV, 9 ET, $59.95) at the MGM Grand Garden Arena, folks might look back on the card years from now and realize that they saw a future star make his professional debut.
In a four-rounder on the undercard, 20-year-old lightweight Jose Ramirez of Avenal, Calif., will start to punch for pay after an elite amateur career that culminated with a berth on the 2012 U.S. Olympic team.
Ramirez did not achieve his dreams of winning a gold medal in London, but he had a huge amateur career, going 145-11 and winning 11 U.S. national titles, including the 2012 U.S. Olympic trials.
In early November, Top Rank signed Ramirez, who faces Corey Siegwarth (2-1, 1 KO), and promptly scheduled his debut to take place on a huge show. Highlights of his bout are slated to air during the HBO PPV telecast.
"I feel very excited. It's a big blessing and I feel very fortunate to get this opportunity," Ramirez said on Wednesday, standing in the MGM Grand lobby just before beginning a public workout for fans gathered to watch various undercard fighters train. "Hopefully, I'll go in there and prove myself and prove to the world that I can be the next world champion. I'll go in there very focused. It's a very big deal (to turn pro on a major card). I'm going to take advantage of the opportunity."
Ramirez has a pro style and is an aggressive crowd pleaser. He likes that reputation.
"I know people will watch me fight and see a true fighter," he said. "They see a fighter fighting for many things, not just for the sport of boxing, but also for my family, for my people and I try to be a fighter who fights hard from when the bell rings to when the bell finishes."
Ramirez admitted he will have some butterflies when he walks to the ring but only "light" butterflies.
"That's not out of the ordinary," he said. "But that keeps me focused. It's going to be fun and I am excited."
Top Rank chief matchmaker Bruce Trampler, who was responsible for helping build the careers of numerous world champions, including Floyd Mayweather Jr., Oscar De La Hoya and Miguel Cotto, has visited Ramirez's training camp and watched him prepare. Trampler likes what he has seen.
"This kid is going to wake up California again like nobody has in years," he said. "He's from the Central Valley, about an hour from Fresno. He's a very exciting kid, a good looking kid, and we're really looking forward to his pro career.
"It looks like he can box with both hands. His instinct is to slug with his left hand with a left hook but he sets 'em up nicely. He's green, he's inexperienced, but I think there's a lot there and I'm looking for big things from him."
The first thing is to get the pro debut under his belt.
"I want him to get used to a big professional crowd," Trampler said. "Obviously, in London he was on a very big stage, but now it's for real. He gets paid. No more trophies for him. The first few fights are to get used to fighting four rounds, to training (professionally), and being around media pressure."