November, 18, 2013
Nov 18
10:24
PM ET
The target date for the super middleweight rematch between former middleweight titlist Julio Cesar Chavez Jr. and Bryan Vera is now March 1, Top Rank's Bob Arum told ESPN.com.

Arum had hoped to schedule the fight for Feb. 8, but he said that HBO, which plans to buy the fight, didn't want to air it in February during the Winter Olympics, which will run from Feb. 7 to Feb. 23 in Sochi, Russia.

"So we are zeroing on March 1," Arum said. "I have to conclude the deal with [Vera promoter] Artie [Pelullo], but we're real close. No problems."

Chavez (47-1-1, 32 KOs), who was coming off a year out of the ring because of a drug suspension after his loss to middleweight champion Sergio Martinez, won a heavily disputed unanimous decision against Vera (23-7, 14 KOs) on Sept. 28, prompting a rematch. Chavez had signed for the fight at 168 pounds, but because he wasn't in shape for the fight, he wound up making a side deal with Vera's camp to pay him an extra six-figures sum to move the limit to 173 pounds. The rematch will be contracted at 168, Arum said.

The venue isn't set yet, but Arum said the fight could be in Texas or possibly Los Angeles at the renovated Great Western Forum, which re-opens in January.

The proposed co-feature for the card would see two-time Olympic gold medalist Vasyl Lomachenko (1-0, 1 KO) of Ukraine go for a featherweight world title in his second pro fight against Mexico's Orlando Salido (40-12-2, 28 KOs), who reclaimed a world title on Oct. 12 on the same card on which Lomachenko made his pro debut with a fourth-round knockout victory against Jose Luis Ramirez.

Initially, Salido-Lomachenko was going to take place on Jan. 25 in New York, but it was moved because Lomachenko is nursing a hand injury.

"Lomachenko's hand was bothering him, so I had him see a doctor in Los Angeles and he had a minor procedure, and he's coming around," Arum said. "He asked for another month to get ready, so we moved the fight from Jan. 25. It was nothing serious, something with a ligament in his finger."
November, 6, 2013
Nov 6
10:07
AM ET

Middleweight titlist Gennady Golovkin is blossoming from cult status to mainstream boxing star in front of our eyes, if his fight Saturday night was any indication.

Golovkin stormed past Curtis Stevens to retain his title for the ninth time with a stellar performance in the eighth-round knockout victory -- his 15th KO in a row -- and people clearly liked what they saw, based on the viewership figures for the HBO-televised bout from the Theater at Madison Square Garden.

The broadcast attracted 1.410 million viewers (and peaked at 1.566 million), according to Nielsen Media Research. That is a 29 percent increase over Golovkin's previous bout on June 29, also on HBO, which drew 1.097 million viewers.

The victory against Stevens ranks as the third-most watched cable fight of 2013, all three of which were HBO fights. Golovkin-Stevens trails only fights involving far more recognizable stars -- Miguel Cotto's third-round knockout of Delvin Rodriguez on Oct. 5 had an average audience of 1.555 million viewers, and Julio Cesar Chavez Jr.'s controversial decision win against Bryan Vera on Sept. 28 drew 1.416 million viewers.

Golovkin is due to return Feb. 1 against an opponent to be determined in Monte Carlo. Even though K2 Promotions' Tom Loeffler, Golovkin's promoter, and HBO do not have a deal for the fight at this point, it would seem that based on Golovkin's rocketing star, the network would (and should) make an effort to show his next fight. There are few fighters in boxing today more exciting and dominating than Golovkin (28-0, 25 KOs).
November, 5, 2013
Nov 5
6:11
PM ET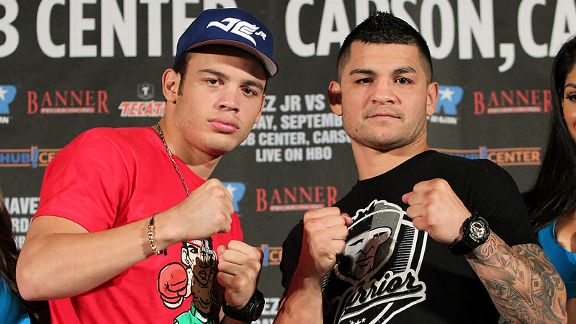 Chris Farina/Top RankAfter a disputed first fight, Julio Cesar Chavez Jr. and Bryan Vera are closing in on setting a rematch.
The expected super middleweight rematch between Julio Cesar Chavez Jr. and Bryan Vera is being targeted for Feb. 8, Top Rank promoter Bob Arum told ESPN.com on Tuesday.
Nothing is set in stone yet, but Arum, who promotes Chavez, and Artie Pelullo, who handles Vera, will be together later this week, along with HBO executive Peter Nelson, when they are in Corpus Christi, Texas for Saturday's HBO card that Top Rank is promoting. Pelullo will be there because he co-promotes Demetrius Andrade, who faces Top Rank fighter Vanes Martirosyan for a vacant junior middleweight belt in the opener of the tripleheader.
"So we'll all be together in Corpus Christi and we'll talk about the particulars," Arum said. "The fight is gonna be good to go, but the question is when? There's this little thing called the Winter Olympics and there are some people at HBO who think you don't go against the Winter Olympics with a fight."
The 2014 Winter Olympics in Sochi, Russia begin Feb. 7 and end Feb. 23.
"We're planning for a show in Macau on Feb. 22, so for Chavez-Vera we're looking at Feb. 8 or Feb. 15," Arum said. "Those at HBO who fear the Winter Olympics believe Feb. 8 is the better date, so everyone seems OK with Feb. 8."
The fight likely will take place at a venue to be determined in Texas, although Arum said it is possible it could wind up in Las Vegas.
"But I think probably Texas," Arum said.
If a February date can't be worked out with HBO, Arum said the bout would move into March, but he believes it will be finalized for Feb. 8.
Chavez (47-1-1, 32 KOs), a former middleweight titlist coming off a year out of the ring because of a drug suspension after his loss to Sergio Martinez 13 months ago, won a heavily disputed unanimous decision against Vera (23-7, 14 KOs) on Sept. 28 at the StubHub Center in Carson, Calif.
While the fight was competitive, most viewed Vera as the winner, although it was Chavez who got the decision -- 98-92, 97-93, 96-94. The two wide scorecards -- rendered by judges Gwen Adair and Marty Denkin, respectively -- were heavily criticized. One poll with scores from 60 media members had 54 scoring the fight for Vera while four had it a draw.
Chavez had signed for the bout at 168 pounds, but wound up making a side deal with Vera's camp to pay him an extra six-figure sum to up the weight to 173 pounds since he was not in shape for the fight. Arum said Chavez would make 168 for the rematch.
October, 15, 2013
Oct 15
11:34
PM ET
Although plans remain in the works for a rematch between Julio Cesar Chavez Jr. and Bryan Vera, it won't take place in December as originally discussed.
Top Rank's Bob Arum, who promotes Chavez, told ESPN.com that the fight is now being targeted for late February, probably in Vera's home state of Texas, because HBO's budget and schedule can't accommodate the bout before the end of the year.
[+] Enlarge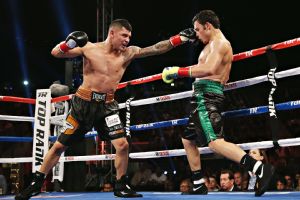 Jeff Gross/Getty ImagesJulio Cesar Chavez Jr., right, will have to wait until next year to begin restoring his ring reputation in a rematch with Bryan Vera.
Arum had said previously that the fight would air on pay-per-view if HBO couldn't handle it this year, but changed his mind. And it was a good call, because although Chavez-Vera II is an interesting rematch, it hardly rises to the level of being PPV-worthy.
"HBO wants to do it, and I think the less frequently we go on pay-per-view, the better for the whole business," Arum said. "With some fights it's impossible because you can't come up with enough money to do the fight on HBO, like the other night [for the Timothy Bradley Jr.-Juan Manuel Marquez bout]. But that is not the case with this fight."
Arum said he and Artie Pelullo, Vera's promoter, will talk more specifics of their deal this week when they are both in Denver for Saturday night's Mike Alvarado-Ruslan Provodnikov junior welterweight title fight.
Former middleweight titlist Chavez (47-1-1, 32 KOs) won a heavily disputed unanimous decision against Vera (23-7, 14 KOs) on Sept. 28 at the StubHub Center in Carson, Calif. Although it was a competitive fight, most viewed Vera as the winner. But it was Chavez who got the decision on scores of 98-92, 97-93, 96-94. The two wide scorecards were heavily criticized, and deservedly so. One poll of 60 media members had 54 scoring the fight for Vera and four scoring it a draw.
There also was controversy before the fight even started. During the week of the fight, Chavez, who signed for the bout to be contested at 168 pounds, left Vera little choice but to accept a six-figure side deal to move the limit up to 173 pounds because Chavez wasn't in shape.
Arum said he had a recent meeting with Chavez's camp -- the fighter, father Julio Cesar Chavez Sr., co-promoter Fernando Beltran and manager Billy Keane -- to discuss the rematch and the weight issue.
"We ironed all this stuff out. It was a very good meeting," Arum said. "[Chavez Jr.] said he would fight at super middleweight and that there wouldn't be any nonsense. He will make super middleweight [168 pounds], go with a real trainer and a real conditioner and do a regular camp. He said he will behave like a fighter."
Arum said Chavez -- who faced Vera after a year layoff following his loss to champion Sergio Martinez and a subsequent suspension for testing positive for marijuana after the fight -- needs to come into the rematch in shape and win if he wants to move on to a bigger fight and restore his fans' confidence in him.
"Chavez needs to be Chavez before you can put him with the guys he really wants to fight, guys like Andre Ward and Carl Froch," Arum said. "He has to beat this guy [Vera] first."
September, 27, 2013
Sep 27
8:35
PM ET
After all the commotion, negotiations and an eventual side deal, Julio Cesar Chavez Jr., who signed to fight Bryan Vera at 168 pounds, was 172.4 pounds at Friday's weigh-in at the Biltmore Hotel in Los Angeles. Vera weighed in at 171.2 pounds.

A side deal between promoters and the fighters was made earlier in the week to raise the limit to a maximum of 173 pounds when Chavez was clearly not going to make 168. In order to raise the weight limit, Vera and his promoter Artie Pelullo will share a six-figure additional payment to what they are already getting for the fight.

The fight is Saturday night (HBO, 10:15 ET/PT) at the StubCenter in Carson, Calif. and is Chavez's first bout in a one year. Chavez suffered a lopsided loss to lineal middleweight champion Sergio Martinez last September before being hit with a subsequent fine and nine-month suspension for failing his second Nevada drug test in three years when he tested positive for marijuana.

According to an official from Top Rank, Chavez's promoter, the former middleweight titleholder spent quite a while riding a stationary bike and running a treadmill on Friday in order to make sure he was at 173 or less. He also spent time sitting in a sauna trying to lose the extra weight.

"When I got into Los Angeles I knew I could not make the weight limit so I asked my promoter if he could arrange for a different weight," Chavez said. "I did train hard to be ready but remember -- I have not fought in a year. I will do the best I can do on Saturday night. These fights like against Vera, with no title on the line, are the most dangerous fights for me because I have everything to lose. Vera has nothing to lose really, not like me."

Vera (23-6, 14 KOs) ate a full breakfast and lunch with no worries about making 173 for the 10-round fight. As part of the deal to change the weight, Vera's side asked for the bout to be reduced from a 12-rounder to a 10 and Chavez (46-1-1, 32 KOs) went along.

"When I got into the hotel on Monday I was weighing between 173 and 174, so I was more concerned for me and for him," Vera said. "I heard he was struggling. Then the promoters had a meeting. It all worked out fine. I wasn't walking out of this fight."

August, 8, 2013
Aug 8
2:43
PM ET
A few notes from the world of boxing:

• When former super middleweight titlist Lucian Bute suffered a left hand injury and needed subsequent surgery to remove bone fragments, his showdown with former light heavyweight champ Jean Pascal scheduled for May 25 at the Bell Centre in Montreal, where they are both stars, was postponed.

Then came the announcement that it would be delayed for quite some time -- either until Dec. 7 or Jan. 25, depending on the schedules of HBO and the venue. Now it looks like the fight is going to take place in January, according to Pascal promoter Yvon Michel.

"Most likely it will be in January as there are no longer Saturdays available at Bell Centre in December because of the Canadiens of the NHL," Michel told ESPN.com.

Pascal (27-2-1, 16 KOs) has not fought since easily outpointing Aleksy Kuziemski in a 10-round fight on Dec. 14, and it will have been 13 months since his last fight by the time he faces Bute. Bute (31-1, 24 KOs) lost his title by fifth-round knockout to Carl Froch in May 2012 and has fought just once since, struggling to a decision win against Denis Grachev in November. He will have gone 14 months between fights.

• Michel also said that he is expecting to receive a signed agreement in the coming days from former light heavyweight titlist Tavoris Cloud and his promoter, Don King, which would finalize a deal for Cloud to challenge champion Adonis Stevenson on Sept. 28 (HBO) at the Bell Centre. Stevenson won the title with a sensational 76-second knockout of Chad Dawson on June 8. Cloud lost his version of the 175-pound title in his last fight, losing a clear unanimous decision to Bernard Hopkins on March 9.

• Julio Cesar Chavez Jr. faces Bryan Vera in a super middleweight fight and Demetrius Andrade and Vanes Martirosyan square off for a vacant junior middleweight belt in the featured bouts Sept. 7 (HBO) at the Staples Center in Los Angeles, but Top Rank is putting a number of its best fighters on the untelevised undercard (although, fortunately, most of them will be streamed live on Top Rank's website). According to Top Rank vice president Carl Moretti, the card will also include bouts involving blue-chip junior lightweight prospect Oscar Valdez, middleweight rising contender Matvey Korobov, newly signed junior welterweight contender Karim Mayfield, junior lightweight contender Diego Magdaleno (in his first bout since losing a split decision to world titleholder Rocky Martinez in April) and junior lightweight Jose Felix.