Dan Rafael:

Buster Douglas
February, 11, 2013
2/11/13
1:46
PM ET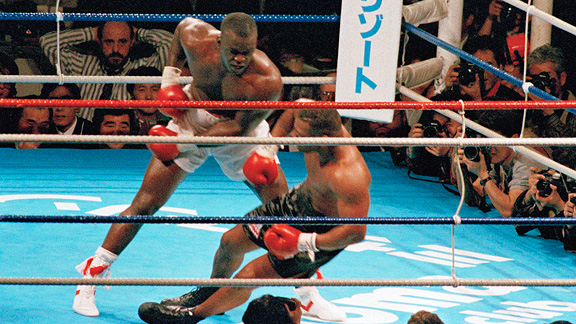 AP Photo/Tsugufumi MatsumotoWhen Buster Douglas toppled Mike Tyson in Tokyo in 1990, it marked the upset of upsets in any sport.
Maybe outside of the 1980 U.S. Olympic hockey team's upset of Russia in Lake Placid, N.Y., I view Buster Douglas' 10th-round knockout of Mike Tyson to win the undisputed heavyweight championship as the biggest upset in sports history.
That shocker in Tokyo took place 23 years ago on Monday, which got me thinking about how I didn't see the fight until a week after it happened and how, at first, I didn't believe that Douglas had pulled the unimaginable upset.
I was a sophomore at Binghamton University, and it was a big sports weekend: Tyson was fighting, which was always huge, and there was also the NBA's All-Star Saturday night -- including the dunk contest, which was a big deal back then.
In those days (yeah, I'm feeling old right about now), there was no Internet or smartphones to easily keep tabs on news and sports. No one had cable television in their dorm rooms. The only cable TV available was in the dorm's main lounge, and HBO wasn't part of the package. So the plan was to go with some friends to a buddy's place off campus to watch the fight and the dunk contest.
I never made it. I got really sick that Friday -- I think I had the flu. Whatever it was, I missed the fight and the dunk contest. I was probably out cold by 6 p.m. When I woke up the next morning, my roommate said something like, "You're never going to believe what happened last night -- Mike Tyson got knocked out."
I didn't believe him. I thought he was full of it and just giving me the business because he knew I was so ticked off that I had missed the fight.
He swore up and down that Tyson had been knocked out. I hadn't even conceived of it being a possibility. And because there was no Internet to check and no access to sports news on a Sunday morning on any of the four channels in our dorm, I told him he had to prove to me that Tyson got knocked out.
He went out to the student union and bought the newspaper and brought it back -- proof indeed that Tyson had been dethroned by a guy not expected to last even a round or two.
Back in those days (again, I'm feeling old), HBO didn't usually replay its fights. In general, you watched it live or you wouldn't see it. But because Douglas' upset of Tyson was so monumental, HBO announced it would replay the fight the following Saturday. I had read about it in USA Today, so I made the roughly three-hour drive from Binghamton to my mom's house near Albany, N.Y., to watch the replay (and brought a big sack of laundry, too).
So a week after the upset of upsets, I finally got to see with my own eyes that Douglas had indeed done the unthinkable and knocked out Tyson.
November, 6, 2012
11/06/12
4:50
PM ET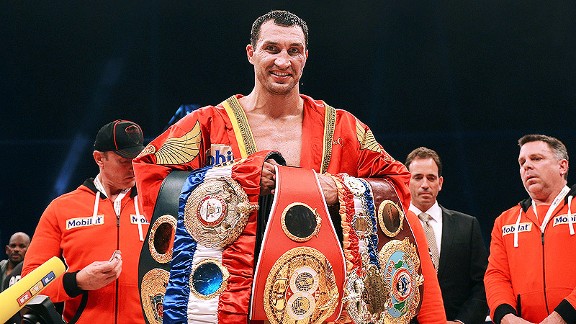 Lars Baron/Bongarts/Getty ImagesBelts or no belts, Wladimir Klitschko has firmly re-established the heavyweight championship lineage.
Since the dawn of the alphabet age of boxing belts in the mid-1980s, a lot of fighters have held versions of the heavyweight title.
Many of them have been good big men who happened to pick up a trinket but were never regarded as the legitimate champ. There were forgettable reigns of mere titleholders such as Herbie Hide, Oleg Maskaev, John Tate, James "Bonecrusher" Smith, Tony Tucker, Michael Bentt, David Haye and several others.
What counts in my book, especially in the heavyweight division, is the lineal championship (some call it the linear championship). That is, the man who beat the man, who beat the man, etc., regardless of which belt the champ holds, or even if he doesn't hold one at all (which has happened).
We're talking about men such as Jack Johnson, Jack Dempsey, Joe Louis, Rocky Marciano, Sonny Liston, Muhammad Ali, Joe Frazier and George Foreman.
The heavyweight lineage has had a few breaks in the more than 120 years since John L. Sullivan became the first champion, but generally an accepted new lineage has been established when the two leading legitimate contenders (not just some manufactured alphabet-rated guys) have met.
It isn't exact science, to be sure, but the identity of the lineal champion is often easy to determine. When Mike Tyson had all of the sanctioning body belts, he still wasn't the lineal champion. He couldn't make that claim until after he knocked out Michael Spinks, who, despite having been stripped of his alphabet title, carried on the lineage because he had defeated Larry Holmes.
Of course, when Buster Douglas knocked out Tyson, he claimed organization titles as well as the lineage. Then Evander Holyfield knocked Douglas out, and on and on it went.
When Foreman knocked out Michael Moorer in 1994 to become the lineal champ (for the second time, 20 years after his first reign), he claimed two of the main alphabet belts. Foreman was eventually stripped of both for failing to make mandatory defenses, but that had no bearing on the lineage. The only way to lose that title is to fall in the ring or retire (or move to another division).
In 1997, Foreman, sans any belts, lost a controversial decision to Shannon Briggs. It was one of the worst decisions in heavyweight history, and Foreman never fought again. But the silver lining in the mess was that Briggs held the lineage when he faced alphabet titleholder Lennox Lewis in 1998. Lewis waxed him in five rounds to hold on to his trinket and, more important, assume the lineage.
Lewis kept it until 2001, when Hasim Rahman knocked him out, then regained it later that year when he drilled Rahman in the rematch. But then Lewis retired in early 2004, breaking the lineage.
This is where recent heavyweight lineage gets a bit murky.
In his final bout, Lewis defeated Vitali Klitschko, the clear No. 1 contender, in a very competitive fight that Klitschko was winning on the scorecards until it was stopped because of his badly cut eye. Under the circumstances, it was only logical that Klitschko should be involved in the fight to re-establish the lineage.
Fighting for the alphabet belt that Lewis vacated upon his retirement, Klitschko eventually faced the late Corrie Sanders, a legitimate contender who was coming off an upset knockout win against titleholder Wladimir Klitschko, Vitali's younger brother.
Vitali Klitschko stopped Sanders in the eighth round in April 2004 in an excellent fight. Besides winning a vacant alphabet belt, Klitschko was also awarded the vacant Ring magazine title, which had been created to clearly identify the legitimate champion in each division (before the magazine's championship policy had been radically altered and muddled).
There are many who view Vitali's victory over Sanders as his having re-established the lineage following Lewis' retirement. Others aren't so sure.
Regardless, after Klitschko defeated Danny Williams in his next fight, he retired for nearly four years because of various injuries. That broke the lineage again (or, depending on your view, left it unrepaired post-Lewis).
But during Vitali's retirement, Wladimir emerged as the dominant heavyweight force. In 2006, he won an alphabet belt by knocking out Chris Byrd (who owns a win over Vitali), and in 2008 he unified two belts.
It wasn't until 2009 that Wladimir re-established the lineage. The Ring title was still legit at that time, when he thrashed leading contender Ruslan Chagaev, who, for good measure, had never lost his alphabet belt in the ring (he had been stripped).
Thus, whatever your perception is of Vitali's claim on the lineage, Wladimir has clearly restored it.
Even if, on its own, hammering Chagaev wasn't enough, Klitschko surely should have persuaded any remaining doubters by now, having won five more fights in a row (four by knockout) against mostly top contenders to firmly establish himself as the man in the weight class -- the legitimate and lineal champion.
The next lineal champ will be the man who beats Wladimir. And if Wladimir retires and the lineage is broken, we'll just have to wait and see who can restore it.