October, 7, 2014
Oct 7
2:48
PM ET
Hard-hitting Mexican super middleweight Gilberto Ramirez is one of boxing's most intriguing potential stars. He just needs more experience and more exposure.
The 23-year-old southpaw will get both in his next fight when he takes on Fulgencio Zuniga in a 10-rounder on Nov. 15 in San Antonio. The card will take place at the Alamodome, which will be scaled for about 5,000, and televised on HBO Latino, HBO's Spanish-language service. I have advocated for years that HBO Latino should be more involved in putting on its own fights rather than just simulcasting HBO's cards.
[+] Enlarge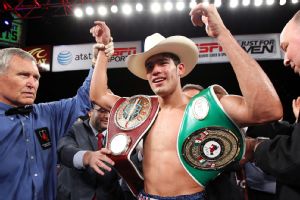 Chris Farina./Top RankUnbeaten super middleweight Gilberto Ramirez of Mexico will step up in class when he faces Fulgencio Zuniga on Nov. 15 in San Antonio.
In the eight-round co-feature, blue-chip featherweight prospect Oscar Valdez, a two-time Mexican Olympian, will face former title challenger Alberto Garza, who on paper represents his toughest test.
It makes sense for HBO to create a card for these fighters on HBO Latino since they are likely to become staples on the main network in the not-too-distant future.
Ramirez (29-0, 23 KOs) has been particularly impressive in recent fights. In April, headlining an ESPN2 card in Las Vegas, he destroyed former title challenger Giovanni Lorenzo, a very experienced opponent, in the fifth round. In July, Ramirez scored a first-round knockout of Junior Talipeau in Macao.
"He has charisma, he has popularity in Mexico, he's in a good weight class, and he has a very crowd-pleasing style," Top Rank vice president Carl Moretti said. "It all adds up to a high ceiling."
Although Zuniga (27-9-1, 24 KOs), 37, of Colombia, has generally lost when he has stepped up in competition, he is known as a durable fighter, going the distance with opponents such as Hassan N'Dam, Alejandro Berrio (whom Zuniga also knocked out), James DeGale, Tavoris Cloud and Thomas Oosthuizen, all since 2010. In 2009, Lucian Bute stopped Zuniga in the fourth round.
Valdez (12-0, 11 KOs), who is also 23, has looked good as he has been brought along in the pros. Although Garza (26-8-1, 21 KOs), 29, of Mexico, has lost three of his last four fights, the defeats have been to quality opponents -- decisions against former featherweight titleholder Billy Dib and top prospect Jose Pedraza and a fourth-round knockout challenging titleholder Nicholas Walters.
"Valdez is a young star on the rise who has huge potential," Moretti said. "He's crowd-pleasing, bilingual, marketable; he has good skills and he makes good fights. He's all you look for."
In an untelevised bout, lightweight Ivan Najera (14-0, 8 KOs), 21, of San Antonio, will face an opponent to be determined in an eight-rounder. According to Moretti, Najera is a possible opponent for prospect Felix Verdejo next year on a televised undercard on HBO or HBO PPV.
A news conference is scheduled for Thursday at the Alamodome to announce the card.
June, 20, 2014
Jun 20
5:04
PM ET
Gene Blevins/Hoganphotos/Golden BoyAlthough it came together thanks to a purse bid, Saturday's Gary Russell Jr.-Vasyl Lomachenko bout could go down as the beginning of a new relationship between promoters Golden Boy and Top Rank.
Now that Golden Boy promoter Oscar De La Hoya and Top Rank boss Bob Arum are cozy again, and both say that they are willing to do business with each other, it seems as though this particular boxing cold war is over.
A lot of interesting fights are probably still off the table if adviser Al Haymon, whose relationship with Arum has been in the toilet for years, is involved -- but whatever fighters are under contract to Golden Boy can probably be matched now with Top Rank if it makes sense.
A few months before De La Hoya and Arum made peace, Golden Boy won a purse bid for the vacant featherweight title bout between Garry Russell Jr. (a Haymon fighter, by the way) and Vasyl Lomachenko, the two-time Olympic gold medalist with Arum.
The purse bid paved the way for Golden Boy to take control of the fight, which is part of a Showtime tripleheader Saturday night (10 ET), without having to involve Top Rank. But maybe now that De La Hoya and Arum are on good terms more fights like this can happen in the future, especially now that Richard Schaefer, who opposed working with Top Rank, has resigned as Golden Boy CEO.
Now, keep in mind, Arum and Haymon aren't about to begin matching their fighters together, so a lot of good fights are clearly still off the table. But, hey, this is a start.
Russell said he was glad that his fight with Lomachenko, although done under a purse bid, has helped break the ice.
"Honestly, it's a big honor to break the cycle of the Al Haymon and Bob Arum/Top Rank and Golden Boy dissent, because I think you have these great fighters on both sides of the fence that the fans would love to see," he said. "Now it's a possibility to fulfill them or give them a possibility to see it.
"I think it's a big breakthrough for me and Lomachenko to be able to be one of the first to actually do it, and hopefully this will open the door for a lot of the other fights that the fans would want to see take place."
Golden Boy did not have to involve Top Rank in the promotion at all and Lomachenko could have refused to participate in any way. But both camps have done their part, making it a seemingly friendly, drama-free promotion.
Moretti said a lot of the cold war stuff is overblown.
"I think that's what the media and social media likes to jump on but, you know, at the end of the day, I just can't see in the middle of the sixth round guys rooting for Al or Bob," Moretti said. "It's a fight, and the fight Lomachenko has to worry about is Gary Russell and Gary Russell has got to worry about Lomachenko, and anything other than that is just Twitter talk, which people seem to love lately."
De La Hoya has been saying for weeks -- since his meeting of the minds with Arum -- that he wants to promote fights with any promoter that can help him make the biggest bouts for his fighters.
"I think it's wonderful to hear from a fighter like Gary Russell that he wants to engage in these big, major fights, regardless of promoters," De La Hoya said. "That's what it's really all about. It's not about promoters and egos. It's about the fighters and the fans. So, I'm optimistic that in the near future the fight fans will get what they deserve."
June, 10, 2014
Jun 10
7:19
PM ET
When Oscar De La Hoya was inducted into the International Boxing Hall of Fame on Sunday in Canastota, New York, he brought up the ongoing promotional battles that have bogged down the sport and prevented some significant fights that fans have wanted to see.

"We must put aside the egos that have damaged our brand and sullied our reputation," he said during his remarks. "We, the promoters, must stop carrying petty grudges that serve no purpose but to divide our sport. And most important, we must give the fans the fights that they want."

De La Hoya is seemingly doing his part. He has reconciled with Top Rank promoter Bob Arum, and they both claim they want to do business together again after years of battles. De La Hoya's desire to work with Arum again was one of the many issues that came between him and Richard Schaefer, who resigned last week as Golden Boy's CEO; he didn't want to work with Arum again.

But for anyone who thinks that all is now well, don't fool yourself. There is still massive pettiness, and it spilled over Tuesday when Showtime Sports boss Stephen Espinoza apparently barred Arum from participating on a media teleconference to promote a Showtime-televised June 21 fight between Gary Russell Jr. and Vasyl Lomachenko, who meet for a vacant featherweight title.

Golden Boy, representing Russell, won the rights to the fight in a purse bid before De La Hoya and Arum made up. Golden Boy could have put on the fight without involving Top Rank in anything. But because De La Hoya and Arum have made up, Golden Boy invited Arum to participate in the teleconference to promote the fight. It is common practice for fighters on these calls to be represented by somebody from their promotional company, whether it's a co-promotion or not.

But, according to Top Rank, Espinoza barred Arum. But it's not like he barred Top Rank, because Top Rank vice president Carl Moretti participated.

"Bob Arum, CEO of Top Rank, was scheduled to be on the Vasyl Lomachenko conference call," Top Rank's spokesman Lee Samuel said. "Stephen Espinoza requested that Arum not be on the call. Carl Moretti will replace Arum."

Espinoza, on his Twitter account and not to mention time and again in interviews, has stated he is open to working with Top Rank, even though based on the fights he has scheduled it is obvious he has no interest in that at all.

Tuesday's action made it even more obvious even if Showtime tried to spin that fact in a statement given by email to ESPN.com by spokesman Chris DeBlasio.

"Neither Bob Arum, nor Stephen Espinoza were scheduled to be on [Tuesday's] media conference call," DeBlasio wrote. "The June 21 'Showtime Championship Boxing' event is promoted by Golden Boy and, collectively with Oscar De La Hoya and Golden Boy Promotions, we agreed that this was not a platform on which any other promotional outfit belongs. This call is about the fighters on this card that are preparing for important, and competitive fights."

That's all well and good, but De La Hoya wanted Arum to be on the call. Arum was ticked off by the situation.

"Obviously, I was supposed to be on the call, and Espinoza objected," Arum told ESPN.com. "It's the same petty stupidity. It's the same old, same old. Oscar wants to open everything up and to do business to do the best fights. He sincerely wants that. People like Espinoza are an impediment to that. The fact that I do my fights with HBO means nothing. I'm doing a fight here with Golden Boy because they won the purse bid. Back when we did [Vanes Martirosyan-Erislandy Lara] and we won the purse bid we acknowledged Golden Boy was the promoter of Lara and showed them respect. That's how it's done. But it goes back to Espinoza's mean-spirited nature.

"Golden Boy asked me to be on the call, and Espinoza said no. He decided that I'm not a co-promoter and I shouldn't be on the call. But it is personally directed at me because he didn't say Moretti shouldn't be on the call. He's afraid of my renewed relationship with Oscar. It's inexcusable behavior. What does he gain by doing something like that?"

To think that the lineup of speakers on a conference call would turn into a controversy just shows how ridiculous the petty business of boxing often can be.
May, 12, 2014
May 12
5:21
PM ET
A proposed fight between lightweight contender Raymundo Beltran and former unified titleholder Juan Diaz has been scrapped, Top Rank vice president Carl Moretti told ESPN.com.

The bout was supposed to serve as the opener of the HBO-televised fight between lightweight titleholder Terence Crawford (23-0, 16 KOs) and former featherweight titleholder Yuriorkis Gamboa (23-0, 16 KOs) on June 28 at the CenturyLink Center in Omaha, Neb., Crawford's hometown.

In addition to being a probable action fight, the winner of the fight would have put himself in prime position to challenge the winner of the main event.

However, Moretti said that Beltran dropped out of the fight, saying he would not be ready in time. One of the reasons, perhaps, is because Beltran (29-6-1, 17 KOs) recently parted ways with manager Steve Fedor and is now working with attorney David Garcia, Moretti said.

Moretti said that Diaz (39-4, 19 KOs) likely would remain on the card in an untelevised bout.

Top Rank and HBO are talking about various fights to take the place of Beltran-Diaz as the co-feature.
April, 16, 2014
Apr 16
12:49
PM ET
Given that featherweight Vasyl Lomachenko is promoted by Top Rank and Gary Russell Jr. works with Golden Boy (although he is not under contract), it is no surprise that the sides have not engaged in a negotiation for the vacant title bout they have been ordered to meet in.

With no deal in the works, the WBO has ordered a purse bid, which is scheduled to take place Friday at noon ET in Orlando, Fla., according to Top Rank vice president Carl Moretti. Orlando is the site of Top Rank's UniMas-televised fight card Saturday night, and since the card includes a WBO regional title bout, organization officials as well as Top Rank personnel will be on hand.

Lomachenko (1-1, 1 KO), the two-time Olympic gold medalist from Ukraine, and manager Egis Klimas both say they are eager for the fight with Russell. Whether Russell (24-0, 14 KOs), a 2008 U.S. Olympian, and adviser Al Haymon are interested in the bout remains to be seen.

The title became vacant when Orlando Salido was stripped for not making weight for a March 1 defense against Lomachenko, who then lost a split decision to Salido, leaving the belt vacant.

"There are not a lot of expectations from either side [on making a deal], so the purse bid was called and we'll see how it will unfold there," Moretti said.
February, 6, 2014
Feb 6
3:19
PM ET
Junior featherweight Chris Avalos, of Lancaster, Calif., was due to fight in the main event of Top Rank's "Solo Boxeo" card on UniMas on Feb. 15, but was taken off the card so he would be available for a world title eliminator.

The purse bid for that eliminator against Rey Vargas (18-0, 15 KOs) of Mexico took place Tuesday and Top Rank, the only bidder, won with an offer of $25,000. Avalos (23-2, 17 KOs), the higher-ranked fighter in the IBF ratings, is entitled to 60 percent of the money ($15,000), with Vargas due the remaining 40 percent ($10,000).

Top Rank has 90 days to put on the bout, which will produce the mandatory challenger for the 122-pound title held by Kiko Martinez of Spain.

However, Top Rank vice president Carl Moretti said that based on what he hears, Vargas won't take the fight.

"We won the purse bid, we have followed the IBF procedures and sent out a bout contract," Moretti said. "We expect it to be signed, but if it's not, we will inform the IBF and move forward with their next available contender. But we believe Vargas won't take the fight."

Once Avalos was taken off the Feb. 15 card, Top Rank moved Las Vegas junior lightweight contender Diego Magdaleno (24-1, 9 KOs) into the main event of the show that will take place at the C. Robert Lee Activity Center in Hawaiian Gardens, Calif. Magdaleno, a 27-year-old southpaw, will face the Philippines' Ernie Sanchez (14-5, 5 KOs), 22, in a scheduled 10-round lightweight fight.

Magdaleno is seeking his second win a row since dropping a split decision in a world title challenge to then-titleholder Rocky Martinez in Macau last April. Sanchez has lost two decisions in a row, including to Vargas in December.

Opening the telecast will be the pro debut of 2012 Olympic silver medalist Esquiva Falcao of Brazil, who will face Paul Harness (4-4-1, 3 KOs) in a six-round super middleweight bout.

On the untelevised portion of the card, Las Vegas junior featherweight Jessie Magdaleno (17-0, 13 KOs), Diego's 22-year-old brother and one of boxing's elite prospects, takes on Mexico's Roberto Castaneda (20-5-1, 15 KOs) in a scheduled eight-rounder.
May, 8, 2013
5/08/13
2:17
PM ET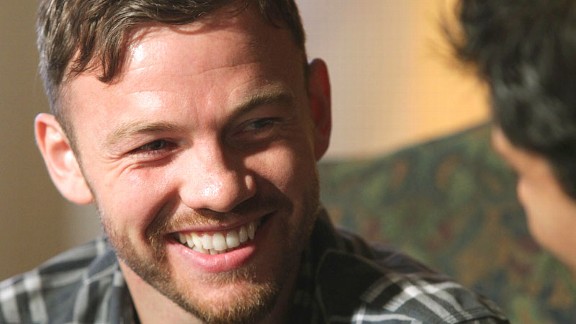 Chris Farina/Top RankAndy Lee is looking for his second straight victory after losing to Julio Cesar Chavez Jr.
A little of this and a little of that from the boxing world:
• Middleweight contender Andy Lee (29-2, 20 KOs), 28, of Ireland, gets back in action May 15 on promoter Lou DiBella's Broadway Boxing card at B.B. King Blues Club in New York. Lee will be seeking his second win in a row following his seventh-round knockout loss to then-titleholder Julio Cesar Chavez Jr. in June. Lee will face Darryl Cunningham (28-4, 11 KOs) in a scheduled 10-round bout. It will be Lee's second fight since the untimely death of longtime trainer and close friend Emanuel Steward. Lee has since moved his base from Steward's hometown of Detroit back to the United Kingdom to train with Adam Booth.
"I'm very much looking forward to this fight," Lee said. "Having lived in New York for two years, I know firsthand what a great fight town it is. The New York fight fans are a very knowledgeable crowd, and I intend on putting on a first-class performance for them. I want to thank my promoter Lou DiBella for giving me this chance to showcase my skills as I look to rebuild myself into title contention."
• When featherweight titlist Miguel Angel "Mikey" Garcia makes his first defense against Juan Manuel Lopez on June 15 in Dallas, the HBO co-feature will feature Terence Crawford in a lightweight fight against Alejandro Sanabria (34-1-1, 25 KOs) of Mexico, according to Top Rank vice president Carl Moretti. Crawford (20-0, 15 KOs), 25, of Omaha, Neb., had his coming-out party March 30 when he filled in as a late substitute to face junior welterweight Breidis Prescott on the HBO-televised co-feature of the Mike Alvarado-Brandon Rios rematch. Crawford dominated, but when he faces Sanabria, he will drop down to his more natural lightweight division, Moretti said.
• Welterweight champion Floyd Mayweather Jr.'s lopsided decision win against interim titlist Robert Guerrero in Saturday's Showtime PPV main event at the MGM Grand in Las Vegas will be replayed on Saturday night (Showtime, 9 ET/PT). The telecast will open with a replay of Abner Mares' ninth-round knockout of Daniel Ponce De Leon to win a featherweight world title, the third weight class in the past three years that Mares has won a championship in.
• The hunt for an opponent for Cleveland junior middleweight contender Willie Nelson (20-1-1, 12 KOs) is, at last, over. After weeks of back-and-forth between DiBella, Nelson's promoter, and HBO, they finally settled on Argentina native Luciano Cuello (32-2, 16 KOs), who will face Nelson on June 29 in the opening bout of an HBO tripleheader at Foxwoods Resort Casino in Mashantucket, Conn. Middleweight titlist Gennady Golovkin (26-0, 23 KOs) defends against Matthew Macklin (29-4, 20 KOs) in the main event with super middleweights Thomas Oosthuizen (21-0-1, 13 KOs) and Brandon Gonzalez (17-0, 10 KOs) meeting in the co-feature. Cuello's only two losses came against well-known Mexican stars before they won their world titles -- a unanimous 10-round decision to Julio Cesar Chavez Jr. in 2009 and a sixth-round knockout against Saul "Canelo" Alvarez in 2010.
• Junior welterweight titlist Khabib Allakhverdiev (18-0, 8 KOs) will make his first defense, a mandatory, against former titlist Souleymane M'baye (40-4-1, 22 KOs) on July 13 in Monte Carlo, Monaco. Allakhverdiev was supposed to defend his title for the first time against Prescott on March 30 on HBO on the Alvarado-Rios II undercard, but he injured his right elbow and withdrew. The fight will be on the same card as the final of the Monaco Million Dollar Super Four final between Denis Grachev (13-1-1, 8 KOs) and Edwin Rodriguez (23-0, 15 KOs), who will meet at a catchweight of 171½ pounds because Grachev is a light heavyweight and Rodriguez is a super middleweight. In the March 30 semifinals in Monte Carlo, Grachev advanced with a decision win against former light heavyweight titlist Zsolt Erdei and Rodriguez outpointed Ezequiel Osvaldo Maderna.
• Covina, Calif., lightweight John Molina (25-2, 20 KOs) is on the comeback trail seeking his second win in a row following his 44-second knockout loss to Antonio DeMarco in a September world title fight. Molina, who rebounded for a fourth-round knockout win against Dannie Williams in January, will face Andrey Klimov (15-0, 8 KOs) of Russia in a scheduled 10-rounder on June 7 at the Little Creek Casino and Resort in Kamilche, Wash., in the main event of ESPN2's "Friday Night Fights," promoter Dan Goossen announced. In the super middleweight co-feature, Farah Ennis (20-1, 12 KOs) of Philadelphia meets Anthony Hanshaw (23-2-2, 14 KOs) of High Point, N.C.