July, 10, 2013
7/10/13
5:23
PM ET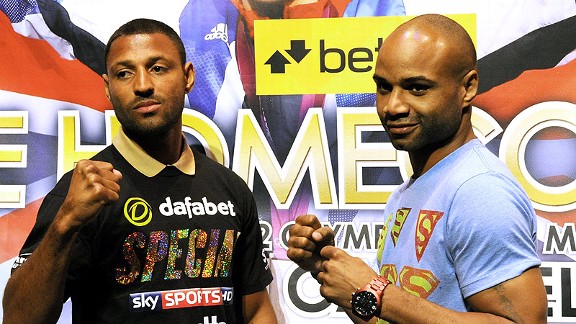 Matchroom BoxingCarson Jones, right, has no problem going back into Kell Brook's hometown for Saturday's rematch.
Junior middleweight Carson Jones is so confident he will even the score by beating England's Kell Brook in their rematch that he:
• Agreed to raise the contract weight from 150 pounds to 152 pounds because Brook, who usually fights at welterweight, was having problems with his weight.
• Took far less money for the second fight than he made for their first bout last July.
• Didn't hesitate to return to England for the fight, even though he lost a majority decision there in their grueling first encounter.
Jones (35-9-3, 25 KOs), 26, of Oklahoma City, Okla., and the 27-year-old Brook (29-0, 19 KOs) meet again on Saturday (Sky Sports HD1 in the United Kingdom) at Craven Park in Hull, England on the card headlined by the pro debut of Hull's Luke Campbell, the 2012 British Olympic bantamweight gold medalist.
"I had Kell in all kinds of problems in [his hometown of] Sheffield but he got away with it," said Jones, who broke Brook's nose in the eighth round and had him in serious trouble late in the fight. "I took four or five rounds to get started, but as soon as I did it was popping. This time I'll be on him from the start and there will be no escape route for him this time. I want that world title shot just as much as he does.
"Everybody keeps making excuses saying that he had stamina problems. He didn't have stamina problems, he had a Carson Jones problem. I was pressing him, hitting him with clean shots, I broke his nose in the eighth round and from then on it was pretty much my fight. I don't have a problem coming over here. I've been to his hometown before, and I've been to other people's backyards and taken home the victory. When it comes down to it, it's just me and him fighting whether it's his hometown or mine, it's not going to change the outcome. He's never had anybody up in his face before, and he really didn't know how to react to it. He looked a little scared to me."
Brook was supposed to have challenged welterweight world titleholder Devon Alexander in a mandatory fight but it was delayed three times and eventually canceled altogether because of various injuries to the two fighters. When Brook suffered a stress fracture, their most recent date, May 18 in Atlantic City, N.J., was canceled.
Alexander wound up knocking out late replacement (and Brook promotional stablemate) Lee Purdy while Brook took this rematch with Jones a couple of months later.
"I'm even more fired up to get rid of him now," Brook said. "He's very cocky for someone who has never beaten anyone of note, and this time I'll knock him out and send him home for good. He won't want to come back after Saturday night. The first fight has been bugging me ever since I got back in the dressing room afterwards. He was at 100 percent for that fight and put in the best performance of his career. I was nowhere near full throttle but I am as close to the best Kell Brook I've ever been and he'll be out of my life for good on Saturday night.
"I could have had an easier opponent but the last fight was an exciting, mouthwatering fight and I think the fans deserve it. It is going to be a tough fight and I am training hard for it but I am going to go out there and have fun and take care of business. It is going to be a great night, there will be fireworks and I am very excited to get back in and I can't wait to take my frustrations out on Carson Jones."
June, 17, 2013
6/17/13
9:28
PM ET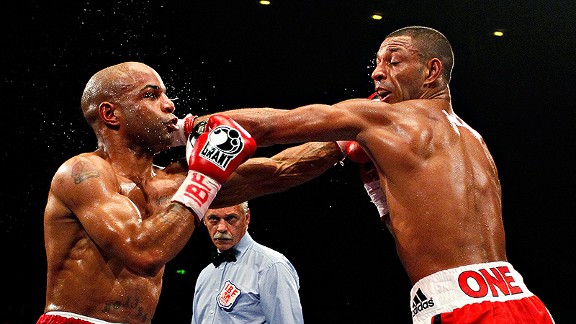 Paul Thomas/Getty ImagesKell Brook, right, is excited about a rematch with Carson Jones after last July's first scrap.
Welterweight contender Kell Brook believes his injury issues are behind him and he is looking forward to returning to action when he faces Carson Jones in a rematch on July 13 at the outdoor Craven Park rugby stadium in Hull, England.
England's Brook had been slated to face world titleholder Devon Alexander as the mandatory challenger in Atlantic City, N.J., on May 18, the third date the fight had been set for because of previous postponements. But the fight was canceled altogether when Brook (29-0, 19 KOs) suffered a stress fracture in his right foot during training and had to pull out.
Alexander wound up hammering replacement (and Brook's promotional teammate) Lee Purdy while Brook was sidelined. Brook was then lined up to face Jones (35-9-3, 25 KOs) of Oklahoma City in a rematch of their brutal fight from last July when, fighting in his hometown of Sheffield, Brook won a 12-round majority decision in a semifinal title elimination fight that got him one step away from what became the aborted title shot against Alexander.
"It has been very frustrating," Brook said. "I have never really had an injury in my whole career, and then just before the biggest fight of my life it happens to come along. It was horrible and I was absolutely gutted about it.
"Without a doubt, it was the hardest thing I have had to go through in my boxing career. I have always wanted to be a world champion and when I got a world title fight, it got taken away from me and it was out of my hands. It was so frustrating. I couldn't watch Alexander versus Lee Purdy, I couldn't do it. Knowing that I should have been in there that night, I couldn't sit down and watch it."
Brook said he is past the disappointment now and looking forward to facing Jones again.
"I am on to the next chapter in my boxing career now and I am looking forward to having fun on July 13," Brook said. "Step by step, we will get to where I have wanted to get all of my life and all of my career. I am looking forward to Hull, I am excited and I cannot wait. Big things will come from me. I am going to make a statement in this fight and I am going to carry on from there.
"I could have had an easier opponent, but the last fight was an exciting, mouth-watering fight, and I think the fans deserve it. It is going to be a tough fight and I am training hard for it, but I am going to go out there and have fun and take care of business."
Brook-Jones II is on the card (televised by Sky Sports in the United Kingdom) headlined by the pro debut of Hull native Luke Campbell, who became the first British boxer to win a bantamweight Olympic gold medal in more than 100 years when he did it in London last summer.
November, 1, 2012
11/01/12
9:03
AM ET
For British boxing fans, Matchroom Sport promoter Eddie Hearn has a big card in store for Dec. 8 in London. Even for non-Brits, it's a good looking card.

The main event could be, as the Brits say, a cracker -- former junior welterweight world titleholder Gavin Rees of Wales, who recently vacated the European lightweight title, will face England's John Murray.

Rees (37-1-1, 18 KOs) hasn't lost since 2008, when Andriy Kotelnik stopped him in the 12th round to take his 140-pound world title.

Yes, Murray (31-2, 18 KOs) has lost two fights in a row by knockout, but he always comes to fight. His eighth-round TKO loss to Brandon Rios on the Miguel Cotto-Antonio Margarito II undercard last December was a terrific action fight. His eighth-round TKO loss to Kevin Mitchell in July 2011 was another excellent fight before it ended.

"I am over the moon to get this fight made," Hearn said. "It's one that I've wanted to make for a while and one that Gavin wants badly. They say styles make fights and we know what we are going to get with this one -- Dec. 8 is going to be an epic night of boxing."

There two other notable fights on the card:

• Former European middleweight champions Darren Barker (23-1, 14 KOs) and Kerry Hope (17-4, 1 KO) meet. Barker will be fighting for the first time since world middleweight champ Sergio Martinez stopped him in the 11th round in a competitive fight 13 months ago. Hope beat Grzegorz Proksa in March to win the European title in an upset and then was stopped by him in the eighth round of the July rematch.

• Welterweight Lee Purdy (19-3-1, 12 KOs) of England meets American Carson Jones (34-9-2, 24 KOs), who gave Kell Brook a very tough fight in a majority decision loss in July.

August, 7, 2012
8/07/12
2:35
PM ET
England's Kell Brook is one win away from a mandatory shot at welterweight titleholder Randall Bailey (or Devon Alexander, if Alexander wins the title from Bailey next month).

All that stands between Brook and the opportunity is Argentina's Hector Saldivia, whom he will meet in a final eliminator on Oct. 20 at the Motorpoint Arena in Sheffield -- Brook's hometown.

Saldivia isn't much to write home about. Frankly, he's a step down from Carson Jones, the tough fringe contender whom Brook (25-0, 18 KOs) went to war with in a semifinal eliminator on July 7 in Sheffield. Brook escaped with a majority decision in a very tough fight.

"I proved I have massive heart against Carson," Brook said. "I said after the fight that there needs to be an improvement, and on Oct. 20 my fans are going to see me at my very best."

Said Eddie Hearn, Brook's promoter: "It was always our goal to secure a mandatory position, and now we are just one fight away from making that happen."

Saldivia (41-2, 32 KOs) has been stopped in both of his losses. I was quite unimpressed when I was at his first-round knockout loss to Said Ouali in Las Vegas in May 2010, when they met on the Floyd Mayweather Jr.-Shane Mosley undercard. Saldivia came into the fight with a big reputation but got destroyed, albeit in an exciting shootout.