Dan Rafael:

Cristobal Arreola
January, 4, 2014
1/04/14
11:17
PM ET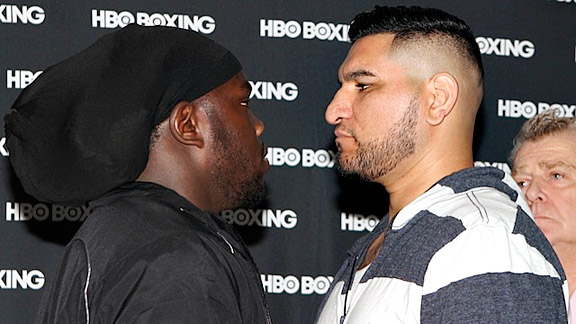 Joe Miranda/Goossen Tutor PromotionsBermane Stiverne, left, will need to defeat Cristobal Arreola a second time to claim a world title.
Heavyweight contender Bermane Stiverne won his fist title elimination bout in June 2011 by knocking out Ray Austin in the 10th round. It was a dubious eliminator, given that few held Austin in high regard, but it was nonetheless sanctioned as one by an alphabet organization.
Two fights later, in April 2013, Stiverne, still waiting for a title shot, outpointed Cristobal Arreola in what was billed as a final eliminator to get a crack at titleholder Vitali Klitschko.
But Stiverne is still waiting because Klitschko repeatedly put off the fight, forced purse bids to be postponed and then vacated his belt last month altogether in order to concentrate on his political career in Ukraine.
The move has left Stiverne in a seemingly perpetual wait for a shot at a world title. With Klitschko's apparent retirement, Stiverne (23-1, 20 KOs) is supposed to face Arreola (36-3, 31 KOs) in a rematch for the now-vacant belt. According to the Arreola camp, there has been no headway in negotiating a deal, meaning the fight is likely headed to a Jan. 17 purse bid followed by a wait to schedule the bout.
Stiverne, a low key guy, is content to wait however long it takes to get the shot at the belt.
"I believe that good things happen to those who wait," Stiverne said. "I also believe that one of my best qualities is to be patient for things that I want and care about in life, especially if I'm putting in work at 110 percent.
"I am not disappointed that I won't be fighting Klitschko. All I care about right now is to get my hands on that green belt and to be the first Haitian heavyweight champion of the world. I have the best team in boxing to take care of this matter. It is not my concern about where or when. My job is to be ready when the time and date comes. As far as I'm concerned this will be the first time I fight [Arreola]. My performance will be impeccable and very painful. I will knock his ass out."
Camille Estephan, Stiverne's manager, said he hopes that Stiverne promoter Don King can either make a deal with Arreola promoter Dan Goossen or win the purse bid to bring the fight to Canada as Stiverne lives in Montreal.
Estephan said that Stiverne has been training all along in anticipation of the title fight.
"Although we've been patiently waiting, we have not been sitting idle," he said. "Bermane has been hard at work, perfecting his skills and abilities, and his time waiting has been an investment. We will show that the sacrifice and efforts during that time has, without doubt, produced the best heavyweight in the world. Bermane is eager to show that in his upcoming performance."
September, 11, 2013
9/11/13
10:15
PM ET

LAS VEGAS -- Floyd Mayweather Jr. versus Canelo Alvarez is the biggest fight of the year, but if you look at the picks compiled by Showtime, Mayweather is the overwhelming favorite to win Saturday night's pay-per-view headliner at the MGM Grand Garden Arena.

Showtime polled 69 fighters and media members. The result was 60 picks for Mayweather, seven for Alvarez and two picked a draw.

Here's a look at how some of the fighters see the fight:

• Mike Tyson: "I've only seen Canelo fight twice -- against [Josesito] Lopez and [Austin] Trout. Trout gave him some trouble and he isn't as experienced and as technically skilled as Floyd is. Floyd stays in tip-top shape and is a very relaxed fighter. He is at his peak. It's going to be hard for anybody to beat Floyd now unless he doesn't train. Floyd has transcended the game so much that the best fighters out there now try to emulate his style. Floyd wins by a decision."

• Lennox Lewis: "Mayweather will win because of his speed and experience. He's been at this level before so that will also be an advantage. He's the best until proven otherwise. Canelo is talented, young, strong and dangerous -- makes it all the more exciting."

• Zab Judah: "Mayweather is too fast and has great timing. I just don't see Canelo hitting him. I don't see Canelo being able to do anything to Floyd."

• Adrien Broner: "Floyd Mayweather will win by KO in the late rounds."

• Paulie Malignaggi: "You can't count Canelo out because he's a natural junior middleweight, so he has a chance. But at the end of the day it's Mayweather winning on points."

• Cristobal Arreola: "[Mayweather has] the experience and he's been in a lot of big fights before. That is not to say Canelo hasn't, but Mayweather has been in more and knows what to do in a fight of this magnitude. I think Canelo took this fight two fights too soon. Mayweather by decision."

• Seth Mitchell: "Floyd's boxing IQ is just too great. His offense, defense is just too good."

• Rafael Marquez: "The winner of this fight is the boxer with the most intelligence and power, and I hope it is going to be Canelo."

• Gary Russell Jr.: "In order for Floyd to beat Canelo, he has to keep Canelo on the outside and outbox him and pot shot him. Floyd needs to make it clear that he's landing the cleaner and more effective punches. For Canelo to win, he needs to make the fight ugly and finish his combinations with a hook. He has to make it ugly and rough for Floyd. If Canelo makes it close, he will win."

• Carlos Molina: "At first it looks like Mayweather's experience and speed will be too much for Canelo. But then you think about it and Canelo is young and strong. This is boxing. You just never know. I would say at this point it is 60-40 Mayweather."

• Lucas Matthysse: "If the fight goes the distance then Floyd Mayweather will win. But if Canelo Alvarez fights intelligently, he could win the fight."
July, 31, 2013
7/31/13
7:16
PM ET
The fight isn't a done deal yet but a good-looking heavyweight bout between former title challenger Cristobal Arreola and Seth Mitchell is nearly finalized.

Assuming the deal is done -- and both fighters are supposedly already in training for the bout -- it will take place Sept. 6 at the Fantasy Springs Resort Casino in Indio, Calif. Showtime is expected to broadcast the fight.

"Both guys are willing to fight each other and we're trying to get everything done," Eric Gomez, matchmaker for Mitchell promoter Golden Boy, told ESPN.com. "It's an exciting fight because these guys will go at it."

They are both excellent punchers and generally mix it up in their fights. It's the kind of fight that will boost the winner big-time and really damage the future prospects for the loser.

Arreola (35-3, 30 KOs), 32, of Riverside, Calif., fought for a world title in 2009, getting stopped in the 10th round by Vitali Klitschko.

Arreola is also coming off a unanimous decision loss to Bermane Stiverne in April. That was a world title eliminator for the right to fight Klitschko. But Stiverne dropped Arreola and badly broke his nose in the third round. Somehow, Arreola was able to make it to the final bell. However, he was not really in the fight after that round. He needed surgery on his nose after the fight.

Mitchell (26-1-1, 19 KOs), 31, of Brandywine, Md., was a late starter to boxing after turning to the sport when a knee injury wrecked his pro football chances after playing linebacker for Michigan State. He was viewed by many as a future title challenger until he ran into Johnathon Banks, a big underdog who dropped him three times and knocked him out in the second round in November. Mitchell avenged the loss on June 22, winning a unanimous decision in a very cautious performance.

"We're working to get this fight done," said Dan Goossen, Arreola's promoter. "It's a great fight for both fighters and I think it's a great fight fans' fight. They'll both come at each other. Fans really love the heavyweights, especially ones that like to get in there and bang with one another."

Goossen said Arreola's nose is just fine now.

"He's breathing well. He's fine," he said. "He had a little surgery on it and a few weeks later he was good to go."
July, 30, 2013
7/30/13
9:49
AM ET
Deeply involved in politics in his home country of Ukraine and 42 years old, heavyweight titlist Vitali Klitschko has made no secret that he is not long for boxing.

When he stopped Manuel Charr in the fourth round on a terrible cut in September to retain his world title for the ninth time, it loomed as a possible career finale because he had been talking about retirement even before the fight.

Since that win, Klitschko (45-2, 41 KOs) has not said he was going to retire, but he has also not said he would fight again. However, it seems as though he does intend to fight at least once more because his team at K2 Promotions has been negotiating his mandatory defense with Don King, promoter of Bermane Stiverne (23-1-1, 20 KOs), who earned the title shot with a dominant upset decision against Cristobal Arreola in their April 27 title eliminator.

The mandatory is due, and a purse bid should have already taken place if the sides were unable to make a deal. Although the sides seem no closer to making one now, even after months of discussion, the purse bid has been postponed at least twice.

According to Stiverne manager Camille Estephan, the most recent date for the purse bid to take place was July 22, but that was before the WBC granted Klitschko another extension, forcing another delay in the bidding process. Why multiple extensions have been allowed is unclear.

"It's a bit frustrating to hear only two days before the scheduled purse bid that it has once again been postponed," Estephan, CEO of Eye Of The Tiger Management, said. "We are waiting for a new date. At this point, we have worked really hard to secure potential venues."

Stiverne, who is based in Las Vegas, lived for years in Canada. Estephan said Ottawa's Canadian Tire Centre and Montreal's Bell Centre are possible locations -- but only if their side gains control of the fight at a purse bid. If K2 Promotions controls the fight, Klitschko surely would want it to take place in Germany.

"Regardless, Bermane is ready now, or in a few months, and the longer Klitschko plays politics rather than man up and fight, the more ready we will be and the older he will get," Estephan said. "Bermane will KO him wherever and whenever it happens."

What should happen is that the sides be given a firm purse bid deadline. If they make a deal, great. If not, conduct the purse bid and let's get on with this fight already.
April, 26, 2013
4/26/13
4:52
PM ET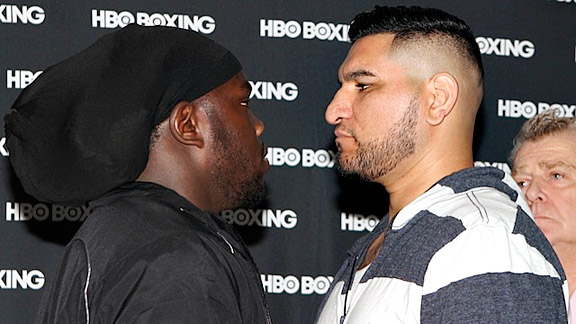 Joe Miranda/Goossen Tutor PromotionsAfter multiple delays, heavyweights Bermane Stiverne and Cristobal Arreola will finally square off.
In 2011, former heavyweight title challenger Cristobal Arreola fought five times. That's a lot for a top contender, especially a heavyweight. But in 2012, the activity fell to just one fight in February, in part because of injuries.
His 2013 opened with more delays. Arreola and Bermane Stiverne have been set to duke it out in a title elimination fight for the right to become titleholder Vitali Klitschko's mandatory challenger. But injuries and first the postponement and then the cancellation of the Andre Ward-Kelly Pavlik super middleweight title fight (because of Ward's shoulder injury) in January forced Arreola-Stiverne to be rescheduled three times.
Stiverne is looking for his first title opportunity. Arreola would be in line for a rematch with Klitschko, who stopped him in the 10th round in 2009.
Finally -- assuming nothing else bad happens between now and when the bell rings -- they will get it on Saturday night at the Citizens Business Bank Arena in Ontario, Calif., not far from Arreola's hometown of Riverside. The fight is the opener of HBO's split-site tripleheader that will also include two fights from Argentina, middleweight world champion Sergio Martinez (50-2-2, 28 KOs) defending against Martin Murray (25-0-1, 11 KOs) in the main event and welterweight Luis Carlos Abregu (34-1, 28 KOs) of Argentina against Montreal's Antonin Decarie (27-1, 8 KOs).
It will be Arreola's first fight in 14 months. Stiverne, 34, who was born in Haiti and lives in Las Vegas, has not fought since last April.
Arreola (35-2, 30 KOs), 32, whose own illness was responsible for the latest delay from March 9 to Saturday, said regardless of the postponements he is ready to roll.
"I get frustrated when I get injured at the gym or when I get sick, but when I have to wait for a fight, it doesn't frustrate me because I have worked my butt off for the entire year since 2011," Arreola said. "Even though last year I only fought once, I know that when I fight again that I am ready to go. I'm hungry to fight. When I go to [stablemate Josesito Lopez's] fight or any other fight, I get antsy. I get that motivation to fight and get in there."
Stiverne, who was barely audible and seemingly disinterested when he met the media for the announcement news conference in Las Vegas late last month, is also ready to go after all the delays.
"I just want to get it done," he said. "I might be wrong but I don't believe that he was sick. I got frustrated with all of the delays but I am patient. If I have to wait again, I would do it. This is a fight that we've been talking about for three years."
Arreola is a big puncher, but so is Stiverne (22-1-1, 20 KOs), although he is not nearly as experienced against quality opponents. But Arreola basically dismissed Stiverne's power.
"I wouldn't say that he has humongous punching power. Every heavyweight has punching power but if you get caught you're going to sleep," Arreola said. "I don't really care about his punching power or his professional record as much as I do about his amateur record because to me amateur experience means the world [and Stiverne was a top amateur]."
Although the winner is due to get a shot at Klitschko, it remains to be seen if he will fight again. It's no secret that Klitschko, now heavily involved in politics in his native Ukraine, is considering retirement.
"If Klitschko decides to retire then he retires," Arreola said. "It's a dawn of a new era. That's me. It's my time. It's my time to shine. If he chooses to retire, that's good. He did his time. Let him step away. But if I get the rematch that would be even better."
Stiverne said before he thinks about the title fight, he wants to deal with Arreola.
"Chris has fought for a world title so I have to respect that," Stiverne said. "Any fighter would have to. It's something you got to respect. Chris brings the heat. I believe whatever heat he brings, mines is hotter. Mine is more damaging than his. I just can't wait for this fight to happen."
March, 12, 2013
3/12/13
3:43
PM ET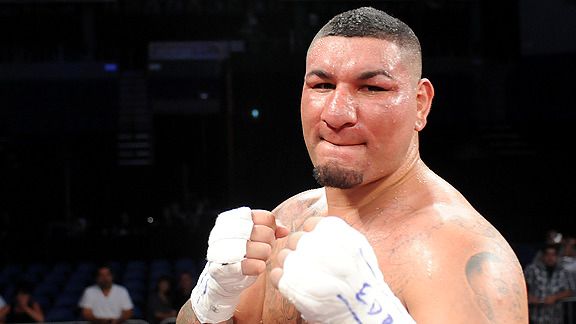 Bryan Crowe/FightWireImages.comHeavyweight Cristobal Arreola finally has a site for his title elimination bout with Bermane Stiverne.
Top Rank still hopes to make a featherweight title defense for Mikey Garcia against former titlist Juan Manuel Lopez, but the scheduling of the bout is unclear as the promotional company works with HBO for Garcia's next date. Top Rank had hoped for him to make his first defense against Lopez in May. However, Lopez, who is co-promoted by Peter Rivera, is being lined up to fight a second tune-up since being out of the ring for nearly a year. That bout is probably going to take place on April 20 in Mexico City, Top Rank's Carl Moretti told ESPN.com. It would be on the undercard of the fight between Victor Terrazas and Cristian Mijares, who meet for a vacant junior featherweight title. If Lopez fights April 20, it means he would not be available to fight Garcia in May. So the fight could be pushed back to June or perhaps Garcia will make a defense in May or June and then meet Lopez later in the year.
• The heavyweight title elimination fight between Cristobal Arreola (35-2, 30 KOs) and Bermane Stiverne (22-1-1, 20 KOs) on April 27 now has a home. It will take place at Citizens Business Bank Arena in Ontario, Calif., promoter Dan Goossen told ESPN.com. Arreola, who is from nearby Riverside, Calif., is a bit of a draw there. The winner of the bout will become the mandatory challenger for titleholder Vitali Klitschko. Arreola-Stiverne will open an HBO split-site tripleheader. The other two bouts will take place in Buenos Aires, Argentina, where middleweight world champion Sergio Martinez (50-2-2, 28 KOs) will have a homecoming fight against England's Martin Murray (25-0-1, 11 KOs) in the main event with welterweights Luis Carlos Abregu (34-1, 28 KOs) of Argentina and Antonin Decarie (27-1, 8 KOs) of Montreal meeting in the co-feature.
• The October junior welterweight fight between former lightweight titlist Brandon Rios (31-0-1, 23 KOs) and Mike Alvarado (33-1, 23 KOs) was one of the best fights of 2012 and one of the best fights in recent years. They battled hard in violent fashion until Rios stopped Alvarado on his feet in the seventh round. It was so good they are meeting again on March 30 at Mandalay Bay in Las Vegas, this time with a vacant interim 140-pound title at stake. The first fight was so good that HBO, which aired the fight and will also broadcast the second bout, will debut "Road to Rios/Alvarado II," a 15-minute show that will preview the rematch. It will premiere Saturday night at 12:15 a.m. ET/PT, or immediately following the conclusion of the Timothy Bradley Jr.-Ruslan Provodnikov telecast -- whichever comes first. The special will look back at the first encounter and profile each fighter.
February, 21, 2013
2/21/13
2:42
PM ET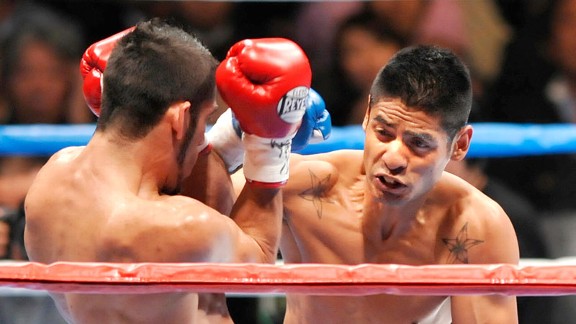 Kazuhiro Nogi/Getty ImagesThe rematch between Juan Carlos Salgado and Argenis Mendez found a home on U.S. TV.
A few updates on some upcoming fights:
• American fans will have a chance to see the rematch between junior lightweight titlist Juan Carlos Salgado (26-1-1, 16 KOs) and Argenis Mendez (20-2, 10 KOs). HBO bought the rights to the March 9 bout and will air it on HBO Latino (8:30 p.m. ET).
The fight takes place in Costa Mesa, Calif., on the undercard of the heavyweight eliminator between Cristobal Arreola and Bermane Stiverne. Arreola-Stiverne is part of an HBO-split site tripleheader that also includes light heavyweight titlist Tavoris Cloud against Bernard Hopkins and welterweight Keith Thurman against Jan Zaveck from the Barclays Center in Brooklyn, N.Y. HBO did not have room for a fourth fight on its telecast, but made a deal for Salgado-Mendez II to air on its Spanish-language channel. I hope we will see more of this sort of thing from HBO, sort of like how Showtime Extreme has done a great job televising preliminary bouts for Showtime cards.
March 9 is a big night for HBO -- a live title fight on HBO Latino followed by the network tripleheader and then, immediately following the tripleheader on HBO, there will be a new edition of "The Fight Game with Jim Lampley."
• Golden Boy CEO Richard Schaefer said that the return of former junior welterweight titlist Amir Khan, slated for April 20, will move to April 27 (Showtime). Nothing official yet with regard to the site or opponent, although he is likely to fight in his native England.
• Polish light heavyweight Andrzej Fonfara suffered a hand fracture, forcing him to withdraw from the main event of the March 22 ESPN "Friday Night Fights" card. He was due to face Nicholson Poulard. Fonfara will be out for at least four weeks, but if he needs surgery he could be sidelined for three to six months. ESPN2 is working with the promoters to put together a new main event, but still has a quality co-feature that could possibly move up to the main event spot -- Donovan George, who is moving down to middleweight, against David Lopez.
• An injury has knocked light heavyweight prospect Mike Lee off the March 16 Timothy Bradley-Ruslan Provodnikov card. Top Rank has also added hot junior featherweight prospect Jessie Magdaleno to the card in an eight-rounder.
January, 15, 2013
1/15/13
12:46
PM ET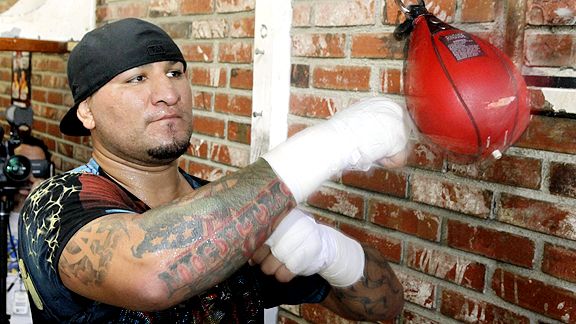 AP Photo/Reed SaxonCristobal Arreola's bout with Bermane Stiverne has been added to HBO's telecast of Cloud-Hopkins.
The heavyweight title elimination bout between Cristobal Arreola and Bermane Stiverne is on the move again.
A network source told me the fight is now headed from March 2 to March 9 to be part of a split-site HBO telecast that will be headlined by the Tavoris Cloud-Bernard Hopkins light heavyweight title fight already scheduled for the date.
Cloud-Hopkins, a fight Golden Boy and Don King are putting on, will take place at the Barclays Center in Brooklyn, N.Y., while Arreola-Stiverne, a fight promoter Dan Goossen is promoting, will take place at a Southern California site to be announced.
HBO and Goossen have been working it out over the past couple of weeks since a shoulder injury to super middleweight champ Andre Ward forced the cancellation of his March 2 fight with Kelly Pavlik.
Ward-Pavlik was originally supposed to take place Jan. 26 with Arreola-Stiverne as the co-feature. When Ward-Pavlik was postponed to March 2, Arreola-Stiverne was moved with it. When Ward-Pavlik was canceled because Ward's injury was more serious than originally diagnosed, the heavyweight fight was going to stay on March 2 and move up to the main event of a smaller card.
Instead, HBO has significantly beefed up its March 9 telecast with the addition of the heavyweight fight.
Welterweight prospect Keith Thurman (19-0, 18 KOs), 24, is also supposed to fight on HBO -- for his third consecutive bout -- on March 9 at the Barclays Center. The leading candidate to face him is 36-year-old former titleholder Jan Zaveck (32-2, 18 KOs), who lost his belt by spirited fifth-round knockout to Andre Berto on HBO in September 2011. Zaveck has fought only once since after being sidelined for most of 2012 with an elbow injury.
The way the telecast could shake out would be for Thurman's fight to open the broadcast followed by a shift to the West Coast for the Arreola-Stiverne bout and then a return to Brooklyn for the Cloud-Hopkins main event.
The winner between Arreola (35-2, 30 KOs) and Stiverne (22-1-1, 20 KOs) will become the mandatory challenger for heavyweight titleholder Vitali Klitschko.
January, 7, 2013
1/07/13
1:33
PM ET
When super middleweight champ Andre Ward was forced to postpone his Jan. 26 title defense against Kelly Pavlik because of a right shoulder injury -- and then it turned out that he needed surgery on the shoulder, forcing cancellation of the fight right before it was officially rescheduled for March 2 -- it left in limbo a significant heavyweight fight.

Cristobal Arreola (35-2, 30 KOs) and Bermane Stiverne (22-1-1, 20 KOs) were due to meet in the HBO "World Championship Boxing" co-feature on the Ward-Pavlik undercard in a title eliminator to determine the mandatory challenger for titleholder Vitali Klitschko. Should Klitschko retire, as is a serious possibility, the winner would then fight for the vacant belt.

But with Ward-Pavlik off the HBO calendar, the network and Dan Goossen -- Arreola's promoter, who has control of Arreola-Stiverne through a purse bid -- are planning to have the fight headline a March 2 card on "Boxing After Dark."

No venue has been locked in, but the fight probably will take place in Southern California, where Arreola is from.

It remains to be seen what co-feature Goossen and HBO will line up. Junior lightweight titlist Juan Carlos Salgado (26-1-1, 16 KOs) is due to face mandatory challenger Argenis Mendez (20-2, 10 KOs) in a rematch on the undercard, but it won't necessarily be the opening bout on HBO's telecast.

In September 2011, Salgado outpointed Mendez in a highly competitive fight for the vacant belt and has since made three defenses. Mendez has won both of his bouts since the loss, including a title eliminator in July to become the mandatory challenger.
March, 3, 2012
3/03/12
7:45
PM ET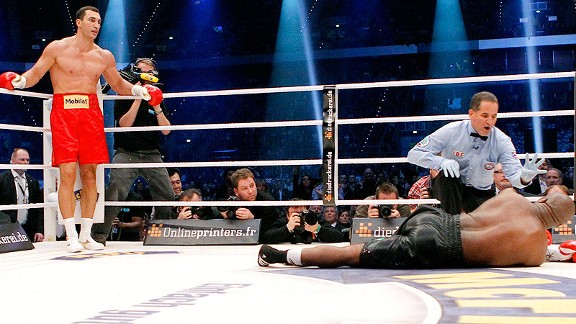 AP Photo/dapd/Roberto PfeilWladimir Klitschko needed only four rounds to destroy Jean-Marc Mormeck and earn his 50th KO.
There were no surprises on Saturday at the Esprit Arena in Düsseldorf, Germany, where a crowd of about 50,000 watched as heavyweight champion
Wladimir Klitschko
toyed with
Jean-Marc Mormeck
like a child plucking wings off of a fly.
As expected, Klitschko rolled to the uncompetitive fourth-round destruction of Mormeck, the 39-year-old former cruiserweight champion who hadn't fought in 15 months and had looked awful in his three heavyweight bouts after moving up in weight.
There was one round in which Mormeck -- seven inches shorter and 25 pounds lighter than the giant Klitschko -- landed no punches. Zero. There was another in which he landed one. It was that bad of a showing for Mormeck (36-5, 22 KOs), who was simply out of his depth.
All the while, Klitschko (57-3, 50 KOs) jabbed him, fired some left hooks and dropped bombing right hands. Mormeck was a sitting duck until Klitschko, who can be a fluid combination puncher when he wants to be, put together a sweet three-punch combo to knock Mormeck out -– a stiff left that froze him, a massive and flush right hand behind it and a window-dressing left as Mormeck was falling to the canvas.
It was easy, easy work for Klitschko, who scored his coveted 50th career knockout and continues to dominate the heavyweight division, which, admittedly, is short on talent and long on Klitschkos.
Klitschko has been champion since 2006, has made 11 defenses (nine by knockout) during his second title reign and has barely lost any rounds along the way.
Frankly, as I said on the air while calling the fight as a commentator for the American television audience on Epix, had Mormeck won, I would have considered it an even bigger heavyweight title-fight upset than when
Buster Douglas
knocked out
Mike Tyson
.
Between Klitschko and his older brother, fellow champion
Vitali Klitschko
, they have basically cleaned out the top 10. The one top-10 guy they haven't faced is
Alexander Povetkin
, who has blatantly ducked the Klitschkos.
As the brothers have laid waste to the division, it's becoming increasingly difficult to see what fight on the horizon would pose any challenge. Wladimir owes a mandatory defense to
Tony Thompson
, whom he has already knocked out. There's a chance a fight in America will materialize later this year against
Cristobal Arreola
, who was already knocked out by Vitali. Rising American prospect
Seth Mitchell
is still too green.
After the destruction of Mormeck, Klitschko mentioned two other possible opponents from the U.K. –-
Tyson Fury
and
David Price
-– but neither is ready yet, if they ever will be.
So what's left for Klitschko to accomplish as he continues one of history's most dominant heavyweight championship reigns?
I can think of only two things, both of which I asked Klitschko about during an interview we had a few days before the fight. He was noncommittal about both, but said, "You have pretty good ideas" before he chuckled.
Wladimir owns three of the four major sanctioning organization belts, plus the lineal championship.
Vitali has the WBC version of the title. But Vitali is 40 and, although he just retained the belt three weeks ago in a dominant win against
Dereck Chisora
, he doesn't plan to stick around forever. I am convinced that Wladimir wants nothing more than to win the WBC title once his brother either loses it (because they won't fight each other) or retires.
The only other meaningful accomplishment for Klitschko -- who also was a 1996 Olympic gold medalist -- would be to look longer-range and grind toward the all-time heavyweight record for title defenses.
The record is 25, held by the great
Joe Louis
, who was champion from 1937 to 1948 and made many of those defenses during his so-called "bum of the month" circuit.
With his 50th knockout, Klitschko moved into fifth on the all-time list for most knockouts by a heavyweight champion. He had been tied with the legendary
Jack Dempsey
and Louis.
Why not look at another Louis stat to match? Klitschko needs 15 more defenses to surpass Louis. It's a daunting task. Sure, it's unlikely. Impossible, some would say.
Certainly to have any chance, Klitschko would need to fight more than just once or twice a year. He's 35 and turns 36 on March 25. With his dedication, conditioning and the fact that he takes almost no punishment, he should have some good years left. There is nothing else to accomplish for him in the here and now. So why not just keep racking up defenses and look to a record in the future? Because right now, there is nobody who can touch him.