Dan Rafael:

Daniel Estrada
August, 15, 2014
Aug 15
3:15
PM ET
Most boxing fans have never heard of lightweight Daniel Estrada, who challenges Omar Figueroa Jr. for his world title on Saturday night as part of a Showtime tripleheader (9 p.m. ET) at the StubHub Center in Carson, California.

But Estrada (32-2-1, 24 KOs), 29, of Mexico, might be the easiest guy to root for considering what he has been through as he fights for a world title for the first time.

Estrada, the mandatory challenger, comes to the fight against Figueroa (23-0-1, 17 KOs), 24, of Weslaco, Texas, with a heavy heart.

Estrada will be fighting less than three weeks after a car accident took the life of his younger sister, Janyn, and his niece, Emery.

"I'm dedicating this fight to my family and the memory of my younger sister, Janyn, and her 5-year-old daughter, Emery," Estrada said through a translator on Thursday. "It's been a very difficult, emotional time for all of us. My sister, who was 27, has always been my biggest supporter in boxing. She always told me that if I continued to work hard I would make it to the top and become a world champion."

Few would have blamed Estrada had he pulled out of the fight to deal with such an enormous family tragedy, but it took him a decade as a pro to reach a world title fight, and he said his sister never would have wanted him to withdraw.

"I'm using what she always said to me as motivation for this fight," said Estrada, who took only a few days off from training after their deaths. "As bad as we all feel, there was never really a time when I thought I would abandon this opportunity. I know she would want me to take the fight.

"I've been waiting a year to fight for the title, and on Saturday I'm going to take advantage of my shot. I recognize Figueroa as a great champion for what he brings to the sport, but I'm a Mexican warrior. I'll show you all that on Saturday."

Several members of Estrada's family were riding in the car when they were involved in the crash as they returned to their hometown of Mexico City from a family vacation.
August, 15, 2014
Aug 15
7:17
AM ET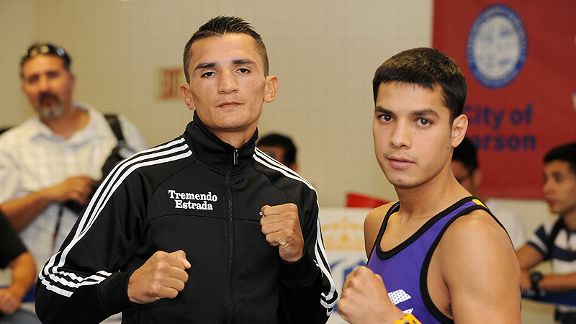 Carlos Delgado/Hoganphotos/Golden Boy PromotionsOmar Figueroa, right, defends his lightweight title against Daniel Estrada on Saturday.
Lightweight titlist Omar Figueroa Jr. is one of boxing's most exciting performers. He loves to rumble, rarely takes a backward step and throws tons of hard punches.
But one thing that has hampered him is hand problems, something that often takes its toll on powerful punchers.
Although Figueroa says his hands are fine as he heads into his second title defense when he faces mandatory challenger Daniel Estrada (32-2-1, 24 KOs), 29, of Mexico, on the undercard of the Shawn Porter-Kell Brook welterweight title bout Saturday night (Showtime, 9 ET with preliminary bouts on Showtime Extreme beginning at 7 ET/PT) at the StubHub Center in Carson, California, he knows that anything can happen at any moment with his fragile hands.
"My hands will always be an issue," Figueroa said. "We will find out how long they last me on Saturday. I hope they last me long enough to get rid of my opponent. If not, then I will have to suck it up."
Figueroa (23-0-1, 17 KOs), 24, of Weslaco, Texas, has sucked it up before, one of the things that makes him such a fan favorite.
When he battled Japan's Nihito Arakawa in an interim title fight in 13 months ago, Figueroa won a decision in one of the most savage fights of the year. Making Figueroa's victory even more impressive was the fact that he injured both his hands in the bout.
The injury kept him out of the ring for nine months before he returned April 26 to make his first defense, a split decision against Jerry Belmontes, his amateur rival.
Golden Boy Promotions president Oscar De La Hoya, Figueroa's promoter, knows what it's like to have hand injuries. He had his share during his Hall of Fame career.
De La Hoya was fortunate that his hand problems never became severe enough to seriously hamper his career and he is hoping the same thing for Figueroa.
"He's a terrific fighter and he loves throwing punches, but when you go in the ring with an AK-47 but with no bullets, it's a big problem. He can continue to fight but the next step is to get him with the right doctors.
"Many fighters have had problems with their hands but when you get them with the right doctors it can help the situation. It's a matter of making sure he does the right therapy and is going to the right doctor. Maybe he hasn't done the therapy on his hands the right way. It could be a problem with the wrapping of his hands. We have to sit down with him after the fight and figure out the problem, but he has a bright future if his hands hold up."
To train for the fight with Estrada -- who will have close adviser and future Hall of Famer Juan Manuel Marquez working in his corner -- Figueroa did not train in California with Joel Diaz, as he had been.
"The reason why I moved back home and started training with my dad [Omar Sr.] was mainly because I wanted to be close to my daughter. I missed her terribly when I wasn't home," Figueroa said. "I wasn't able to take advantage of the things that were presented to me by training with Joel Diaz because of my [sore] hands, so I decided to just stay home. If I wasn't able to get the world-class sparring and training, then what was I doing being away from my family? Leaving Joel Diaz had nothing to do with him, I love him. It was solely a personal decision.
"My dad grinds my gears. It can be a bit rocky. But with the knowledge I brought over from training with Joel Diaz it can make me grow as a boxer and my dad will grow as a trainer."
August, 8, 2014
Aug 8
11:20
AM ET
Heavyweight contender Deontay Wilder and lightweight contender Jorge Linares now have opponents for their fights on the Aug. 16 Shawn Porter-Kell Brook undercard at the StubHub Center in Carson, California.

Wilder (31-0, 31 KOs) is staying busy in anticipation of a mandatory heavyweight title shot against Bermane Stiverne and taking no gambles.

Wilder, a 2008 U.S. Olympic bronze medalist, who has faced extremely soft opposition throughout his career, will face gargantuan underdog Jason Gavern (25-16-4, 11 KOs), 37, who has won four of his last five fights following a seven-fight losing streak. He has been knocked out in seven of his losses. In his last fight, Gavern lost a three-round decision to Michael Sprott in a "Prizefighter" tournament final in England in November after winning a three-round decision against the totally shot James Toney in the semifinals earlier in the evening.

Linares (36-3, 23 KOs), a former featherweight and junior lightweight world titleholder, will face club fighter Ira Terry (26-11, 16 KOs), who is 2-9 with a no contest in his last 12 bouts. He has been knocked out in seven of his defeats. Linares is staying busy in anticipation of a possible shot against the winner of the fight between lightweight titlist Omar Figueroa and mandatory challenger Daniel Estrada, which is also on the card.
August, 4, 2014
Aug 4
6:07
PM ET
Heavyweight contender Deontay Wilder and lightweight contender Jorge Linares have both been added to the undercard of welterweight titlist Shawn Porter's mandatory defense against Kell Brook on Aug. 16 at the StubHub Center in Carson, California.

Wilder is the mandatory challenger for heavyweight titlist Bermane Stiverne, who knocked out Chris Arreola in May to win the belt vacated by Vitali Klitschko upon his retirement late last year. Stiverne-Wilder is supposed to take place before the end of the year, but with Stiverne nursing a hand injury it is unclear when the fight will take place because even if his hand is good to go in the next month or two, the camps are still likely headed to a purse bid, which means at least another 90-day wait following a bid.

Golden Boy matchmaker Robert Diaz told ESPN.com that the Aug. 16 fight, a scheduled 10-rounder against an opponent to be determined, is simply to keep Wilder (31-0, 31 KOs), a 2008 U.S. Olympic bronze medalist, active and sharp before he fights for a world title.

Linares (36-3, 23 KOs), a former featherweight and junior lightweight world titleholder, will fight an eight-rounder against an opponent to be determined on the card, which also will feature lightweight titlist Omar Figueroa in a mandatory defense against Daniel Estrada and super middleweight titlist Sakio Bika in a rematch against Anthony Dirrell.

By virtue of his decision win against Nihito Arakawa on March 8, Linares is in line to be the mandatory challenger for the winner of the Figueroa-Estrada bout. By having Linares fight on the card, Diaz said it will keep his schedule in line with the winner's so that they could possibly meet before the end of the year.

Showtime is televising the three title bouts on the card, and though the network has not announced anything yet, it seems likely that the Wilder and Linares bouts would be part of the Showtime Extreme coverage of the preliminary bouts.
July, 7, 2014
Jul 7
2:48
PM ET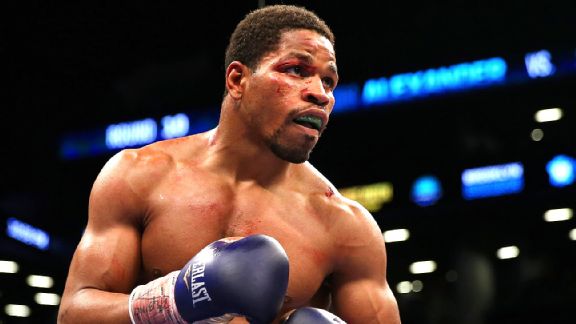 Elsa/Golden Boy/Golden Boy/Getty ImagesWelterweight titlist Shawn Porter returns Aug. 16. to face mandatory challenger Kell Brook.
The StubHub Center in Carson, California, which has become one of boxing's great venues, will host a world title tripleheader on Aug. 16. Although Showtime will televise the event, neither the network nor the promoter, Golden Boy, has made an official announcement of the card yet.
But here is what is on tap:
" Welterweight titlist Shawn Porter (24-0-1, 15 KOs) will face mandatory challenger Kell Brook (32-0, 22 KOs) in the main event. It's a fight that has been moved all over the summer calendar but is now locked in. The IBF, which is sanctioning the fight, has confirmed the date and venue.
The fight will be Porter's second title defense. He knocked out former titleholder Paulie Malignaggi in the fourth round on April 19. Brook has been a mandatory contender for some time and was supposed to challenge then-titlist Devon Alexander, but the fight was called off multiple times due to injuries to both fighters. Brook is coming off an eight-round knockout of Alvaro Robles on March 15.
" Lightweight titlist Omar Figueroa (23-0-1, 17 KOs) will make his mandatory defense against Daniel Estrada (32-2-1, 24 KOs) in the co-feature. The sides made a deal for the fight last month and avoided a purse bid, and Golden Boy had been looking for a spot to put it. Figueroa will be making his second title defense after winning a split decision against Jerry Belmontes on April 26. Estrada has not lost since 2010 and is riding a nine-fight winning streak.
" Super middleweight titlist Sakio Bika (32-5-3, 21 KOs) will make his second title defense when he meets Anthony Dirrell (26-0-1, 22 KOs) in a rematch in the opener. They first met in December 2013 and fought to a split draw in a tremendous action fight. Neither man has fought since.
Bika's camp has announced the fight. He said he was inspired to accept the rematch with Dirrell after attending fellow titleholder Carl Froch's rematch with George Groves at Wembley Stadium in London on May 31.
"I was impressed by the way Froch handled his unfinished business with George Groves and now I want to do the same with Dirrell," Bika said. "I felt I won the first fight with Dirrell, and I'm happy my management team has been able to organize a rematch. Dirrell was very lucky to get the draw. I was the busier fighter, throwing and landing the most punches and I dropped him with a body shot which was counted as a low blow. I will be in the best shape of my professional career in August and will show boxing fans around the world that 'The Dog' is all bark and no bite. And then I am going after Froch."
November, 6, 2013
11/06/13
1:42
PM ET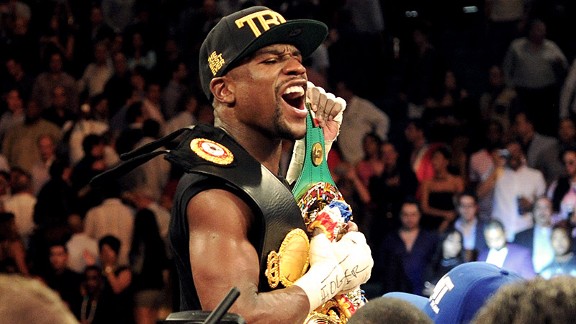 Jayne Kamin-Oncea/USA TODAY SportsFloyd Mayweather has to decide soon on an opponent for his next fight.
As much as I rail against the WBC's rule-breaking and divisional rankings, those rankings affect the mandatory fights that are made for the organization's belt. So that makes its annual convention notable in that many of those mandatory situations are clarified.
This year's convention is going on this week in Bangkok, where organization officials, promoters and managers gathered to argue and debate the rankings and mandatory fights that are not yet set.
Here's a look at some of the key rulings related to mandatory fights made Wednesday:
•
Heavyweight:
The situation with titleholder Vitali Klitschko is up in the air. He is running for president of Ukraine in 2015 and has made no decision about his boxing career, even though his mandatory defense against Bermane Stiverne is way overdue. Klitschko addressed the crowd at its opening, but not about his boxing plans. Stiverne, however, was still traveling to Thailand on Wednesday, so the debate was put off until at least Thursday.
•
Super middleweight:
Titleholder Sakio Bika must make two mandatory defenses. The first is against Anthony Dirrell on Dec. 7. The winner of the fight was approved for one optional defense. Marco Antonio Periban and James DeGale were ordered to meet in a semifinal eliminator with the winner ordered to meet Julio Cesar Chavez Jr. to determine the second mandatory challenger. Keep in mind that these orders are the WBC's wishes and that often what it lays out does not wind up happening because either a fighter decides to go in another direction or, as often happens, the WBC ignores its own ruling.
•
Middleweight:
If champion Sergio Martinez, sidelined with a knee injury, can't make his mandatory defense against Marco Antonio Rubio, Rubio will be ordered to face Domenico Spada for the interim belt. This will be interesting because Martinez has no interest in Rubio and instead hopes for a June pay-per-view megafight with Miguel Cotto. It seems that Martinez, who has been very loyal to the WBC, will be allowed to face Cotto upon his return from injury with Rubio settling for the interim title bout for the time being.
•
Junior middleweight and welterweight:
Floyd Mayweather Jr. holds the WBC title in both divisions, as well as another alphabet junior middleweight title. Holding titles in multiple weight classes is against sanctioning organization rules, but that hasn't stopped the WBC from allowing Mayweather to get away with it for 1½ years. Finally, the WBC ruled that Mayweather must decide which division title he wants to keep by Dec. 15. If Mayweather doesn't notify the WBC, however, I won't believe it would strip him of the title until I see it happen. He is one of the WBC's favorite sons in that he fills the coffers with enormous sanctioning fees.
•
Junior welterweight:
Danny Garcia's last fight in September was his mandatory against Lucas Matthysse, but a final eliminator to determine the next mandatory was approved between Viktor Postal and Selcuk Aydin.
•
Lightweight:
Adrien Broner has the title, but he also won another organization's belt this year -- in the welterweight division -- and has been allowed to keep both since the summer, which is against the rules. Broner is never going to see 135 pounds again -- did you see how he looked on Showtime on Oct. 26? -- but his request to wait to make a decision until after his Dec. 14 welterweight defense was approved. Daniel Estrada is the mandatory challenger. What should have happened is that Broner should have been forced to pick, and if he picked the welterweight belt (which he obviously would do), interim titlist Omar Figueroa should have immediately been elevated. But that would be too easy.
•
Junior featherweight:
A final eliminator between Hugo Cazares and Andres Gutierrez was approved to determine Leo Santa Cruz's mandatory.
•
Bantamweight:
An eliminator was approved for Stephane Jamoye to face Julio Ceja, with the winner to fight Suriyan Sor Rungvisai in a final eliminator to determine Shinsuke Yamanaka's mandatory.
•
Junior flyweight:
Adrian Hernandez's mandatory will be the winner of an eliminator between Javier Mendoza and Yodmongkil Wor Saengthep.
•
Strawweight:
A final eliminator was approved between Wanheng Menayothin and Osvaldo Novoa to determine Xiong Zhao Zhong's mandatory challenger.
July, 26, 2013
7/26/13
11:57
AM ET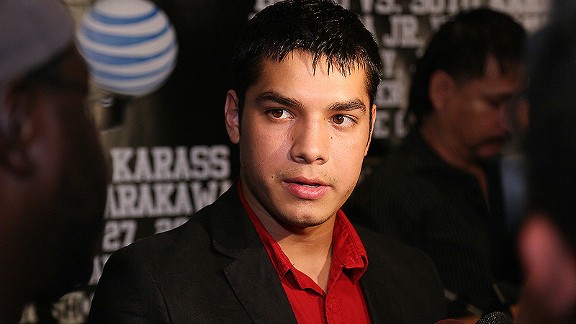 Soobum Im/Hoganphotos/Golden Boy PromotionsOmar Figueroa has become a big draw in his native Texas, where he'll get a title shot Saturday.
Lightweight Omar Figueroa could be on the precipice of stardom. The 23-year-old is a talented, pure action fighter with a growing fan base and a ton of potential.
He scored his biggest win in his most recent fight by blowing out undefeated Abner Cotto -- a cousin of Miguel Cotto's -- in the first round in a surprisingly easy fight. He dropped Cotto twice and stopped him, to the approving roars of a crowd of nearly 40,000 at the Alamodome in San Antonio on April 20, when Figueroa was on the undercard of the Canelo Alvarez-Austin Trout fight.
"Omar Figueroa is a guy who, every fight, every opponent we put him in against, he's getting better and better," Golden Boy promoter Oscar De La Hoya said. "He's passing the test with flying colors, and now it's time to step it up and step it up big time. These are difficult fights, but we feel comfortable that he will continue to pass these tests with flying colors. I don't think there's a limit to where he can go. This is a kid that we feel is going to go very, very far."
Figueroa, who lives in Weslaco, Texas, had a lot of fans on hand cheering him on against Cotto. Many of them figure to be back to see his next fight, this time at the AT&T Center in San Antonio for the "Knockout Kings II" card Saturday night (Showtime, 9 ET/PT; preliminary bouts on Showtime Extreme at 7 ET/PT).
Figueroa (21-0-1, 17 KOs) will be shooting for his first title -- a vacant interim belt -- on the undercard against 31-year-old southpaw Nihito Arakawa (24-2-1, 16 KOs) of Japan. The winner will likely become the full titleholder, assuming that Adrien Broner vacates and remains at welterweight, where he won a belt in June.
Interim belt or full belt, the fight is the culmination of a long rise for Figueroa, who has been boxing since he was a small child.
"This is it. This is 17 years of work," he said. "This is why every boxer starts, what every boxer dreams of. This is it. This is a great opportunity. This is what we have been working so hard for.
"We don't take anybody lightly. We are ready, we know that a fight can take many directions with every step you take in the ring, so we are ready."
Arakawa will be fighting outside of Japan for the second time. Two fights ago, in his only fight away from home, he lost a 10th-round technical decision to Daniel Estrada in Mexico in November when Estrada couldn't continue after suffering a swollen right eye caused by an accidental elbow. "I'm happy to have this chance at my first world title," Arakawa said through a translator. "That gives me extra motivation to win this fight. I don't think I can win by points. I have to knock him out. I think that's my only chance to walk out of here with a world title.
"I've prepared for this world title chance for my entire life, and I know Omar has prepared for this as well. We're both going to fight as hard as we can to get that first world title. I know I want it and I know he wants it, so it's going to be an exciting fight."
Although former two-time welterweight titlist Andre Berto headlines the card against Jesus Soto Karass, one of the reasons Golden Boy put the card in San Antonio was to take advantage of Figueroa's drawing power.
"I live only four hours away, so this totally feels like home," Figueroa said of fighting again in San Antonio. "Texas has the best fans in the world, and I'm glad to be a Texan. My plan is to go in there and give a great fight. [Arakawa is] a great guy and he's ranked No. 1 for a reason. I've prepared really hard for this fight and I'm ready to go 12 hard rounds.
"This is what it comes down to. It's the bottom of the ninth, two outs, full count. There's no room for butterflies. This is what we've been working for 17 years for, and it's finally here. I'm not going to let it slip."