February, 4, 2015
Feb 4
11:00
AM ET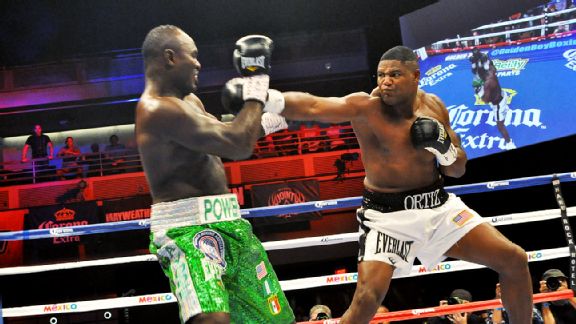 Ramon Cairo for ESPNHeavyweight Luis Ortiz's first-round knockout of Lateef Kayode has been changed to a no contest.
A few notes from around the boxing world:
• Luis Ortiz, who won an interim heavyweight title on Sept. 11 by first-round knockout of Lateef Kayode and then tested positive for the anabolic steroid Nandrolone, has been formally stripped of the belt, according to the WBA. In a Jan. 12 hearing before the Nevada State Athletic Commission, Ortiz (21-0, 1 NC, 18 KOs) was suspended for eight months from the date of the fight, fined $8,000 (10 percent of his $80,000 purse), required to reimburse the commission $450 for the lab test on his sample and had his victory changed to a no contest.
• Mexico's Pablo Cesar Cano (27-4-1, 20 KOs), who briefly held an interim junior welterweight belt in 2012 and has been in action-packed losses to Shane Mosley and Erik Morales, will take on countryman Jorge Silva (20-6-2, 16 KOs) in a scheduled 10-round welterweight bout on Saturday night (Fox Deportes, 10 ET) at the Domo del Palacio Municipal in Chetumal, Mexico, Golden Boy announced. In the 10-round junior featherweight co-feature, 39-year-old former flyweight and junior bantamweight titleholder Vic Darchinyan (39-7-1, 28 KOs), an Armenia native based in Australia, will face Mexico's Juan Jimenez (19-8, 12 KOs). Darchinyan is playing out the string in what has been an excellent career gone south in recent years. He has been knocked out in his previous two bouts by Nonito Donaire (for the second time) and Nicholas Walters in a featherweight title bout. Darchinyan has lost four of his last six fights.
• New York heavyweight Derric Rossy (29-9, 14 KOs) and Uzbekistan's Akhror Muralimov (16-0, 13 KOs) will square off in a 10-rounder at Resorts World Casino in New York in what is supposed to be a live time-buy boxing card on CBS Sports Net on Feb. 14. Promoter Sal Musumeci had previously announced a Dec. 13 card on the network featuring Rossy but it was canceled a week or so before the show. Light heavyweight Mike Lee (13-0, 7 KOs) is scheduled to face Gary Tapusoa (6-3-1, 5 KOs) in the six-round co-feature.
August, 7, 2014
8/07/14
8:18
PM ET
Rich Graessle/Main Events Heavyweight contender Vyacheslav "Czar" Glazkov returns to action Saturday against Derric Rossy.
Last time out, heavyweight contender Vyacheslav "Czar" Glazkov scored his biggest victory, taking a clear 12-round unanimous decision against longtime contender Tomasz Adamek, the former cruiserweight and light heavyweight titleholder.
The March victory pushed Glazkov a step closer to a mandatory shot against world champion Wladimir Klitschko. However, that potential fight is a ways off, and the 29-year-old Glazkov (17-0-1, 11 KOs), who recently moved with his wife and daughter to Fort Lauderdale, Florida, from Ukraine to escape the strife in his country, is not about to sit around waiting for a title shot.
So, the 2008 Olympic bronze medalist will stay busy when he takes on veteran Derric Rossy in a scheduled 10-round bout that headlines a tripleheader Saturday night (NBC Sports Net, 8 ET) at the Sands Casino Resort in Bethlehem, Pennsylvania.
The fight will be Glazkov's first under the tutelage of John David Jackson, who also trains Glazkov stablemate and light heavyweight titleholder Sergey Kovalev.
"I just went through the very good camp with John David Jackson and [assistant] Derik Santos. I got more experience and I can't wait to showcase that Saturday night," Glazkov said. "The strongest man is going to win Saturday night."
Santos said that he and Jackson pushed Glazkov hard in training camp. They want to make him a more aggressive fighter.
"We have pushed him hard since he got here. He has liked it," Santos said. "I am not sure that he was pushed that hard before. I am not sure that the technical aspect was broken down for him. One thing that John does really well, he breaks things down and explains to the fighter why they are doing it."
Main Events promoter Kathy Duva endorsed Glazkov's move to Jackson.
"I've seen what John David Jackson accomplished with Sergey Kovalev. Knowing how good Glazkov was before he started working with John, I can't wait to see what he looks like now," Duva said. "This is an important fight to see where Czar is in his training and development. Bigger things are on the horizon for him when he's ready."
Rossy (29-8-0, 14 KOs), 34, of Medford, New York, is a journeyman opponent who has lost two of his past three fights and six of his past 10. But he did outpoint Joe Hanks in his last fight in May and was the one guy willing to face Glazkov among the several fighters offered the bout.
"We've seen some film on him," Rossy said. "The kid is a really sound fighter. We need to be at our best. There is no slacking on this. There are no easy fights but this kid can really fight. We are excited to meet the challenge. With the Adamek fight he really showed that he wasn't just a prospect. He is very sound at what he does."
Said Sal Musumeci, Rossy's promoter, "[Rossy] was an iron worker earlier this year. He quit to box full time. I give Glazkov a lot of credit for taking the fight. He is taking a big risk and putting his No. 2 position [in the IBF] on the line. He has big balls. This is what fighters need to do."
Also on the tripleheader: Robert Berridge (24-1-1, 20 KOs), a 29-year-old southpaw from New Zealand, will meet Russia's Vasily Lepikhin (15-0, 8 KOs), 29, in a 12-round light heavyweight contest. They will both be fighting in the United States for the first time. In the six-round opener, 22-year-old blue-chip heavyweight prospect Joseph Parker (9-0, 8 KOs), of New Zealand, will fight in the United States for the second time when he faces Birmingham, Alabama's Keith Thompson (7-2, 4 KOs).
November, 8, 2012
11/08/12
9:43
AM ET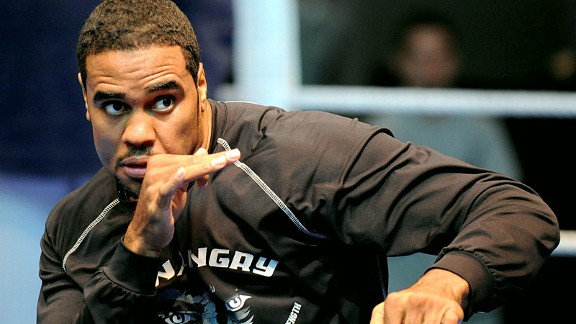 Clemens Bilan/AFP/Getty ImagesEddie Chambers would benefit greatly by moving down from heavyweight to cruiserweight.
Eddie Chambers has finally seen the light and is moving down to cruiserweight.
Although he has been a good heavyweight contender in recent years, Chambers is very small for the division. He goes 6-foot-1 and has weighed less than 210 pounds for his past four fights. He is talented but his lack of size and the fact that he does not pack much of a punch are huge detriments.
When he challenged heavyweight champion Wladimir Klitschko in a 2010 mandatory fight, Chambers was massively outgunned in terms of size and power. It was amazing that he hung in against Klitschko for as long as he did, but he took a serious beating before being put to sleep in a sick one-punch knockout in the 12th round. It left Chambers nearly out of the ring and unconscious with just five seconds left in the fight.
Eleven months later, Chambers returned to easily outpoint Derric Rossy, an average heavyweight at best, and then lost a decision to Tomasz Adamek in June. It was a close, competitive fight that some thought Chambers won, but he didn't get the call.
If Chambers had stayed at heavyweight, where was he going? There was nothing out there for him, so the move down in weight made sense since he is so close to the weight limit already.
But even before the losses to Klitschko and Adamek, I thought that Chambers (36-3, 18 KOs) could easily make the cruiserweight limit of 200 pounds and be a force in the weight class.
Although I don't think he will ever be a heavy hitter, Chambers has the boxing skills and defense to be a very successful cruiserweight.
And at long last, he does too. The 30-year-old from Philadelphia announced on Wednesday that he had made the decision that I think he should have made years ago to drop down to cruiserweight.
"The cruiserweight division is better because I'll be fighting guys my size," Chambers said. "I may have had some advantages at heavyweight, but imagine me at cruiser, fighting against someone my own size.
"I want to be a world champion. That's what you set out to do when you start boxing. That's what I want to be, and I've worked my entire boxing career, and most of my life, at that. I want to achieve it. I see that title wrapped around my waist."
Chambers' decision coincided with the announcement that he had signed with promoter Main Events, which plans to feature him on its "Fight Night" series on NBC Sports Net.
"I think it's a great opportunity," Chambers said. "Main Events puts on nothing but great fights. I'm just happy to be part of it. They really have confidence in my ability, and it led me to believe that these were the people for me."
Said Main Events CEO Kathy Duva, "I don't think anyone in the cruiserweight division can beat Eddie Chambers, period. We are very happy that he has decided to work with us towards his goal of winning the cruiserweight title and I have no doubt in my mind that he will get there very soon."