June, 21, 2014
Jun 21
8:07
PM ET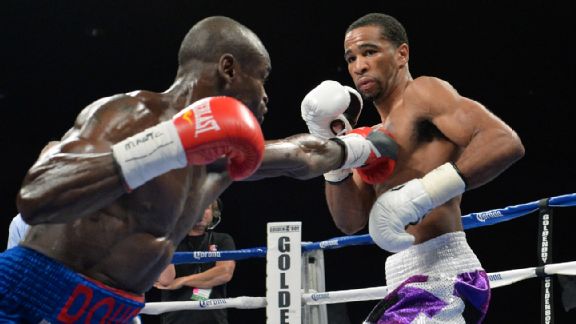 NICHOLAS KAMM/AFP/Getty ImagesWith his 140-pound title loss to Lamont Peterson behind him, Dierry Jean is eyeing matters at 135.
Dierry Jean, comfortable in his new weight class, would like a crack at a lightweight world title.
The 32-year-old from Montreal couldn't get the job done at junior welterweight in a title challenge against Lamont Peterson in January, losing a hard-fought unanimous decision. So Jean (26-1, 18 KOs) moved down in weight for his next fight, an eighth-round knockout of Mario Perez on June 13, and is now aiming for a title shot at 135 pounds.
"I felt strong," Jean said of fighting at 135. "It was a little tough getting down in weight, but I can fight effectively at both weights [135 and 140]. I didn't go down to lightweight because junior welterweights were too strong for me. I just took advantage of an opportunity to fight at lightweight.
"I'd like to fight any of the world lightweight champions. [Omar] Figueroa is a good fighter. He's strong and a good puncher. I'd like to fight him or the winner of [Terence] Crawford and [Yuriorkis] Gamboa [who meet June 28]. They're both good boxers. I don't know who is going to win that fight but I think Gamboa."
Camille Estephan, Jean's promoter, said he will do what he can to arrange an opportunity for him.
"We want a title shot as soon as possible," Estephan said. "Figueroa, the Crawford-Gamboa winner, [Richar] Abril or [Miguel] Vasquez -- any one of them. Dierry was very impressive as a lightweight. His energy level was higher and he was strong. It was probably the first time he fought somebody the same size. He's always been fighting bigger guys as a junior welterweight. We feel that he'll be a monster at lightweight. He will crush anybody and we're certain he'll be as much of a force as a lightweight as he was as at 140 pounds. We're looking for big fights."
May, 28, 2014
May 28
1:22
PM ET
On Jan. 25, Quebec's Dierry Jean traveled to junior welterweight titlist Lamont Peterson's hometown of Washington, D.C., and lost a unanimous decision in a hard-fought fight. Although Jean lost -- he was Peterson's mandatory challenger -- he put up a good fight and made things interesting.
[+] Enlarge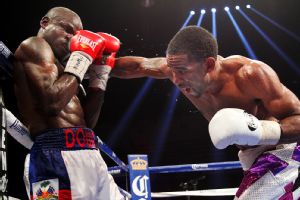 Tom Casino/ShowtimeDierry Jean, left, lost a hard-fought decision to 140-pound titlist Lamont Peterson in January.
Now the 32-year-old Jean (25-1, 17 KOs) is on the comeback trail and will return June 13 in Montreal. Jean, who is moving down in weight to the lightweight division, will face Daniel Ruiz (32-7-2, 22 KOs) of Mexico for a regional title.
"We made a strategic decision to exploit various opportunities in two weight classes, lightweight and [junior welterweight], in the goal of obtaining a world title shot as soon possible," said Camille Estephan, Jean's promoter. "June 13th will provide a solid test for Dierry seeing as Ruiz is a dangerous puncher in the lightweight division."
Ruiz is 3-0-1 in his last four bouts, including an upset sixth-round knockout of prospect Jamie Kavanagh in December.
November, 20, 2013
11/20/13
1:44
PM ET
Had a chat with Golden Boy chief executive Richard Schaefer on Tuesday and he mentioned a few things:

• Former junior middleweight titlist Canelo Alvarez's March 8 Showtime PPV fight will take place at the MGM Grand in Las Vegas. Schaefer originally said he was also looking at sites in Texas and Southern California. Alvarez, coming off his title loss to Floyd Mayweather Jr. in their record-breaking unification bout in September at the MGM Grand, does not have an opponent yet. However, an offer for more than $10 million has been extended to former titlist Miguel Cotto.

• Junior welterweight titlist Lamont Peterson's mandatory defense against Dierry Jean is likely going to be Jan. 25 on Showtime at the D.C. Armory in Peterson's hometown of Washington, D.C. A junior middleweight bout between Jermell Charlo and Gabriel Rosado is in the works for the undercard.

• A Feb. 15 Showtime card at the Staples Center is in the works to be headlined by the rematch between featherweight titlist Jhonny Gonzalez and former titlist Abner Mares. Gonzalez knocked out Mares in the first round on Aug. 24 and Mares exercised his contractual right to a rematch.

November, 6, 2013
11/06/13
10:32
AM ET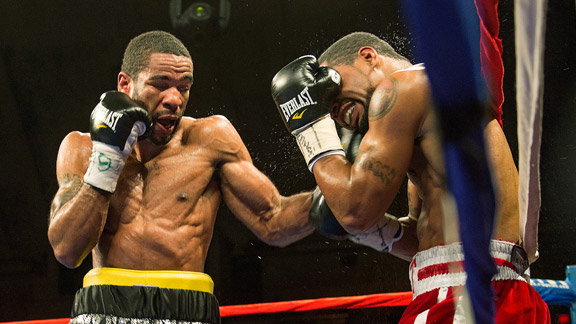 Jim Watson/AFP/Getty ImagesA purse bid was held for Lamont Peterson's junior welterweight title defense against Dierry Jean.
Golden Boy Promotions won the purse bid for junior welterweight titleholder Lamont Peterson's mandatory title defense against Dierry Jean on Tuesday and has 90 days to put on the fight.
Golden Boy, which promotes Peterson, won with an offer of $156,000 at the auction at IBF headquarters in Springfield, N.J., beating the only other bid, which was $111,121 by Jean promoter Eye of the Tiger.
As the titleholder, Peterson is entitled to 75 percent of the winning bid ($117,000) with Jean to receive the remaining 25 percent ($39,000).
Golden Boy chief executive Richard Schaefer told ESPN.com that although the exact date and location for the 140-pound world title bout has not been set, he is looking at doing the fight on Jan. 30 at the Barclays Center in Brooklyn, N.Y., or in early February at a venue in Washington, D.C., which is Peterson's hometown.
"The plan is clearly to have it on the East Coast," Schaefer said. "I'm planning to do an event tied to Super Bowl week in New York, so we could have the fight then in Brooklyn or we might go to Washington in early February. It depends on finalizing the TV platform. I am going to talk to those who have expressed an interest in the fight and I will work on that in the next few days."
Schaefer said the bout could be on Showtime, Fox Sports 1 or ESPN2.
Although Peterson (31-2-1, 16 KOs), 29, holds the title, he is coming off a nasty knockout loss. On May 18 in Atlantic City, N.J., Lucas Matthysse drilled Peterson in the third round of a one-sided nontitle bout fought at a contract limit of 141 pounds, one over the division maximum. So even though Peterson lost, he still has the title.
"Lamont Peterson is an exciting guy who got caught in his last fight by Lucas Matthysse, but many before him have been caught by Lucas Matthysse. That happens," Schaefer said. "I am sure Lamont has learned from this. He knows this fight is high noon for him. It's like do or die for him. I know Lamont will come prepared.
"He doesn't want the road to end here. He knows what's at stake. The 140-pound weight class is still a loaded weight class and so defending his title is important and I am sure he wants to do it in spectacular fashion."
Peterson won his title in Washington by controversial split decision against Amir Khan in December 2011. The rematch was slated for a few months later, but Peterson failed a random pre-fight drug test for elevated levels of testosterone and the fight was canceled.
Peterson was stripped of one of his two world title belts and did not fight again until scoring an eighth-round knockout of former titleholder Kendall Holt in a February title defense in Washington. In Peterson's next fight, Matthysse knocked him out.
Jean (25-0, 17 KOs), 31, a native of Haiti living in Montreal, scored his biggest win in his last fight on May 10, a fourth-round knockout of Cleotis Pendarvis in Miami, Okla., in a title eliminator that made him Peterson's mandatory challenger.
"Dierry is exciting and even though he is not that well known in the United States, I think that based on his style, we will see a helluva fight between him and Lamont," Schaefer said.