August, 8, 2013
Aug 8
2:43
PM ET
A few notes from the world of boxing:

• When former super middleweight titlist Lucian Bute suffered a left hand injury and needed subsequent surgery to remove bone fragments, his showdown with former light heavyweight champ Jean Pascal scheduled for May 25 at the Bell Centre in Montreal, where they are both stars, was postponed.

Then came the announcement that it would be delayed for quite some time -- either until Dec. 7 or Jan. 25, depending on the schedules of HBO and the venue. Now it looks like the fight is going to take place in January, according to Pascal promoter Yvon Michel.

"Most likely it will be in January as there are no longer Saturdays available at Bell Centre in December because of the Canadiens of the NHL," Michel told ESPN.com.

Pascal (27-2-1, 16 KOs) has not fought since easily outpointing Aleksy Kuziemski in a 10-round fight on Dec. 14, and it will have been 13 months since his last fight by the time he faces Bute. Bute (31-1, 24 KOs) lost his title by fifth-round knockout to Carl Froch in May 2012 and has fought just once since, struggling to a decision win against Denis Grachev in November. He will have gone 14 months between fights.

• Michel also said that he is expecting to receive a signed agreement in the coming days from former light heavyweight titlist Tavoris Cloud and his promoter, Don King, which would finalize a deal for Cloud to challenge champion Adonis Stevenson on Sept. 28 (HBO) at the Bell Centre. Stevenson won the title with a sensational 76-second knockout of Chad Dawson on June 8. Cloud lost his version of the 175-pound title in his last fight, losing a clear unanimous decision to Bernard Hopkins on March 9.

• Julio Cesar Chavez Jr. faces Bryan Vera in a super middleweight fight and Demetrius Andrade and Vanes Martirosyan square off for a vacant junior middleweight belt in the featured bouts Sept. 7 (HBO) at the Staples Center in Los Angeles, but Top Rank is putting a number of its best fighters on the untelevised undercard (although, fortunately, most of them will be streamed live on Top Rank's website). According to Top Rank vice president Carl Moretti, the card will also include bouts involving blue-chip junior lightweight prospect Oscar Valdez, middleweight rising contender Matvey Korobov, newly signed junior welterweight contender Karim Mayfield, junior lightweight contender Diego Magdaleno (in his first bout since losing a split decision to world titleholder Rocky Martinez in April) and junior lightweight Jose Felix.
April, 3, 2013
Apr 3
10:49
AM ET
A little of this and a little of that from the boxing world:

• As part of the lead-up to the Floyd Mayweather Jr.-Robert Guerrero welterweight title fight on May 4 (Showtime PPV) at the MGM Grand in Las Vegas, the documentary "30 Days In May" debuts on Wednesday night (Showtime, 10 ET/PT). The one-hour film chronicles the days between Mayweather's May 5, 2012, win over Miguel Cotto and the June 1 start of a three-month jail term for domestic abuse at the Clark County Detention Center in Las Vegas. The film concludes on Aug. 3, Mayweather's self-described "best day of my life," when he was released early for good behavior after serving two months behind bars. The documentary features the only interviews Mayweather has conducted (so far) about his incarceration, which he calls a "life-changing experience."

• Middleweight champ Sergio Martinez (50-2-2, 28 KOs) and challenger Martin Murray (25-0-1, 11 KOs) of England, who meet April 27 (HBO) in Buenos Aires, Argentina, Martinez's home country, were both inside the limit of what they were allowed to weigh for their 30-day weight check. They were each 170 pounds a month before their 160-pound championship fight.

• "Friday Night Fights" fan favorite Delvin Rodriguez (27-6-3, 15 KOs) returns to the ESPN2 series on May 24 at the Mohegan Sun casino in Uncasville, Conn., where Connecticut resident Rodriguez is a good draw. He'll face fellow former welterweight title challenger Freddy Hernandez (30-4, 20 KOs) in a scheduled 10-round junior middleweight bout.

• The epic Mike Alvarado-Brandon Rios rematch at Mandalay Bay in Las Vegas on Saturday night was another hit for HBO, which said that, according to Nielsen Media Research, it drew 1.2 million viewers for the live airing. That was a 45 percent increase in viewership from the first Rios-Alvarado fight, which was also a barn-burner, but on an undercard. Saturday's undercard fight between unknown junior welterweight prospect Terrence Crawford and Breidis Prescott drew 845,000 viewers, according to the network.

• Promoter Don King, who won the purse bid for the third fight between cruiserweight titlist Marco Huck (35-2-1, 25 KOs) and Ola Afolabi (19-2-4, 9 KOs) despite not handling either fighter, told the camps that the fight would take place May 11 in Germany. However, King, who bid a surprising $1.5 million, still does not have a specific venue lined up or a television deal in place The fighters are both in training camp, but their handlers remain skeptical that the fight will come off. Without a TV deal, King would likely default on the bid.
February, 12, 2013
Feb 12
8:32
PM ET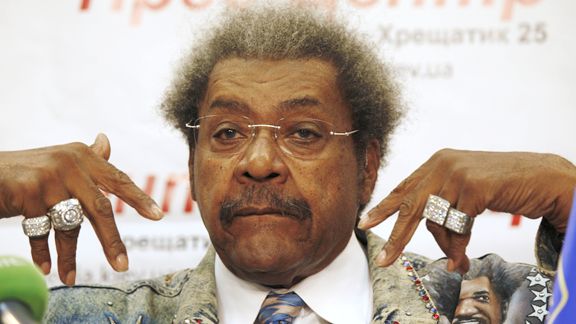 AP Photo/Efrem LukatskyDon King has indentified Nigeria as a possible site for the Denis Lebedev-Guillermo Jones fight.
Cruiserweight titleholder Denis Lebedev of Russia is supposed to make a mandatory defense against so-called "champion in recess" Guillermo Jones of Panama, a fight that Don King won a recent purse bid for.
Will the fight ever take place? I have my doubts.
King, Jones' promoter (who has done stunningly little to actually promote him) bid a shockingly high $712,000 to beat the bid of $357,000 offered by Hrunov Promotions, which handles Lebedev, at the WBA's auction at its offices in Panama.
King did not offer a specific date for the fight that is supposed to take place in April, although he did list proposed sites of Panama, Miami and Nigeria in his purse bid paperwork. Who wants to bet $712,000 that if it ever does take place it won't be in Nigeria?
Whether King will deliver the fight anywhere remains to be seen. Remember, the last time King won a high-priced purse bid was when he offered a whopping $1.1 million for the heavyweight eliminator between Bermane Stiverne, his fighter, and Cristobal Arreola.
King, with no place to do the fight, no real money behind it and few friends left at the networks to make a deal with, defaulted on the bid, which allowed second-place bidder Dan Goossen, Arreola's promoter, to gain control of the fight for a more legitimate $550,000. Goossen made a deal with HBO and the fight is scheduled for March 9.
For Lebedev-Jones, the minimum bid was $200,000 and Jones is entitled to 55 percent of the money and Lebdev 45 percent.
It's an odd fight, considering that Jones held the title and repeatedly dodged the mandatory defense against Lebedev. Eventually, the chronically inactive Jones (38-3-2, 30 KOs) -- who made only two defenses in 38 months with the title -- was stripped and made the ridiculous "in recess" titleholder.
Lebedev (25-1, 19 KOs), meanwhile, was elevated from interim titlist to full titlist and made an easy defense on Dec. 17 when he drilled Santander Silgado in the fourth round in Russia.
Why the WBA allowed Jones to become its "in recess" titlist and ordered him to fight Lebedev in a fight that he had been avoiding is a mystery to me. It makes no sense, but then again, not much the organization does makes much sense to me or anyone else.
January, 15, 2013
Jan 15
12:46
PM ET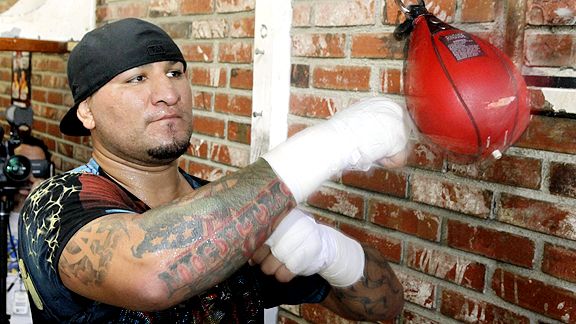 AP Photo/Reed SaxonCristobal Arreola's bout with Bermane Stiverne has been added to HBO's telecast of Cloud-Hopkins.
The heavyweight title elimination bout between Cristobal Arreola and Bermane Stiverne is on the move again.
A network source told me the fight is now headed from March 2 to March 9 to be part of a split-site HBO telecast that will be headlined by the Tavoris Cloud-Bernard Hopkins light heavyweight title fight already scheduled for the date.
Cloud-Hopkins, a fight Golden Boy and Don King are putting on, will take place at the Barclays Center in Brooklyn, N.Y., while Arreola-Stiverne, a fight promoter Dan Goossen is promoting, will take place at a Southern California site to be announced.
HBO and Goossen have been working it out over the past couple of weeks since a shoulder injury to super middleweight champ Andre Ward forced the cancellation of his March 2 fight with Kelly Pavlik.
Ward-Pavlik was originally supposed to take place Jan. 26 with Arreola-Stiverne as the co-feature. When Ward-Pavlik was postponed to March 2, Arreola-Stiverne was moved with it. When Ward-Pavlik was canceled because Ward's injury was more serious than originally diagnosed, the heavyweight fight was going to stay on March 2 and move up to the main event of a smaller card.
Instead, HBO has significantly beefed up its March 9 telecast with the addition of the heavyweight fight.
Welterweight prospect Keith Thurman (19-0, 18 KOs), 24, is also supposed to fight on HBO -- for his third consecutive bout -- on March 9 at the Barclays Center. The leading candidate to face him is 36-year-old former titleholder Jan Zaveck (32-2, 18 KOs), who lost his belt by spirited fifth-round knockout to Andre Berto on HBO in September 2011. Zaveck has fought only once since after being sidelined for most of 2012 with an elbow injury.
The way the telecast could shake out would be for Thurman's fight to open the broadcast followed by a shift to the West Coast for the Arreola-Stiverne bout and then a return to Brooklyn for the Cloud-Hopkins main event.
The winner between Arreola (35-2, 30 KOs) and Stiverne (22-1-1, 20 KOs) will become the mandatory challenger for heavyweight titleholder Vitali Klitschko.
September, 28, 2012
9/28/12
12:11
PM ET
It has been years since promoter Don King has put on a "ShoBox: The New Generation" card on Showtime, but he has one in the works with two of the remaining prospects in his dwindling stable of fighters.

Showtime said the card will take place on Nov. 16 at the Miami Jai Ali Fronton, where King has done smaller shows over the years.

The main event is supposed to feature junior middleweight prospect Omar Henry (12-0-1, 9 KOs) in a scheduled 10-round bout, although his opponent has not been signed yet. Henry has been awfully inactive, with only 13 fights since he turned pro in mid-2008.

Showtime had hoped King would match him with Willie Nelson (19-1-1, 11 KOs), but Nelson is coming off a good victory against previously undefeated John Jackson (the son of all-time power puncher Julian Jackson) on the Sept. 15 Sergio Martinez-Julio Cesar Chavez Jr. undercard. Nelson's team turned down the fight, according to the network.

In the co-feature, southpaw lightweight prospect Angelo Santana (13-0, 10 KOs) -- a two-time Cuban national champion -- will take a big step up in competition by facing former lightweight titlist Paulus Moses (28-3, 19 KOs), who lost his belt by sixth-round knockout to Miguel Acosta in 2010. Moses won three fights in a row after that defeat before dropping a lopsided decision challenging lightweight titlist Ricky Burns in March. Moses rebounded July 28 by outpointing one-time contender Cassius Baloyi via 10-round split decision.
May, 30, 2012
5/30/12
2:30
PM ET
Promoter Don King doesn't put on many boxing cards these days, and his stable is barren of fighters who interest the premium cable networks (with the exception of light heavyweight titlist Tavoris Cloud). But King, 80, announced one of his rare shows Wednesday, a June 23 card at the Seminole Hard Rock Hotel & Casino in Hollywood, Fla.

There are some faded names on the card (which has no television outlet), along with some local fighters, which pales in comparison to the megashows filled with world title fights that the High-Haired One put on in the past. The main event features a heavyweight fight between Tony Grano (19-2-2, 15 KOs) and DaVarryl Williamson (27-6, 23 KOs), who are both good punchers.

Also of note is the return of former heavyweight titlist Samuel Peter (34-5, 27 KOs), who scored one of his most significant victories in the same arena in 2007 when he easily outpointed James Toney. Peter, who doesn't have an opponent yet, is a shell of what he once was and is coming off two brutal knockout losses in a row -- a 10th-round destruction by Wladimir Klitschko in a world championship fight in September 2010, followed by an equally brutal ninth-round knockout by Robert Helenius in April 2011.

Also on the card will be lightweight prospect Angelo Santana (12-0, 9 KOs), a Cuban fighting out of Miami, against Justin Savi (26-1, 18 KOs) of Benin; popular South Florida draw Joey Hernandez (21-1-1, 12 KOs) in a junior middleweight bout against Brandon Baue (12-6, 10 KOs); and Ukrainian heavyweight Oleg Platov (29-1, 23 KOs), who hasn't fought since June 2010, facing an opponent to be determined.